How to care for your driveway
People tend to neglect caring for their driveway or patio because they think it's a chore, but really all you need is a few items to look after it properly.

People tend to neglect caring for their driveway or patio because they think it's a chore, but really all you need is a few items to look after it properly.
Your driveway is usually the first thing people see when approaching your property, so it's important to keep it looking fresh. As the saying goes, first impressions count, so make sure you make a great first impression by revitalising your driveway in 2019.
Below, we have compiled a list of tips to help you bring your driveway back to life. Follow these and we can assure you that your driveway will be as good as new.
Wash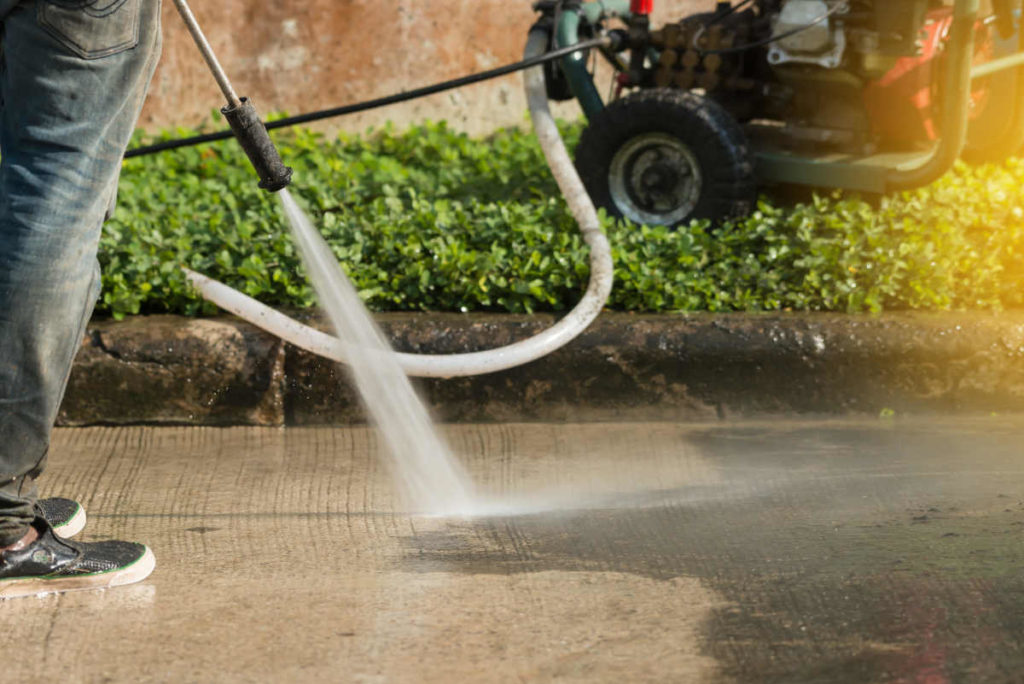 The first thing you should do, before painting, sealing or applying any kind of treatment, is clean your driveway. This will ensure that the product you use to revitalise it is as effective as it can be.
We'd recommend using a fungicidal wash to ensure your driveway is thoroughly cleaned. A quality fungicidal wash will ensure that any moss, lichen, algae and mould is killed. Try and look for a product that is grass and plant friendly to ensure none of your precious foliage is inadvertently destroyed.
For application, we'd recommend using a backpack sprayer for an even distribution and for faster surface coverage. If you don't have one of these, you can also apply with a brush or soft cloth.
Once you have thoroughly cleaned your driveway and removed any fungal growth, you can proceed to the next stage of treatment.
If you wanted to stop at this step you can. Cleaning your driveway can be extremely effective in itself, without the need to apply more products.
Block Paving
If you have a block paving driveway, this step is relevant to you. If you have a tarmac driveway, feel free to skip down to the next heading for tarmac.
Once your block paving driveway has been washed with a fungicidal wash, we'd recommend using a sealant to rejuvenate and protect the surface. The right sealant will prevent weeds and fungal growth from returning after you have cleared it away, as it will have nowhere to grow.
Prior to applying the sealant (if you feel like you need to), you can re-sand the joints, but this isn't always necessary. Resanding the joints will help your driveway to maintain its shape and the sealant will keep it protected against substances like oil and other contaminants. The sealant will work better on a flatter surface, so you might want to consider re-sanding the joints if large cracks are present.
A quality sealant will help make general maintenance much easier moving forward. Things like leaves and dirt can be swept away from the surface much easier as it will be smoother. The sealant will also help to maintain the natural appearance of your block paving for longer, protecting against UV deterioration.
We'd recommend re-applying the sealant every 2-5 years to properly take care of your block paving driveway.
See the tradespeople we've checked and recommend for your job
Tarmac
To rejuvenate your tarmac driveway, you will need to consider a different type of sealant or paint in more severe cases. The right product will help to restore lost resins and colour from your drive
Regarding the application process, usually one coat will be all that is needed to protect the surface and bring it back to life again. The right product will protect your driveway against deterioration from sunlight as long as it has UV resistant properties.
The right reviver and seal won't yellow over time and will hold its colour, protecting the driveway from the re-growth of moss and algae at the same time. Once applied, it's easy to clean and resistant to staining, so when you come to do maintenance it's easy to clean down the surface and recoat it.Providing you follow the steps in this article and take the time to look for a suitable product with the properties described, you will be the master of looking after your driveway. Keep up with the maintenance work and it will look fantastic all year round.
Article written by FPL Contractors