We're here to help you transform your attic space by enticing you with some inspiring loft conversion ideas. Often the loneliest and most mistreated space in your house, attics are the last places people think about when it comes to exciting renovations (despite the myriad of possibilities they offer).
Do you use your loft for idle storage, to win hide and seek, or to discard memorabilia from times gone by? If so, it might be time for a makeover.
Is your loft 2.2 metres or above at the midpoint? As long as the answer is yes, then you're set to fulfil your attic's dream of becoming a spare bedroom, bathroom, office or other supplementary space.
Have you got lofty ambitions and the time and money to invest in your property? Oh, that's why you're here? Fantastic. Then dust off your creative hat and slip on some designer boots, as we're about to take you to new heights. (Renovationally speaking, of course).
Design ideas for small lofts
Whether you turn it into your very own luxury shower room, a children's play area, a private library, a handy spare bedroom, or anything else your heart desires, here are some tricks to use that space effectively.
Maximise your floor space
Maximising your floor space is the aim of the game. If you've opted to do the best you can with the original sloped roofs and open beams, then use a tape measure to figure out what area you're working with.
Top tip: Use masking tape or chalk to mark out the areas you'd like to place your furniture. It helps to get a sense of what goes where and what dimensions to look for when buying items.
Perhaps there's a perfect space to fit a single or double bed? How about a desk with in-built storage? What about a luxurious slipper bath where you can soak in peace and shut out the rest of the world (aka, other members of your household)?
Try to envisage exactly what the space can offer and set about making it a reality. Use our loft storage ideas to help you create a clutter-free haven.
Make use of the light
Whether you've chosen casement, balcony, eyebrow, gabled, roof or dormer windows, find the light and make use of it. Flooding your attic with morning sun is a beautiful way to wake up, whereas an evening view while you lounge on your sofa and sup on a nighttime tipple is a great way to end your day.
Corner storage
Got an awkward corner? No, you don't; you've got storage capacity! Build shelves into the spaces you can't get to easily for the perfect storage solutions.
For more loft conversion ideas like this, check out our content in the carousel content below! You can also use our handy loft conversion cost guide to help price up your renovation.
Loft conversion ideas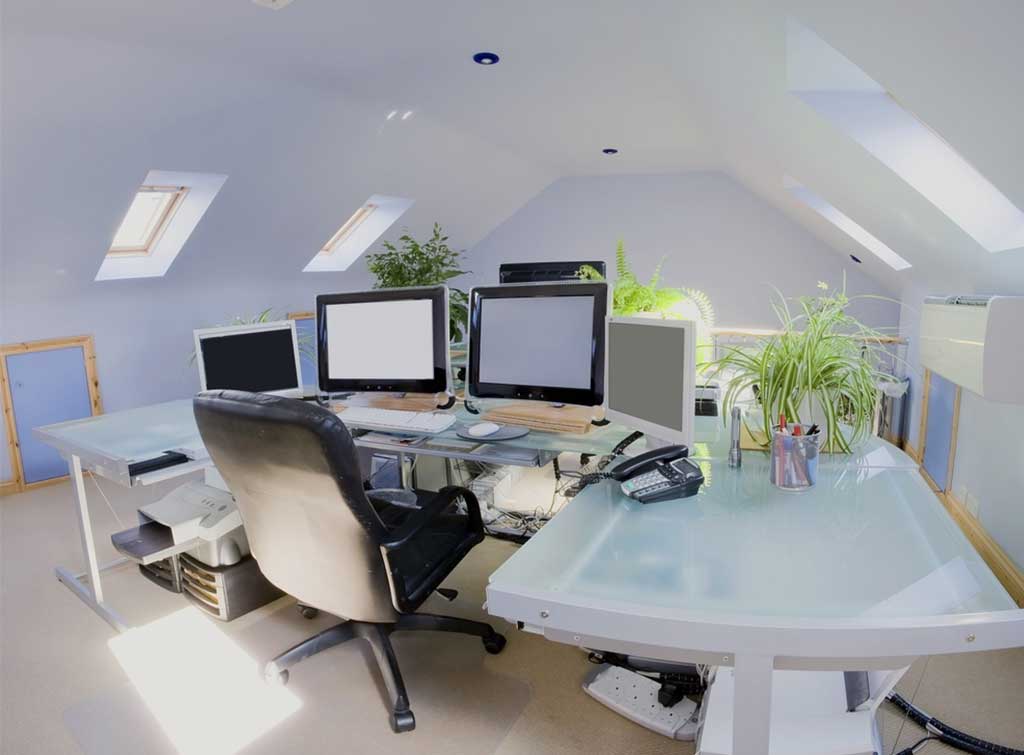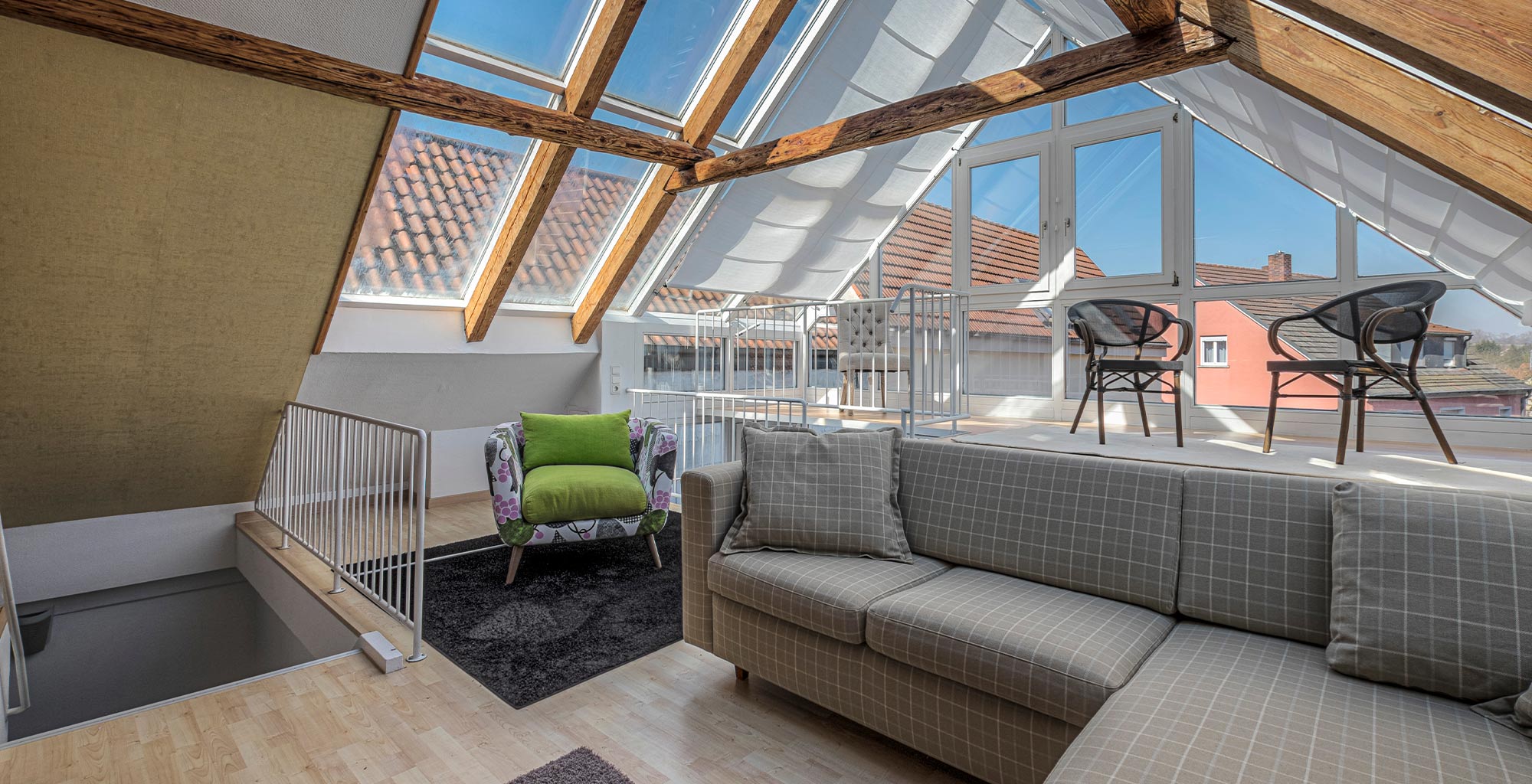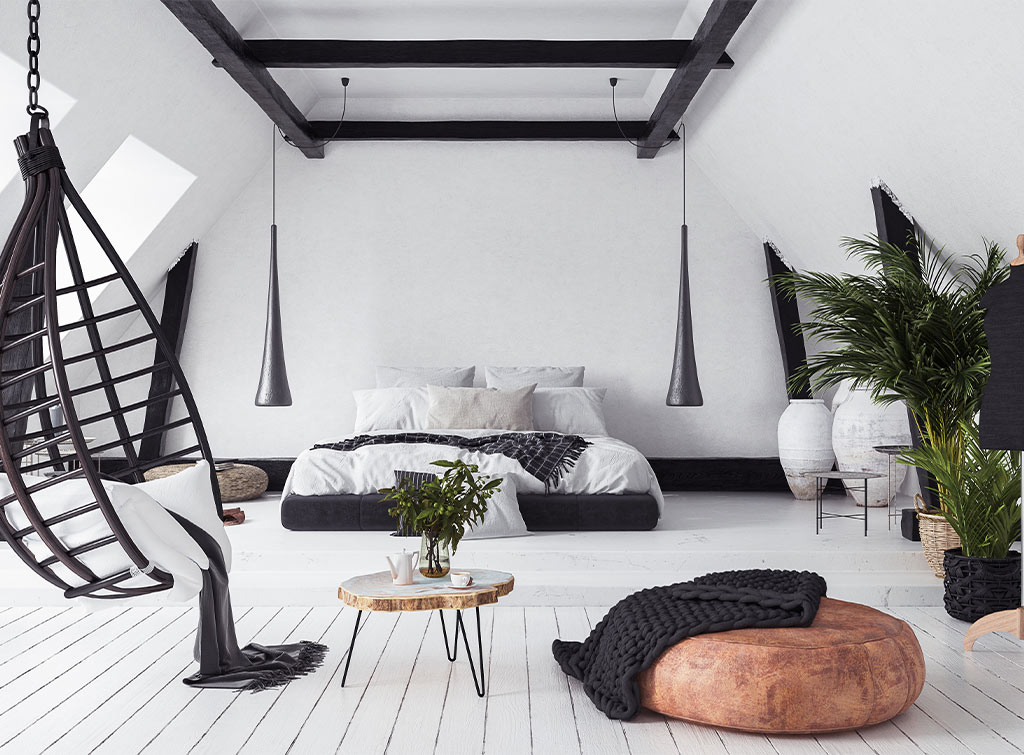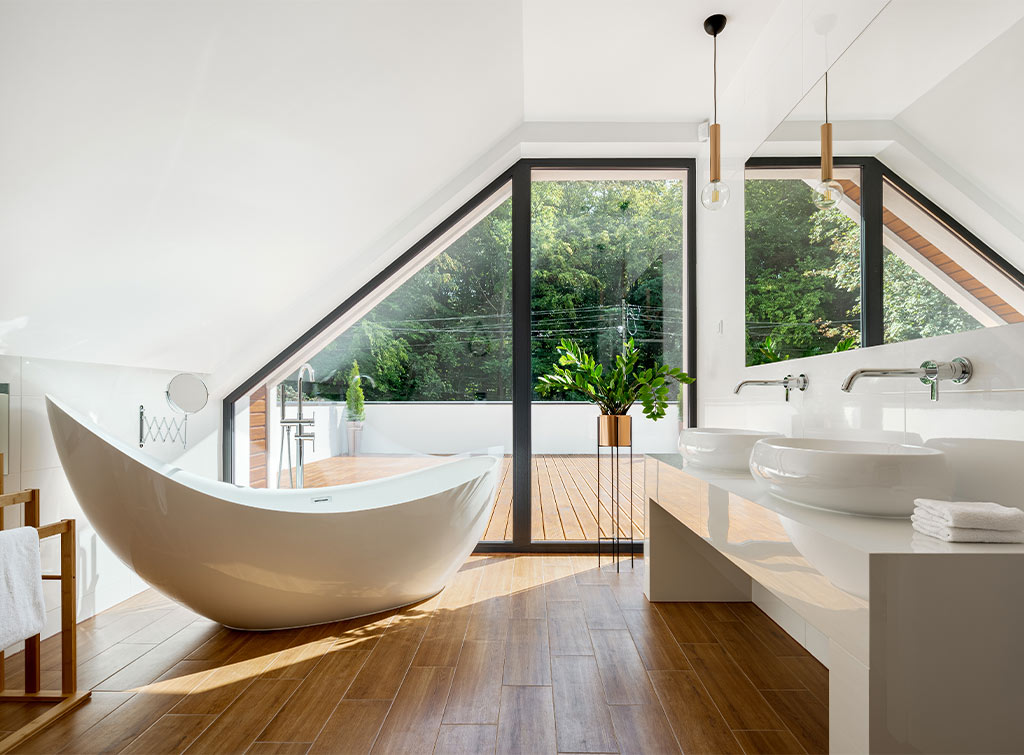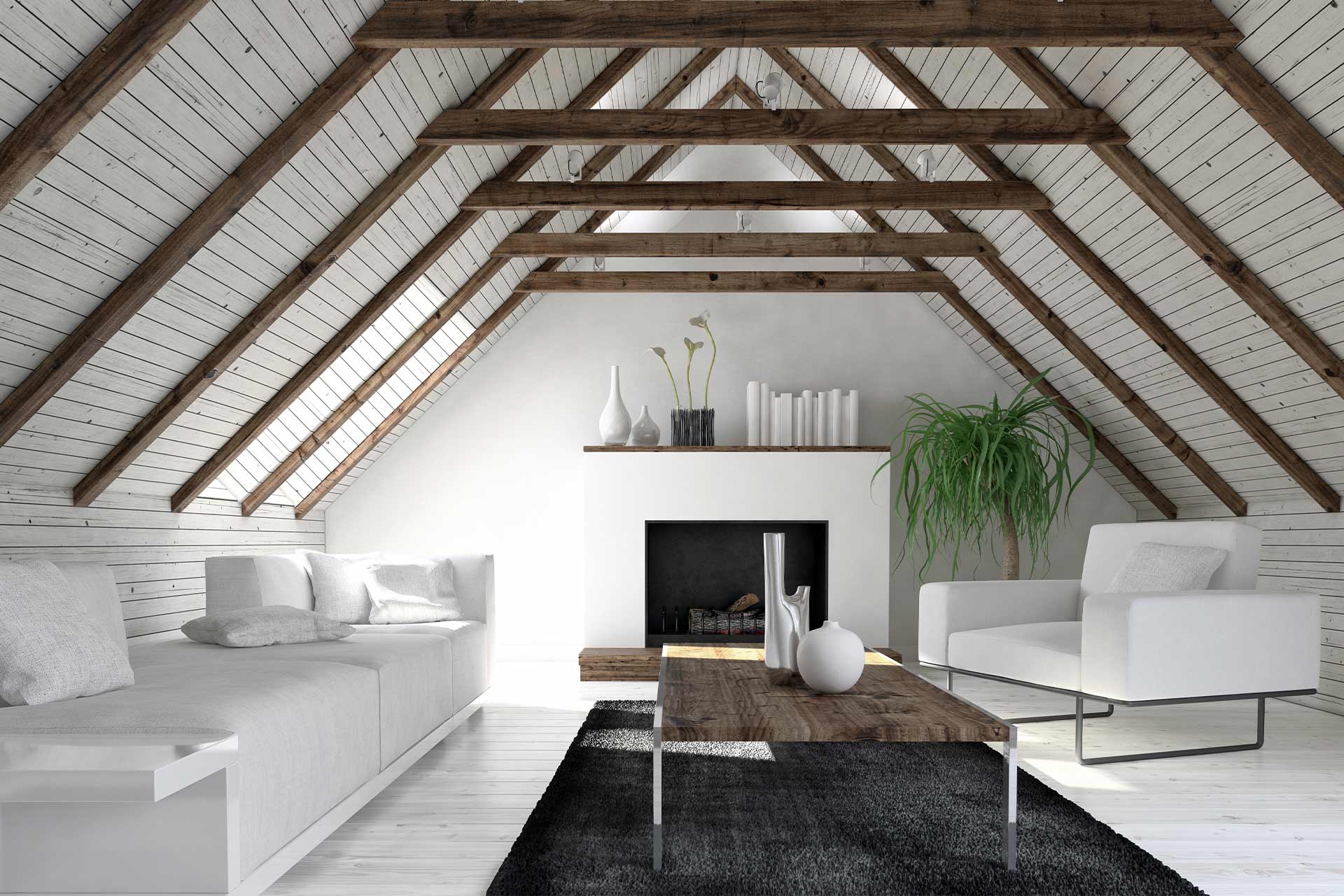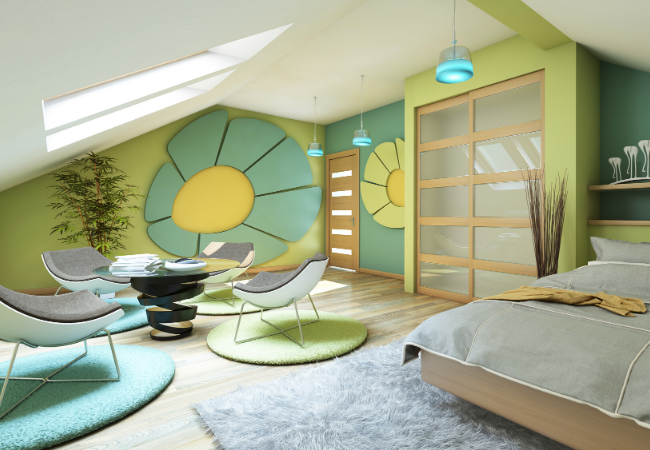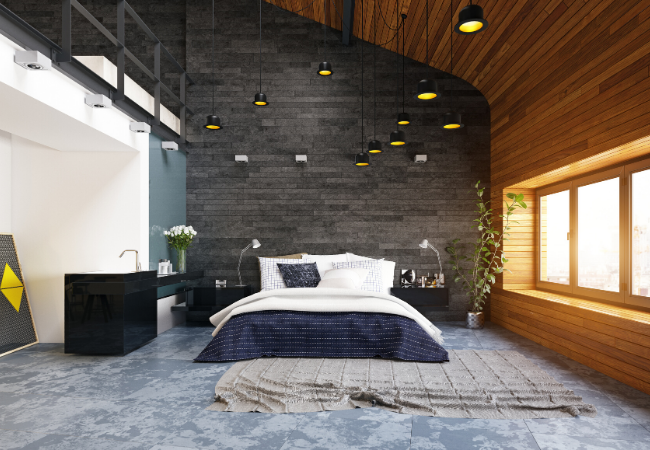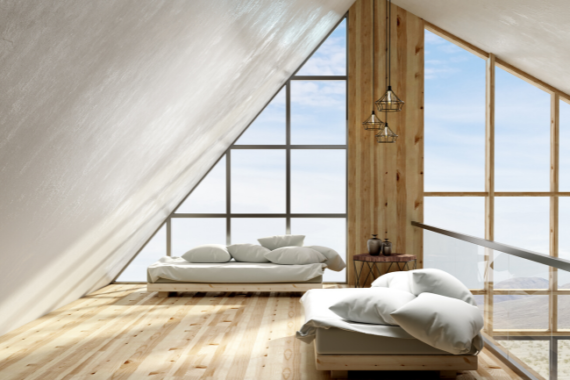 Small loft conversion ideas
Smaller loft layouts will mean fewer options or more compact design decisions, while the slope of your roof and any beams or structural support will need to be taken into account.
The proof is in the planning. There are several types of loft conversions, each that vary in price depending on your chosen style (see our comprehensive loft conversion cost guide for further information), but that doesn't mean a more awkward space isn't worth your investment, both fiscally and emotionally.
Dormer window loft conversion ideas
This beautiful example of a split level dormer conversion shows how you can adapt your space to your needs.
A large couch for entertainment purposes is placed at the access hatch, while a coffee table and chairs facing the eyebrow window is perfect for watching the sunset. As the space is flooded with light, darker and brighter furniture can be used to soften and warm it.
The popular dormer loft conversion design is distinguishable by its box-shaped structure. They're added onto any pitched roof to create an extra head and floor space; and as they sit at a 90-degree angle to the floor, they're a versatile – albeit pricer – option.
Despite the price tag, dormer loft conversions are some of the most bright and beautiful. Window options come in a variety of designs such as gabled, shed, hipped, eyebrow, flat and segmental, each of which flood light into your attic and make them the perfect option for any design dreams.
Design ideas for dormer attic conversions
Once your dormer loft conversion is installed, utilise the extra space and make it work for you. Consider installing a fixed staircase that accesses your attic, enabling it to become an extension of your house – in both value and usefulness.
Check out our staircase cost guide and loft ladder installation cost guide for more information on loft access options.
A bedroom
Whether you're using your dormer loft conversion as a spare bedroom, a place to give your teenager privacy, or your very own boudoir, we've noticed grey bedroom ideas making interior headlines recently.
Your personal dressing room
Make good use of that flat dormer wall by installing a floor-to-ceiling mirror (or five). Better yet, add in wall-to-wall, made-to-measure wardrobes and drawers and turn your attic into your own personal dressing room. A tub chair here and a cosy shag rug there, and voila! It's fashion show time.
A bathroom of dreams
Think rustic wooden floors and porcelain white wall tiles. Add duck egg towels and wooden accessories that complement a freestanding bath, housed in the light of your eyebrow window so you can enjoy a sunset bathing experience.
The artist's music room
Not everyone appreciates your musicality, but we do. That's why we're suggesting you turn that amazing attic space into a room dedicated to your passion for music.
You can even get it soundproofed during your dormer conversion installation so you're free to practise whatever instrument you play (or are learning to play).
Even if you just want to turn your attic into a snug den filled with records, speakers, a vinyl player or your latest Hi-Fi equipment, a loft is a perfect place to kick back and let the good times roll.
Loft conversion entertainment space
The immaculate wooden floor space, open beams and large soft floor lamps make this the perfect place to entertain guests and enjoy some rooftop views.
An ultimate social space
Whether you just add an extra sound system, television, drinks cabinet or all three, having more than one social area avoids arguments and encourages harmony.
Low roof loft conversions
Low ceiling attics are the trickiest to convert into contributing members of your household. However, there are several unique and wonderful loft conversion ideas that make sure your attic remains useful.
Peace room
With all that beautiful sunshine – free from the shade of next door's house – a low ceiling loft is a perfect place to meditate, practise yoga, take naps and generally lie down. You can fill it with anything and everything you need to make a zen retreat.
For lofts with more light, think about adding hanging plants, oversized floor cushions and low-rise storage chests and tables. For attics with less light, consider installing LED floor lights with yellow hues. To create a more romantic vibe, add hooks along your eaves so you can dangle fairy lights and stir up a sense of serenity.
Sleeping crawl space
Just because your attic has a low roof doesn't mean it can't fulfil its dreams of becoming a bedroom. It just takes a few minor adjustments. For example, instead of a standard bed, you'll need to consider furniture options like loft beds, wall lanterns and shorter bedside tables.
Cosy bathroom (sans shower)
You probably won't have enough space to incorporate a stand-up shower; however, a low rise bathtub, sink and matching rustic accessories will work perfectly in a low roof loft conversion. Think of it as your private powder room and decorate accordingly.
Children's playroom
A low roof attic is perfect for a children's playroom (and not just because children are smaller and better suited to lofts!) Having an entire room dedicated to playing is exciting and adventurous, especially if you have a pull-down access ladder.
An added benefit is how any mess is kept to one area, which means if you don't want to deal with it after a long day, you can just shut off the room and tidy up another time.
Check out our loft ladder cost guide for advice on choosing the perfect loft hatch and ladder for your needs.
Design ideas for low loft conversions
Keep it simple
We recommend one light colour or hue for low loft conversions. Any colour you do add should be kept to accessories, furniture and original features (e.g. wooden joists and beams). Simplicity is key when dealing with low lofts. Avoid overcrowding the space and stick to a maximum of three or four pieces of furniture for a minimalist and capacious feel.
Consider larger windows
Consider maximizing the light in your low loft by installing larger windows. Lower pitches need to meet certain specifications, as do lower roofs. Options on the market for low pitched roofs include skylights, and fire escape, conservation and timber roof windows.
Bungalow loft conversion ideas
Bungalow loft conversions are perfect for creating an extra room and floor. They're usually bigger due to their square footage being the same as the foundations of the house, which means bungalow lofts are great for conversions like ensuite bathrooms
Those with mobility issues or greater access needs can also benefit from loft conversions, with any staircase they have installed easily modified to include a stairlift.
Check out our stairlift cost guide for further information.
Loft conversion ideas with ensuite
Whether you keep your bungalow loft conversion ideas in the realms of open-plan simplicity or opt for a multi-room layout, some key considerations before installing a bedroom and ensuite include:
– Your loft's load-bearing capacity
– Any floor boarding needs
– Your access requirements
– What insulation you choose
– Any plumbing and pipework installation
– Any drainage needs
– Whether you need extra walls and/or doors
Design ideas for bungalow attic conversions
You can get away with most design ideas in larger loft conversions. So, if none of our previous suggestions have tickled your fancy, then we've put together some quirky alternatives for you to consider.
Kitchen and dining room
It's not the first thing that springs to mind when you think of a loft conversion; however, having a kitchen in your attic offers several benefits. The first is that you can kit it out so it's an all in one kitchen, dining and entertainment area, which is perfect if you're partial to throwing dinner parties. The second is if you have a small kitchen downstairs and would like a bigger area to show off your cooking skills.
Entertainment room
This might be your best chance to create the ultimate entertainment venue, right in your very own loft conversion. Think swing chairs, pool tables, DJ decks, LED lights, computer games and a drinks fridge. Add some soft furnishings, side tables and artwork to finish off the aesthetic and you've got yourself the perfect hangout space.
Exercise room
Going to the gym is a great way to stay fit. However, it can get pretty crowded at times, which is why having a home gym can take away the stress of waiting for other gym-goers to finish using the limited equipment or weights.
Depending on the kind of workout you want, which sits on a scale of 'yoga instructor' to 'strongman competitor,' make sure you understand the load-bearing capacity of your loft boarding before installation starts on your home gym.
House jungle
Inject literal life into your attic by making it your own personal oxygen tank – a place you can sit and breathe in the fresh air your plants have to offer.
In fact, do this anyway. Any of the aforementioned loft conversions can benefit from a house jungle, so be sure to place your chosen flora where they'll thrive, and don't forget to water them!
Your lungs and the planet will thank you.
Fun loft conversion design
Modern monochrome furniture with cylindrical hanging lights and planters make this an effortlessly cool loft bedroom. Spacious and impressive, it's great for teenagers or adults alike who are looking for a fun place to sleep, play, and entertain friends.
Kitchen and dining room loft conversion
This open-plan layout with exposed bricks and distressed floor tiles is a perfect loft conversion kitchen design. Warm-up your space with wooden furniture, an area rug and some low hanging industrial lights for a chic and cool vibe.
Bathroom loft conversion ideas
This dormer roof conversion with a small balcony offers the perfect bathing space away from the hustle of bustle of the main house. We'd fill it with house plants, light a few candles, and take a long, sudsy sunset soak.
Simple and elegant loft conversion idea
The natural open beams, contemporary white furniture and wooden table clash effectively in this roomy loft conversion. A central fireplace and well-placed plants could place this spacious loft in both a forest and a townhouse. Evenings with wine and nibbles has never looked so good.
Music room loft conversion idea
Kit out your loft with your hobbies – especially those that don't suit the rest of the house. Open bricks and wall-mounted bikes, guitars and artwork make the space your own, while a distressed couch and crate furniture create the perfect shabby-chic den.
Children's playroom loft ideas
A children's bedroom or playroom loft conversion is the perfect place to let your creativity run wild. This bright green room with light wooden furniture creates a fun and natural aesthetic, which is perfect for igniting your child's imagination and freeing them to express themselves.
Ensuite loft conversion design ideas
For those with bungalow lofts or more square footage to work with, a bedroom with an ensuite is a great way to utilise a loft conversion.
A sliding door separates the bedroom and bathroom, which is decorated with slate grey tiles, white furnishings and floating shelves. Soft lighting and a large mirror make this bathroom a spacious and tranquil space. And keeping splashes of colour to accessories ensure the look remains timeless.
Loft conversion bedroom idea
This industrial and contemporary bedroom has a rustic flair that shows us why placement matters. The large and low rise bed sits next to the beautiful dormer windows, which flood the spacious loft with copious amounts of light.
A light grey rug thrown over cloudy sky floors lifts the space, while the slate feature wall and wooden overhang create an interesting contrast that only works because of the various yellow-bulbed hanging lights, all of which drop sporadically from the ceiling. Floating black gloss bedside tables match the light fittings and the chest of drawers, finishing the room, while white and dark blue bedding is the perfect duvet set to tie this designer bedroom together.
See the tradespeople we've checked and recommend for your job
Tell us what you think
What others think of this article:
Need More Information?
Related posts