Let our bathroom ideas inspire you. We want to soak you in all the designs, trends and colour combinations available – helping you to choose the perfect immersive sanctuary to suit your wishes and budget.
Our bathrooms are the peace-centres of our homes. They're where we relax, unwind, wash, and restore ourselves. So, choosing the right bathroom design is an important first step for creating your sanctuary. Read on to dive in, trigger your brainwaves, and submerge yourself in interior creativity.
Bathroom ideas and design trends
There are three main options when it comes to bathrooms.
One: Standard bathrooms (in a separate room)
Two: Ensuite bathrooms (attached to another room, usually a bedroom)
Three: Wet rooms (in a separate room or attached to another room, usually a bedroom)
Whatever layout you have, the design options are numerous. Before you get started, think about creating a mood board, and write down words that describe the aesthetic that best suits your taste. For example, modern, contemporary, colourful, tranquil, bright, spacious, cosy, warm, minimalist, Japandi, rustic, practical, ethereal.
Once you have a rough idea of the type of trends you're interested in, you can narrow your search criteria and limit your options for easier decision making. And when you're ready, don't forget to hire one of Checkatrade's professional bathroom fitters to help install your perfect design.
Bathroom trends
Now you have a rough idea of the type of bathroom aesthetic you're looking for, let's take a look at some top 2020 trends.
Teal walls and brass finishes
Freestanding and deep soaking tubs
Integrated lighting for a tranquil glow
Clashing textures and tiles
Textured and marble-effect wallpaper
Ethereal travertine or limestone tiles
Large framed mirrors
Bold, rich and unusually patterned marble
Black tubs with bronze fixtures and white decor
Taupe, neutral or cream walls for a light and bright finish
Modern bathroom designs
Modern design is different from contemporary design. For example, modern refers to a distinct period or passed era. It's rooted in modernism and the changing tastes and design elements from the mid-century onwards. In contrast, contemporary is all about the here and now, or the evolving designs coming to us in the near future.
So, with that said, let's take a look at some modern bathroom designs:
Incorporate marble for a grand and decadent finish. Couple with a ceramic free-standing tub so you can survey your bathroom like you're Poseidon incarnate.
An open-plan bathroom with a border wall that splits the room horizontally creates interest without overpowering the space. Think white vertical panels on the bottom half and a taupe painted wall on the top half for instant class.
Serenity is the name of the game. Incorporate a slipper tub and accent chair for a simple but striking design statement. Keep the decor neutral and opt for colourful accessories to further lift the space.
If your bathroom can accommodate them, add some simple fabrics such as a chevron rug or velour bench for a modern and classic design twist.
Wooden cabinets and integrated lights create a warm, modern and rustic space. Add a long, wide mirror along a single wall to open up the space and add interest.
Monochrome is a retro dream house. Therefore, think small white wall tiles, black grouting, white marbled units, a black-framed mirror, a black tub, ceramic faucets, and white tiled floors.
Inject some countryside vibes with bathroom-loving spruces, a cobalt tiled shower room, mahogany units, and wooden floorboards.
Want to know the cost of installing a modern bathroom? Check out our guide here. 
Small bathroom designs
It's all about the design tricks when it comes to small bathrooms. With homes shrinking and prices rising, many of us don't have the square footage we'd like. However, a small space doesn't mean your ideas are limited. Creating an open-plan feel with clever trickery is all part of the fun!
Here are some top design tips and tricks for small bathrooms:
Build upwards, not outwards. Save your precious floor space by installing floor-to-ceiling storage, floating shelves, corner shelves, etageres, tallboys, hanging plants, and under-sink units.
Framed and beautiful mirrors aren't just striking, they're great for 'opening' up your bathroom and giving it the illusion of larger square footage.
Inset shelves are both a great design feature and a useful storage solution. Perfect for rolled-up towels, candles, storage boxes, toiletries, or anything else you want to tidy away, they fit seamlessly into your walls and leave your floors free of space-robbing clutter.
Stick to one or two colours to avoid overpowering the space. Monochromatic or neutral decor is advised, but this doesn't mean it has to be boring. Get creative with colours such as yellow and white mosaic tiles, neutral or light grey units and accessories, and textured wallpaper.
Simplicity is key. Consider a walk-in shower, a wet room, or a freestanding tub if you have slanted ceilings. Stick to glass shower screens to keep the space 'open,' and install a wall-mounted towel rack to give your towels a toasty home.
Looking for more? Check out our small bathroom trends for more inspiration!
Grey bathroom designs
Grey is a versatile and classy hue that looks great in any room. It's also a top 2020 trend that isn't going out of style any time soon. However, like all hues, there are dos and don'ts in terms of styling options. That's why we're going to take a look at some of the top ways to incorporate grey into your bathroom design.
Grey panelled walls are elegant and timeless. Opt for the bluer hues on the grey spectrum, and be sure to pair it with colourful accessories, white units and shelves, and a smooth white-tiled floor.
Light grey tiles look exquisite in a wet room. Consider mix and matching them for a subtle pattern that adds interest and depth. We love brick-shaped tiles and white grouting, while glass shower screen and white floors help open the space and enhance the illusion of square footage.
Pale grey paint and light wooden units offer a contemporary-rustic twist that denotes both serenity and warmth. Incorporate hanging plants or pick fresh lavender and put it in glass vases for a classic countryside vibe.
Slate tiles are moody, trendy and striking. As charcoal is darker in colour, keep the tiles to one feature wall to avoid overpowering your bathroom and boxing it in. Add a framed mirror and integrated lighting to turn your bathroom into a delectable delight.
Grey is a glamourous addition to any bathroom. However, for smaller rooms, consider keeping it to accents like chairs, storage units, bathmats, toothbrush holders and faucets.
See the tradespeople we've checked and recommend for your job
Small bathroom ideas
Light and bright is the name of the game with small bathroom designs. Incorporating tricks like smart storage, minimalist decor, mirrors, and inset shelves help create a spacious haven. However, colour isn't dead to you. You just have to know how and when to use it.
Top tip: Install a wet room to make the most of a small bathroom. Check out how much this is likely to set you back here, and get inspired here.
In the meantime, read on for some top small bathroom design ideas.
Storage solutions for small bathroom designs
Use a bath tray caddy to store toiletries and cleaning apparatus.
'Over unit' storage solutions are those that fit over the toilet or under the sink, helping you to save on precious floor space.
A wall-mounted towel rack saves you using up extra storage space or square footage.
Inlet or floating shelves are perfect for keeping things neat and tidy. Add plants, candles, rolled-up towels, and storage boxes to keep things organised and clutter-free.
Floor-to-ceiling corner shelves or shower racks are great space-saving solutions.
Floor baskets for towels and accessories are both stylish and useful.
Dual-purpose storage, such as pouffes, stools or mirror cabinets are clever design tricks that are practical, interesting, and save on space.
Install a large sliding storage mirror to give the illusion of extra space (while hiding all your bathroom items for a clutter-free haven).
Use accessory organisers for items like toothbrushes, toothpaste, soap, hairbrushes, makeup and toiletries to keep them all in one place.
Make use of corners, whether you use it for shelving, a vanity unit, a sink or a slipper tub. Bespoke designs are perfect for small bathrooms that might have an awkward layout.
Check out our bathroom storage ideas for more inspiration!
White bathroom ideas to give the illusion of space
White is a popular bathroom colour due to how it 'opens' a room to give it a spacious and airy vibe. That said, some homeowners struggle with the 'cooling' effect and want to know how to 'warm up' their space.
Here are some design ideas that both warm and enlarge a stark white room:
Monochromes are perfect for small bathrooms as they use just two colours (traditionally black and white) to create a two-toned design effect. If your bathroom is predominantly white, why not accessorise with black rugs, towels, units, framed mirrors and hanging pots? Black grouting and freestanding tubs are also popular 2020 trends, offering a modern-retro feel to any room.
Add some plants to break up the starkness. Steam loving ferns will look great in any bathroom, but aloe vera and ivy is also happy in humid conditions. Either hang them from the ceiling or add them to a floating shelf to reap the air-purifying and design benefits.
Don't be afraid to use textures to warm and lift your space. Think white brick tiles and wooden wall panels or patterned vinyl floors with cream textured walls. If you're using a curtain, opt for a transparent or clear design to avoid boxing in your shower or bath.
Big and bold mirrors are great for white bathrooms. Think about incorporating a framed design to add interest and glamour.
Create a wall ledge for extra storage, to hide pipes, add intrigue and stay on-trend. Leave the white to the top half of the wall and add panels, tiles or taupe paint below it to make your bathroom appear taller.
To keep your bathroom looking minimalist and tranquil, consider hiding your pipes behind your walls and units. Alternatively, expose all your pipes and keep the decor neutral for an industrial-chic effect.
See the tradespeople we've checked and recommend for your job
Popular bathroom materials
As the world of design changes, adapts and evolves, so do the materials we use to decorate our homes. Here is a list of popular bathroom materials that are set to continue through 2020 and into 2021.
Hessian: Both a breathable and attractive material, hessian is used for a lot of Scandinavian designs. |t's also a naturally warm and coarse material that enhances any room.
Bamboo: Environmentally friendly, versatile and warm, bamboo is a popular bathroom material due to its durability and longevity. Use it for storage cupboards, shelves and even sinks to reap the benefits of this special wood.
Resin: Naturally waterproof and perfect for shower trays and floors, resin is a versatile material that fits anywhere – including awkward floor shapes. It's easy to clean, great for warmth, and offers a more rigid design for both practicality and durability.
Brass: Brass tubs, faucets, pipes, light fixtures, accessories, shower frames, mirrors and even tiles are hugely popular in 2020. Think steampunk bathrooms, industrial-chic or teal-modernist for this highly sought-after material.
Wood: When sealed correctly, wood instantly warms your bathroom for a cabin-chic vibe that takes you away from the hustle and bustle of everyday life.
Marble: Modern and effortlessly chic, marble is timeless and elegant. Use it to create walls, surfaces or shower trays to add a touch of class and elegance to any bathroom.
Glass: Great for small bathrooms, use glass to create an underwater sanctuary that maximises your floor space.
Tile trends
Slate: Dark and stormy, slate is a gorgeous material used for wall or floor tiles. Whether it's kept to a feature wall and paired with grey decor or it covers the entire bathroom, slate is a natural material that's set to stay.
Vinyl: With better design options and advanced technology, vinyl floors are making a comeback. They're also a cheaper alternative to their material counterparts and come in a myriad of design options.
Stone: Rustic and rural, stone tiles, tubs, sinks and/or shower trays turn any bathroom into a spa-like sanctuary.
Limestone: Neutral, warm, and serene, add large limestone tiles to your bathroom to create a Mediterranean-spa that helps you relax and unwind after a long day.
Tiled bathroom ideas for wet rooms
Some (but not all) wet rooms are fitted with floor-to-ceiling tiles. This means that material costs are a key consideration before choosing what tile design to install. For example, slate tiles will cost a lot more than ceramic or porcelain.
Here are some options to help inspire you:
Add a slate feature wall to embody class and style. Place it beneath the shower, next to the tub or where you hang your mirror. Installing a slate feature wall saves on costs and creates a lovely design element. So, pair it with small grey and white mosaic tiles everywhere else for a textured and clean look.
Porcelain tiles are perfect for wet rooms, which we recommend using to ensure durability. Why not opt for a chevron design to incorporate modern elegance? Keep it to the floors and then think about changing up the pattern on the walls – maybe a diamond, hexagon or herringbone option instead?
Large patterned grid tiles add interest to any wet room floor. Opt for plain brick-shaped tiles for your walls to avoid overpowering the room, and pair with chrome showerheads, faucets and pipes.
White hexagon tiles with black grouting is growing in popularity, especially when paired with brass fixtures and fittings.
Why not make your shower room the feature with bold and colourful tiles? Keep the rest of your units and white goods in the realms of neutrality for a show-stopping trend.
White and grey marble is a stunning addition to any bathroom. Pair it with dark blue subway blocks for that extra wow factor.
Inject some bohemian spirit with a patterned paisley feature wall. Mix and match your tiles for a unique tapestry that makes you smile every time you get a shower.
New bathroom ideas for a contemporary space
Here are some key trends and contemporary bathroom ideas for an up-to-date space:
LEDs are the future of lighting. Consider placing them in the ceiling like stars, under units for an uplit glow, or either side of your mirror for a powder room aesthetic.
Floor-to-ceiling frosted windows invite the sunshine to flood your bathroom with nurturing light – perfect for smaller bathrooms that need opening up a little.
Fauna and florals are 2020 (and beyond) must-haves. For that reason, house plants are growing (pardon the pun) in popularity – filling our homes with their air-purifying benefits to keep us green-fingered and zen.
Opt for simple and timeless decor with uniformed lines in every sense of the word; from mirrors, shelves, cupboards, showers, baths and even toilets! Keep things low-key and minimalist to welcome the future into your contemporary space.
Split decor bathrooms, where the room is halved horizontally to incorporate different designs is a burgeoning trend. Consequently, think white marble units, sinks, baths and shower basins on the lower half, with black paint on the top half. Too dark? Try blue. Too bold? Try teal. Too much? Try taupe. See where we're going?
Why not opt for glass walls that separate your ensuite from the rest of your bedroom? Keep your bathroom minimalist, but choose grand units like stone baths, basins and toilets. Now, add a large potted palm or row of peace lilies along one wall-to-wall floating shelf. You can even add a water feature or candles to further enhance the aesthetic.
Block colours are bold design statements that show off your assertive side. However, keep it to one wall for maximum effect and let the bathroom speak for itself.
Hang some contemporary art to give your bathroom extra charm. Appeal to your senses and choose designs that complement your space without detracting from its serenity.
Colourful bathroom ideas for a calm sanctuary
Burnt orange, cobalt blue, light teal, russet bronze, daisy yellow and dusty pink are all on-trend right now. Inject some colour and life into your bathroom with these warm and fun colour options. Sprinkle on your wall tiles, dust on your floors, incorporate via accessories, or keep to a unit or two. But whatever you choose, don't be shy about introducing some bold and bright colours to your unique bathroom design.
For more ideas like this, check out our carousel content below.
See the tradespeople we've checked and recommend for your job
Bathroom ideas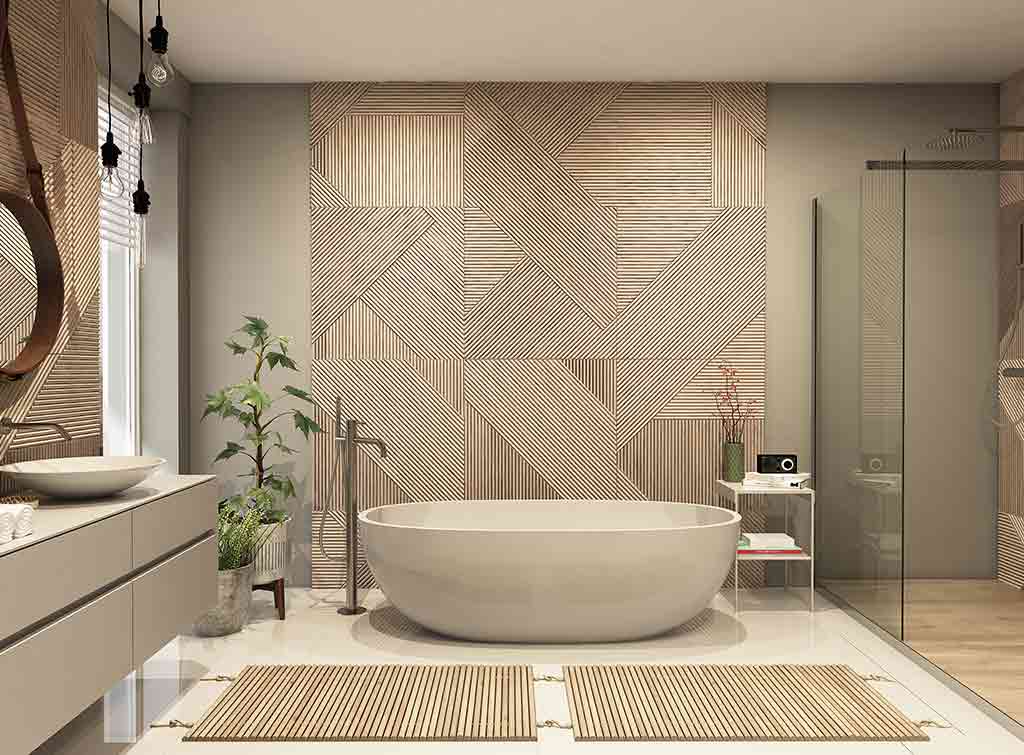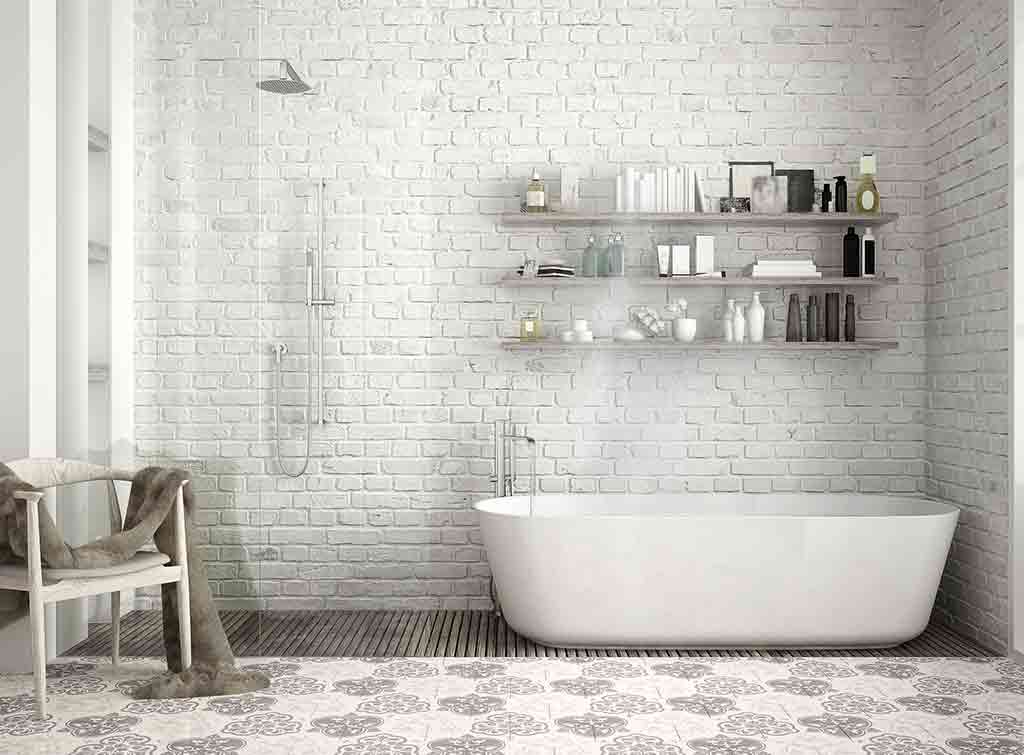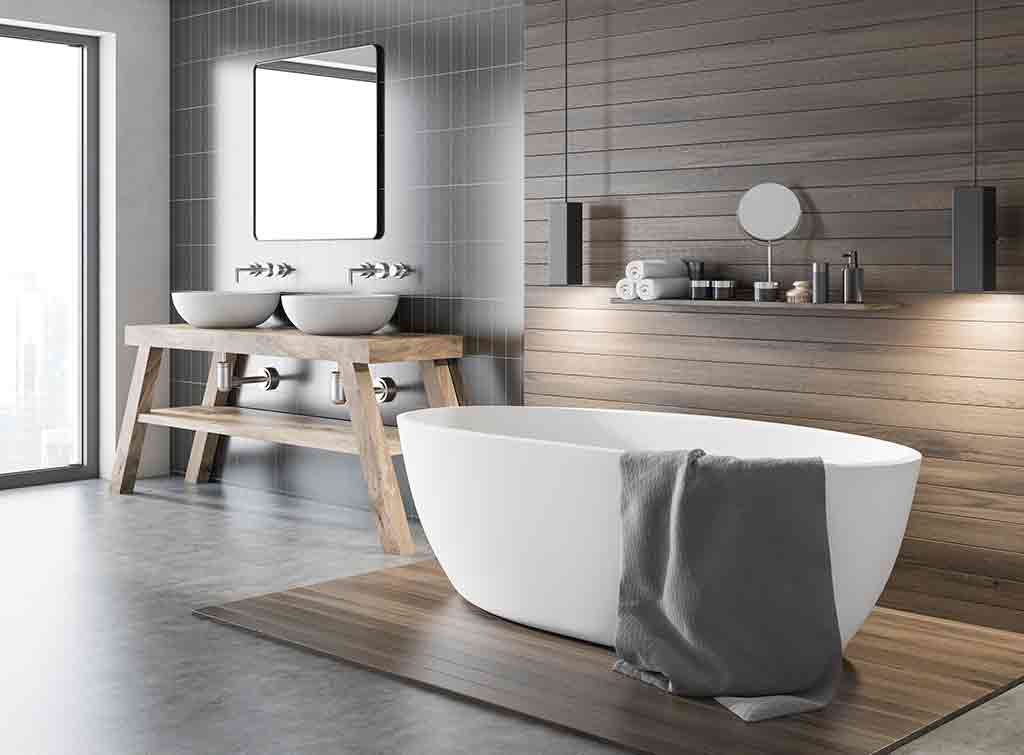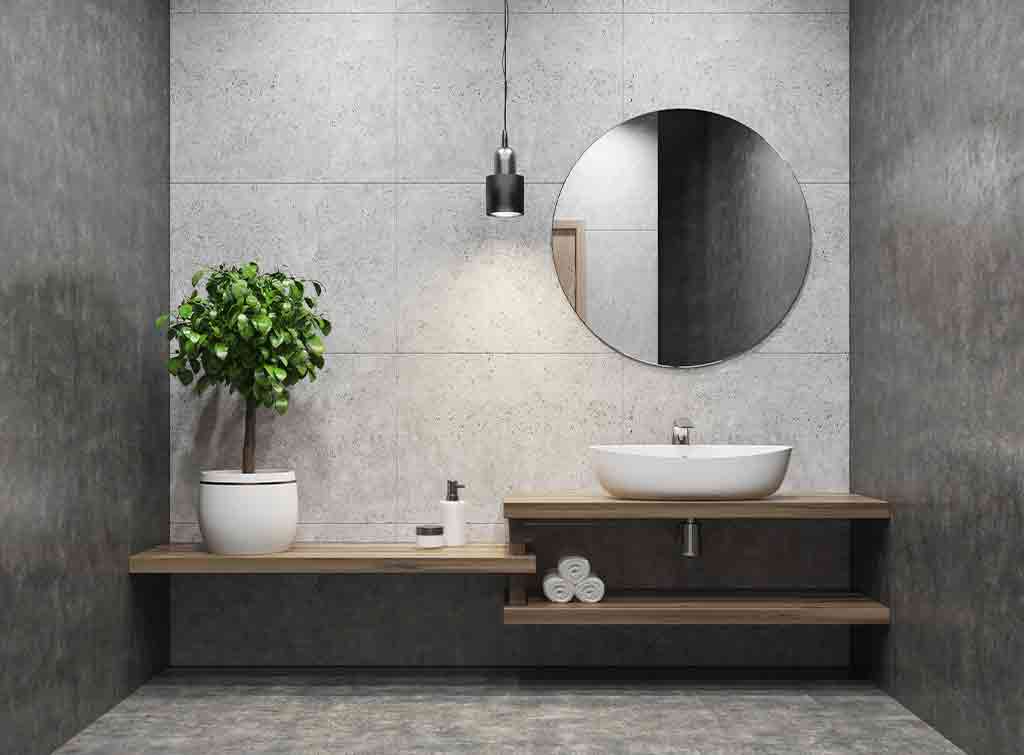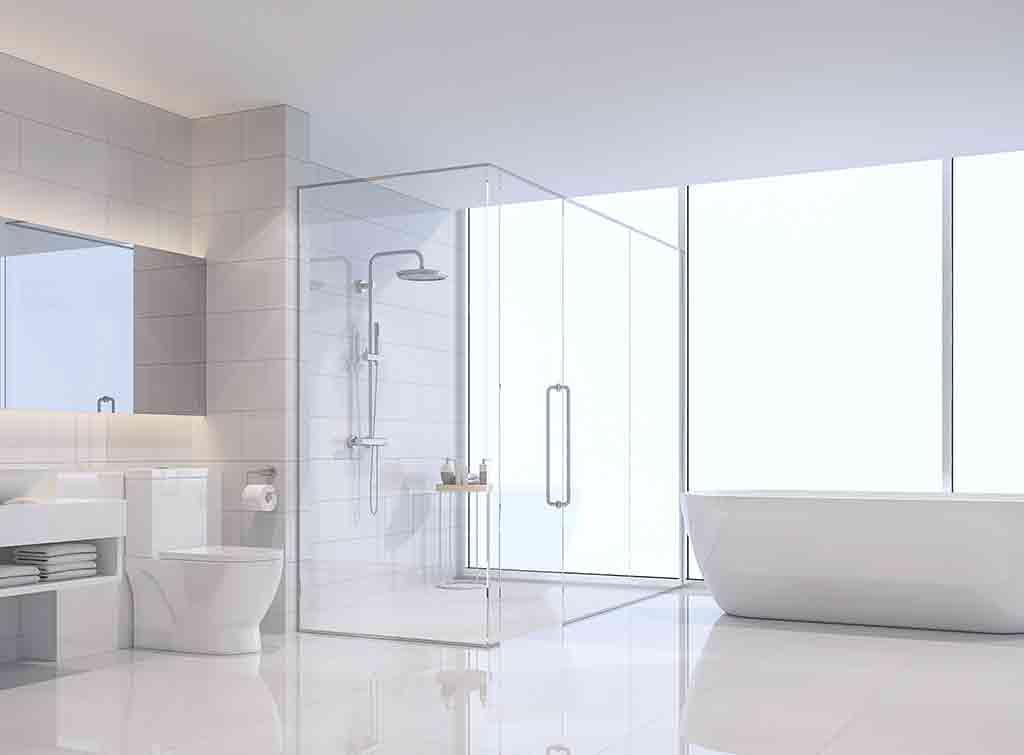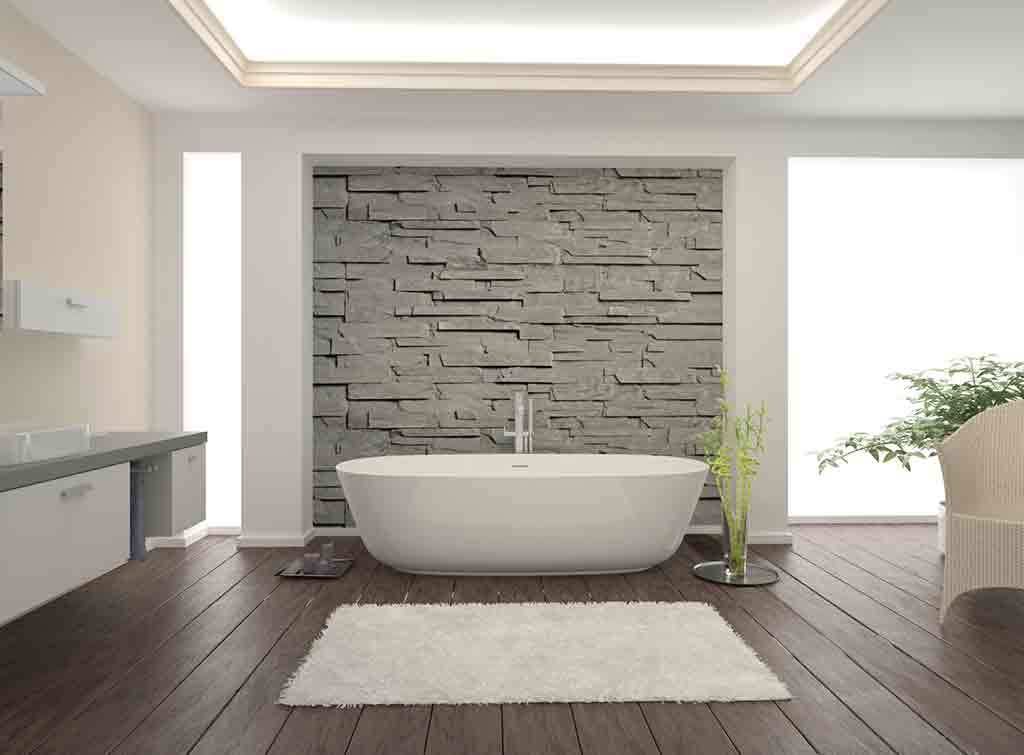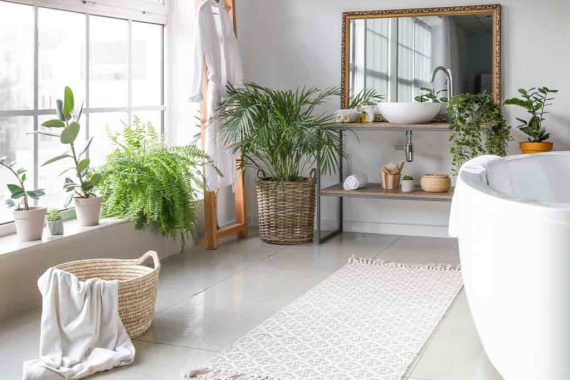 Bathroom designs
This Japandi style bathroom is a beautiful example of how to incorporate warmth and tranquillity into your washroom. Bamboo floor mats and a matching feature wall make this gorgeous bathroom stand out for all the right reasons.
Bathroom trends
White-painted and exposed wall bricks plus clashing two-toned floor tiles is a stunning design option for bathrooms wanting a shabby-chic edge. This design would work beautifully in a smaller bathroom too.
New bathroom ideas
Scandi meets industrial in this contemporary bathroom design. We love the patterned rug, hessian baskets and copious bathroom-loving plants that make this room tranquillity-central. The open shelves at the back wall housing the sink is a unique design element, while the large framed mirror opens up the space even further.
Small bathroom ideas
This bathroom is a great example of how minimalism and colour can work in harmony. A freestanding slipper tub is perfect for small spaces, while the block-colour wall and potted palm pull the design elements together for a gorgeous finish.
Modern bathroom ideas
When rustic meets industrial, you end up with a gorgeous modern/contemporary mix that works well in any room. We love how the freestanding tub is platformed on wood slats that bleed from the wall onto the grey vinyl floor. The wooden bench housing a double sink also adds a great two-toned effect to the decor, while the hanging lights either side of the floating shelf are understated but essential.
Grey bathroom ideas
Two textures work well here, with the back feature wall made up of large stone tiles that match the darker adjacent walls. The wooden shelves, single hanging light, round mirror and ceramic sink all work beautifully to create a minimalist aesthetic that's anything but boring.
White bathroom ideas
Clean, classic, and tranquil, the only difference in this all-white room is the block-tiled wall. The wall-length mirror adds a nice touch, and we love the floor-to-ceiling windows that flood light into this bright space. If you don't feel clean after showering or bathing in here, you're doing something wrong…
Blue bathroom ideas
This white and teal bathroom is full of interesting design features. The dipped side of the room – which houses a bath – is decorated with white and blue mosaic floor tiles that match the inset feature wall decorated in the same style. We like the double mirror and sink combo, while the wooden shelves and ladder towel rack add a splash of warmth in this otherwise light and bright bathroom.
Colourful bathroom ideas
Burnt orange and contemporary art make this bathroom pop. Paired with black shelving units, potted plants and a freestanding tub, this bright and fun design is a great example of how colour can enhance a room.
Contemporary bathroom ideas
Clean, classic and contemporary, this gorgeous bathroom shows us how versatile monochromatic themes can be. The marble wall tiles, white floor tiles, industrial shelving unit, and large simple mirror incorporate clean lines to make this bathroom stand out. The oval sinks are particularly striking, while the free-standing shelf that's housing the towels is a nice touch.
Tiled bathroom ideas
We adore the grey stone tiles that frame the freestanding bathtub. We also love the clashing brown floorboards and fluffy bath mat that adds a touch of whimsy. The skylight and split level features are what make this bathroom stand out, but it's a great example of how to incorporate a feature wall in any space – no matter how big or small.
See the tradespeople we've checked and recommend for your job
Tell us what you think
What others think of this article:
Need More Information?
Related posts