Common washing machine repair issues
Washing machines are an invaluable addition to any modern home and having the ability to wash your clothes quickly and effortlessly is something we often take for granted.

Washing machines are an invaluable addition to any modern home and having the ability to wash your clothes quickly and effortlessly is something we often take for granted. In fact, we only seem to realise just how much we rely on them when something goes wrong.
Is it time to hire a professional washing machine repair technician?
When our machine breaks we find ourselves frantically searching for a local washing machine repair company With such a wide variety of machines out there, the issues can vary greatly in severity. We recommend hiring a professional to carry out any major repairs, but there are many more common minor issues which can be fixed by yourself at home.
We take a look below at some of the most common washing machine repair issues that may arise:
#1 My washing machine won't turn on
If your washing machine isn't turning on, the first thing we suggest is checking the connection and the socket. Does it look like there is any damage to the socket? Does the plug look to be in good condition? Although these may seem like simple things, they are often the cause of the issue, and it may be that the washing machine itself is not the problem.
We recommend testing the socket with an alternative appliance to see whether the power is working. If this proves not to be the issue, the next step would be to assess the condition of the power button itself. Does it look broken? If so, replacing the power switch might be the solution.
If none of these solutions work, or you aren't comfortable with trying to resolve the issue yourself, we recommend contacting a local reputable trader to carry out your washing machine repairs.
#2 My washing machine is not draining properly
When a washing machine won't drain its excess water, there are two likely causes. It may be that you have a blockage in the system. Alternatively, the pump could be broken. A simple way to establish which of these options is more likely would be to listen closely to the machine during a cycle. If you can hear the pump running, but the water is not draining from the machine, then the issue is a blockage. On the other hand, if you can't hear the pump, then something is likely to be wrong with it.
Blockages
Do you check the pockets of every garment you put into the machine? Many blockages are caused by stray items such as coins or keys. Even if you are exceptionally careful, household debris such as hair, fluff and pet hair will likely find its way into the drain at some point, meaning anybody who uses a washing machine regularly should expect to face this dilemma at some stage.
Thankfully, dealing with a blockage can actually be quite simple, particularly on modern machines. Cleaning the filter, which is usually located at the front of the machine (although this may vary from model to model), should resolve the issue.
In order to do this, you may need to drain the model with the 'emergency hose', to avoid messy spillages. To do this, you will need a bucket or alternative basin to empty the water into. We recommend laying plenty of towels out onto the floor, in case of spillage.
See the tradespeople we've checked and recommend for your job
Pump Problems
If the issue is with the pump itself, it would be worth checking to see if any small items of clothing or material may have become wrapped around the impeller. If this isn't the case, the pump may need replacing. Contact a local washing machine repair technician who will be able to help you to resolve the issue.
#3 My washing machine is leaking water
There are several reasons that could be the cause of a leaking machine. One of the first things to check would be that the machine is completely level – if it's tilting to one side, this may cause water to seep out.
If the leak is smaller and comes from the front, then it could signify an issue with the seal around the washing machine door. This can become worn with age but is easily replaceable.
If this isn't the answer, then it's time to check the hose for any cracks or tears. Besides the hose, you should also check the water inlet filters and the O-rings in the water hose for general wear and tear to ensure they're all in good working condition.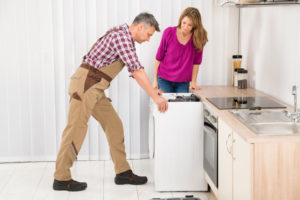 #4 My washing machine is noisy
Washing machines are expected to make a certain amount of noise when they are working, however, if you notice this noise is becoming excessive you shouldn't ignore it.
If the loud noise only happens when the machine is in spin mode, it could be that the main drum bearings are worn. Alternatively, it may be that there are obstructions in the outer tub such as coins which are causing the racket. If you are concerned about excessive or unusually loud noise, find a local washing machine repair company to take a look and resolve the issue.
#5 My washing machine smells
We often spend so much time relying on our washing machine to clean our clothes, that we tend to forget the fact that they require regular cleaning and maintenance themselves. A smelly machine tends to indicate the growth of mould within the drum or detergent drawer. This is a common issue and one which can be prevented by giving the machine a regular clean, to prevent the build-up of dirt and grime.
#6 My washing machine won't finish a cycle
If your machine is failing to finish a wash cycle, it could be due to one of several causes. Many modern machines will provide error codes, which you can decipher in your user manual. If an error code doesn't appear, then it may be one of the following common issues:
Overheating – Have you been using the machine consecutively for several hours? It might be that it is overheating. Give it a break and try again later.
Faulty Thermistor – Alternatively, you may have a faulty thermistor which is preventing the water from heating up to the correct temperature.
Suspected Leaks – If you can see water coming from anywhere on the machine, check for cracks and tears. Many machines will stop mid-cycle if a leak occurs.
If the problem doesn't appear to be any of the above, you may require the assistance of a professional trader to help carry out your washing machine repairs.
Search for a qualified washing machine repair technician in your area
For any larger problems which don't appear to have a simple solution, it is always better to hire a professional washing machine repair technician. A reputable trader, such as those listed on Checkatrade, will be able to help you to identify the problem areas and provide you with a quotation, allowing you to decide whether your washing machine is worth fixing or if it needs replacing.