Last updated on May 11th, 2022
Artex removal cost guide
Once considered high fashion, Artex is a textured coating created using combs to form a repeating pattern of swirls, usually found on ceilings. Up until the mid-1980s asbestos was used to strengthen Artex. In the 60s and 70s, houses were being constructed quickly and there weren't enough plasterers to go around. Due to this, Artex became popular as it needed little skill.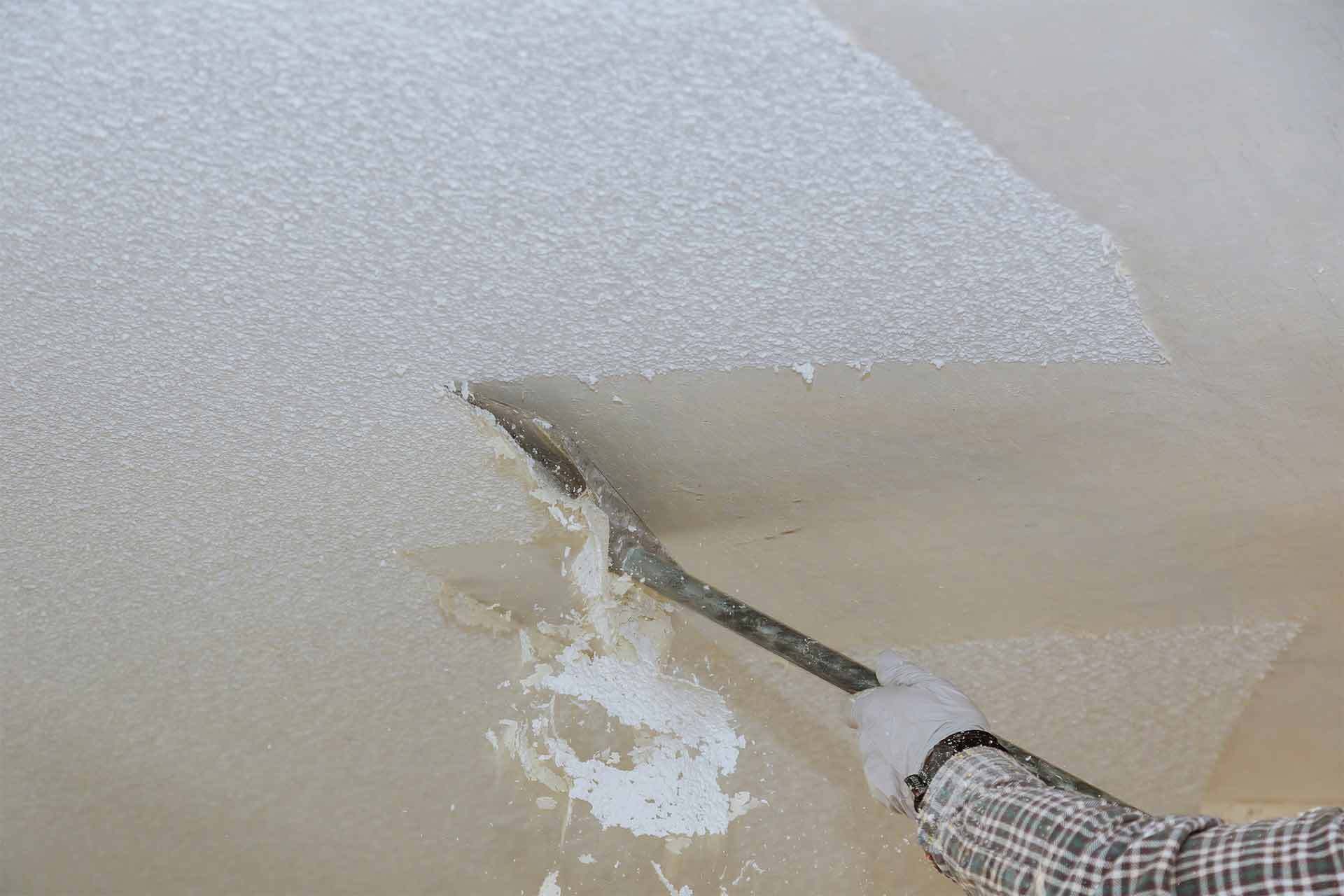 Why should I remove Artex from my home?
Unfortunately, the original recipe for Artex contained hazardous asbestos as a strengthener, which can cause lung damage if inhaled. The risk to health comes from inhaling asbestos fibres. When materials that contain asbestos are disturbed, these fibres can be released as dust into the immediate atmosphere and inhaled by the person carrying out the work and can go on to cause serious disease. Between the 1980s and the year 2000, asbestos was slowly removed from common use and today it has been mostly eradicated.
Nowadays, homeowners may wish to remove Artex from their ceilings for many reasons ranging from removing dangerous asbestos, updating aesthetics, adding a smooth surface for painting or even increasing the value of their homes. If your Artex is cracked it can even be more expensive to repair the cracks than to completely remove it and start over.
How much does Artex ceiling removal cost?
Artex removal activity
Cost + VAT
(Range low - high)
Average cost
Asbestos survey
£200
Artex removal cost
£5 to £30 per m2
£17.50
Artex plastering over
£10 to £30 per m2
£20
Artex can be tricky and time-consuming to remove. Unless it contains asbestos many people simply opt to cover it up and create a new even surface. Your Artex removal cost will depend on several factors including:
Type of Artex: As well as whether it contains asbestos.
Age of Artex: Not only may it contain asbestos it may also be damaged and cracked from the effects of time.
Size of area to be removed: The larger the area of Artex the longer it will take to remove and the higher the labour costs will be.
Depth of Artex: Depending on the professional who added the Artex, it may be thicker or thinner than other ceilings. The thicker the Artex is the longer it will take to remove, pushing up labour costs.
The average Artex ceiling removal cost is £17.50 per m2.
See the tradespeople we've checked and recommend for your job
Do I need an asbestos survey?
The answer to this question depends on when the Artex was installed. If your Artex was applied before 1985 then it almost certainly will contain asbestos so a survey may not be necessary.
If Artex was added to your home between 1985 and 2000 it is impossible to be sure whether your home contains asbestos or not. A survey is essential to prevent exposure to the hazardous substance.
Another way to check whether your ceiling contains the deadly material is to purchase a testing kit online which may not be as accurate as a survey but is much more affordable.
If your survey/testing does show the presence of asbestos, it must be removed and disposed of in a safe manner and you may need to move out of your home for several days to ensure you are not exposed.
For further information please see our asbestos removal cost guide.
On average an asbestos survey costs £200.
What does Artex ceiling removal include?
First things first, if your home was built before the year 2000 an asbestos survey should be conducted. Following this, and wearing suitable PPE, there are five ways in which Artex can be removed from your ceiling:
Boarding over: This involves using plasterboard to board over the original Artex ceiling. Several layers of plaster are then applied to create an even surface.
Plaster overskimming: Instead of using plasterboard it may be possible to simply seal with PVA and plaster over the old Artex.
Complete removal: Not an easy solution, this method involves completely removing the Artex and original plasterboard.
Chemical removal: A common chemical used is X-Tex. This gel softens the old Artex which can then be removed by scraping, leaving the old plasterboard exposed and ready for new plaster to be applied.
Steaming: Here a wallpaper steamer can be used to soften the Artex, which can then be scraped away from the current plasterboard. Please note, you should not over soften the Artex or this will liquify and make a considerable mess.
Once it's been removed, do not forget that Artex should be properly disposed of as hazardous waste. There may be an additional Artex asbestos removal cost due to this.
Artex removal cost calculator
To calculate the total cost of Artex removal for your home, you'll need to start by working out the size of the area of Artex that will need removing. The age of the Artex can also affect the price. The more effort required and the longer the job takes to remove all the Artex, the higher the cost will be.
Artex removal quotes
We always recommend obtaining at least three quotes from our trusted tradespeople. Our request a quote feature is perfect for getting quotes – you post details about the job you want doing and we'll send it out to local tradespeople in your area. Try it out!
Artex removal hourly rates
The average hourly rate for a labourer to remove Artex can range from £25 – £40 per hour. They may alternatively quote you a day rate for the work, which is usually around £200 – £300 per day.
Can I plaster over Artex?
An affordable and very popular option is to plaster over your current Artex. If taking this approach, we recommend you still get an asbestos survey and take proper precautions. First, it is important to flatten or remove any lumps, then the ceiling can be sealed using a PVA solution before plastering.
It can be difficult to create a smooth surface and another option is to use wallpaper instead of plaster. You will still need to seal with PVA and remove any lumps or cracks before starting. It is also wise during this method to use wallpaper lining paper.
In general plastering over Artex costs £20 per m2.
Can I remove an Artex ceiling myself?
While it is possible for you to remove an Artex ceiling yourself, you should not underestimate how difficult and arduous this can be. You should always be certain your ceiling does not contain asbestos before you begin.
If you are planning on repairing or removing Artex textured coatings from ceilings or walls in your home you should seek the advice of a professional Asbestos Surveyor. They will be able to safely take a sample and have it tested in a laboratory to determine whether asbestos is present or not.
Asbestos in Artex coatings is classed as non-licensable work. On the HSE's website in their L143 guide on managing and working with asbestos it says:
"Work with textured decorative coatings will not normally be licensable work, as work with this material will usually not meet the conditions in the definition of licensable work in regulation 2(1)."
However, the removal contractor/builder needs to be trained to Cat B (non-licensed asbestos training). According to the HSE'S guide, they state:
"Although it does not require a licence issued by HSE, all non-licensable work with asbestos will still need to be carried out in accordance with the requirements contained in the Regulations. In particular, it needs to be carried out by trained and competent workers in accordance with a plan of work, using appropriate control measures to prevent exposure and the spread of asbestos."
To find a local, reputable, tradesperson in your area and get a personalised Artex removal cost use our free search feature.
Key takeaways for Artex removal costs
Artex ceilings completed before 1985 will almost certainly contain asbestos and those added between 1985 and 2000 may still do so.
An asbestos survey or test kit can check whether your Artex contains the deadly substance.
There are 5 common ways to remove Artex: boarding over, plaster overskimming, complete removal, chemical removal and steaming.
Artex removal costs £17.50 per m2.
Asbestos is hazardous and only those with proper training should attempt to remove it.
See the tradespeople we've checked and recommend for your job