Last updated on March 25th, 2023
How much does a burglar alarm cost?
Installing a burglar alarm is a quick fix that goes a long way in protecting your property from unwanted intruders. But how much does it cost to install a home security system?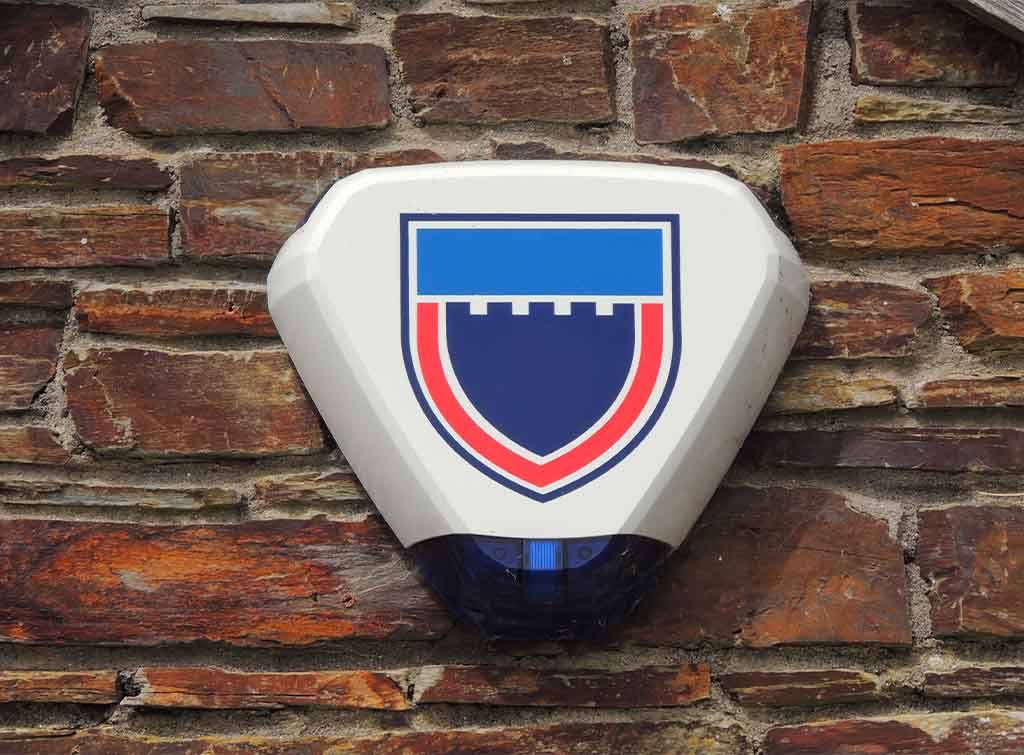 With an active device designed to alert you as soon as it senses danger, a burglar alarm gives you peace of mind that your family and belongings will be safe from a potential break-in.
The cost estimations in this guide are based on domestic and small commercial projects. Large commercial property prices will be a much larger fee. We spoke to Simon Beech at B3 Cost Consulting to provide the ballpark costs to install a burglar alarm.
To make sure it's installed properly and working correctly, you'll want to hire a professional who comes recommended by your neighbours to get it fitted.
| Type of burglar alarm | Unit | Starting prices (Supply and install) |
| --- | --- | --- |
| Bell-only wireless alarm – supply | 2 sensors, 1 door contact | £525 |
| Bell-only wired – supply | 2 sensors, 1 door contact | £500 |
| Smart alarm system | 2 sensors, 1 door contact, token required | £650 |
| CCTV system | Supply (excl. labour) | £800 |
| Burglar alarm technician hourly rate | Per hour | £60-£80 |
How much does burglar alarm installation cost?
Before we jump into the cost of a burglar alarm, we must highlight that before installing one a survey must be completed (this can take around one hour).
Based on the assumption that you're receiving a survey from a reliable professional, they will recommend the right alarm for your needs. They will provide a supply and the installation cost, and highlight any additional costs for any materials to complete the installation sufficiently and to British Standards.
The best burglar alarm installers will only install an approved system.
As an idea on the cost of a system – the price for a bell-only wired system starts from £500 for supply and install. Wireless is usually a tad more expensive at £525 for supply and install. These estimations do not include additional work needed for the installation.
Depending on the technology installed, the level of protection required and the size of the property, the price can shoot right up past the £500 mark. A high specification installation offering maximum security will cost £1,000+.
Why install a burglar alarm?
People don't install a burglar alarm without good reason. Whether they are being reactive or proactive, protecting your home, family and surroundings is at the heart of every installation.
If your property has been targeted in the past, or you're moving into an area renowned for break-ins, a burglar alarm is an effective deterrent and will help you sleep easy at night.
Types of burglar alarm
Burglar alarm panel
A burglar alarm panel is what most people understand to be the standard level of home security. If a burglar attempts to break into the property, a loud, high-frequency sound is emitted for a designated amount of time.
Burglar alarm panel technology has become very sophisticated in the last decade. High specification systems are now interoperable with smartphone applications, and can send texts, calls or alerts when a break-in is detected on your property.
See the tradespeople we've checked and recommend for your job
Sensors
The average burglar alarm installation cost will vary depending on the type or quality of sensors required to detect a break-in. The two most common burglar alarm sensors are infrared or magnetic.
Infrared sensors are very popular and can detect subtle changes in the temperature of your household. If someone enters your property, the infrared detectors will notice the change in ambient household temperature and will raise the alarm.
Magnetic sensors are applied to doors and windows, creating a seal that when broken, triggers an alarm. Magnetic sensors have become less popular in recent years but are still excellent and resilient pieces of technology.
Wired or wireless
Another thing to consider when estimating your burglar alarm fitting cost is whether you will opt for a wired or wireless system to connect your sensors to your alarm panel.
Wired sensors require wiring to be laid between the sensors and the alarm panel. This needs an additional cost for the cabling – upping the £500 we've estimated. Wired sensors are very resilient, but usually require an onsite electrician to ensure the system runs perfectly.
Battery-powered wireless sensors emit low-frequency signals that connect to your alarm panel. Wireless sensors require less electrical engineering but require expertise on where to place them for maximum efficiency. If they're placed too far away from the alarm panel, the signal could be too weak to trigger the alarm. The wireless alarm itself is typically more expensive to source than a wired model.
Monitored burglar alarms
If you need the gold standard in burglar alarms, a monitored system is what you are looking for. A monitored system will increase your burglar alarm installation cost, but you can rest assured that your property is being monitored for break-ins by trained external experts in home protection.
If a break-in is detected, an agent will get in contact with you, or your designated contact. Agents can also be advised to contact the police or relevant authorities.
Smart alarms
Most professional-grade basic wireless systems should include a connection to smartphones by default. Some smart alarms can cost around £650.
Factors affecting the cost of burglar alarm installation
The cost of installing a burglar alarm will be largely dependent on the tech installed, the size of the property, cabling, and any auxiliary equipment required to power the installation.
For example, monitored security systems will typically incur ongoing costs, whereas if you opt for a home CCTV system, your installation costs could fluctuate as the technology is not cheap.
Burglar alarm fitting cost
The cost of burglar alarm installation will widely vary on the size of the job to install a burglar alarm. Once the survey is carried out for the project, an accurate quote will be provided. We recommend speaking directly to a trusted and vetted Checkatrade professional for an accurate install quote.
House alarm installation cost
The standard house alarm installation starts at £500 – £525 for a bell only, wireless sensor installation. This is the most common type of installation throughout the UK and offers to assure home protection at a great price.
Burglar alarm cost calculator
To calculate the cost of your burglar alarm installation you need to factor in the number of alarm units you need, the make and model you choose (the more advanced models will cost more), and the amount of labour time involved in the installation.
The larger your home and the more burglar alarm units you have installed, the higher the cost of installation.
Burglar alarm installation hourly rates
The average rate for a burglar alarm technician is around £60 – £80 per hour. The exact price you pay will depend on the individual technician, their experience and where you live in the country.
How long does it take to install a burglar alarm?
Installing a burglar alarm typically takes about one to two days depending on the size of the property. A tradesperson will usually be willing to conduct a no-fee consultation before the installation to scope out the project at hand.
Can I fit a home security system myself?
If you have experience with home security and have a strong understanding of home electrics, installing a burglar alarm will take some time but it is a relatively straightforward task.
If you don't have experience in either of those fields, it's probably best to consult a professional tradesperson. When it comes to home security, getting your alarm system correctly configured is worth the piece of a mind a professional installation can provide.
Burglar alarm installation cost overview
The starting house alarm supply and install cost is £500 +VAT.
The price may fluctuate depending on the size of your property and the sophistication of the system installed.
An electrician may be required if you choose a wired system.
A burglar alarm installation takes approximately one to two days.
Unless you have experience in home security and electrics, hire a professional.
See the tradespeople we've checked and recommend for your job