Last updated on August 15th, 2022
Chimney cap installation cost
More than a mere aesthetic addition, chimney caps protect the upper structure of buildings and their insides, around flues. If a disused chimney goes uncapped, the ingress of rain, hail and snow is likely to take its toll, penetrating the brickwork and attic walls.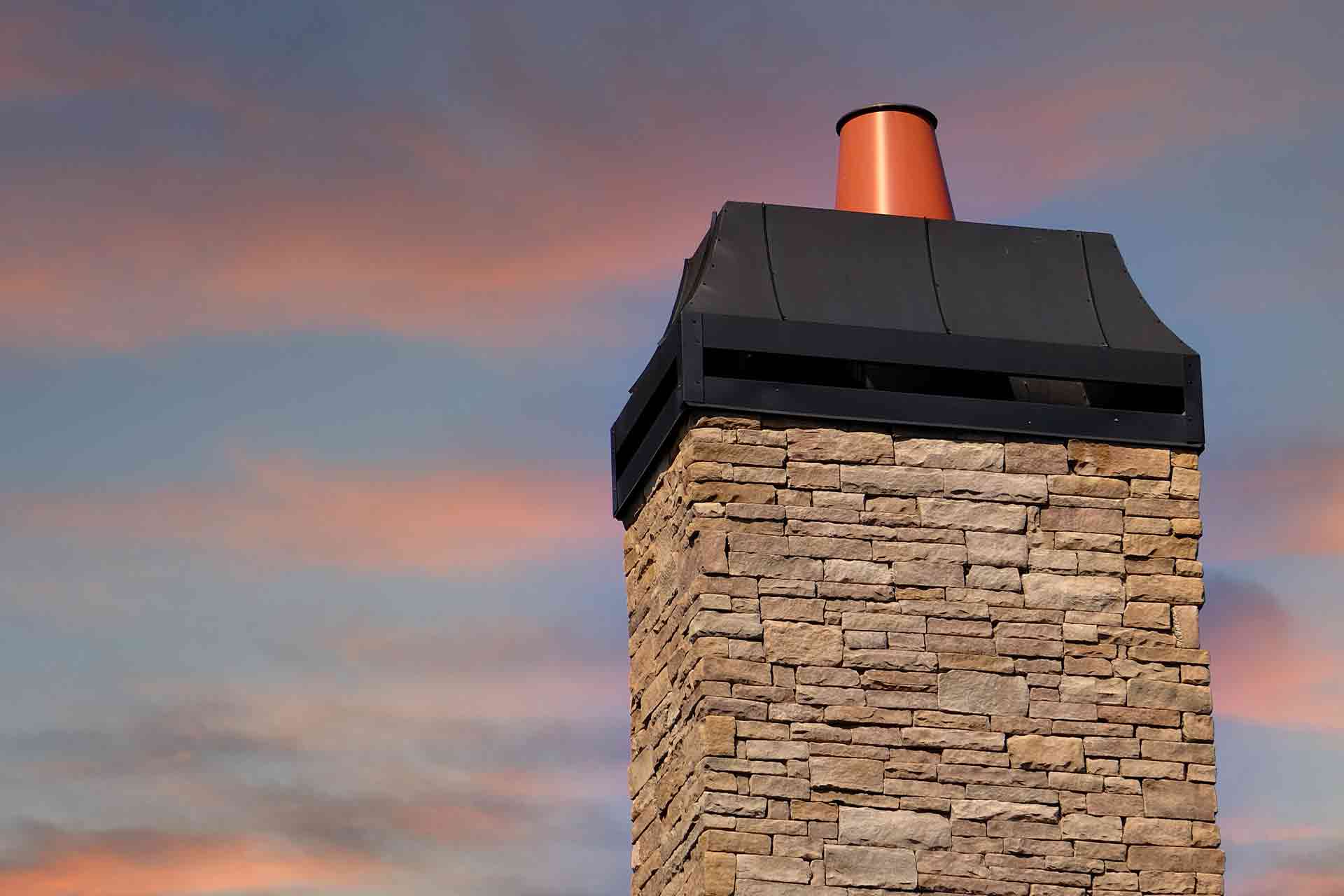 Capping an unused chimney is a wise decision to maintain and protect the value of a residential property. Typically, the tradespeople who fit caps are roofers and chimney sweeps. For details of recommended fitters, along with chimney cap installation cost and chimney cap replacement cost, please read on.
How chimney caps are different from chimney cowls
Although some descriptions use the term chimney cowl to describe chimney caps, there is a difference. Principally, chimney cowls reduce or eliminate downdraught and improve upward airflow in vents used for wood burners.
How to determine which chimney flue needs a cap
When there is more than one chimney on a stack, it may be necessary to check which one to cap. To confirm, the maintenance contractor will ignite a coloured smoke pellet in the hearth of the fire. On a bright day, lighting two will ensure a good view from outside as the smoke rises.
Notably, however, a good smoke test does not necessarily guarantee that the flue is in perfect condition.
See the tradespeople we've checked and recommend for your job
How much does a new chimney cap cost?
Chimney cap prices vary according to the make and type of hardware fitting. Similarly, the cost of chimney cap installation depends on the location, type of building and its height. For supply and fit services, the average new chimney cap cost varies between £150 – £200. For more elaborate models, chimney cap installation cost could rise to £520.
Additional costs
If access to the chimney stack area is not straightforward or the building exceptionally high, scaffolding hire might be necessary.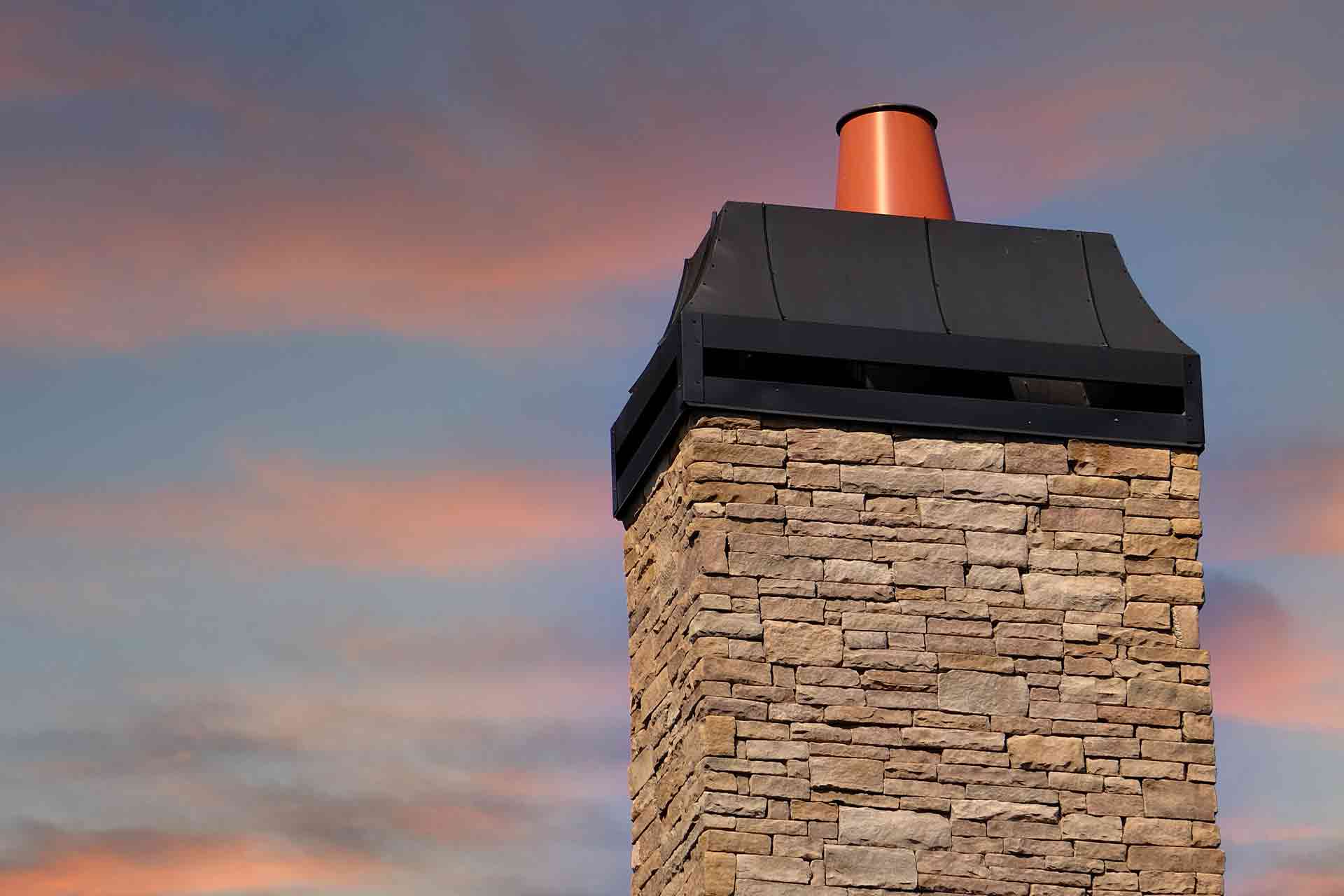 How do I know I need a new chimney cap?
If you notice these signs, you might need a new or replacement chimney cap:
Gaps in the mortar or missing sections on the exterior chimney stack.
Loose brickwork or minor deterioration in masonry materials due to water leaks.
Damaged existing chimney caps or crowns. Cracks are usually obvious, although poorly made or wrongly sized caps might retain pooled rainwater and cause problems.
Water stains on interior ceilings or walls, especially near the fireplace.
See the tradespeople we've checked and recommend for your job
How much does a chimney replacement cap cost?
With easy access and no scaffolding, chimney cap replacement cost is around £150.
To estimate the size or width of the chimney cap needed, view from the side and compare nearby bricks to the pot. An average UK house brick is 22.5 centimetres (or nine inches) wide in older properties or 21.5 cm in modern builds. To arrive at internal diameter, subtract 2.5cm (one inch) for the ceramic material thickness, but allow for any significant decorative rolls.
What to remember when selecting a chimney cap or cowl supplier
Sub-standard pot removal and capping can be expensive in the long term, especially if there are leaks in the flue. We recommend choosing one of our qualified professionals, therefore, to install a cap or cowl for your chimney pot.
When choosing a cap for a chimney, it is advisable to look for mesh sidings too, as they stop birds and other small animals from getting in.
How to seal a chimney
Lead caps often cause condensation, so today's preferred solution is the C-Cap, which minimises heat loss while allowing ventilation and protecting the structure. Designed to withstand gales, C-Clamps suit round pots up to 33 centimetres (13 inches) in external diameter. If cracked, the ceramic is best replaced first – or at least bound so that it can bear the pressure from the retaining wires.
To find a local tradesperson and obtain a quotation for the cost of chimney cap installation, please go here.
Useful chimney cap checklist
Cap only disused chimneys, to protect the flue and prevent the ingress of debris and nesting birds.
Chimney cap prices depend on specification levels and ease of installation.
Modern seal clamps allow ventilation, thus minimising condensation.
To avoid problems, select an experienced professional and make the most of your money.
See the tradespeople we've checked and recommend for your job