Last updated on September 1st, 2022
Conservatory blinds cost guide
Whether you are installing a new conservatory or just want to update an old conservatory, our conservatory blinds cost guide has all the important information you need.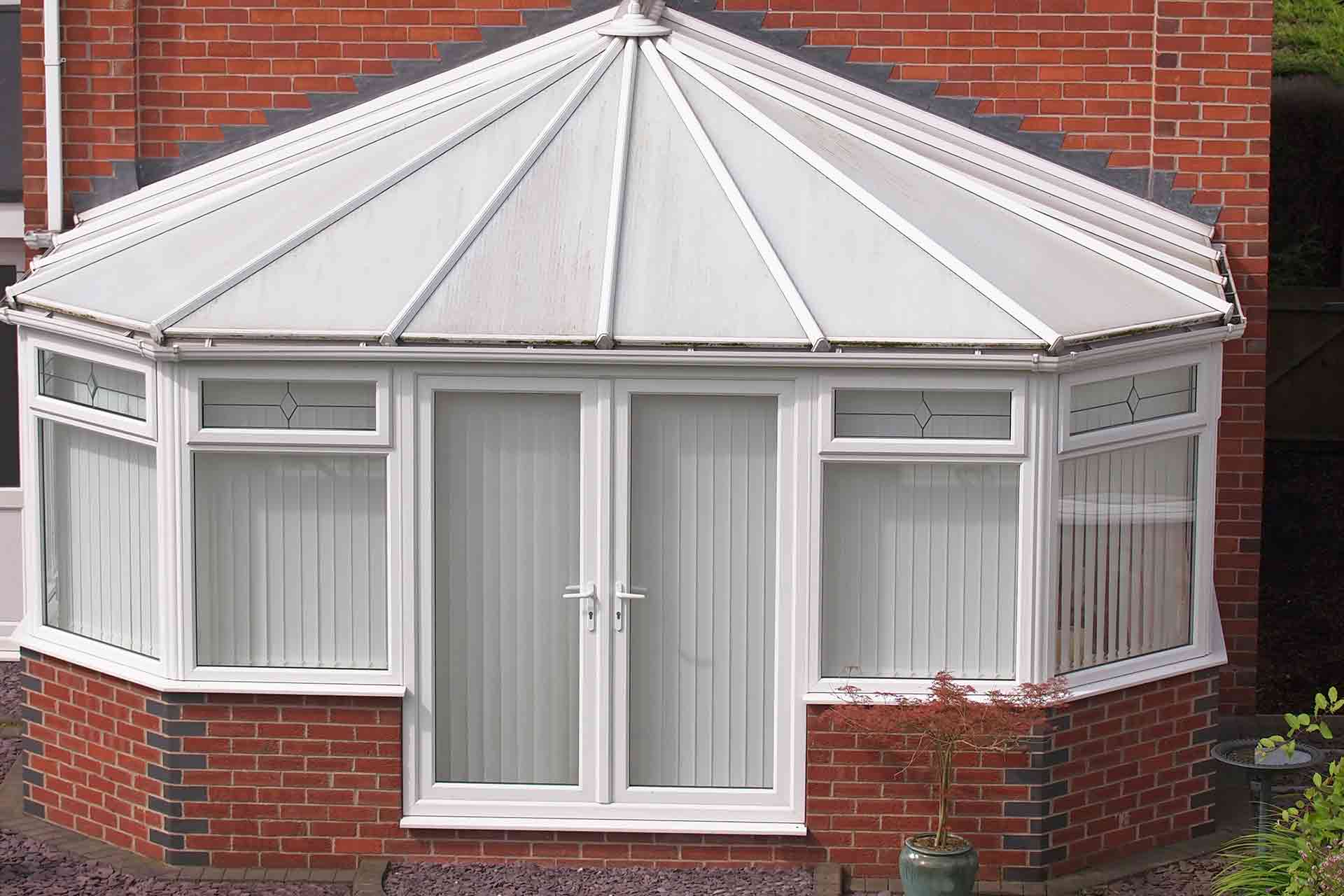 Why install conservatory blinds?
As we revealed in our conservatory cost guide, adding a conservatory to your home can be a fantastic way of increasing living space.
So why is it that so many conservatories are only used as a glorified storage space? Unfortunately, without blinds, a conservatory can be extremely hot in the summer and icy cold in the winter, hardly an inviting space.
Blinds can help to add shade in hotter weather and insulation in colder weather, giving your conservatory a new lease of life. Not only are they functional, but they are also available in a huge variety of colours, styles and patterns to complement your interior style.
Modern blinds offer excellent extra features including tilting, removable and electric blinds, perfect for any scenario. Below, we will look into the benefits of blinds, factors affecting the cost of conservatory blinds and much more.
How much do conservatory blinds cost?
| Cost provided item | Average UK cost |
| --- | --- |
| Conservatory blinds | £2,650 |
| Conservatory roof blinds | £4,525 |
| Conservatory sail blinds | £1,200+ |
| Electric conservatory roof blinds - per blind (materials only) | £50.50+ |
| Pleated conservatory blinds | £2,003 |
Due to the large variety of blinds available, the price for conservatory blinds can vary wildly. Depending on a number of factors (more on this coming up), the amount you will pay is on average £2,650.
Benefits of conservatory blinds
While some people may visually prefer curtains, blinds come with such a wealth of advantages it is definitely worth looking further into this option. Below are a few of the benefits you can expect when choosing conservatory blinds:
Visually appealing options are available to suit any taste and style.
A wide choice of colours, styles, patterns and materials.
Block out the sun on hot days.
Insulate against cold weather.
Waterproof.
Look tidier than curtains and are easy to clean.
Removable options are available.
Great control. You can choose from tilting, rolling or electric blinds, giving you complete control over the amount of light and heat you let into your conservatory.
Extra privacy. Blinds can be shut to completely block the view of neighbours.
Added security, as thieves cannot see into your home with blinds blocking their view.
Factors affecting the cost of conservatory blinds
As mentioned above, when budgeting for your conservatory blinds there are a number of factors to bear in mind. The following are the most common factors that will impact how much your conservatory blinds cost:
Number of blinds: The more blinds you need, the higher the total price will be.
Size of blinds: Larger blinds need more materials and may take longer to install. This will increase the amount you pay.
Material of blinds: Not all blinds are created equal and the material that they are made from dictates the quality and durability of the blinds. Higher quality materials are more expensive.
Type of blinds: Electric, pleated and removable are just three of the options available, all with varying costs.
Accessibility: Whether your conservatory is easy to access will impact the cost of conservatory blinds. Difficult to access areas will be charged at a premium.
Time taken to install: Longer installation times will increase the labour cost of blind installation.
Location: Your location can affect the amount you pay for blind installation. Areas like London and the South East will have higher labour costs.
See the tradespeople we've checked and recommend for your job
Types of conservatory blinds
With such a wide range of conservatory blinds on offer, it is no surprise that choosing the right type for you can be confusing. The following are the most common types of blind:
Pleated
Electric
Venetian
Pinoleum
Roman
Roller
Sail.
Costs by type of conservatory blind

Conservatory roof blinds cost
Whilst conservatory blinds cover the windows, it can also be beneficial to install roof blinds. These can prove to be vital in the summer to reduce heat and light in your conservatory. The average conservatory roof blinds cost is £4,525.
Conservatory sail blinds cost
Visually stunning, while still offering excellent functionality, sail blinds can reflect heat on hot days while still allowing light to filter into your conservatory. Expect to pay on average £1,200+ for conservatory sail blinds.
Electric conservatory roof blinds cost
Offering full control over the light and heat that enter your conservatory, electric blinds can be controlled at the touch of a button.
They use a motor to open and close, making them a great choice for elderly and disabled people who may not have the strength or reach to operate manual blinds. When it comes to budgeting, electric conservatory roof blinds cost £50.50+ per blind.
Pleated conservatory blinds cost
A more affordable option compared to other types of blind, pleated conservatory blinds can be raised or lowered to your ideal height. With an average price of £2,003, these blinds can be designed to fit most budgets.
Can I install conservatory blinds myself?
Installing conservatory blinds can be very time consuming and hard work. Depending on your level of physical ability and skill, doing this as a DIY job may not be suitable for you.
Measurements
You'll need to start by taking measurements, and if these are inaccurate you may end up with custom blinds that don't fit and cannot be returned.
Electrics
If you are considering installing electric blinds, working with electrics can be very dangerous so you may wish to at least hire an electrician to ensure this is done safely.
Working at height
You should also consider that when installing roof blinds, you will need to use a ladder and spend large amounts of time with your neck craned backwards. Working at heights is always risky and a neck injury is the last thing you need.
With any blinds, if not installed correctly they may fall down, injuring anybody in the room plus damaging anything they hit.
Using a professional
Hiring a tradesperson gives you guidance from their years of experience and a high-quality finish to any job. As such we would recommend hiring a professional.
To find a local, reputable, tradesperson in your area and get a personalised conservatory blinds installation quote, use our free search feature.
FAQs
Which type of blind is right for me?
Always consider the style, colour and function of your perfect blinds before making a decision.
Choose blinds that match your homes' style and your personal taste.
Consider electric options if you have reduced mobility.
Other options to choose from are roller blinds, roof sails and standard pleated blinds.
What alternatives are there to conservatory blinds?
If blinds aren't to your taste or don't offer the functionality you need, it is worth considering one of the following options:
Window film
Curtains
Air conditioning (in warmer months)
Radiators (in winter).
Useful conservatory blinds checklist
Conservatory blinds can offer privacy, security, and enhance the aesthetics of your conservatory.
Blinds work throughout the year. During the summer blinds give shade, and during the winter they give you insulation.
A wide variety of blinds can fit many budgets, with the average conservatory blind cost being £2,650.
Blinds come in many styles, including pleated, electric and roman.
Installing blinds yourself can be time-consuming and very hard work.
See the tradespeople we've checked and recommend for your job