Last updated on July 28th, 2022
How much does it cost to build a dog kennel?
Building a kennel gives your dog a special place to rest, sheltered and protected from the elements. We've put together this guide to help you understand what it will cost to build a dog house.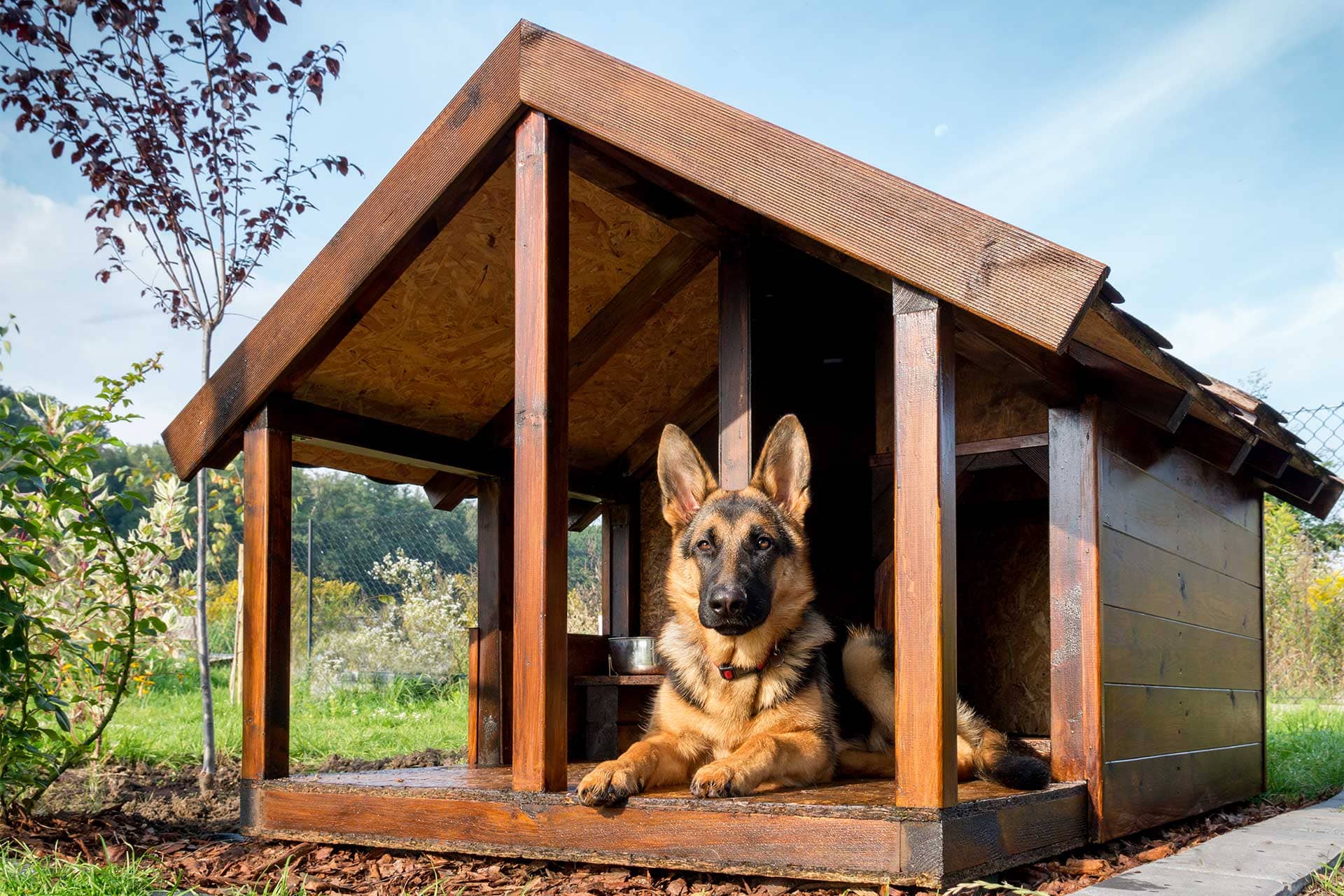 If you're a dog owner looking to give your pup its own special place to rest outdoors, building a dog kennel is a great idea. The size and cost of building a dog house will depend on how big your pooch is, but whatever the size your four-legged friend is going to love their new house.
How much does it cost to build a dog kennel?
| Size of dog house | Average UK cost | Timescale |
| --- | --- | --- |
| Small | £120 | 3-5 hours |
| Medium | £180 | 4-6 hours |
| Large | £220 | 6-8 hours |
| Extra large | £300 | 1-2 days |
The average cost to build a dog kennel in the UK ranges from around £120 for a small kennel, up to about £300 for an extra-large kennel.
Before making any final decisions or hiring a tradesperson to build your new dog house, there are a few factors that will influence the total cost of building a dog kennel. These include:
Size of the kennel
Type and quality of materials
Complexity of design
Time to build
The larger your dog, the larger the kennel you'll need to build – and that means a larger price tag.
When hiring a professional they will most likely charge you for the cost of the materials for the dog kennel, and then their labour for building it. The average day rate for a carpenter is around £250.
A tradesperson will generally use a standard design for the dog house and then build it to the right size for your dog. However, if you want a bespoke design you will need to pay extra for one to be created.
What materials are used to make a dog kennel?
There are a range of materials you can choose for building your dog kennel, and your choice of material will directly impact the overall cost. If hiring a professional, they can advise you on the choice of materials and the best ones to use.
| Cost provided item | Unit | Average UK cost |
| --- | --- | --- |
| Plywood | Per m2 | £11 |
| Pine | Per m2 | £50 |
| Cedar | Per m2 | £90 |
| Oak | Per m2 | £100 |
| Roofing felt | Per m2 | £24 |
| Animal-friendly wood preservatives | Per litre | £14 |
| Carpenter | Per day | £250 |
One of the cheaper materials that's ideal for a dog house is water-resistant plywood, which is available from about £11 per m2. The next wood up in terms of quality is pine, however the cost difference is significant, with this timber coming in at around £50 per m2.
Cedar will cost you in the region of £90 per m2. If you're looking for a more refined choice, you can choose oak for around £100 per m2. And for the dog house roof, felt costs about £24 per m2. One thing to note is that even the most resistant timbers will eventually suffer the effects of constant weathering.
Whichever material you choose, make sure you go for the outdoor grade wood that can endure sun, wind, rain and snow. It's also recommended that you also use animal-friendly wood preservatives to help your dog house withstand the effects of the elements – this will cost about £14 per litre.
Top tip: Don't use MDF as it easily absorbs water, so any humidity or rainfall will cause it to expand and break up.

Things to consider when building your dog kennel
Choose the right size kennel
The kennel should give your dog enough space to get inside, turn around, lay down and ideally spread out. Although, it also needs to be cosy rather than spacious so that your pup can snuggle comfortably.
As a rule of thumb, a good size guide for your dog kennel is adding 9 inches to the height of your dog, 18 inches to their length, and 12 inches to their width.
Build a house for your dog's needs
Building the best dog house for your hound means paying attention to their needs. If your dog gets hot easily, avoid shingles on the roof that will attract and hold heat. Instead, use water-resistant exterior plywood for the roof.
If your dog likes to know what's going on around them, choose a flat roof for the kennel so that your dog has full visibility of their surroundings.
Top tip: To help keep the dog kennel cool in warm weather, drill several small holes in the walls to let hot air escape. They also help the kennel dry out quicker in the winter.
Find the right spot
The ideal place for your dog kennel is in the shadiest part of the garden. Not only does it help keep the kennel cool in warm weather, it also reduces the weathering effects of the sun. And if you can locate it next to the wall of your house or garage, it will help protect it from the wind.
Add finishing touches
Accessories will turn your dog kennel into a canine home. A good water bowl is essential and added padding will give extra comfort. However, avoid using cushions and blankets unless you plan to bring them in every day – as they'll get damp and can cause mold to grow if left. Instead use wood shavings and replace any bedding weekly to ensure it's kept in good condition.
Useful dog kennel checklist
Use your dog's measurements to plan the right size for them.
Speak to local dog kennel builders for professional advice and design options.
Decide which material(s) you want to use for your dog kennel.
Shop around for fair and competitive prices.
Always hire a tradesperson with experience in building dog kennels and ask to see examples of their work.
See the tradespeople we've checked and recommend for your job