Last updated on September 1st, 2022
Cost to build a gazebo in 2023
Building a gazebo is a fairly straightforward project and shouldn't require a huge amount of planning. In this guide we look at how much it will cost to build a gazebo, featuring average prices in the UK.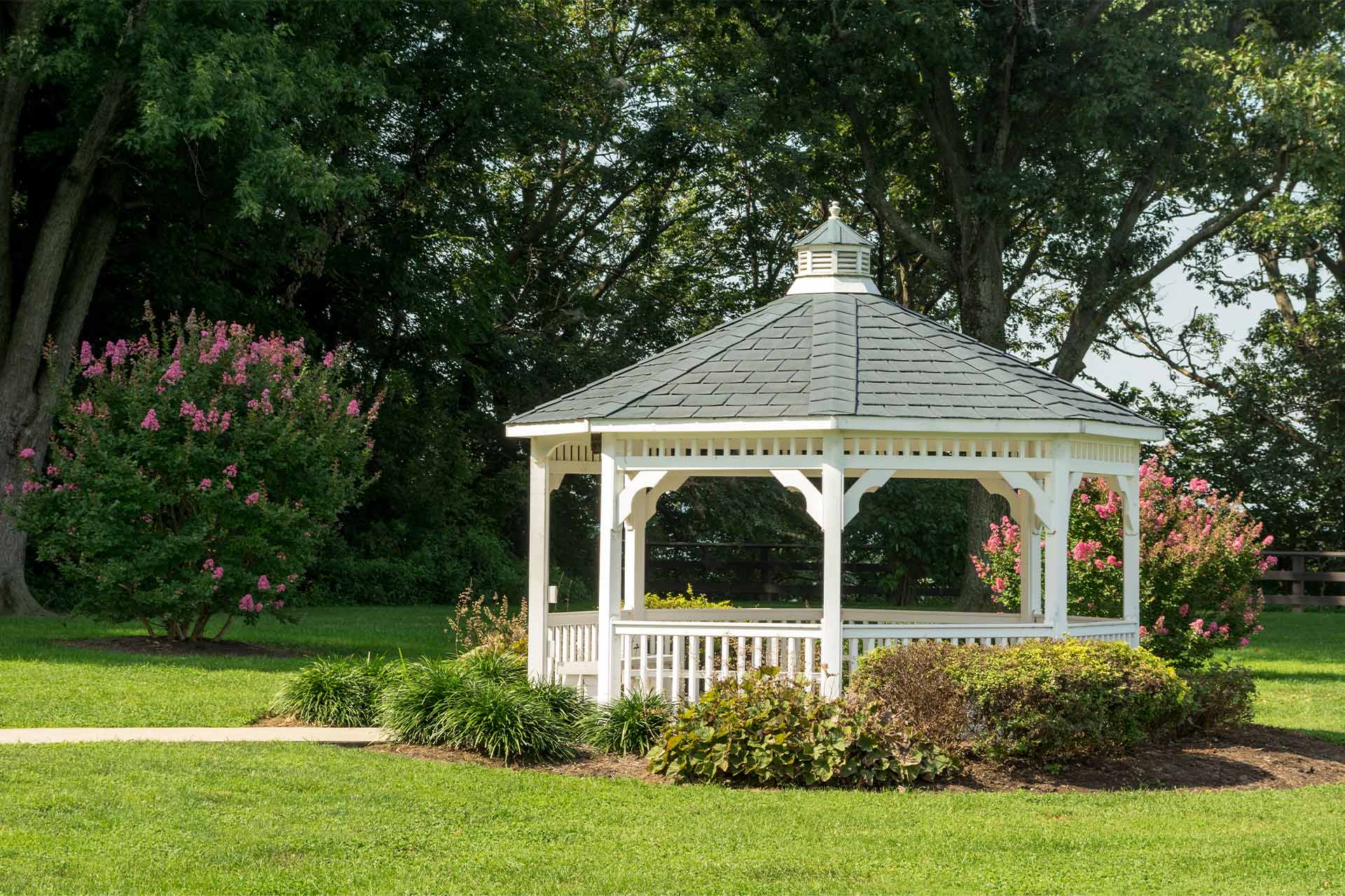 If you're looking to enhance your garden at home, a gazebo can offer a wonderfully peaceful spot to enjoy the outdoors from.
Whether you want a cosy relaxing spot for a morning coffee, or you're a fan of dining al fresco in the warmer months, a gazebo adds a functional focal point to your garden.
As with all home construction projects, however, it's important to know what's involved and the associated costs.
What is a gazebo?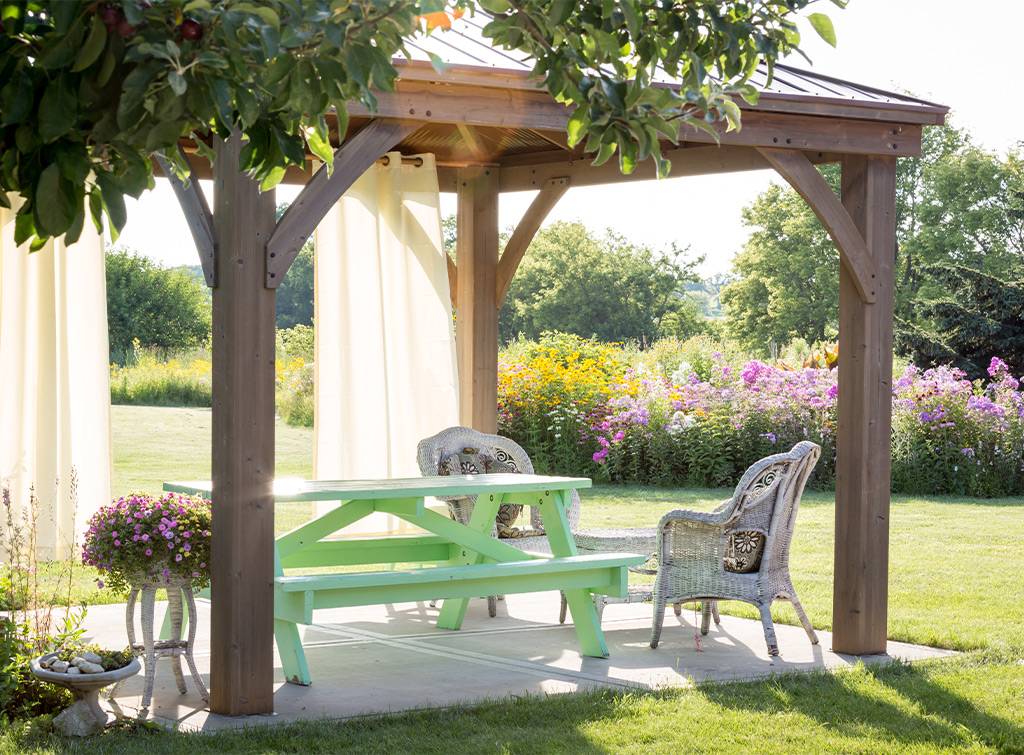 There's a common confusion around gazebos and pergolas, so we thought it useful to start by clarifying what a gazebo is.
A gazebo is a small open-air deck structure (usually a hexagonal shape) that features a canopy roof sat on either legs, curtains or solid sides – most commonly made of metal, wood or sometimes fabric. The result is an enclosed area protected from the elements.
Not to be confused with a pergola. The main difference being the roof, where a pergola features a slatted roof to allow light in. Pergolas provide partial shelter and are most commonly used over a garden pathway or patio, often with trailing plants and vines.
How much does it cost to build a gazebo?
| Cost provided item | Average UK cost |
| --- | --- |
| Standard gazebo | £7,000 |
| Timber wood gazebo | £4,250 |
| Vinyl gazebo | £5,500 |
| Metal gazebo | £8,000 |
| Labour (per day) | £250 |
The price you'll pay to build a gazebo in your garden can vary depending on a number of factors, including:
Size and style of gazebo
Material
Shape
Any prep work (to prepare the ground)
Where you live
The average cost to build a gazebo from scratch is around £7,000. In general, the larger the gazebo the higher the cost.
Given that the main cost of a gazebo installation is the gazebo itself, the material its made from has the biggest impact on overall price.
Building a timber gazebo will cost around £4,250. Opting for a vinyl gazebo will be about £5,500. The most expensive option is to build a metal gazebo, with an average price tag in the region of £8,000.
You can, of course, find gazebos for all budgets – pre-made off-the-shelf gazebos will be much cheaper than bespoke models. And custom-built luxury metal gazebos can be much more expensive.
It's therefore important to do your research so you know exactly how much it will cost to build a gazebo that's right for you and your garden.
Types of gazebo
Gazebos can offer an ideal solution for shelter in your garden, allowing you to enjoy living space outdoors. There are three main types of gazebo that are popular with UK homeowners:
Freestanding gazebos
These are the most common type of permanent gazebo, where the structure requires no additional support once built. You can place a freestanding gazebo anywhere in your garden (as long as the ground is suitable) without having to attach it to an existing building.
Lean-to gazebos
Unlike a freestanding gazebo, a lean-to gazebo is attached to the outside of your house – usually covering the back door or main exit to the garden. They offer an awning-style shelter you can access directly from your home, which can be useful if you still want to enjoy fresh air in bad weather without getting wet.
Gazebo tents
You'll most likely have seen a gazebo tent at a barbecue or garden party. They offer a temporary gazebo solution in the form of a fabric canopy, often with fabric walls. Being portable they are a low cost option and don't require any structural installation.
Costs to build a gazebo
Material costs
The structure itself is the biggest cost of building a gazebo. The combination of size, style and material will all affect the price you pay for your gazebo.
Labour costs
The gazebo installation cost is relatively low, as it should take less than a day to build from scratch. The average labour cost to build a gazebo is £250 per day.
Additional costs to build a gazebo
There are a number of additional costs that you might need/want to consider when planning to build a gazebo from scratch:
Preparing the ground to be suitable to build the gazebo on.
Bespoke design if you want a very specific style for your gazebo.
Built-in furniture, such as a table and seating.
Adding screens to provide extra shelter.
Do I need planning permission to build a gazebo?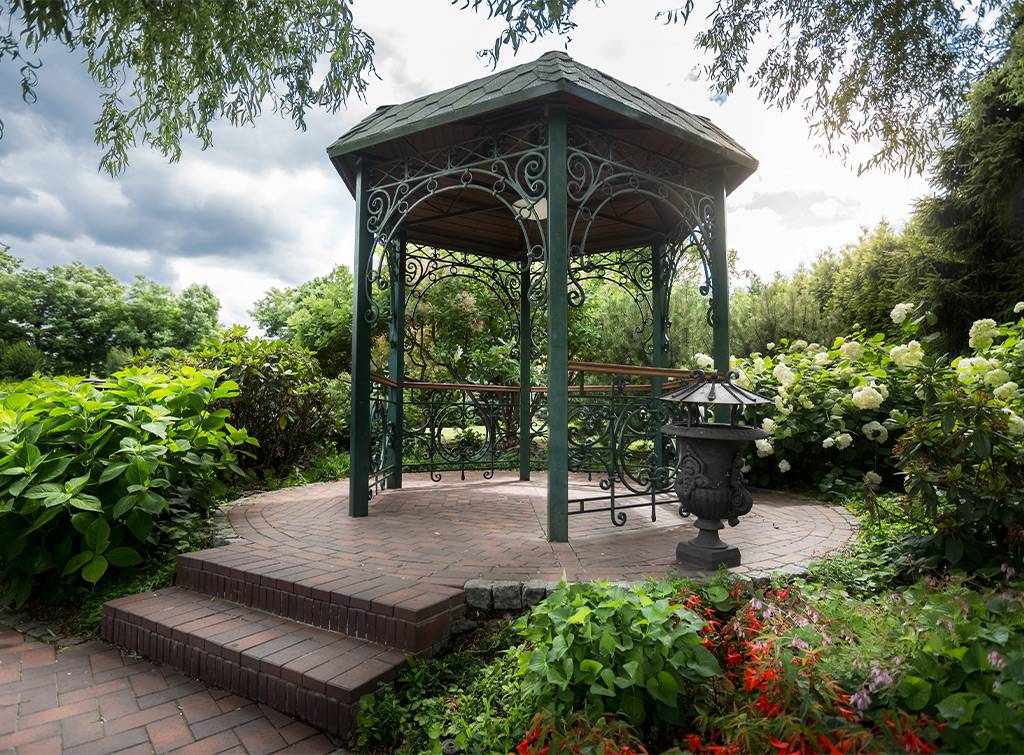 Not usually, but it's worth checking with your local planning office. Gazebos are not normally considered permanent outdoor structures and so shouldn't require planning permission. However, you could enter into planning permission territory depending on the size, structure and location of your gazebo.
Also, if you're planning to build a gazebo you should check with your utility companies before you start any digging work to ensure you're not going to damage any underground pipes.
Useful gazebo checklist
Decide which type of gazebo suits your needs and style.
Consider the best location for what you'll use the gazebo for, e.g. close to the house for easy dining, or at the end of the garden for the best views.
If you need to do digging for the foundation of your gazebo, contact your utility companies beforehand to make sure you won't damage any pipework.
Contact your local planning office to check if you need permission to build your gazebo.
Speak to local gazebo experts for professional advice and accurate prices.
Shop around for fair and competitive prices.
Always hire a professional tradesperson with experience and the relevant qualifications or accreditations.
See the tradespeople we've checked and recommend for your job