If you've been keeping up to date with ITV2's dating show 'The Cabin,' you might be wondering how much it would cost to build a log cabin of your own. And we don't blame you!
Whether it's for a holiday home, a new rental opportunity or a house to live in, a log cabin can make the most cosy and romantic living space. Or, at the other end of the scale, adding a log cabin to your garden can be a great way to increase your usable space at home. No matter what size of log cabin you're thinking of building (and what you're planning on using it for) we've taken a look at how much it'll cost.
| Log cabin for the garden | Unit | Cost - low | Cost - high |
| --- | --- | --- | --- |
| Cabin price | Cost for the cabin itself | £4,000 | £15,000 |
| Cabin installation | Labour | £1,000 | £3,000 |
How much does it cost to build a log cabin?
The average cost to build a log cabin will depend on the size of the cabin you're hoping to build.
If you're planning on building a log cabin for your garden, this could cost anything from £4,000 to £15,000 for the cabin itself, as well as £1,000 to £3,000 for labour. But if you're going to be undertaking a wooden house build, the costs could be considerably higher.
Find a log cabin expert near you!
Cost provided item
Unit
Cost - low
Cost - high
Average cost
Cabin basework
Labour and materials
£1,000
£3,000
£2,000
Veranda and base
Labour
£500
£1,000
£750
Roof insulation
Labour
£600
£1,000
£800
Floor insulation
Labour
£600
£800
£700
Wall insulation
Labour
£300
£600
£450
Shingle roof tiles
Labour
£300
£600
£450
Rubber slate tiles
Labour
£300
£600
£450
Electrical
Labour
£500
£1,000
£750
Log cabin homes (log cabin kits)
1 bedroom
1 bathroom, flat log (erected price excluding foundation costs)
-
-
£30,000
2 bedrooms
1 bathroom, 78 sq. ft of terrace (kit price)
-
-
£36,500
3 bedrooms
2 bathrooms, vaulted living room space, covered terrace, veranda
-
-
£47,000
4 bedrooms
2 bathrooms, balcony and decking
-
-
£80,000
Cost to build a log cabin home
For a larger wooden house or log cabin, the total cost will again depend on the size. The cost to build a log cabin kit ranges from around £30,000 for a one-bedroom home to £80,000 for a four-bedroom home with two bathrooms, a balcony and decking. However, you could easily end up spending upwards of £100,000 for a five-bedroom log cabin or a bespoke build.
What does it cost to build a log cabin per square foot?
As a general rule of thumb, we'd recommend budgeting around £1,100-£1,200 per square metre of floor space. However, this cost can vary a lot depending on the specifications of the log cabin you're building. You're always best off getting a bespoke quote for your build so that you can budget more accurately.
What's involved in building a log cabin?
You may well be able to save on the cost of building a log cabin by doing it yourself. If you're considering building a log cabin as a DIY project, here are the typical steps you or a professional log cabin builder will take: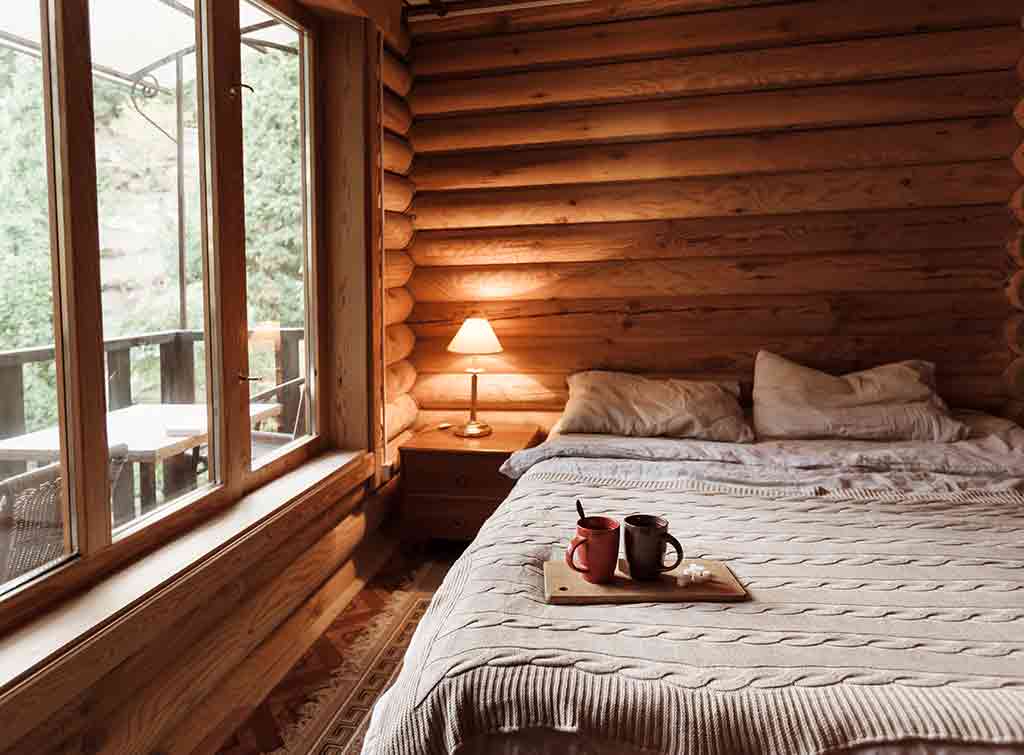 Floor illustration and planning: Plan out how large your cabin is going to be and where your floor joists will be located.
Drilling and planting the posts: Drill holes for your posts before planting them and nailing in the stringers.
Setting the rafter board: If you're planning a pitched roof, next you'll need to set the centre rafter board.
Angle and then set the rafters: Use a speed square, also known as a rafter angle square, to angle your rafters before fitting them, adding purlins and screwing on steel roofing.
Lag bolting the sides: Lag bolt the outer joists to the polls for stability, then add hurricane studs.
Floor joists and insulation: Install the floor joists, add insulation boards between them and then glue and nail the floor to the joists.
Adding the siding: Add the siding boards, soffit and facia boards.
Studding: Next up is studding in the front door and windows.
Gable ends: Finish the gable ends with batten strips.
Finishing: Time to sit back and admire your handiwork – the basic structure's complete!
As you can tell, this is a complex project that is best undertaken by experienced carpenters and builders – especially if it's intended for living in.
It's also worth noting that these steps don't include any plumbing or electrical considerations. Plus, you'll have to bear in mind the slab or groundwork. This is very much site-dependent, and is often excluded in costs.
Want a cost for your log cabin build?
Whether you're looking to build a mortgage-free home, or you're hoping to add some extra living space to your garden, you can't go wrong with a log cabin. Just make sure that you work with an experienced professional who knows what they're doing.
Search our trusted Checkatrade tradespeople to get a bespoke quote for your log cabin build and get started.
Find a log cabin expert near you!
Material prices in the UK are higher than normal
All costs on our guides may be impacted due to the current material shortages in the UK. See how it may affect your project.
Tell us what you think
What others think of this article:
Need More Information?
Related posts