If you're a fan of the hit Netflix series The Crown, you're bound to have spotted the lavish, opulent set design.
One of the most fabulous set designs in the show is the recreation of the Queen's magnificent State Drawing Room. It was painstakingly recreated by the production team from the Buckingham Palace original. Every detail is there, including gold gilt panelling and floor-to-ceiling windows. There's also as much period and antique furniture as the set designers could find.
Getting excited for The Crown Season 4 and fancy recreating the Queen's drawing room?
In this guide, we'll give you an idea of what you'll need and how much it could cost.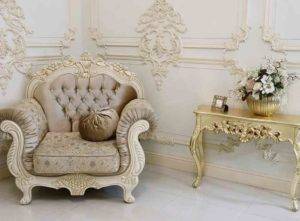 What are the essential features of the Queen's drawing room?
The state drawing room you see on The Crown has a number of distinctive features. For starters, it has high ceilings, sash windows and period features (even though the show isn't filmed in Buckingham Palace itself).
If you're lucky enough to have these elements in your space already, you can get on with fitting the interiors. If you'd like to add extra authenticity, you can install sash windows like those in The Crown. These can cost from £350 to £1,200 per window.
As for the interiors, the essential elements are plush rugs and curtains, gold gilt panelling, antique or period furniture and chandeliers.
| | Low cost | High cost | Average cost |
| --- | --- | --- | --- |
| Sash windows (per window) | £350 | £1,200 | £775 |
| Gold gilding paint | £50 | £100 | £75 |
| Area rug | £300 | £550 | £425 |
| Curtains | £50 | £500 | £225 |
| Antique furniture | £1,000 | £10,000 | £5,500 |
| Chandelier | £350 | £1,000 | £675 |
| Total | £2,100 | £13,350 | £7,675 |
Cost to build the Queen's drawing room at home
The Queen's drawing room is quite richly decorated, so you're going to need a number of elements in order to faithfully recreate it.
You can expect to pay around £5,500 for antique furniture, adding on around £675 for a good-sized chandelier. This includes the cost of buying the chandelier and getting a qualified electrician to install it.
Cover the floor with a huge area rug costing around £300 and £550 depending on size, and add some plush full-length curtains for around £275 a pair.
But not every item needs to be bought. You can fake the gold gilt panelling yourself using gold metallic paint, costing around £70 a tin.
Optional finishing touches
If you want to add finishing touches to your royal drawing room, you can include paintings, vases and other pieces of artwork.
The cost of these will vary depending on where you source each piece from. Good places to go hunting for pieces from the right periods include charity shops, antique shops and boutiques, auction houses and car boot sales.
Find interior decor specialists near you
FAQs
Do I need to buy everything, or can some items be hired?
If you're looking to cut costs or you're building the Queen's drawing room for a one-off event, you could hire furniture. There are many places which hire out royal-themed, antique and period furniture.
Do I need a lot of space to recreate the Queen's drawing room?
Ideally, you'd need a generous-sized space to faithfully recreate the Queen's drawing room. It's far from the biggest room in Buckingham Palace, but it is distinguished by its high ceilings and ample proportions. However, you can still create a smaller, cosier version of it in your own home. It's up to you whether you recreate every detail, or just take elements from the sumptuous set design you see on The Crown.
Is your space suitable for a chandelier?
Remember that chandeliers tend to be heavy, so the joists need to be able to carry the required weight. If not, you can consider employing a joiner to install supports within the existing ceiling structure.
Find interior decor specialists near you
Tell us what you think
What others think of this cost guide:
Need More Information?
Related posts