There's nothing more relaxing than a long soak in a hot bath. Except for one thing: a long soak in a hot bath while you're watching your favourite programme on TV. If that sounds like luxury to you, then why not get a TV installed in your bathroom? We've laid out the average cost to install a bathroom TV, as well as the factors you should bear in mind.
Bathroom TV cost
| Item | Unit | Cost - low | Cost - high | Average cost |
| --- | --- | --- | --- | --- |
| Bathroom TV | Cost to buy | £400 | £1,600 | £1,000 |
| Bathroom TV that disguises as a mirror | Cost to buy | £300 | £1,800 | £1,050 |
| Build a recess for the TV | Labour and materials | £400 | £950 | £700 |
| TV frame or bracket | Cost to buy | £25 | £180 | £100 |
| 19" bathroom TV installation | Labour | £225 | £325 | £275 |
| 32" bathroom TV installation | Labour | £275 | £375 | £325 |
| 42" bathroom TV installation | Labour | £380 | £480 | £430 |
| Local, connect + new socket for TV | - | £225 | £350 | £288 |
| Aerial cable feed | - | £240 | £360 | £300 |
| Ceiling speakers | For 2 NR speakers | £250 | £500 | £375 |
You can't just buy any old TV for your bathroom. Instead, you'll need to get a waterproof TV that's suitable for bathroom use. This is because even if you don't splash any water on your TV, bathrooms are incredibly humid. So, the steam alone could cause damage to your TV and even pose a risk to your safety.
For the TV itself, you're looking at an average cost of £1,000.
How to mount a bathroom TV
There are a few ways that you could mount a TV in your bathroom. The simplest (and most cost-effective) is to mount it on a frame or bracket, which will cost an average of £100. There are lots of different brackets to choose from, including some that allow the TV to swivel so you can watch it from wherever – including, of course, the bathtub!
Alternatively, you could build the TV into a recess, which would involve cutting a space into the wall where the TV will sit. This is a great option for small bathrooms in particular, as it means the TV won't be taking up any extra space. You can expect to pay around £700 to get a recess built for your bathroom TV.
Finally, arguably the most luxurious way of mounting your TV is to disguise it as a mirror or another architectural element. In fact, lots of suppliers now sell bathroom TVs that are completely embedded within a mirror so that they disappear completely when they're switched off. You could pay anywhere from £300 to £1,800 for one of these.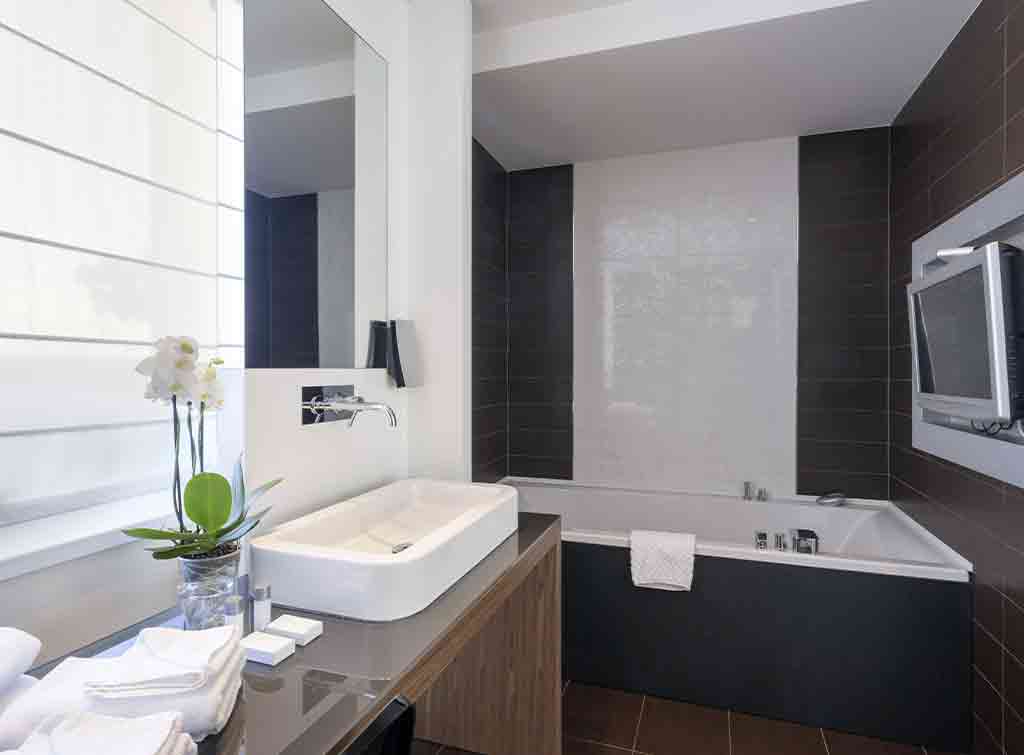 Cost to install a bathroom TV
Once you've chosen your TV and how you want to mount it, you'll need to get an electrician to install it for you.
The cost is likely to depend on how large the TV is. Plus, you could be looking at around £225 to £350 for a new socket and connection, and around £240 to £360 for the aerial cable feed. Don't forget that you can also add extras to make your setup even more luxurious, such as ceiling speakers. Two NR speakers will usually cost between £250 and £500.
We'd always recommend getting a number of quotes from electricians to find the best price. And of course, if you can find an electrician who has experience fitting bathroom TVs, that's always a bonus.
Find the right electrician for you
FAQs
Can I save on the cost of a bathroom TV by doing it myself?
We'd advise against fitting a bathroom TV by yourself. Working with electrics is always dangerous, but it's even more so when you're working near water. It will be much safer to use somebody who is fully qualified for the job and has plenty of prior experience.
Do bathroom TVs come with remote controls?
It depends on the TV. Some bathroom TVs come with waterproof remote controls but others have voice assist or touchscreen features instead.
Is it safe to install a bathroom TV?
As long as you purchase your TV from a reputable supplier and it's been specifically designed for bathrooms, there's no reason why it shouldn't be safe. After all, any electric appliance that's designed to be used in humid conditions has to pass a lot of checks and regulations before it can be sold legally.
To ensure safety, you should always make sure that installation is carried out and approved by a fully qualified electrician.
Find the right electrician for you
Tell us what you think
What others think of this cost guide:
Need More Information?
Related posts