Wheelchair ramps can make a huge difference to those who need support with their mobility. Ease of access is important for:
Those who are struggling to get in or out of their homes
Those who need help moving around their homes
Those who need help adapting to a new property
Those who have relatives with access needs
Although the Equality Act 2010 requires 'reasonable adjustments' are made for wheelchair users by UK businesses, those who own their own property often find themselves having to pay for reablement modifications.
In this guide, we will talk about the typical cost of installing a wheelchair ramp and the different products available.
| Wheelchair ramp cost | Range per unit (low) | Range per unit (high) | Average cost per unit |
| --- | --- | --- | --- |
| Basic ramp | £14 | £135 | £74.50 |
| Permaramp | £250 | £850 | £675 |
| Stepless heavy duty wheelchair ramp | - | - | £1020 |
| Highrise wheelchair ramp system | £1200 | £1560 | £1380 |
| Average installation cost | £150 | £250 | £200 |
| Suitcase (3ft – 7ft) | £76 | £216 | £145 |
| Roll up | £70 | £200 | - |
| Broad | £18 | £600 | £350 |
| Made to measure | £600 | £6000 | £3300 |
| Extrawide, folding wheelchair ramp (2ft – 6ft) | £90 | £135 | £62.50 |
| Basic level plot (per 4m2) | - | - | £600 |
| Handrails | - | - | £20 |
Key benefits of installing a wheelchair ramp
Wheelchair ramps provide those with mobility issues a greater sense of freedom and autonomy. Sometimes, all it takes is a minor adaption to improve someone's quality of life.
Increased mobility
The main benefit of installing a wheelchair ramp is enabling those with mobility issues to come and go from their homes with greater ease.
Safety and comfort
There are various materials for wheelchair ramps available on the market, all designed to minimise the risk of injuries or accidents while on the go or at home.
Ease and convenience
Wheelchair ramps are both easy to install and use, making them ideal for both the wheelchair user and any caregiver.
Adaptability
Depending on the layout of a house, wheelchair ramps can be installed wherever they're needed to improve mobility and ease of access.
Increased resale value
A home with high-quality ramps can increase its market appeal, especially for buyers who themselves or any family members require access solutions.
Find a vetted ramp installer near you
Different types of wheelchair ramps available
There are various types of wheelchair ramps available on the market, all of which offer different benefits depending on the accessibility needed
Permanent
This is the best option if the ramp is going to be used regularly or it's needed as a permanent adaption.
Portable
The best solution for those who only need a ramp occasionally, or for when a permanent solution isn't suitable. They're also a cheaper and lighter alternative, with several specifications to choose from, such as:
Suitcase ramp: Ramps you can carry while on the go
Roll up ramp: Ramps you can easily put away if you have limited storage.
Broad ramp (also known as a threshold or oversill ramp): Lightweight and adaptable ramps for almost any threshold.
Tailor-made ramps
A great option for anyone with more complex access needs, such as those with unusual thresholds, narrow doorways, or those who live in a grade listed building.
Find a vetted ramp installer near you

Things to consider when installing a wheelchair ramp
Once you've decided on the type of ramp that best suits your needs, the next things to consider before buying are:
The maximum slope of your ramp, which must comply with ADA regulations
The rise and width of your ramp, which must compensate for the type of mobility needed for you or the user's abilities
The weight of your ramp and its load bearing capabilities
Whether you need landings and/or handrails
What materials you prefer (e.g., lightweight metals or rubber finishes)
Any customisation needs
Purchasing a wheelchair ramp is an important investment, so it's worth taking the time to consider all your needs before narrowing down your options.
The cost of wheelchair ramps
Wheelchair ramps and their installation costs can vary depending on the type and complexity of the fitting.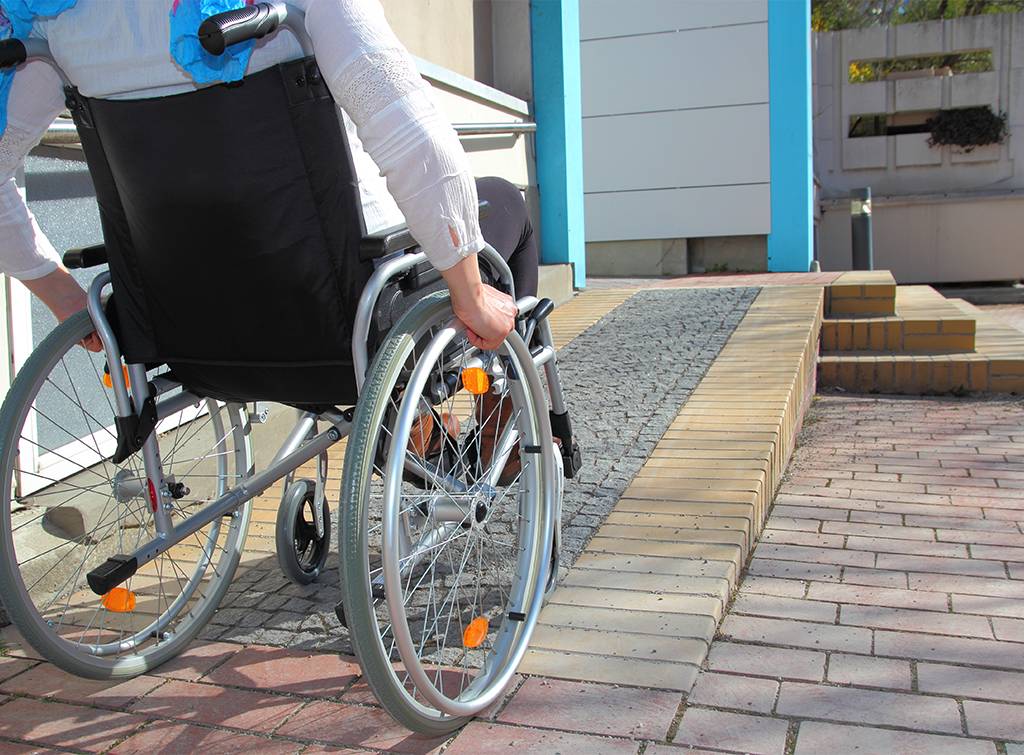 Additional costs to consider
Tailor-made wheelchair ramps
Tailor-made wheelchair ramps are pricier due to the complexity of their specifications and installations. Factors that affect the overall cost of building a wheelchair ramp include the weight, material and customisation of each ramp.
We recommend you shop around when looking for the appropriate manufacturer and tradesperson – search for a trusted and qualified tradesperson at Checkatrade.
Getting this right from the outset will ensure there are no extra costs further down the line.
Widening of doorways
Another additional cost to consider when having a wheelchair ramp installed is how wide your doorways are.
For example, if you have narrow entrances or live in a grade-listed building, these extra modifications are a further expense that can affect which wheelchair ramp you end up purchasing.
Handrails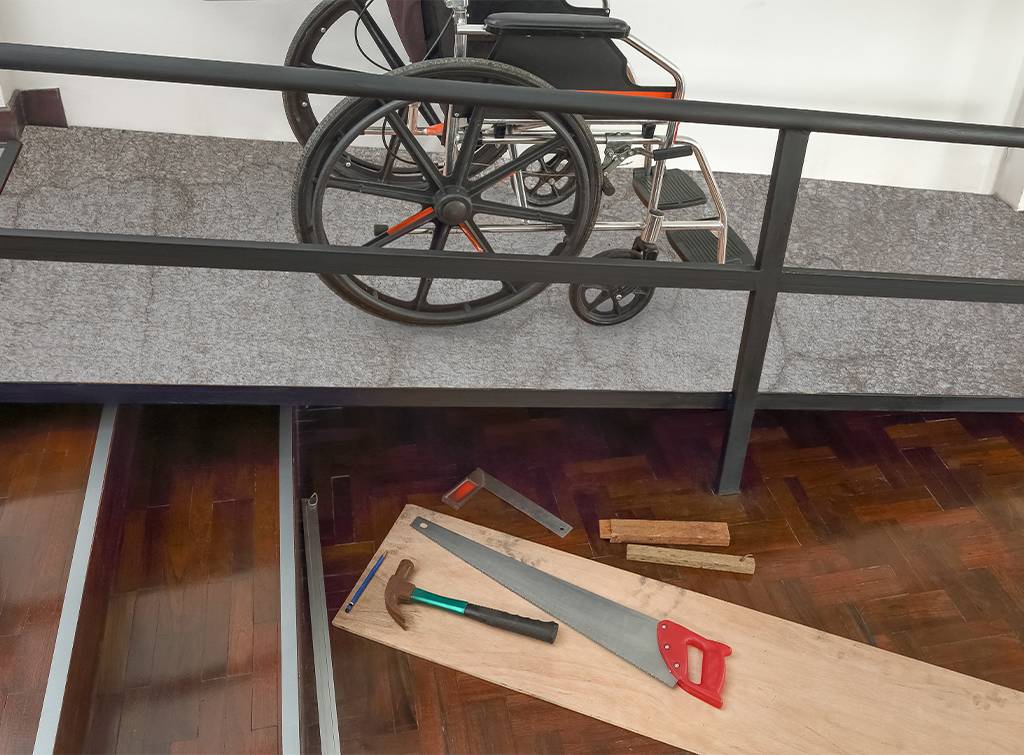 Wheelchair ramp handrails are beneficial for elderly walkers, any visitors who may trip over the ramp when coming to see you, and for ensuring wheelchairs don't fall off the edge.
In short, they are worth considering for their health and safety benefits, but their use depends entirely on the type of ramp being installed.
Whichever wheelchair ramp you choose to install, we hope this guide has given you a helpful overview of the types and models available.
Whether you choose to purchase a permanent solution or opt for a portable option, be sure to reference this cost guide before making any long-term decisions.
Your mobility and access rights are important, and Checkatrade is here to make sure your decision and any installation you require is as seamless as possible.
Find a vetted ramp installer near you
Key takeaways:
The average cost of a permanent wheelchair ramp installation is £700
Wheelchair ramps are more expensive the more complex they are
Choosing the right tradesperson from the start saves money in the long-term
Wheelchair ramps are an important health and safety feature for anyone who requires extra help with their mobility
Tell us what you think
What others think of this cost guide:
Need More Information?
Related posts