Changing your flooring is one of the best ways to refresh a room and give it a new look. But what if you have a ceramic tile floor? Luckily, removing it's a lot easier and less expensive than you might think. We've broken down the cost to remove a ceramic tile floor here.
Average cost to remove ceramic tile flooring
| Item | Unit | Average cost |
| --- | --- | --- |
| Floor tile removal | Per m2 | £13 |
| Wall tile removal | Per m2 | £13 |
| Preparation for walls or floor for re-tiling | Per m2 | £6 |
As a general rule of thumb, you're looking at around £13 per m2 to get a professional to remove your ceramic tile flooring. The average room in the UK is 16.3 m2. That means you're looking at a total ceramic tile removal cost of around £212 for your standard room.
Ceramic tile removal cost factors
The cost to remove a ceramic tile floor will depend on many factors, including the size of your room and the cost of labour in your area.
However, the main price difference will usually come down to what you want to do with your floor next. Taking the tiles off will reveal the state of the sub-floor beneath them, which may not be in a fit state for laying down new flooring immediately.
The likelihood is that you'll need to prep your sub-floor to make it ready for whatever you want to do with it next – whether that's tiling, carpeting, installing wooden flooring or anything else.
Can you remove a ceramic tile floor yourself?
It's not hard to remove a ceramic tile floor yourself, so it's a good way to save money. That said, a professional will be much quicker and will usually have access to more powerful tools.
If you do decide to take on the project, make sure you have all the necessary safety equipment, such as goggles, a dust mask and safety gloves, as it's a messy job.
Either way, we'd advise getting a professional in to prep the floor for whatever you want to do with it next.
Find a floor tiling professional near you
FAQs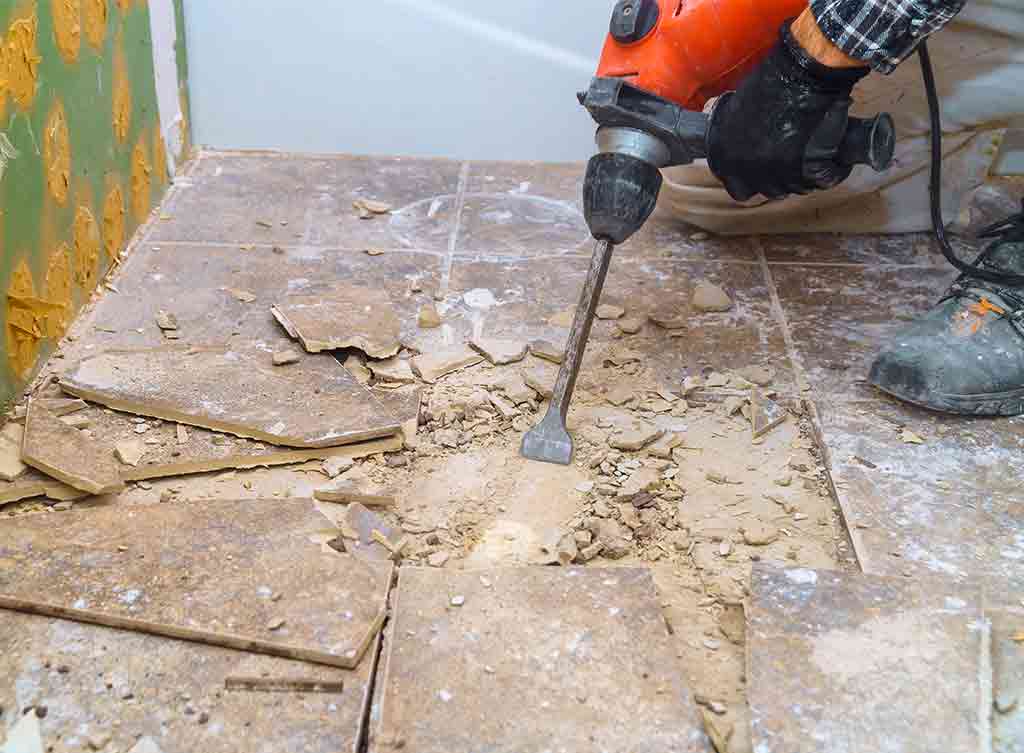 Can you put another flooring over tiles?
If your ceramic tile flooring is even and the grout lines aren't too deep or wide, you could lay vinyl flooring over the top of them to avoid having to remove them. In fact, if the tiles are in good condition and not retaining any moisture, you may even be able to tile over them.
We'd always recommend getting a professional in to look at your flooring first though. Laying flooring over an inadequate base could be a costly mistake.
How hard is it to remove ceramic tile flooring?
Removing ceramic tile flooring requires a bit of elbow grease but in principle, it's not a hard job. That said, if you didn't get the tiles installed in the first place, you probably won't know what's underneath them or how well the job was done.
Any issues will be hidden beneath the tiles and you could come across some surprises. For instance, the tiles could be attached to bare cement, a plywood board underlayment or even a previously installed floor. A professional will have seen it all before and will be confident in dealing with any curveballs.
Find a floor tiling professional near you
Tell us what you think
What others think of this cost guide: