Last updated on December 12th, 2022
How much does curtain fitting cost in 2023?
Whether you've recently moved or you're looking to renovate or redecorate, this handy curtain installation cost guide will tell you everything you need to know.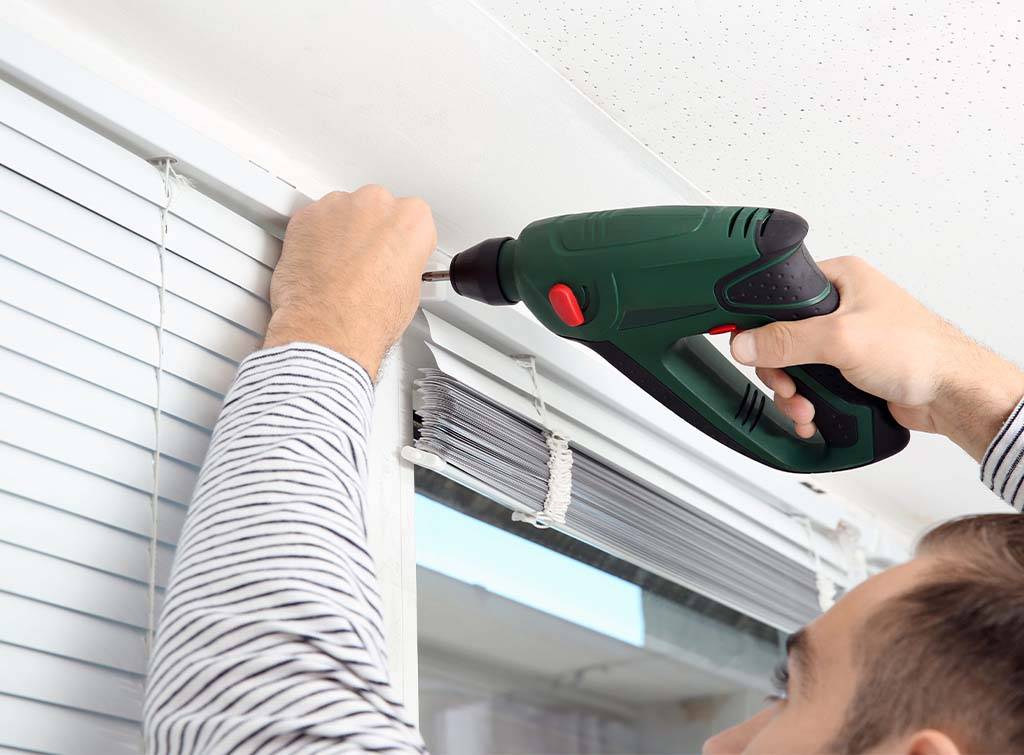 Our windows flood our home with natural light. They frame the outside world and keep us insulated on cold nights. Used as metaphors in poetry for centuries, the humble window is a well-loved feature in every abode.
That said, they are transparent and let anyone passing by see into your home if you don't cover them up properly. So, unless you want people to witness your daily routine or get a glimpse of everything you possess, having curtains or blinds fitted is a wise decorating choice.
Factors affecting the cost of your curtain installation
In this section, we're going to discuss everything that affects curtain fitting service costs.
Type, location, and size of windows
Windows come in all various shapes, designs and sizes, which means curtains and blinds do too. Your curtain installation cost will depend on the type of windows you have, the size of the area that needs covering, and the complexity of the fitting. Some window examples include:
Fixed windows
Sash windows
Casement windows
Skylights/roof windows
Bay windows
Louvre windows
Eyebrow window
Witch windows
Hexagonal windows
Oriel windows
Types of curtains or blinds
Curtains and blinds come in various colours, materials and styles. For example, curtains can come in pinch pleats, pencil pleats, eyelets, wave headings and anti-ligatures, while examples of blind styles include vertical, roller, thermal, insulated, venetian or roman.
Number of windows requiring curtains or blinds
The higher the number of windows requiring curtains or blinds, the greater the costs. Some tradespeople will offer fixed rates or discounts; however, most will factor in the time it takes them to complete the job and charge you accordingly.
How much does curtain installation typically cost?
Cost provided item
Cost+VAT
(Lower range)
Cost+VAT
(Higher range)
Average cost
Fit curtain track (per room)
£100
£150
£125
Fit blinds
£60
£115
£87.50
Fit curtain pole (per room)
£60
£90
£75
Most curtain fitting costs depend on the customisation needs, your regional location, and the number of windows that need dressing. However, for six windows, you can expect it to cost around £500.
Curtain pole installation cost
A curtain pole is the most common installation, with each pole measured and fitted above a window or wall. The curtains then hang on fixed rings that are used to open and close the curtains manually. Each installation takes a few hours, with the costs varying depending on how many curtain poles are being fitted. A handyman will often work on a day rate for larger jobs, which can vary between £60 – £120.
The average curtain pole fitting cost is £75.
Curtain track installation cost
A curtain track is more discreet than a curtain pole. Instead of the curtain being fixed on rings, they're built on rails with gliders that open and close the curtains either manually or automatically. Each installation takes a few hours, with the costs varying depending on how many curtains tracks are being fitted. A handyman will often work on a day rate for larger jobs, which can vary between £100 – £150.
The average cost of single curtain track installation: £80
Blind fitting cost
A popular alternative to curtains is blinds. Depending on your chosen aesthetic, they can be more suitable and versatile for a range of households. They often work out cheaper, too, depending on the material and type you pick. For example, roller and wooden blinds are cheaper than blackout or day/night blinds
As previously discussed, there are different types of blinds available, all of which take varying amounts of time to install. That said, you can expect smaller jobs to take a few hours, while longer jobs for multiple windows can take a few days.
The average cost of blinds installation: £87.50
See the tradespeople we've checked and recommend for your job
Additional costs to consider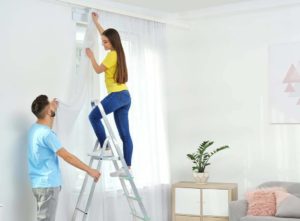 Poorer quality curtains, track, poles and blinds can incur higher costs in the long term. This is due to malfunctions, the wrong weight-bearing capacity and poor installation instructions. It's worth investing in quality materials and paying for a professional curtain and blind tradesperson to avoid issues and added costs further down the line.
That said, custom curtains and blinds will cost you more, and certain windows in your home will require specialist blinds. For example, loft windows require sun blocking blinds that are easy to open and close due to their position
How long does it take to install curtains?
Hanging curtains can take anywhere from a few hours to a few days. It depends on the job at hand and whether you're having a curtain pole or curtain track installed. Below, we're going to look at the various elements involved with each and the average cost of their installation.
Should I install curtains or blinds?
The decision on whether to install curtains or blinds comes down to personal taste and style. Curtains tend to cost more due to being tailor-made; however, we recommend looking at all the options available and factoring in the number of fittings required, the aesthetic you're going for, and which materials suit your budget.
Once that's decided, you need to add the cost of the curtain/blind installer to your overall budget.
Can I fit my curtains or blinds myself?
As previously mentioned, we always encourage people to hire a professional for any long-term renovations. Although it's tempting to repair or put up curtains and blinds yourself, it could end up costing you more in the long run. Why not save yourself the bother and search for one of our trusted tradespeople here?
Key takeaways
The average cost to fit blinds is £87.50.
The average curtain pole fitting cost is £75.
The cost of curtains and blinds differ depending on the quality, material and complexity of each placement.
The cost of your curtains or blinds will be separate from the cost of installation.
The average time it takes to install one set of curtains or blinds is three hours.
See the tradespeople we've checked and recommend for your job