Last updated on March 2nd, 2023
Damp survey cost guide
Damp is a word homeowners shudder at the thought of. Although it's a common problem across properties in the UK, it's still never a pleasant one to deal with. If you notice any signs of damp or are buying a property, you'll want to have a professional damp survey done.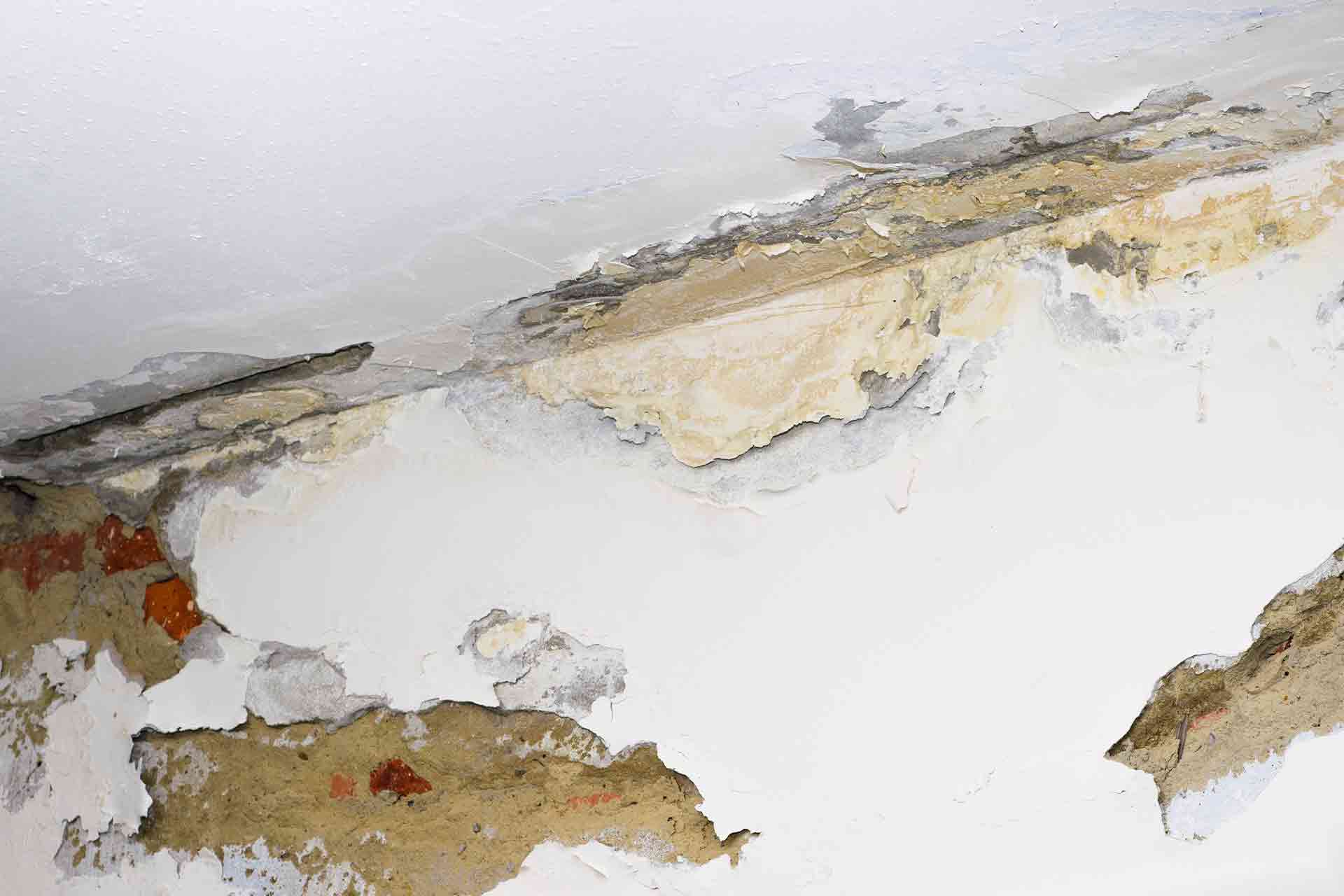 Issues with damp can range from mild, with a few spots of water staining or mould, through to serious damage, crumbling plaster and structural rot. In this guide, we look at the average damp survey cost in the UK. We'll also explain the different types of damp and how to find a good professional damp surveyor in your area.
What is a damp survey?
The climate in the UK means that we have widespread issues with damp in homes up and down the country. A damp survey is carried out by a qualified professional to locate any areas of damp in your home. They will carry out a thorough investigation of the property and use specialist tools to measure potential damp.
There are different types of damp and each one requires a slightly different treatment. A damp survey will identify if you have damp in the first place, which type of damp you have, and what treatment is required.
If you suspect you might have damp in your home, or you're buying a house that you think could be affected by damp, speak to your local damp surveyors for their professional advice. Make sure you use approved damp surveyors, who will have the relevant accreditation with either a CRDS or a CSRT certification.
How much does a damp survey cost?
The cost of a damp survey will typically depend on the size of your property. The more rooms and the bigger the property, the more time it will take to carry out the damp survey and so will cost more.
| Size of property | Average cost |
| --- | --- |
| 2-bed flat | £200 |
| 3-bed terraced house | £400 |
| 4-bed detached house | £600 |
For a 2-bed flat, you're looking at a damp survey cost of about £200. If you have a 3-bed terraced house the price of your damp survey will be around £400. And for a larger 4-bed detached house you could be looking at around £600 for your damp survey depending on the circumstances.
It's not only the size of your property that will influence the cost of your damp survey. Where you live will also have a big impact, as some parts of the UK are more expensive than others. For example, London and the South East of England will generally be more expensive.
Also, if you need an emergency damp survey you may have to pay an additional fee for a same-day service, which could be about £50 on top of the survey cost.
There are different types of damp but that won't affect the cost of your survey. So whether it's condensation or rising damp, the survey cost will be the same.
See the tradespeople we've checked and recommend for your job
PCA damp and timber survey cost
Some mortgage lenders may ask for a damp and timber survey to be carried out before agreeing to a mortgage. If in doubt, speak to your mortgage provider to confirm the conditions of your mortgage. If you need a damp and timber survey it will cost in the region of £200 – £600, on average.
Look out for Checkatrade members who are part of the Property Care Association (PCA) when looking for a damp surveyor. The PCA is the UK's leading trade association for property care.

Why do I need a damp survey?
Here are some of the reasons why a damp survey is a good idea:
Damp will only get worse. Damp is one of those issues that will only get worse if left untreated, so it's important to nip it in the bud and deal with it as soon as you notice any signs of damage
It can affect your health. Mould spores that come from damp can trigger asthma and other respiratory problems, as well as causing other illnesses. Damp also provides the perfect conditions for bacteria to grow, putting you and your loved ones at risk of diseases and other health issues
Waiting will cost you more. By not dealing with damp quickly, the problem will get worse and the extent of the damage to your home will increase. And the more damage, the more it will cost to repair
Peace of mind for your new home. If you're buying a property, a damp survey is a good precaution to take. Standard mortgage surveys might not necessarily pick up on damp, so it's sensible to have a damp survey done to make sure there are no hidden issues with damp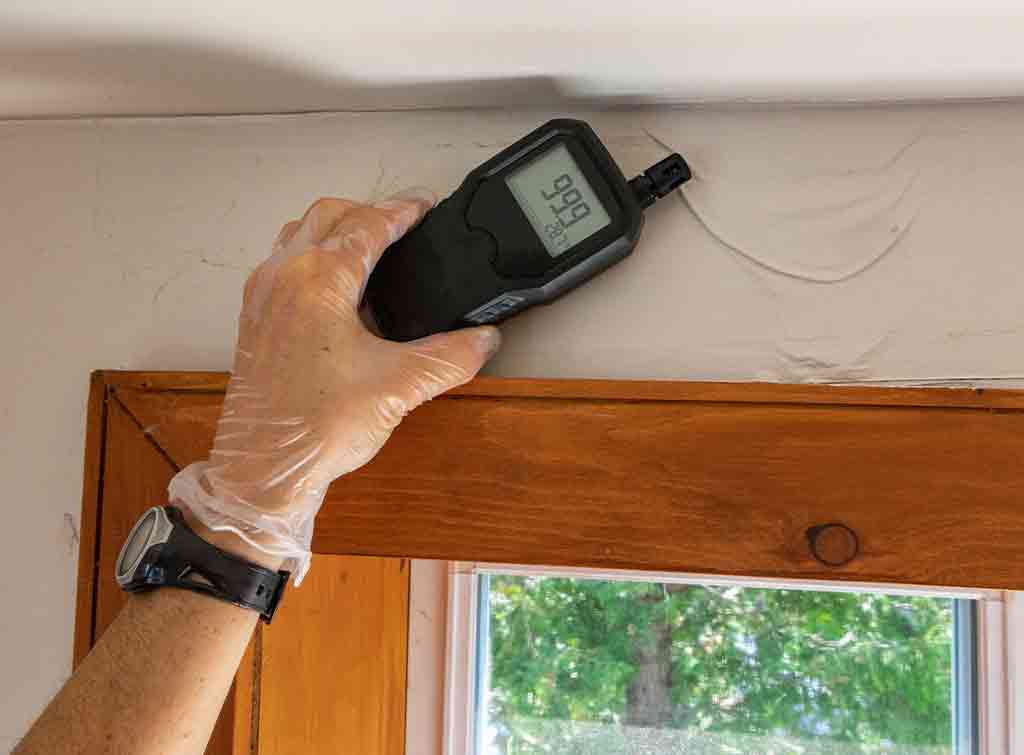 Types of damp
It's important to understand that there are different types of damp, it's not all the same. And the type of damp will affect the treatment that you'll need to use to fix the problem. Below is a brief overview of the three different types of damp – rising damp, penetrating damp and condensation.
Rising damp
You've probably heard the term rising damp but may not know what it means. Rising damp is caused by water from the ground rising up through the walls of the building. The easiest way to spot rising damp is the 'tide mark' that the water leaves on the wall. Other signs of rising damp include wet skirting boards and wallpaper peeling at the bottom of the wall.
Penetrating damp
Penetrating damp is caused by rain seeping into the house from outdoors. You'll often get penetrating damp if you have cracks in your exterior wall, broken roof tiles or damaged masonry. Damp patches on the floor, walls and/or ceilings are a tell-tale sign of penetrating damp.
Condensation
We're all familiar with standard condensation, which is a build-up of moisture on a surface. A little condensation is normal, depending on the season, however, excessive condensation can cause major issues. Look out for damaged plaster, dark mould on the walls or ceiling, or moisture on windows.
Useful damp survey checklist
If you notice any signs of damp in your home, get a damp survey done as soon as possible to avoid it getting worse
Speak to your local damp surveyors for accurate quotes
Shop around for fair and competitive damp survey costs in your area
Always hire a tradesperson with relevant experience and ideally CRDS, CSRT and/or CSSW accreditations
See the tradespeople we've checked and recommend for your job