Dishwasher installation cost guide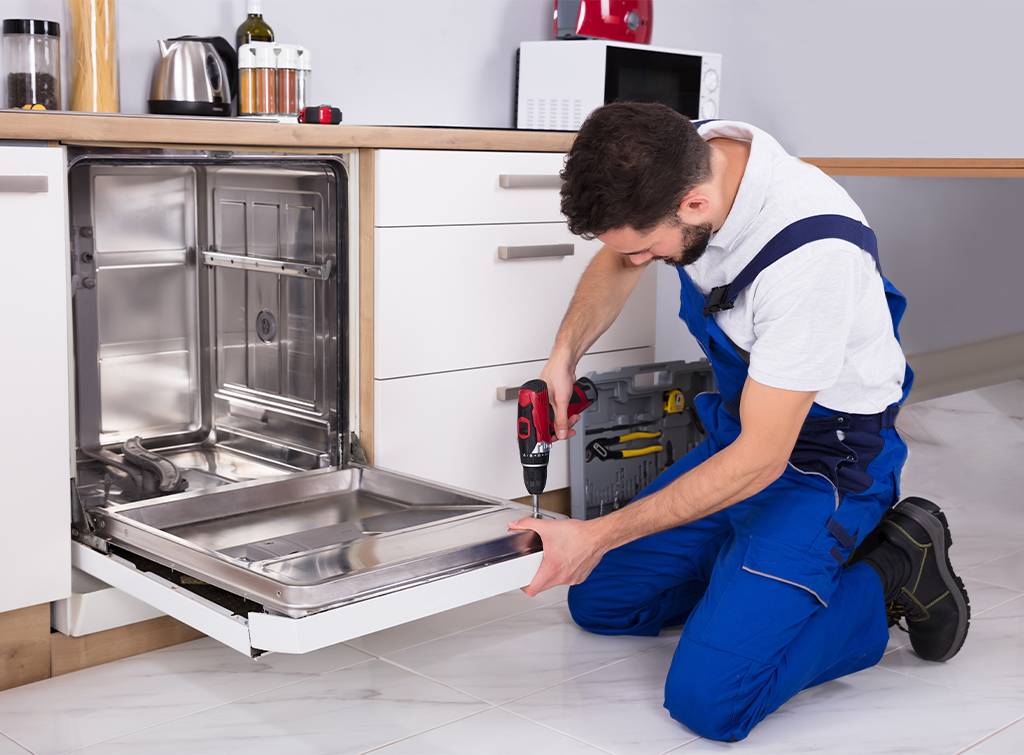 The dishwasher is a revolutionary addition to any kitchen. Instead of eating into your precious time, dirty dishes are cleaned with little effort. But what is the average dishwasher installation cost and how long does it take to get up and running?
Whether you're getting a dishwasher as part of a new kitchen or replacing an old appliance, there's no doubt that the convenience is worth the upfront cost – even a budget model can make all the difference.
While homeowners well accustomed to plumbing may have the confidence to go it alone, we recommend hiring a professional to ensure installation is carried out correctly.
Below, we've set out the average dishwasher installation cost and what the job will include, so that you can plan your finances in advance.


| Dishwasher type | Unit | Range low | Range high |
| --- | --- | --- | --- |
| Freestanding dishwasher installation | Per unit | £40 | £90 |
| Built-in dishwasher installation | Per unit | £40 | £90 |
| Commercial dishwasher installation | Per unit | £40 | £90 |
How much does a dishwasher installation cost?
The average cost to install a dishwasher typically ranges between £40 and £90, depending on the type of dishwasher you purchase and how straightforward the task.
We understand the need to keep to a budget when it comes to home renovation, so we've put together this practical guide to give you an idea of average costs.
That way, you can browse the market and buy a new dishwasher keeping the cost to install it in mind.
Find recommended dishwasher installers near you
Dishwasher installation cost calculator
Calculating the cost of dishwasher installation is super easy, as it's generally a flat rate and should only take an hour to complete. The hourly rate usually starts from £40.
You simply need to speak to your local dishwasher installation experts and get quotes for the job – which will either be an hourly rate or a fixed fee for the job (and the two are often very similar costs).
Dishwasher installation quote
We recommend obtaining at least three quotes from our trusted tradespeople. Our request a quote feature is perfect for getting quotes – you post details about the job you want doing and we'll send it out to local tradespeople in your area. Try it out!
Dishwasher installation hourly rates
The hourly rate of a dishwasher installer will be around £40 per hour. Installing a dishwasher is usually done within an hour so it shouldn't cost you more than their hour's rate. It will largely depend on any complexities around the installation. If it's a straightforward installation, you can expect the charge to be their hourly rate.
Find recommended dishwasher installers near you

How is a dishwasher installed?
Having measured your space and conducted some research on dishwasher costs and features, you've settled on your choice and made the purchase. The next step is to get it set up.
Installing your own dishwasher can be difficult at best and dangerous at worst. Though not impossible, it's a task you should only undertake with the right experience, tools and a great deal of research.
That said, even the most straightforward installations may require help from the professionals. Just in case, we recommend factoring this into your calculations when budgeting for dishwasher installation costs.
The standard dishwasher installation process is detailed below, though the exact instructions will vary depending on which model you own and whether you need to remove an old appliance.
The new appliance will be unboxed and checked for damage. A suitable location will be identified (this will typically be against an exterior wall where possible to prevent a waste pipe from running on the inside of your wall.)
Existing electrical and plumbing connections will be inspected to ensure they are safe and suitable for your new dishwasher.
Water will be turned off at the mains ahead of installation
The dishwasher will be connected to the mains water supply within 1.5 metres of the appliance and connected to an electrical socket.
The waste hose will be connected to a down-pipe or extended waste connection
The appliance will be tested for leaks and functionality
The water and power will be turned back on once a technician has fitted, installed and tested your new dishwasher. If you have requested removal of an old appliance, this will happen after installation.
Ready to have your dishwasher installed? Simply type in your postcode to our search bar below to find a technician in your local area.
Find recommended dishwasher installers near you
How long does it take to install a dishwasher?

Dishwasher installation is usually completed within a couple of hours. With a number of variables influencing the time taken to complete the job, however, dishwasher installation prices can be unpredictable.
Providing the measurements of the dishwasher are correct, the space does not need to be altered and you already have an accessible electrical outlet and drain, your dishwasher shouldn't take much longer than an hour to install at an average price of £55+ VAT.

If you need an old dishwasher to be removed first, you can add an hour on in installation time.
Similarly, any structural changes or alterations to electrics, plumbing, flooring or kitchen counters will add on time and, therefore, the price to install a dishwasher.

For more complex installations, the cost is more likely to come to an average of £100+ VAT.
This is often influenced by the type of dishwasher.
Different types of dishwasher
Cost-effective, efficient, quiet and quick: these are the qualities we look for when buying a new dishwasher – whether as a one-off or as part of a wider kitchen renovation project.
Naturally, the total dishwasher installation cost will vary depending on the requirements and work that needs to be done to get your new appliance up and running.
Below, we've outlined the three different types of dishwasher along with the costs associated:
Freestanding dishwasher cost
Freestanding dishwashers are standalone units that can be positioned anywhere in the home where there is access to water and drainage.
Though they connect to water supply and waste just as integrated dishwashers, they come with their own sides and a top cover so you can place it anywhere it fits.
The average cost to install a freestanding dishwasher is £77.50.
Integrated dishwasher installation cost
An integrated dishwasher is a popular choice for those seeking more room for customisation. They typically arrive with no front cover, top or sides, allowing you to add your own to match your kitchen cabinets.
Integrated dishwashers generally require additional carpentry work to build them into your kitchen and achieve consistency.
On average, an integrated dishwasher will cost £77.50 to install correctly.
Commercial dishwasher installation cost
Designed to be used in commercial kitchens, dishwashers of this type are generally larger and more powerful than residential units to accommodate for a bigger load.
Commercial dishwashers vary in size and style, but the process of installation shouldn't differ much from residential appliances.
For a straightforward installation of a commercial dishwasher, the average price is £77.50.
Additional costs to consider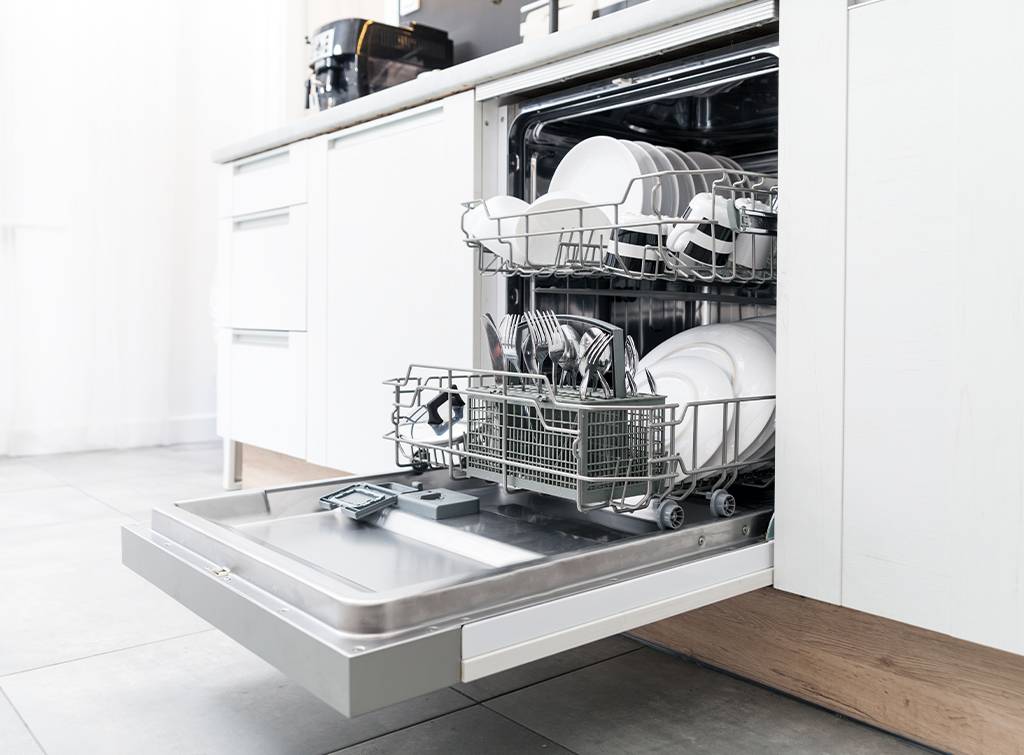 A new dishwasher can be transformational, helping to save water and crucially, time spent cleaning dishes. Depending on the specification and requirements, you may find there are additional costs associated with the installation.
Simply put, the more of a technician's time is required for the job, the higher the cost to install a dishwasher. In some cases, plumbing and electrical modifications will need to be made in order to ensure a safe installation.
In any case, it's always wise to get a full understanding of the cost to install your dishwasher ahead of purchase and ask a tradesperson for a breakdown of their quote.
The importance of installing a dishwasher correctly
A dishwasher is an investment: to get the most out of it, you should have a licensed technician undertake the work. In our experience, the price to install a dishwasher is worth paying to prevent problems further down the line.
When installed correctly, you reduce the risk of leaks and water damage that can occur when a dishwasher isn't properly fitted. What's more, a professional can advise on the best location if you aren't sure.
Contrary to popular belief, modern dishwashers also use less water than hand-washing and are therefore considered the more eco-friendly option.
Since they heat water internally rather than prompting your boiler to produce hot water, most modern dishwashers save energy on each use.
Hiring a professional dishwasher technician to fit your new appliance can allow you to optimise your water usage and give you the peace of mind that your dishwasher has been installed correctly.
Find recommended dishwasher installers near you
Dishwasher installation cost breakdown
The average price to install a dishwasher typically falls between £55-100
Type of dishwasher will influence the total dishwasher installation cost e.g. where carpentry work is required to fit your appliance into your kitchen or there are additional plumbing / electrical adjustments needed
Dishwasher installation is a multi-step process with more than a few pitfalls along the way.
A qualified technician can install your new appliance and prevent problems in the future.
If you need an old dishwasher removed first, we recommend getting a quote for removal and installation all in one go rather than attempting removal yourself.
Good jobs, guaranteed
Get covered when you book with Checkatrade.