Last updated on September 7th, 2022
Disinfection services cost guide
Want professional help to ensure your home or business environment is as clean as possible? To help you budget, we've put together a guide to the average professional disinfection services cost.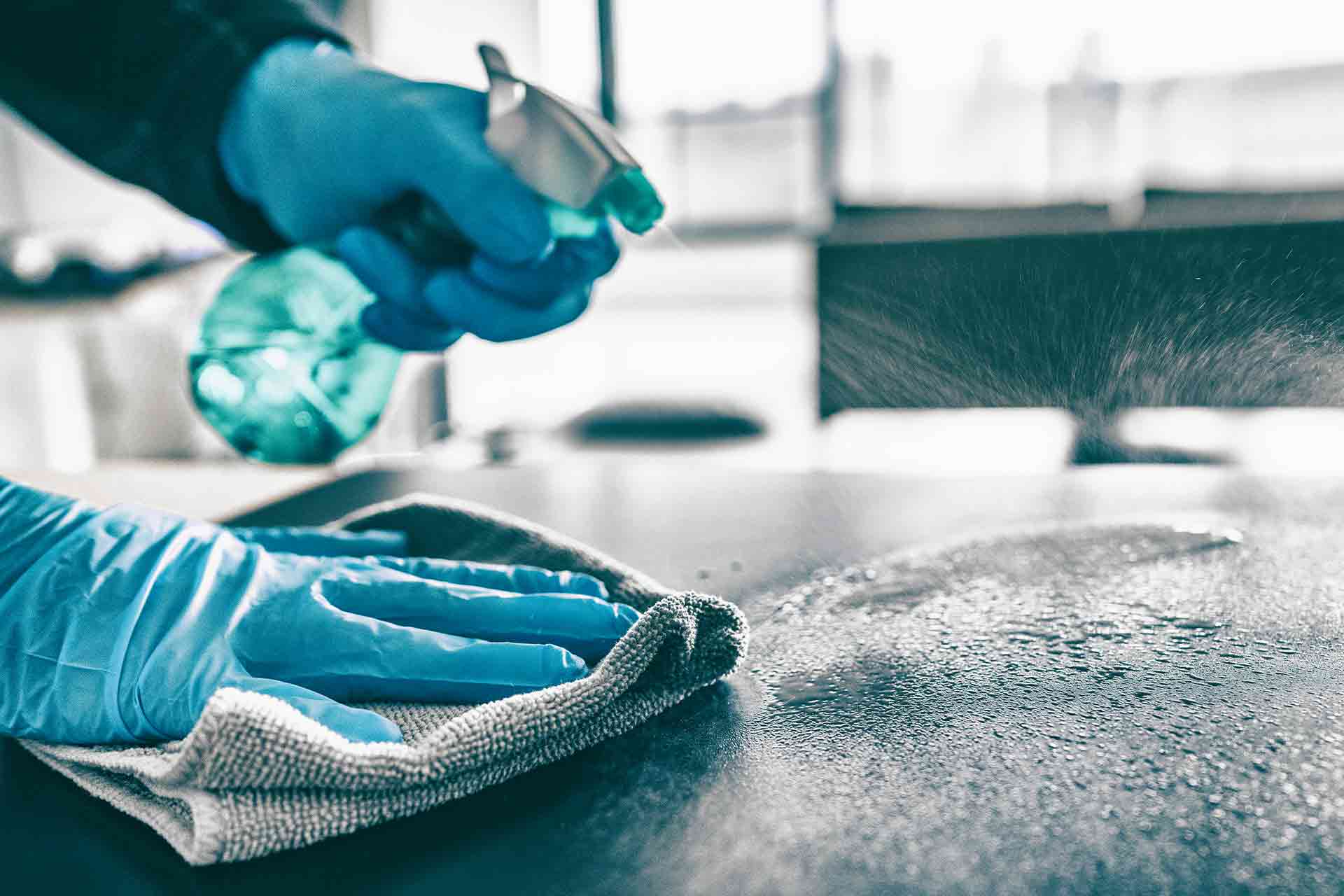 If you have recently had a coronavirus infection in your premises, getting the site disinfected is critical for a safe return.
The good news? The typical prices for this service are relatively affordable and are worthwhile for the peace of mind they offer your staff and customers.
Need an urgent quote from a local team? Use our free search tool to find professionals in your area to disinfect your property.
Disinfection services cost
The average coronavirus cleaning cost starts at around £185. This may increase depending on certain factors including the size of the building/area that requires disinfection and the level of cleaning required.
Use our table below to determine the average virus disinfection cost for your premise.
| Size of premises | Average UK cost |
| --- | --- |
| 2-bed property | £185 |
| 3-bed property | £195 |
| 4-bed property | £215 |
| Gym or Restaurant | £210 |
| Medium office | £210 |
| Large office | £300 |
To be on the safe side, a professional team may use the COVISAN fogging application. This is a high-quality concentrate disinfectant that destroys a wide range of viruses and pathogens.
Cleaning and disinfecting your facility
Throughout the Covid-19 pandemic, many techniques have been employed in public buildings and private homes to stop the spread of the virus.
Professional disinfection using electrostatic fogging is one of the most common in commercial settings and workplaces. The process is as follows:
Firstly, the team will carry out a full risk assessment, after which they will seal off the property from visitors.
Next, the disinfection team will use a ULV electrostatic fogging machine to remove traces of the infection.
The area will then be sealed off to the public for a minimum of one hour.
Once disinfection is complete, you will receive a certificate to confirm the time, date and the technician responsible.
Decontamination fogging services are DEFRA approved and are effective against a wide variety of viruses.
FAQs
What is the difference between cleaning and disinfecting?
Cleaning and disinfecting have the same goal but differ in their effectiveness.
Standard cleaning uses soap and water to remove germs, dirt and other impurities from surfaces. Cleaning doesn't eradicate the germs, but it lowers their numbers, reducing the risk of infection.
Disinfection, on the other hand, completely kills germs from surfaces. This has become an increasingly common procedure due to the pandemic.
Regularly disinfecting high touch-points such as handrails, light switches, doorknobs and chair handles should be standard practice for any covid-secure facility.
Does sterilisation kill viruses?
Sterilisation and disinfection are both effective ways of removing traces of viruses from an area.
Sterilisation is a process that kills all microorganisms using methods such as heat, ethylene oxide gas, hydrogen peroxide gas, plasma, ozone and radiation.
What is electrostatic disinfecting?
Electrostatic disinfecting is an eco solution to efficiently killing germs in a large area like gyms, offices or restaurants. The process is quick and provides better coverage, effectively removing traces of viruses four times faster than manual disinfection.
Electrostatic disinfecting involves spraying an electrostatically charged mist made up of sanitizers and disinfectant onto surfaces and objects through a sprayer nozzle.
This produces charged droplets that repel one another and stick to all sides of a surface evenly to create a uniform coating of disinfectant.
Should I use disinfection services or can I complete the disinfection myself?
If your premises requires disinfection after a virus or bacteria outbreak, using professional services is the safest way to guarantee a return for people who live or work there.
Moreover, if you attempt DIY disinfection, you may not successfully remove all traces which could lead to people falling sick. To create a safe premise that is free of traces of the virus, hire a team of technicians who are level 2 Lantra certified.
You can find local professionals to help you disinfect your property using our free search tool below.
See the tradespeople we've checked and recommend for your job