Last updated on September 6th, 2022
Fish tank in wall cost guide
Installing a fish tank in the wall is a fantastic way to add glamour and drama to your interior decor. In this guide, we'll cover the main fish tank in wall costs you'll need to consider for your project.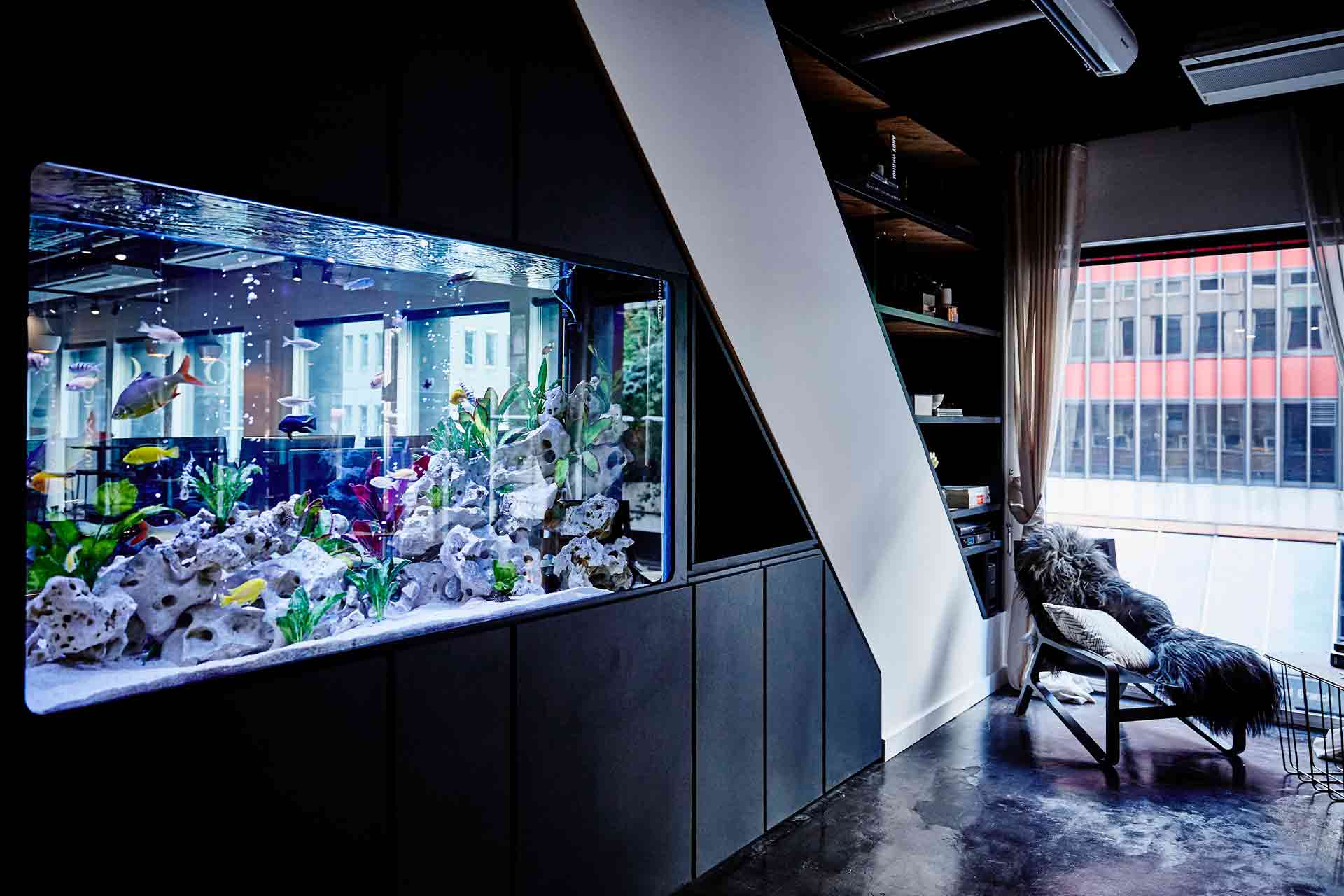 A fish tank in a wall can create a standout focal point for any room, as well as letting more light in and connecting or dividing two separate spaces. But it's important to remember that installing a wall aquarium can be tricky from a practical point of view.
Fish tanks have all kinds of necessary systems and mechanisms and these will need to be hidden from view, but still accessible. You should also remember that the health of the marine life is of crucial importance.
For these reasons, it's recommended to get a custom aquarium specialist to design and install your in-wall fish tank.
Wall aquarium prices
| Cost provided item | Price range - Low | Price range - High | Average UK cost |
| --- | --- | --- | --- |
| Fish tank | £1,200 | £2,800 | £1,500 |
| Filtration system | £165 | £435 | £300 |
| Heaters | £230 | £270 | £250 |
| Building the tank (per hour) | £20 | £35 | £30 |
| Installation | £200 | £800 | £500 |
The typical cost of a fish tank in the wall varies depending primarily on the size of tank and how much water it holds.
Some tanks come as a kit, with filters, lighting and other accessories included in the price. You can also get custom aquariums where installation in the wall is included.
But without these extras, you could be looking at £1,500 on average for a fish tank alone.
Wall aquarium cost – building and installation
Now that you have your tank, it's time to get it in the wall. You'll need a builder to create an aperture in the wall large enough for the tank. This needs to be properly structurally supported above (so the tank isn't taking too much weight) and below (fish tanks are heavy).
Next comes the installation of the tank, which should be carried out by a custom aquarium specialist. This is to ensure the tank is installed properly and will run correctly, and that you'll be able to access the tank for cleaning.
Expect to pay around £500 for professional installation. If it's a large tank and you're truly integrating it into the wall, you may need an electrician and a plumber too, at an additional cost.
Cost of fish tank filtration systems and other extras
Aquariums need a number of systems, tools and accessories to keep them running smoothly, for the health of the fish. You'll need a filtration system, which will cost £300 on average, depending on the size of the tank and the needs of the marine life.
You may also need a heater to keep the water at the right temperature, which could cost around £250.
Lastly, you'll need to think about appropriate lighting, to both showcase your aquarium and meet the needs of its occupants.
FAQs
How long does it take to install an in-wall fish tank?
It all depends on the size of the tank and where you'll be installing it. It can take just a couple of hours, but custom or bespoke aquariums are likely to take half a day or more to install.
How soon after the installation of my aquarium can the fish go in?
You should wait at least 24 hours after installing your in-wall tank to introduce marine life into it.
See the tradespeople we've checked and recommend for your job