Last updated on March 31st, 2022
Flat pack homes cost guide
Create the house of your dreams with our guide to how much flat pack homes cost. Learn all you need to know about this exciting experience with benefits and tips.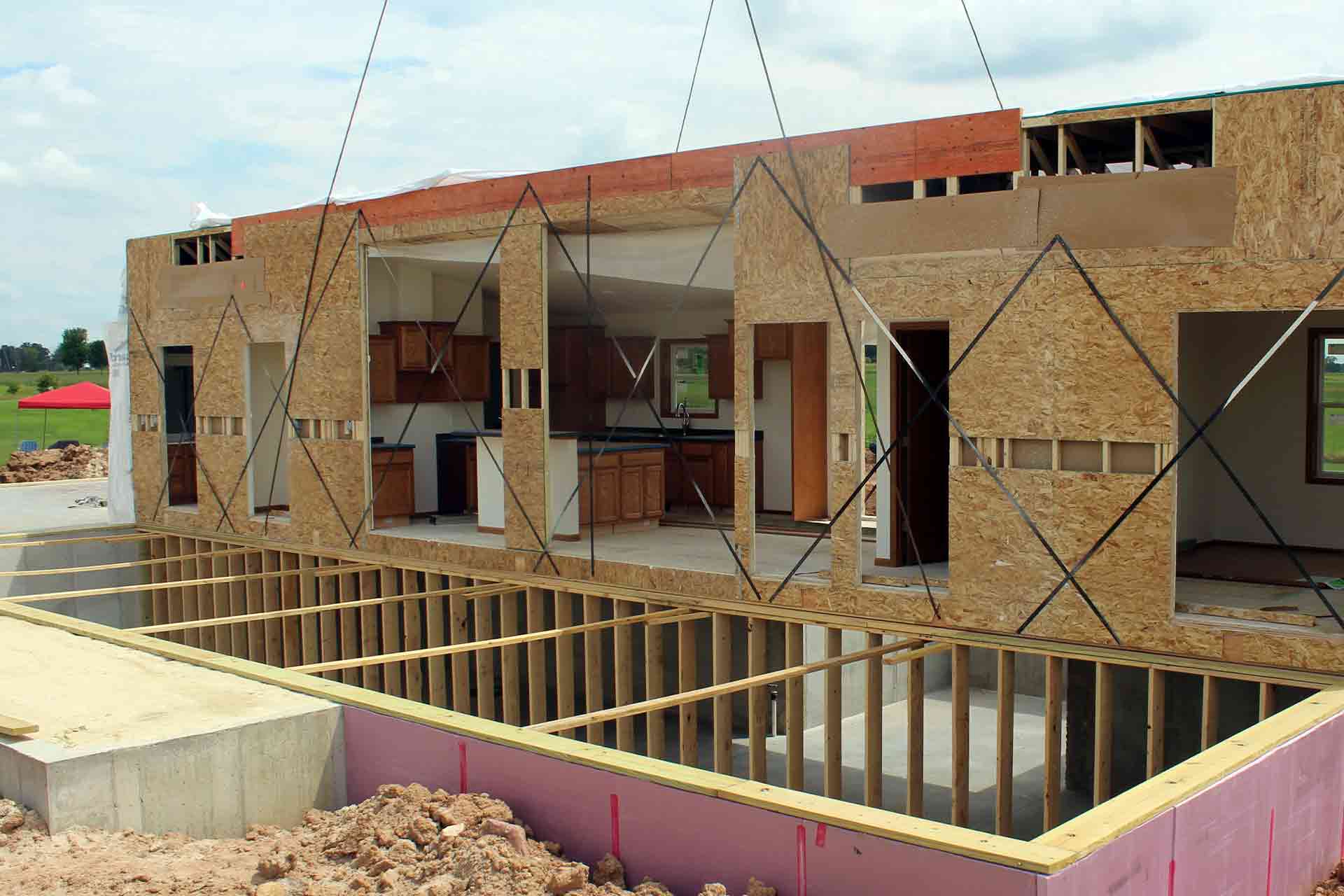 Why choose a flat pack home?
With the opportunity to create the house of your dreams, flat pack homes are a fantastic, cost-effective way of building a living space to your exact requirements. Flat pack homes are often much cheaper than pre-built houses and allow you to build your new property in your chosen location.
Often called 'Modern Methods of Construction', there's a reason why prefabricated construction is growing rapidly. It's cheaper, quicker and more sustainable than traditional homes. In fact, if reducing your environmental footprint is your goal, you'll be pleased to know timber can be more suitable than brickwork and masonry.
The scope for customisation of a prefabricated home is limitless. You can choose the layout, number of rooms, size of your home, as well as decoration including flooring, paint, tiles and so much more. Once finished, you will have a completely unique property that was much quicker to build than a standard brick and mortar house.
In this guide, we cover flat pack homes costs, benefits, extras to consider and more. So, if you are considering embarking on this exciting journey, keep reading.
How much do flat pack homes cost?
Types of homes
Cost + VAT
(Range low - high)
Average cost
Flat pack homes cost (Baur Fritz - Huf Haus) - materials
£1,500 - £2,000 per square metre
£1,750 per square metre
Flat pack homes cost (Baur Fritz - Huf Haus) - labour
£500 - £800 per square metre
£650 per square metre
Flat pack extensions cost
£1,300 - £1,800 per square metre
£1,550 per square metre
Generally, the cost of a flat pack home will depend on how many square metres the home will be. This makes complete sense as the more square metres your house will cover, the higher the costs for materials and labour due to the extra time required to build the property.
For a breakdown of each cost we spoke to the online estimators at B3 Cost Consulting – a team of professional Estimators and Quantity Surveyors. This guide features the estimated costs they provided.
The average flat pack home cost per square metre is £1,750 for materials and £650 for labour, giving a total cost of £2,400 per square metre.
What are prefabricated homes?
After the Second World War, cheaply made prefabricated houses were built to house the returning heroes. However, the term 'prefabricated' is now also used when describing flat pack houses.
If you want to know prefabricated home costs, then really you should be asking "how much do flat pack homes cost?" Modern prefabricated homes are nothing like the past versions, so the two should not be confused. You might even see them referred to as "off-site homes".
See the tradespeople we've checked and recommend for your job
Common materials used for flat pack homes
With the option to completely customise your flat pack house, you can choose from a number of materials. The most commonly used are:
Timber
Oak frames
Structural insulated panels
Insulated concrete formwork
Light gauge steel
Benefits of prefabricated homes
A huge host of benefits come with choosing a prefabricated home, making these houses an excellent choice for anyone considering building their perfect house. Below are some of the positives of choosing a flat pack home:
They are usually much cheaper and quicker to build than a traditional house.
The build is less affected by weather.
You can choose the exact spot for your prefabricated home. This can be achieved by purchasing land on which to build your property and ensuring good crane access.
Environmentally friendly options are available, including upgrading insulation to provide better heat loss properties.
You can create a stylish and unique home.
They are completely customisable to your taste, allowing you to create your perfect house.
Factors affecting flat pack home costs
It can be tricky to accurately calculate the cost of your flat pack home without considering the following factors:
Materials used: Choosing materials is an important part of constructing your flat pack house. For example, options like oak frames are the most expensive.
Size of house: The larger your prefabricated property will be, the higher the price of materials and labour. The number of openings and complexity of the house may also require additional steelwork to support the timber.
Brand: Different companies charge more, such as two of the main players Baur Fritz and Huf Haus.
Layout of house: Depending on how complex the layout of your house will be, the overall cost will be affected.
Quality of house: Higher quality materials and construction will be charged at a premium but will last longer and be sturdier.
Size and condition of land: Where you choose to build your home will affect the cost due to the type and depth of foundations needed.
Finish: Finishing your home can include installing flooring, decorating, bathrooms and kitchens etc. The higher the quality and style of these options, the greater the price will be.
Location: You should always be aware when undertaking any project that the location of your house will affect the overall cost. For example, areas such as London and the South East will have higher labour costs.
Quality Surveyor: Using a Quality Surveyor can help with comparing specialist quotes and engaging suppliers.
See the tradespeople we've checked and recommend for your job
What extras do I need to consider?
Unfortunately, the cost of your flat pack home is not the only thing you will need to budget for. You should also take into account the following extras when estimating the overall price you will pay:
Plumbing, gas and electrics.
Foundations.
Kitchens and bathrooms.
Decorating and flooring.
White goods and furniture.
Lighting and heating.
Location of wall-mounted items (for example televisions need strong wallboards).
Accuracy of bricklaying contractors to establish foundations, as there is less room for error.
Flat pack extensions cost
Of course, using a prefabricated construction method isn't just a great option for building a new home. If you are happy with the location and style of your current home but need more space, it is also possible to add on a flat pack extension. With potential cost and time savings, this can be an excellent choice for those on a budget, or who do not want to wait months for their new extension to be built.
So, how much do prefab extensions cost in the UK?
Well, the cost of prefab extensions will vary based on a number of factors, including:
The size of the extension: The bigger it is, the higher the flat pack home extension cost.
Material: A steel prefab extension will usually cost more than a SIPs prefab extension, for instance.
The quality of the finish: A lot of your prefabricated extension cost will be down to the spec of the finish and your personal taste. For instance, real wooden floors will cost more than carpet.
The purpose of the extension: If the extension requires plumbing (for instance, if it's a kitchen or bathroom extension), it will cost more to finish.
Your costs will also vary based on all the same factors a full flat pack home build will be subject to. However, to give you a rough idea, the average flat pack extension cost is £1,750 per square metre. This is cheaper than average house extension costs of £2,000 per square metre.
Can I install a flat pack home myself?
If you are experienced and highly skilled at DIY, it is of course possible to install a prefabricated house yourself. However, this is not a quick and easy job. You will be required to work at heights and with heavy, hard to manoeuvre materials. The potential for injury is high, so unless you feel confident it is always advised to hire an experienced tradesperson.
In addition to the danger involved, if you do not install your flat pack home to a professional standard, your home is at risk of leaks, draughts and structural instability. You should also bear in mind working with electrics, plumbing and gas is not only extremely dangerous but can often be illegal.
Excavating foundations should also not be taken on as a DIY job due to the difficulty involved and the necessity for all homes to have a stable, watertight base. A better, less risky option would be to take on the fixings, decoration and fittings yourself once the structure is complete.
Due to the danger and risks involved, we would recommend hiring a professional. To find a local, reputable, tradesperson in your area and get a personalised flat pack home installation quote use our free search feature. We can even help you find a specialist who can manufacture, supply and erect your new home, a great way to cut costs.
See the tradespeople we've checked and recommend for your job
FAQs
What about mortgage options for a flat pack home?
You should consider that not all lenders are willing to lend against a flat pack home so doing your research before choosing your prefabricated house is essential. Also, it is worth bearing in mind that it may take longer to find a mortgage for a prefabricated home, so leave plenty of time for this.
Do I need planning permission?
As with building any new home, you will need planning permission before beginning construction.
Useful flat pack home cost checklist
Flat pack homes give you the opportunity to create a unique and customisable living space in your chosen location.
Modern prefabricated homes should not be confused with those built after World War II.
The average flat pack home cost can be broken down into materials and labour, with prices based on how many square metres your finished house will be.
It is possible to add a flat pack extension to your existing home for a more cost-effective, quicker process than adding a traditional extension.
Taking on the construction of a prefabricated home yourself is a huge undertaking and can lead to injury and structural instability.
See the tradespeople we've checked and recommend for your job