Last updated on May 3rd, 2022
Foundation repair cost guide
In this cost guide, we break down underpinning foundation costs and include a checklist of everything you need to consider before going ahead with the job.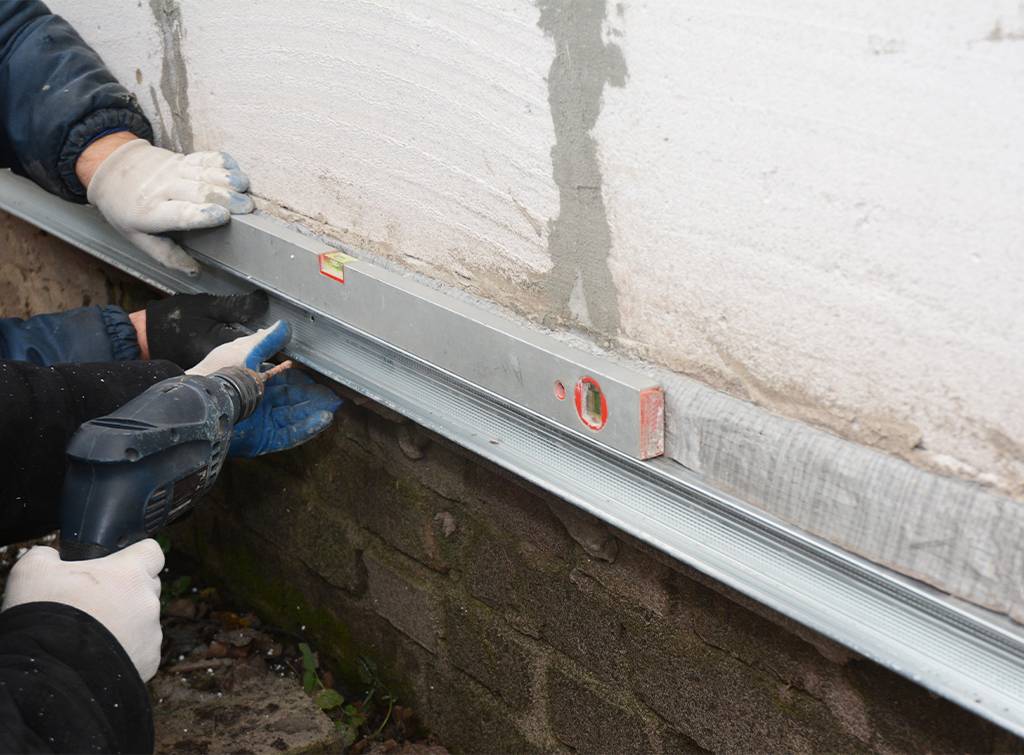 Whatever their cause, damaged foundations can affect the structural safety of your home and have a dramatic effect on its resale value. If the foundations on your home are failing, they must be repaired by a competent professional tradesperson.
Average foundation repair costs can vary, according to your property and the type of foundation that you chose to use. Underpinning foundation costs will be affected by a range of factors such as your choice of underpinning method, the size and condition of your property.
The costs included here cover the building costs and do not include any professional or legal fees you may be required to pay. You may be covered by your buildings insurance for cracked foundation repair costs.
| Foundation repair cost | Unit | Cost (+VAT) | Average cost |
| --- | --- | --- | --- |
| Underpinning a house | Per m | £1,000 - £1,250 | £1,125 |
| Foundation repairs | Per property | £7,500 - £9,500 | £8,500 |
| Structural engineer | Per project | £500 - £1,250 | £750 |
| Cracked foundation repairs | Per property | £1,000 - £1,500 | £1,250 |
Our prices in this guide were provided by the online estimators at My Build Estimate – a professional estimating company monitored by the Royal Institution of Chartered Surveyors (RICS).
What causes damage to foundations?
The foundations to your home can become damaged for a variety of reasons, including settlement, vibration damage or subsidence. If you spot a horizontal crack in your foundations, repair costs will vary according to its size and depth.
Assessing what's causing damage to your foundations is a specialist job, but the sooner you identify the problem, the quicker it can be fixed.
If you notice any damage, like large cracks to interior or external walls, it's essential to speak to a professional builder or surveyor. They can assess what's causing the damage and what you will need to do to protect your home.
The construction of your property will have an influence on the total foundation repair expense. Brick foundation repair costs and cinder block foundation repair costs can differ, so it's worth talking to a specialist.
See the tradespeople we've checked and recommend for your job
What is underpinning?
Underpinning is the process where a new foundation is formed beneath an existing one. The excavated soil from beneath existing foundations is replaced with material, usually concrete, to increase the overall depth of the foundation.
Reasons for underpinning:
Adding additional storeys to a building, where existing foundations then need to be strengthened
Basements, where the excavated basement goes deeper than the existing foundation depth
New structures are built nearby, altering the stability of the existing foundations
Inadequate existing foundations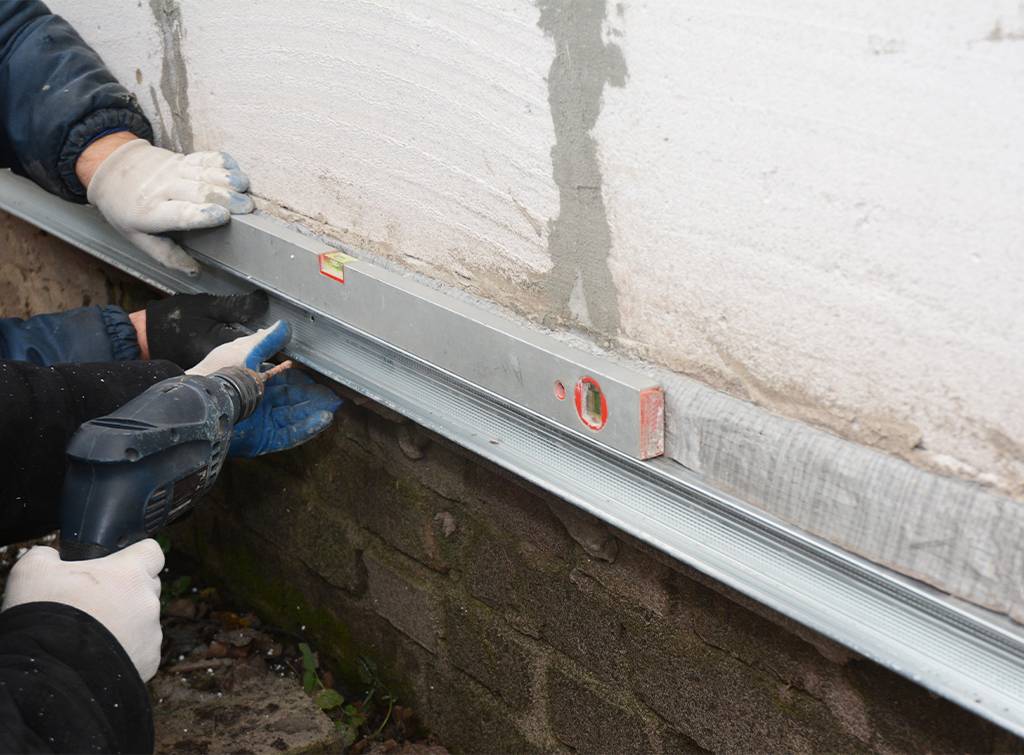 A structural engineer will examine your home and identify the cause of the cracks. They will assess its current structure and surrounding soil to determine the correct underpinning method and any internal structural repairs that may be required.
A builder will then be required to complete the work. This can include:
Digging holes around the existing foundations
Pouring in concrete to repair the damaged foundations
Removing and repairing any damaged bricks
Fitting any structural beams that may be required
Removing any debris and waste
Underpinning your home is covered by building regulations, and you will need approval from your local authority before any work can take place. You may also need to notify your neighbours if any works are adjacent to their property, as outlined in the Party Wall Act.
See the tradespeople we've checked and recommend for your job
What are the factors affecting underpinning costs?
The cost of your new foundations is affected by a variety of factors, including:
Underpinning method – There are four main underpinning methods, with varying costs: mass concrete, beam and base, mini-piled, expanding resin injectors.
Building size – The larger the structure and the more extensive the foundation repairs necessary, the higher the average foundation repair cost.
Accessibility of the site – How easy it is for tradespeople and heavy machinery to access your home will affect the total cost.
You should also consider any additional costs you may have to cover, including:
Hard and soft landscaping – this will be required to restore your garden back to its previous state.
Internal finishing (depending on the method of underpinning) – if the internals of your property are damaged as a result of the underpinning work, they must be put right.
Propping – you may be required to pay for propping, to support the load of the building during the works.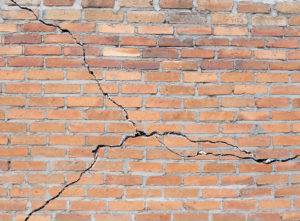 Underpinning foundations cost guide
The average foundation repair cost depends on your choice of underpinning method. We examine them in more detail below:
Mass concrete
Mass concrete underpinning involves digging holes around the existing structure and filling them with concrete to restore structural stability.
It's the most straightforward and cheapest method, with an average home foundation repair costing around £1,100 per square metre.
This method is cheaper because you're adding to the existing foundations rather than replacing them. Digging can be done by hand, which means there's no need for heavy machinery – making it cheaper too. However, it can take longer than other methods due to soil excavation and concrete curing.
Mass concrete underpinning is more suitable for homes with shallow foundations.
Beam and base
Beam and base underpinning involve replacing the existing foundations with a brand new concrete beam that supports the weight of the structure.
The average costs for beam and base foundations are approximately £2,000 per square metre.
The beam and base principle is tried and tested, meaning this method is highly effective and quick. But installation is trickier than mass concrete underpinning, making it slightly more expensive.
Mini piled foundations
Piled foundations are long, slender columns sunk deep into the soil to transfer a load of a building to deeper layers within the earth. A form of deep foundation, they are used to support larger buildings or properties built on softer ground.
The average mini piled foundation costs are £1,000 per pile, with an engineer able to advise on the number of piles needed.
Piled foundation costs are higher because of the specialist equipment and machinery needed to sink the piles deep into the soil. However, if your building is on variable or soft ground, they provide the necessary support for your building.
Expanding resin injectors
While carrying out expanding resin repairs, your tradesperson will inject a form of resin and hardener underneath your existing footings. A chemical reaction sees the resin expand to fill any gaps and cracks, hardening the foundations.
Underpinning with expanding resin injection costs around £1,250 per square metre.
This method of underpinning your home is simple, fast and efficient. It's also much less disruptive than other methods that require heavy machinery on-site. While it's cheaper, it can be less effective than other, more invasive foundation repair methods.
See the tradespeople we've checked and recommend for your job
Foundation repair cost calculator
As most foundation repairs are based on costs per square metre, you'll need to start by measuring the area of foundations that need to be repaired. To calculate the cost of your foundation repair from there you'll also need to know what time of underpinning method you're going for.
On top of the main repair costs you'll also need to add in any hard or soft landscaping needed to restore your garden and grounds to their previous state.
You should also factor in the cost of potential damage to the interior of your property by the foundation work, as you would need to pay to have that corrected with repairs and decoration.
Foundation repair quote
We recommend obtaining at least three quotes from our trusted tradespeople. Our request a quote feature is perfect for getting quotes – you post details about the job you want doing and we'll send it out to local tradespeople in your area. Try it out!
Foundation repair hourly rates
With a project like foundation repair it's hard to get an hourly rate for the work, or even a day rate. Foundation repair costs are generally provided on a per project basis, though you should be able to get a breakdown of the exact costs and times from your local foundation repair experts. The average project cost for foundation repairs is in the region of £7,500 to £9,500.
Foundation repair checklist
If you spot any significant cracks in your home, you must have them checked by a professional as soon as you can.
A structural engineer will identify the cause of the cracks and determine the most appropriate underpinning method.
The average foundation repair cost is £8,500.
Underpinning foundation costs can vary according to your property type, its size and location.
The cost of underpinning a bungalow may be lower than a two-storey property.
The costs in this guide cover only the building costs, they do not include any professional fees you may be liable for.
If you fail to fix the foundations in your home, it could be impossible to sell or insure.