Last updated on September 1st, 2022
PS5 ultimate games room cost guide
With next-gen consoles like the PS5 taking gaming to a whole new level of detail, now's the time to create your own ultimate gaming room. Read on for average costs and top tips.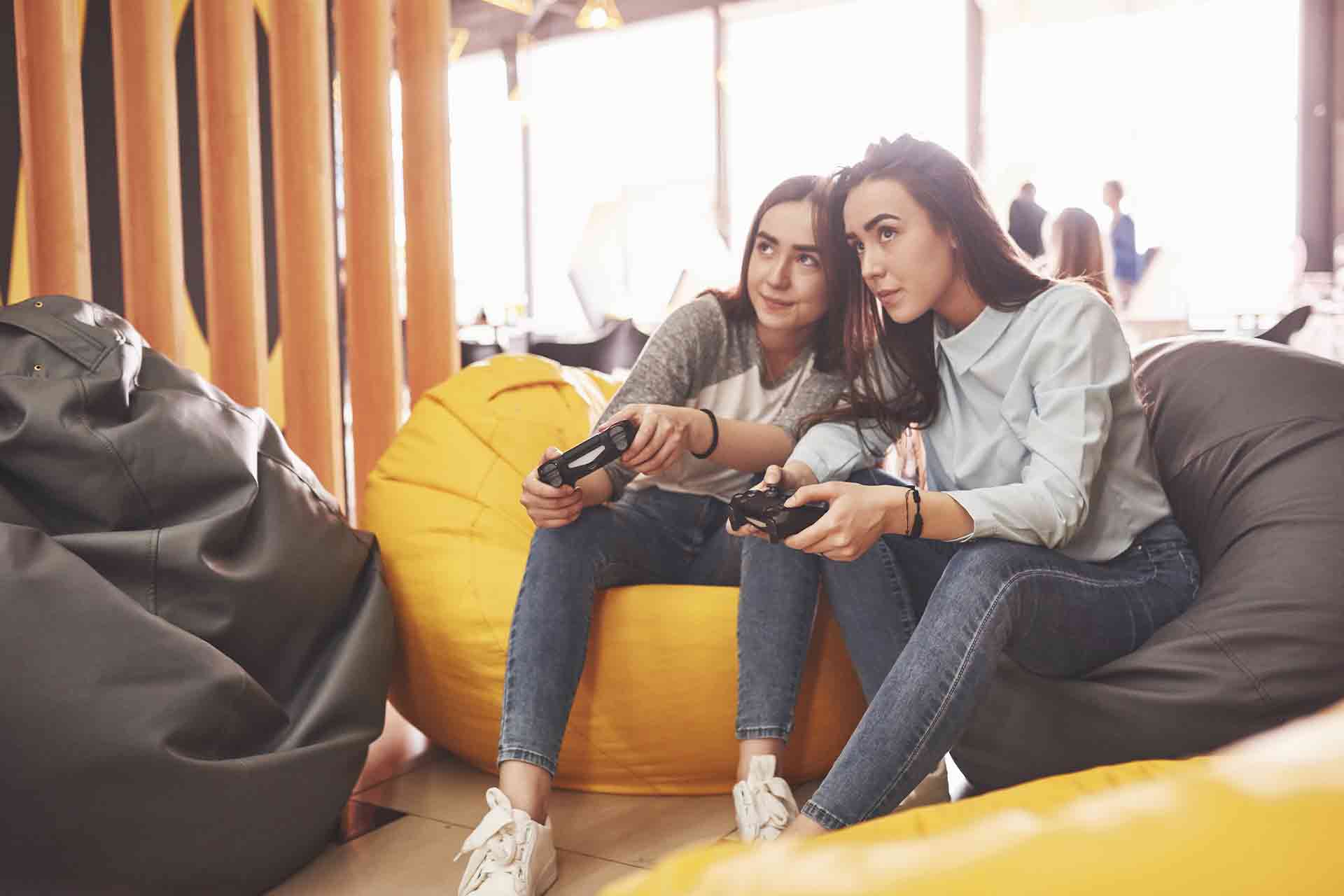 You're seconds away from the ninetieth minute, about to win your first game of the season. The whistle blows! You should be hearing the virtual crowds cheering, instead, your glory is drowned out by the roadworks just outside your bedroom window.
The next day, you're swinging acrobatically through Marvel's New York City in your new Spider-Man suit, it's thirsty work. You turn to your glass of water, it's empty. Great, you've got to trek downstairs and get yourself a drink. If only there was a better way…
That's right, we're going to walk you through creating your own ultimate gaming room, and how much it'll cost.
| Cost provided item | Price range - Low | Price range - High | Average UK cost |
| --- | --- | --- | --- |
| Gaming speakers | £50 | £150 | £100 |
| Soundproofing | £2,800 | £5,200 | £4,000 |
| Smart lighting (per light) | £60 | £140 | £100 |
| Blackout blinds (materials and installation) | £150 | £250 | £200 |
| Projector | £100 | £3,200 | £1,000 |
| Gaming chair | £240 | £760 | £500 |
| Mini-fridge | £130 | £230 | £180 |
| Sockets and wiring (per socket) | £700 | £130 | £100 |
| Headset | £20 | £80 | £50 |
| Total gaming room cost | £4,250 | £10,140 | £6,230 |
Sound
First things first, you'll want to make sure that you get the best sound experience possible. So, why not treat yourself to a set of gaming speakers?
Most modern games now produce immersive, multi-channel sound, so you might even want to go for a five or seven-speaker setup. Or, if you don't have that much space, a soundbar is a good option.
As with most things, the more advanced you go, the greater the cost. On average you should expect to pay around £100 for a set of gaming speakers.
If you really want a professional setup, why not invest in some soundproofing as well? The cost can vary significantly based on the size of your room and the level of soundproofing you want, but expect to pay £4,000 on average.
Lights
Lighting (or lack of it) can really make or break your gaming experience. The last thing you want is to be straining to see the screen because the sun's too bright or there are badly placed lamps around.
To achieve adequate darkness quickly and easily, we'd recommend fitting blackout blinds. You can get them bought and installed for around £200.
To really level up your gaming experience, why not also get hold of some smart lighting? You can get smart bulbs and lighting strips that sync to your game for somewhere in the region of £100.
The more advanced units will even let you tailor the colour scheme to the game you're playing.
Visuals
One major decision is what kind of screen you want to view your games on. A streamlined LED TV? A large monitor?
If you're of the view that bigger is better, a projector can be a great way to add some drama to your gaming. Projector prices vary hugely, but if you're looking for a good-quality one that doesn't break the bank, we'd suggest budgeting around £1,000.
Comfort
Of course, you can't create a games room without investing in a gaming chair. And when it comes to gaming chairs, there's a ton of choice.
Pedestal or recliner? Racer or bean bag? Do you want to invest in a chair that comes with built-in speakers? Wireless connectivity? Vibration technology?
Gaming chair prices can vary significantly. If you're not sure what's sensible to budget, £500 will get you a very decent chair with some pretty cool features.
Plus, don't forget to install a mini-fridge! For just £180 on average, you'll never need to interrupt your gaming session to go and grab another drink again.
Connection
If you want to be able to easily speak to your friends while you play, you'll want to get hold of a headset. You should budget around £50 on average, although you could spend a lot more for a premium pair.
And finally, all this equipment is likely to end up causing a sea of cables. If you want to make the room less cable-cluttered, you may well want to invest in some extra plug sockets. Or better still, why not ask an electrician to help you bury some cables in the walls?
An electrician is likely to charge around £100 per socket.
Games room cost key takeaways
Gaming speakers can help you to avoid noisy interruptions.
Blackout blinds are a cost-effective way to ensure adequate darkness.
Get a projector to play on the big screen.
A mini-fridge is an inexpensive luxury.
Ask an electrician to help you hide cables.
See the tradespeople we've checked and recommend for your job