Last updated on May 30th, 2022
Garage door repair cost
Repairing a garage is almost always cheaper than replacing it, but what should you be looking out for when it comes to garage door repair costs?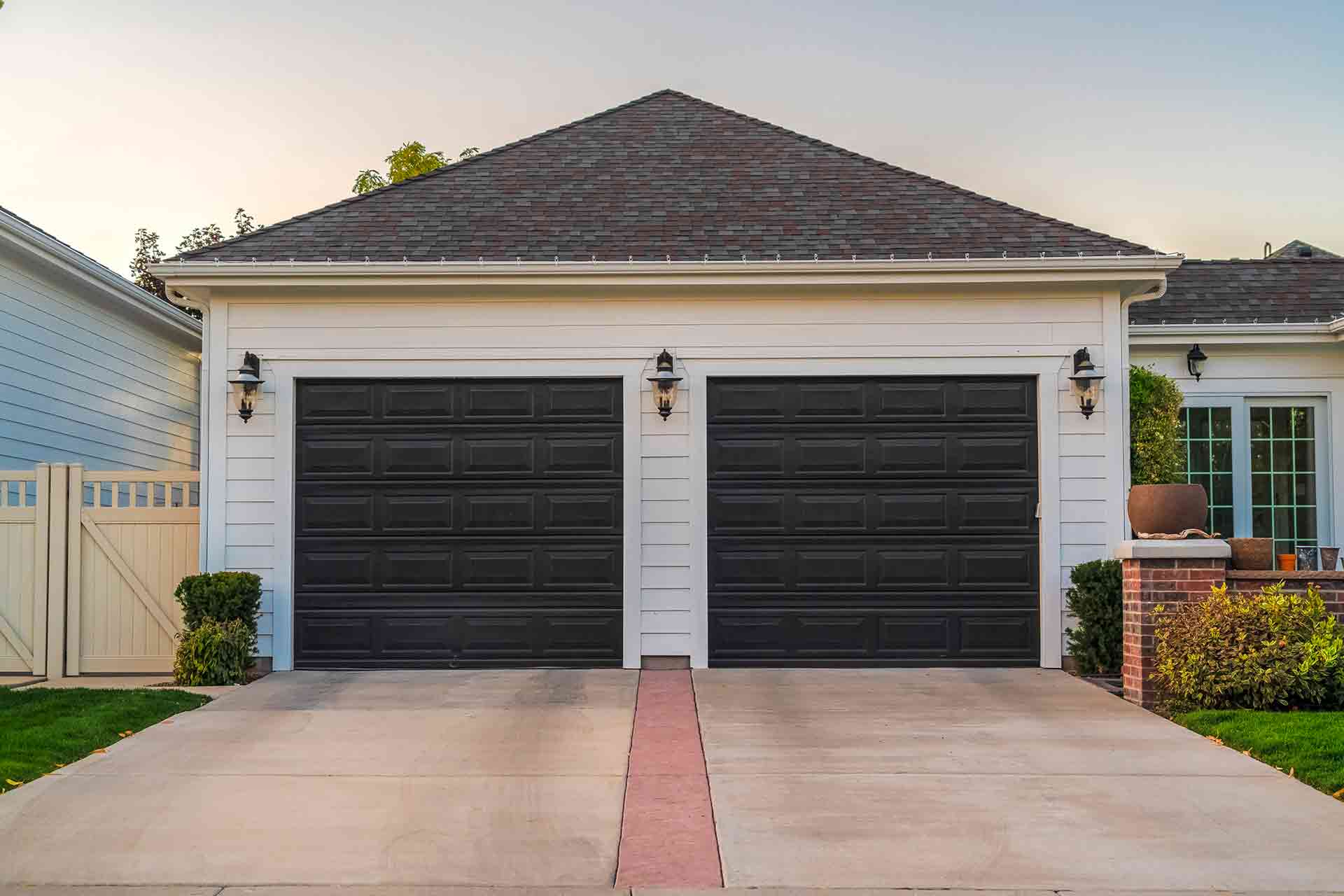 Cost provided item
Cost + VAT
(Lower range)
Cost + VAT
(Higher range)
Average cost
Average cost of garage door repair
£40
£120
£80
Garage door spring repair
£50
£100
£75
Garages are excellent outdoor storage solutions. They provide a safe space for high-value assets and can help declutter our homes. They come in a range of makes and models, depending on our individual requirements and what we're storing, and they add value and security to our homes and belongings.
That's why, when they get damaged, you'll want to fix the problem straight away. Read on for our comprehensive cost guide, designed to help you ask the right questions and choose the best solutions.
Common garage door repairs
Below is a brief overview of common repair requests regarding garage doors. Use this list to help identify the issue.
Motor
An electric motor is a mechanism that opens and closes your garage door. They tend to have a lifespan of around six years.
However, damage, breaking springs and bad fittings can reduce their longevity.
Torsion spring
Torsion springs are used to balance weight when garage doors open and close. They store energy and transfer tension for a smooth lift and pull.
When they break, garage doors are thrown out of sync and can open and close unevenly or dangerously.
Track
Tracks support and mount garage doors. They come in three basic types:
Standard lifts
Vertical lifts
High lifts
When they break, the garage door won't open and close properly, leading to jams, motor burn out and, in some cases, the doors coming loose and falling to the floor.
Dents
In less severe cases, garage door dents are a cosmetic issue. In more severe cases, they cause issues with how easily a garage door opens and closes.
Dents can weaken the structural integrity of the doors and reduce their security standard.
Shattered glass
Shattered glass on or from garage doors is a security risk. If there's a way for potential criminals to enter your property and take or damage your belongings, getting the glass panels replaced or repaired as soon as possible is your best bet.
See the tradespeople we've checked and recommend for your job
Garage door track repair cost
The complexity of the job will define the overall cost.
For example, if you need a tradesperson to put the door back on the tracks and secure them, on average it'll cost you around £77. However, if you need them to change out parts, replace the entire structure or install new tracks, on average it'll cost you around £150.
The average cost for a garage door track repair is £120.
Garage door torsion spring repair cost
Most garage door torsion springs can be repaired without having to replace the whole torsion system; however, as it's a delicate and important safety feature, it takes accuracy and skill. You can expect to pay a tradesperson to dismantle and repair the damaged parts or replace the torsion spring elements. A simple repair can cost around £50, while larger and more complex repairs can cost up to £100.
The average cost for garage door torsion spring repair is £50 – £100
Garage door dent repair cost
Some garage dents just need a quick cosmetic fix, while others, especially custom-made garage doors with heavier metals, might need specialist tools.
Either way, the cost of fixing a dent will depend on how much time it takes your chosen tradesperson to manipulate it back into shape. You can expect to pay anywhere between £40 for smaller jobs to £120 for more difficult fixes.
The average cost for garage door dent repair is £40 – £120
Garage door motor repair cost
Repairing your garage door's motor (aka, opener) can be a small undertaking if it's just a few parts or a minor repair, or a large undertaking if it needs a whole replacement. It's worth investing in a good motor to begin with so it has greater longevity and is less likely to fail in the short term.
The average cost for garage door motor repair is £40 – £120
How long does it take to repair a garage door?
There is a huge variety of garage doors available on the market, with differences in size, materials, mechanisms and styles. These include:
Roller doors
Sectional doors
Hinged doors
Canopy doors
Automatic doors
Retractable doors
Each of these will require a different approach and a different specialism.
Depending on the extent of the damage or issue, the repairs or replacements will take varying amounts of time to complete. You can expect tradespeople to charge an average national rate of £170, including materials and labour, for most small to medium undertakings. However, expect a higher fee if they need to charge you their day rate for bigger jobs.
Take a look at our garage door replacement cost guide for more information on costs.
See the tradespeople we've checked and recommend for your job
Garage door repair cost calculator
If you're trying to calculate the cost of your garage door repair, you'll need to factor in the size of the garage door, the type of mechanism it uses (manual or automatic), the type and extent of any damage, and the cost of any materials needed – on top of the labour charge and any initial callout fee. The more complex the repair work or the greater the level of damage to the garage door, the higher the cost of the job.
To get accurate prices, speak to local garage door repair specialists and ask for a breakdown of the costs involved.
Garage door repair quote
We always recommend obtaining at least three garage door repair quotes from our trusted tradespeople. Our request a quote feature is perfect for getting quotes – you post details about the job you want doing and we'll send it out to local tradespeople in your area. Try it out!
Garage door repair hourly rates
On average, a professional garage door technician will charge around £75 per hour to carry out repair work. The exact rate will depend on the individual technician, their experience and where you live in the country. There may also be a callout fee for the technician to come and inspect your garage door to identify the problem that needs fixing.
Can I repair my garage door myself?
As your garage door is both a safety feature of your home and can be dangerous when it malfunctions, we always advise hiring a professional to repair or replace any parts. Although people are known to attempt dent repairs themselves, the results are often worse than the original issue, leading to steeper costs in the long run.
Key insights
Most small to medium garage repairs will cost between £100 – £400 including labour.
Garage doors are a key security feature and should be repaired whenever there's damage.
It's worth investing in high-quality materials and mechanisms to increase the longevity of your garage doors.
Glass panels on garage doors can be easily broken, which reduces their security impact.
Average garage door repair cost: £800.
See the tradespeople we've checked and recommend for your job