Last updated on May 9th, 2022
Gas fire service and repair cost guide
In this guide you'll find average prices for gas fire service and safety checks, as well as maintenance intervals and average repair costs.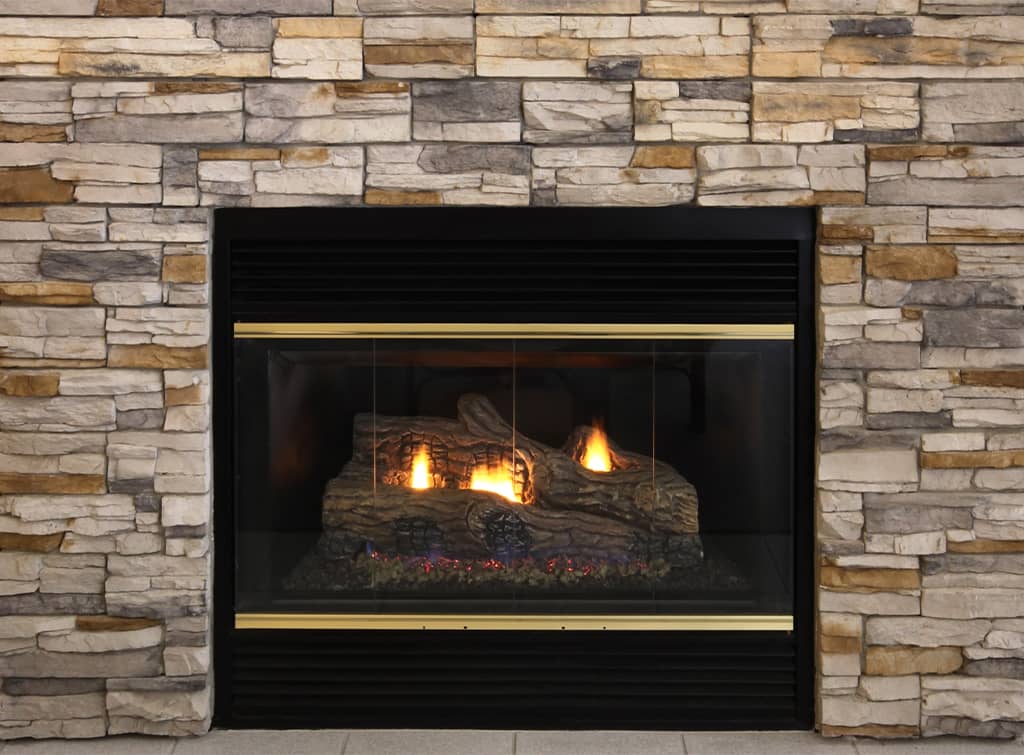 If you use any gas appliances in your home, you should get them checked at least once a year – and a gas fire is no exception. We've put together this gas fire service cost guide to help you understand what it involves and how much you can expect to pay.
We spoke to the online estimators at My Build Estimate – a professional estimating company monitored by the Royal Institute of Chartered Surveyors (RICS). 
How much does a gas fire service cost?
| Gas fire service cost | Average cost - low | Average cost - high | Average cost |
| --- | --- | --- | --- |
| Annual gas safety check and gas fire service | £75 | £95 | £85 |
| Gas safety check | £60 | £85 | £70 |
| Gas boiler service cost (one-off) | £90 | £125 | £100 |
| Gas boiler annual servicing contract (including breakdown cover) | £175 | £300 | £225 |
An average annual gas safety check on its own will cost around £70. The price of a full gas fire service cost (which usually includes a safety check too) is about £85.
These prices for a gas fire service are for one appliance. Additional gas appliances would be charged additionally per extra appliance at an uplift cost (they shouldn't be double the cost).
Free gas fire checks
Some gas providers will offer a free gas safety check if you are a pensioner, registered disabled, chronically ill, or have children under five years old.
What is a gas fire service?
A full gas fire service involves checking every part of the fire to make sure it's in good physical condition. The service will also cover checks of the installation pipework and any air vents or flues used by the fire.
As part of the service, the engineer will usually carry out a performance test too, to ensure the gas fire is working at its best.
Any problems identified by the engineer will be put into a report, in accordance with the Gas Industry Unsafe Situations Procedure. They will leave a copy of the report with you so that you're aware of exactly what tests have been done and what problems (if any) have been found.
Gas fire safety check
An annual gas fire safety check is a less thorough review of your gas fire, but will still ensure that your fire is in good working condition, with no defects that need attention. As part of the check they will make sure the fire is:
on the correct setting
burning correctly
at the right operating pressure
successfully removing harmful gases to the outside (including checking ventilation passageways are clear).
This safety check should always be carried out by a registered Gas Safe engineer – it's important to make sure they're registered so that you know your wellbeing is, quite literally, in safe hands.
For rented properties, a gas fire safety check is a legal requirement for landlords to perform each year. We would recommend always having a gas fire service to give you peace of mind that your gas fire is in great condition, whether you're a landlord or a homeowner.
See the tradespeople we've checked and recommend for your job
Why is a gas fire service important?
Faulty or damaged gas fires are a serious fire risk and can potentially cause carbon monoxide poisoning. Having your gas fire regularly serviced according to the manufacturer's guidance will make sure it's working properly and help keep you and your home safe.
Organising regular gas fire services will:
Help keep your fire running optimally
Give you peace of mind knowing you're protecting your family
Reduce energy bills as your fire will be more efficient (than if not serviced)
How long does a gas fire service take?
A gas fire service should take between one and two hours. It's relatively quick and will give you the reassurance that your gas fire is safe for use and working well.
Common problems with gas fires
There are a number of problems that arise with gas fires. You may notice your fire isn't working properly or has a yellow flame instead of a strong blue flame. If you notice anything unusual with your gas fire, contact a qualified engineer as soon as possible.
Common gas fire problems include:
Incorrect gas pressure, which causes the fire to effectively shut down.
Blocked chimney flues, causing poisonous fumes to leak into the room.
Poor installation accounts for a variety of issues with gas fires and can invalidate the warranty.
The cost of servicing a gas fire is well worth it when you consider the risks associated with a faulty or broken gas fire.
How often does my gas fire need servicing?
Once a year, if you have no noticeable problems with the gas fire. If you do notice any issues, contact an engineer as soon as possible to service the fire.
Your gas boiler and any other gas appliances in your home should also be checked every 12 months too.
Average gas boiler service cost (one-off): £100
Average gas boiler annual servicing contract (including breakdown cover): £225
How much does a gas fire repair cost?
As with most things in life, prevention is always better than a cure, so by regularly servicing your gas fire, you'll be helping extend its lifespan and reduce the chance of serious issues developing. That said, breakdowns are inevitable, so at some stage it's likely you'll have to deal with gas fire repairs. The cost of repairs will vary depending on the make and model of your gas fire, its age, condition, and the nature of the problem.
If you're experiencing issues with your gas fire, we recommend speaking with your local gas fire specialists as soon as possible to organise an inspection and fix the issue. If in doubt, stop using your gas fire until it has been inspected to avoid putting yourself and your family in unnecessary danger.
Useful gas fire service checklist
Book a gas fire service at least once a year.
If you notice any problems with your gas fire, contact an engineer as soon as possible.
Always hire a professional who is on the Gas Safe Register.
Obtain a certificate from your engineer for any work carried out on your gas fire (confirming that it is safe).
When hiring a local tradesperson, always shop around for fair and competitive prices.
See the tradespeople we've checked and recommend for your job