Last updated on August 15th, 2022
How much does it cost to replace coil springs in 2023?
Over time, natural wear and tear from overuse cause the coil springs in your car to lose elasticity. But how much does it cost to replace coil springs?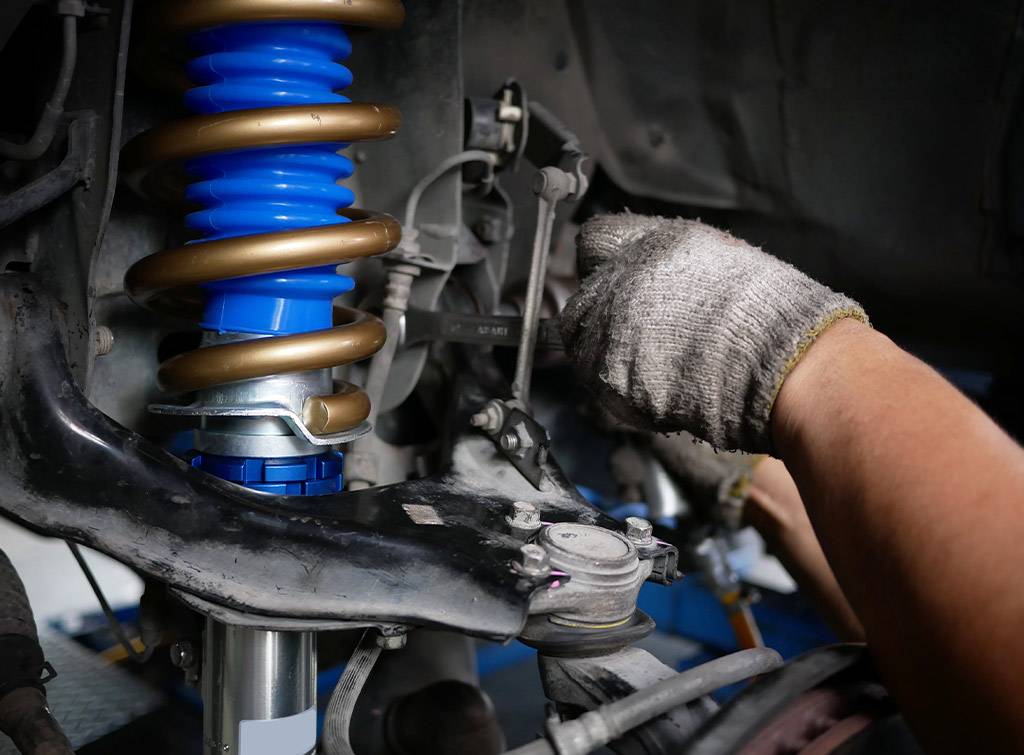 Getting your car's coils replaced can ensure a smooth drive, improving comfort and safety for you and your passengers.
The prices charged by car mechanics can vary between companies, so it's not always easy to get a straight answer. To help you budget for this small but impactful upgrade, we've pulled together the UK average cost.
For tailored quotes from trusted professionals, use our free search tool to connect with mechanics in your local area.
Cost provided item
Price range - Low
Price range - High
Average UK cost
Front coil spring replacement (1-3 hours)
£175
£275
£225
Rear coil spring replacement
(1-1.5 hours)
£167
£177
£172
Coil spring (materials only)
£98
£120
£109
Ultimately, the price to replace a coil spring depends on the car in which it is installed. For example, the coil springs required for light and compact cars won't need to be as strong as those fitted to heavy limousines or 4 x 4s.
Other factors such as the type of company you use (franchise or independent) will influence the cost, as will the location of a mechanic. Prices in London will typically be higher than those in other regions.
How much does it cost to replace front coil springs?
Coil springs are always replaced per axle. Prices average £109 for just the coils, with installation costs for labour and skill to install these properly varying depending on the axle.
When sourcing a quote, your mechanic will usually need to know the make of the car to gauge the weight of the vehicle.

How much does it cost to replace front coil springs?
The price for replacing coil springs is approximately £225 for the front suspension.
How much does it cost to replace rear coil springs?
For rear coil spring replacement, the cost is less, sitting at an average of £172. Remember, one spring should never be replaced by itself – instead, car owners should have the front or rear set changed as a pair to ensure performance and safety.
During replacement, the mechanic will inspect the suspension system and coil springs. If necessary, they will replace the front or rear pair and advise whether further components need to be replaced.
The suspension will be tested following replacement to ensure the vehicle handles well. If not the mechanic may need to make further adjustments, such as changing the second set of coil springs.
See the tradespeople we've checked and recommend for your job
Calculating the cost of replacing coil springs
When calculating the cost of coil spring, you first need to know the factors that can affect the price. Here are some factors that can affect the cost of replacing coil springs:
The make and model of your car, as this affects the weight
If you're buying original equipment manufacturer (OEM) parts or aftermarket, as OEM parts would be more expensive
Labour costs, depending on how long the job takes and where you're located
If there are any other parts that need to be replaced
Any consumables that are needed in the process, like grease
What's the hourly rate to replace coil springs?
So, how much can you expect to pay a mechanic to replace a coil spring? This would depend on whether you go to a franchise or an independent mechanic. Franchises charge more than a small local business. On average, you can expect to spend £40 per hour for coil spring repair.
Typically, front spring coils replacement can take 1 – 3 hours. Back spring coils tend to take between 1 – 1.5 hours.
Coil spring replacement quotes
If you are looking for coil spring replacement quotes, we recommend getting quotes from at least three of our trusted tradespeople. To make getting quotes easy for you, we've got a request a quote feature. All you need to do is post the details of your job, and we'll send it to three local tradespeople near you. Try it out!
FAQs
Why replace coil springs?
Developments in safety technology have seen cars generally become heavier in recent years. While this is undoubtedly beneficial to the driver, the increasing weight of vehicles has made coil spring erosion a more common problem.
Over time, wear and tear can cause the protective paint to rub off, leaving coil springs vulnerable to rust. Not only does this make for an uncomfortable ride, but it can cause the spring to break, compromising the safety of your car.
Swapping standard suspension for coil springs generally makes for improved handling, stiffer dampening and better aerodynamics. Since coil springs are designed to absorb vibrations, bumps in the road can barely be felt, enhancing the quality of the ride.
How do you know if coil springs need to be replaced?
A coil spring usually lasts around 60,000 – 90,000 miles before it will need to be replaced. If your car pulls to one side, has a noisy suspension or steering is badly impaired, you should immediately seek the help of a mechanic. These are the tell-tale signs that your coil springs need urgent replacement.
Can I replace just one coil spring?
Coil springs should be replaced as a pair to ensure a safe driving and prevent accidents caused by broken or damaged springs.
Can you drive with a broken coil spring?
When coil springs lose elasticity from exposure to rust and erosion from the road, the propensity for damage to your vehicle, you and other road users increases.
For this reason, you should never drive with a broken coil spring. Instead, springs should be replaced as a matter of urgency. Makeshift methods are also not advisable under any circumstances.
Call a trained mechanic to install new coil springs with care for a safe and smooth drive.
See the tradespeople we've checked and recommend for your job