In this Karndean flooring cost guide, we're going to take a deep dive into everything you need to know about this affordable design alternative.
You don't need to spend a fortune renovating the floors in your home. Achieving that 'hardwood floors throughout' aesthetic is possible with the right materials and resources.
Karndean Flooring Range
Unit
Cost + VAT
(Low range)
Cost + VAT
(High range)
Average cost
Opus
Per m2
£20
£30
£25
Palio Clic
Per m2
£22
£32
£27
Da Vinci
Per m2
£24
£32
£28
Korlok
Per m2
£30
£40
£35
Installation costs
Per day
£100
£200
£150
Karndean is the name of a popular brand of vinyl flooring. Designed for its durability and authenticity, Karndean flooring costs tend to work out cheaper than timber or other expensive floor materials.
Made from high-quality and pure Polyvinyl Chloride (PVC), Karndean floors come in various designs. When laid properly, it's an excellent alternative to hardwood floors, offering a natural and practical solution that wears well. It's also easy to clean and maintain.
Karndean flooring costs
Karndean flooring (cost per square metre) varies depending on the design and technology you choose. For example, Opus flooring starts at an average of £25 per square metre, while the patented Korlok costs around £35 per square metre.
When it comes to the overall cost to supply and fit Karndean flooring, you can expect it to sit somewhere between £450 and £900. This is based on an average bathroom or kitchen of 8 square metres, a mid-range priced tile of £24 per m2, and the installation costs.
Find a floor fitter near you
Benefits of Karndean floors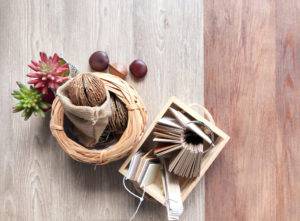 Beyond a stylish aesthetic, Karndean flooring comes with a number of advantages, including:
Noise reduction: Vinyl floors are quieter than wood or laminate floors
Resilient: Waterproof and damage resistant, Karndean flooring is durable and accident friendly
Low maintenance: Easy to clean and hard to damage, these floors endure greater wear and tear
Warmer: Karndean flooring is softer and more malleable than laminate or hardwood alternatives
Types of Karndean designs
Karndean floors come in various wood, stone and abstract designs. Popular ranges include:
Opus: Larger planks for a contemporary look
Van Gogh: A timber alternative with a 'real' and authentic look
Palio Clic: Luxury vinyl with a click-locking system
Da Vinci: Traditional wood look with a modern twist
Korlok: K-Core locking technology that helps reduce noise
Karndean flooring FAQs
How do I care for my Karndean floor?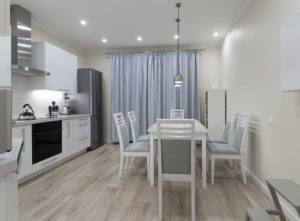 We recommend cleaning your Karndean floor at least once a week. Sweep first and mop second. Consider using a floor protector to prolong the life of your vinyl and keep it looking great.
What do I need to do before my Karndean floor is laid?
Prepare your subfloor as thoroughly as possible. Ensure there's no adhesive residue and apply a smoothing compound to guarantee an even finish.
What is Karndean flooring made of?
Karndean is structured in five layers.
Two PVC (vinyl) backing layers
One HD (high definition) photographic later
One clear PVC embossed wear and tear layer
One protective coating made of polyurethane
Can I fit Karndean flooring myself?
We recommend hiring a professional to fit your Karndean floor because it requires a more complex installation. If done badly, you risk losing out on the soundproofing, waterproofing and natural aesthetics of these beautiful floors.
To get an estimation for the cost of your kitchen flooring installation, use our Checkatrade search to find reliable and trusted flooring experts in your area.
Find a floor fitter near you
Tell us what you think
What others think of this cost guide:
Need More Information?
Related posts