Last updated on July 27th, 2022
Karndean flooring cost guide
In this Karndean flooring cost guide, we're going to take a deep dive into everything you need to know about this affordable design alternative.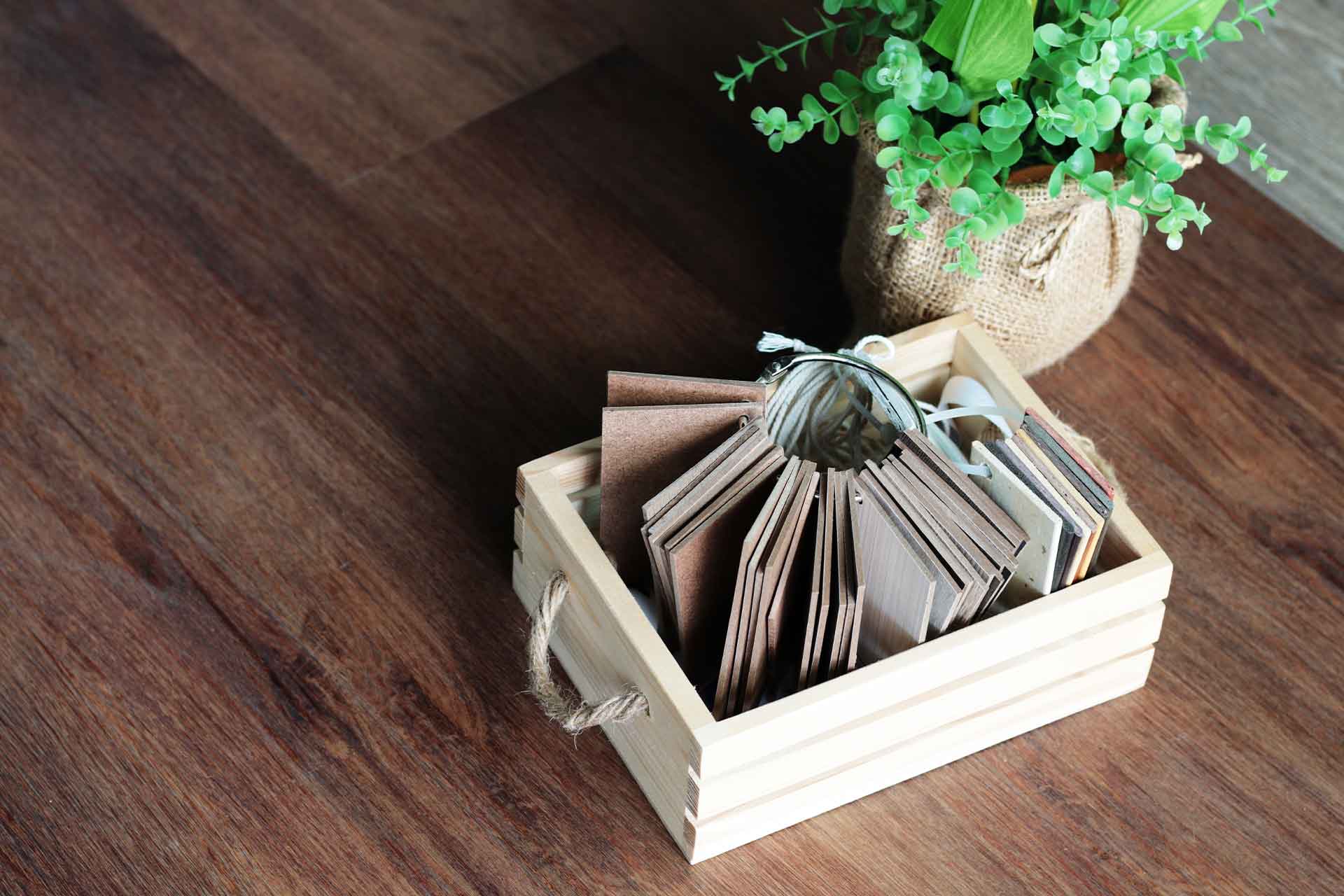 You don't need to spend a fortune renovating the floors in your home. Achieving that 'hardwood floors throughout' aesthetic is possible with the right materials and resources.
Karndean is the name of a popular brand of vinyl flooring. Designed for its durability and authenticity, Karndean flooring costs tend to work out cheaper than timber or other expensive floor materials.
Made from high-quality and pure Polyvinyl Chloride (PVC), Karndean floors come in various designs. When laid properly, it's an excellent alternative to hardwood floors, offering a natural and practical solution that wears well. It's also easy to clean and maintain.
Karndean flooring costs
Cost provided item
Unit
Cost + VAT
(Low range)
Cost + VAT
(High range)
Average UK cost
Opus
Per m2
£25
£35
£30
Palio Clic
Per m2
£26
£36
£31
Da Vinci
Per m2
£32
£40
£36
Korlok
Per m2
£33
£43
£38
Installation costs
Per m2
£17
£23
£20
Installation costs
Per day
£220
£320
£270
Karndean flooring (cost per square metre) varies depending on the design and technology you choose. For example, Opus flooring starts at an average of £30 per m2, while the patented Korlok costs around £38 per m2.
When it comes to the overall cost to supply and fit Karndean flooring, you can expect it to sit somewhere between £220 – £320. This is based on an average bathroom or kitchen of 8 square metres, a mid-range priced tile of £34 per m2, and the installation costs.
Benefits of Karndean floors
Beyond a stylish aesthetic, Karndean flooring comes with a number of advantages, including:
Noise reduction: Vinyl floors are quieter than wood or laminate floors
Resilient: Waterproof and damage resistant, Karndean flooring is durable and accident friendly
Low maintenance: Easy to clean and hard to damage, Karndean floors endure greater wear and tear
Warmer: Karndean flooring is softer and more malleable than laminate or hardwood alternatives
Types of Karndean flooring designs
Karndean floors come in various wood, stone and abstract designs. Popular ranges include:
Opus: Larger planks for a contemporary look
Van Gogh: A timber alternative with a 'real' and authentic look
Palio Clic: Luxury vinyl with a click-locking system
Da Vinci: Traditional wood look with a modern twist
Korlok: K-Core locking technology that helps reduce noise
See the tradespeople we've checked and recommend for your job
Karndean cost calculator
Whilst Karndean flooring costs are quite affordable, calculating the total cost of the project involves a few more factors to consider, including:
Type of flooring: Different types of Karndean flooring have different prices, based on the finish and design. As a result, the first thing you need for calculating the total cost is the type of flooring and its price per metre.
Area of floor: How much flooring you require depends on the area of the floor you want to cover. The larger the area, the more material you require. As a result, before you start calculating your Karndean flooring costs, you need to know the exact area you want to cover.
Installation cost: Unless you're quite handy and into DIY, you will need flooring installers to fit your Karndean flooring. As a general estimate, you can expect to spend around £17 – £23 per m2 on installation costs.
Location of property: Where your property is located can have some bearing on your installation cost. For example, you can expect to pay on average around £340 per day if your property is in London. However, installers may charge you a lower rate in other parts of the country.
Additional installations: Before you install your Karndean flooring, you need to think about any additional features you may want. For example, underfloor heating installation, floor screeding (a process where you apply a material that makes underfloor heat transfer more efficient) or new skirting boards are all additions you might consider when you put new flooring down.
Waste removal: If you are removing your old flooring as part of the installation, the installers might add a waste removal cost to your total.
Ease of access: If the room that you're re-flooring is not easy to get to, your Karndean flooring installation cost might go up. In such a case, the installer might add a small surcharge for having to carry material up or down flights of stairs.
Karndean flooring installation quote
When getting Karndean flooring installation quotes, we recommend contacting three tradespeople from Checkatrade to find the quote that's right for you. You can use our request a quote feature to get quotes from three tradespeople near you. Make sure you provide as much detail as possible in order to get a more accurate quote.
Some of the important details include the size and shape of the rooms you want to re-floor. If possible, provide a visual representation with measurements. It's not necessary to have an accurate-to-scale diagram, but a rough idea does help.
Outline the work you would like the installers to do. Does it include removing the old flooring? Will you need any additional features installed? If the room is difficult to access or on a different level from the rest of the house, you might want to mention that.
Any additional detail you might want to add will help your local tradespeople give you the most accurate Karndean flooring installation quote.
Karndean flooring installation daily rates
As we mentioned earlier, most flooring installers charge a daily rate of £220 – £320 per day to install your Karndean flooring. While this is a fairly standard rate, it might change based on the location of your property, since installers in a city like London will charge more.
Based on the daily rate, you can work out how much you'd pay for your Karndean flooring installation. For example, for a small 10m2 room, you can expect the installation to take a day. That means you will pay £270 on average.
However, if your room is 25m2, you may be looking at a three day installation, for which you'd pay an average of £810.
Larger rooms may take up to five days.
Karndean flooring FAQs
How do I care for my Karndean floor?
We recommend cleaning your Karndean floor at least once a week. Sweep first and mop second. Consider using a floor protector to prolong the life of your vinyl and keep it looking great.
What do I need to do before my Karndean floor is laid?
Prepare your subfloor as thoroughly as possible. Ensure there's no adhesive residue and apply a smoothing compound to guarantee an even finish.
What is Karndean flooring made of?
Karndean is structured in five layers.
Two PVC (vinyl) backing layers
One HD (high definition) photographic later
One clear PVC embossed wear and tear layer
One protective coating made of polyurethane
Can I fit Karndean flooring myself?
We recommend hiring a professional to fit your Karndean floor because it requires a more complex installation. If done badly, you risk losing out on the soundproofing, waterproofing and natural aesthetics of these beautiful floors.
See the tradespeople we've checked and recommend for your job