Last updated on May 1st, 2022
Kitchen door wrapping cost guide
Whether you're looking to transform the entire room or just your cupboards and drawers, these kitchen door wrapping costs will help you price up your project.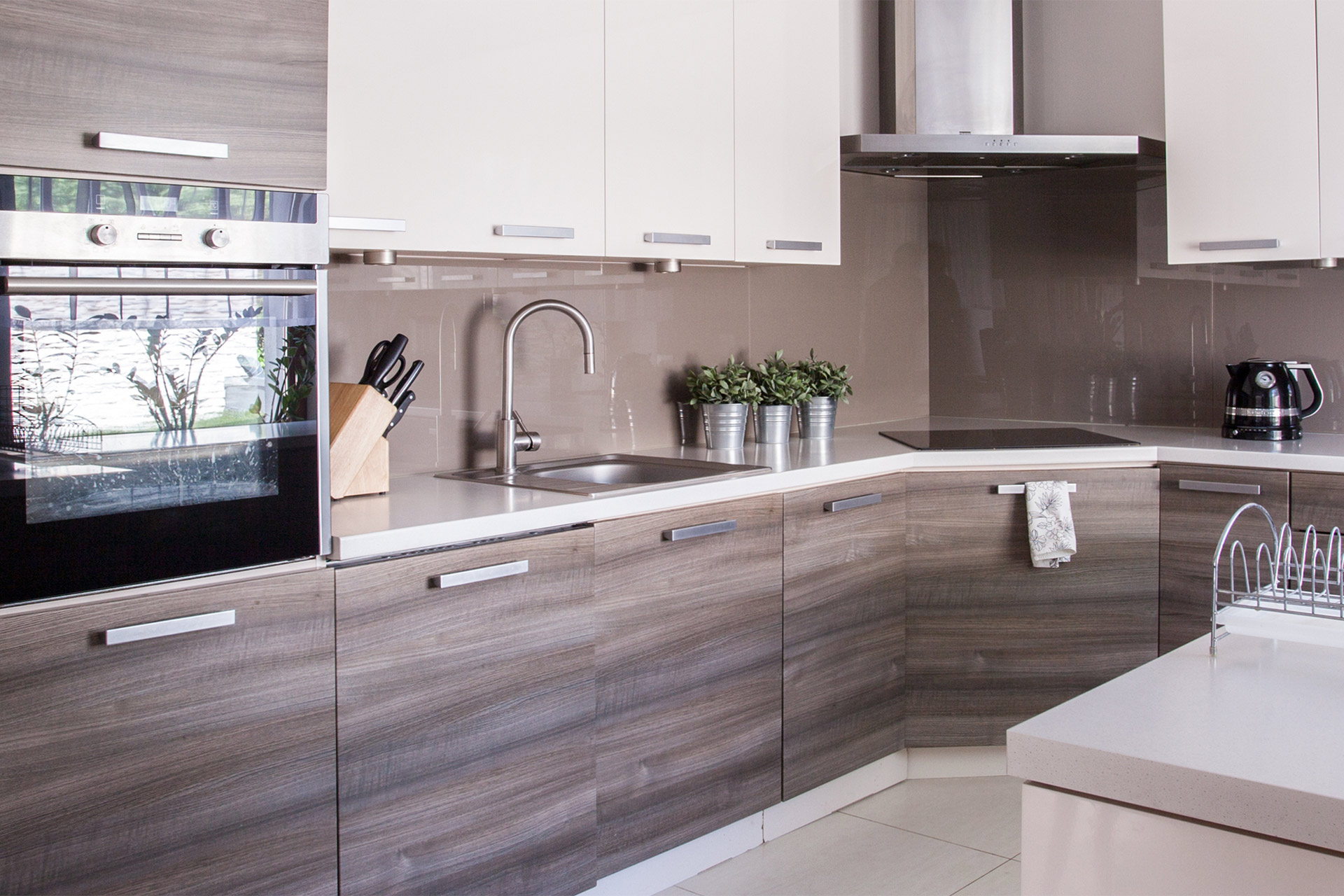 Whether you're looking to transform the entire room or just your cupboards and drawers, these kitchen door wrapping costs will help you price up your project.
Door wrapping is an easy and cost-effective way to upgrade your kitchen without replacing all the units. On average, we open and close our kitchen cupboards and drawers at least six times a day, which is why they tend to be the first furnishings to suffer from obvious signs of wear and tear. When this happens, you might consider a quick upgrade or total refresh.
We spoke to the online estimators at My Build Estimate – a professional estimating company monitored by the Royal Institution of Chartered Surveyors (RICS). Here are some estimated, average costs from them for kitchen door wrapping costs.
Types of kitchen door wraps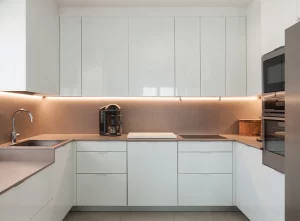 Kitchen door wraps are predominantly made from vinyl. Not only is vinyl an economical choice, but it's also a practical one.
This is because vinyl is a durable and versatile material. It keeps out moisture, is easy to clean, never needs repainting, and is scratch and chip resistant.
Vinyl wraps come in various finishes, such as:
High Gloss
Matte
Wood Effect
Patterned
Textured
Carbon Fibre
Metallic
Pearlescent
Glitter
The chosen coating is secured onto medium-density fibreboard (MDF) doors, drawers and units to create the final aesthetic. They're then re-installed and cleaned, ready for your enjoyment.
Kitchen door wrapping costs
Cost provided item
Unit
Cost + VAT
(Lower range)
Cost + VAT
(Higher range)
Average cost
Vinyl wrapped kitchen door
Per door
£180
£250
£215
Total project cost
13 doors, 3 drawers, sides and plinth
£2,000
£4,000
£3,000
Labour
Per day
£150
£200
£175
The full cost of kitchen door wrapping depends on the materials, chosen finish, number of units and the full area size. However, you can expect a single door to cost between £180 – £250. Labour on top will cost between £150 – £200 for the day.
This means that, on average, a full kitchen wrapping project can range from £2,000 – £4,000. That's why it's worth shopping around for a few quotes before agreeing to a job.
Kitchen door vinyl wrapping service cost
Most kitchen wrapping projects will take around one to three days, which means you'll probably pay the tradesperson's day rate for this type of work. As previously mentioned, this can sit anywhere between £100 – £200 per day.
See the tradespeople we've checked and recommend for your job
Kitchen door wrapping cost calculator
Before you decide to wrap your kitchen doors, you may want to calculate how much the entire project will cost. In order to do your kitchen door wrapping cost calculations, here are the factors you need to keep in mind:
Type of vinyl: We've listed the different types of finishes you can get in vinyl earlier on this page. The cost of these finishes varies per metre, so you should expect to pay more for a textured finish compared to a glossy finish.
The number of doors: As we mentioned earlier, you need to budget around £180 – £250 per door when calculating your kitchen door wrapping cost. That means the more cabinet doors you need to wrap, the more expensive the project.
Condition of door surfaces: Since vinyl is a fairly thin sheet stuck over the MDF surface, it will highlight any bumps or scratches there are. As a result, before the sheets are wrapped, it is essential to smoothen any irregularities on the boards. This will add to your total kitchen door wrapping cost.
Labour cost: Depending on the size of your kitchen and the number of doors to be wrapped, it may take one or two persons to undertake the task. The wrapping process can take one to three days, which is another important factor affecting your kitchen door wrapping cost.
See the tradespeople we've checked and recommend for your job
FAQs
Can you remove the vinyl wrap from kitchen doors?
It is possible to remove the vinyl wrapping from kitchen doors with specific tools and skills. If your vinyl wrap is peeling and you'd like to remove or replace it, we recommend calling a professional to do this for you.
Is vinyl wrapping your kitchen doors worth it?
Vinyl wrapping is a cheaper and more cost-effective way to breathe some new life into your kitchen. If you can't afford a complete refurbishment or replacement, then vinyl wrapping your kitchen is worth the investment.
Can you vinyl wrap kitchen cabinets?
Yes. In fact, this is one of the most popular kitchen refurbishment options on the market. This is due to vinyl's durability, longevity and ease of care. Other options include PVC edged kitchen doors, sprays or paints. However, these options don't offer as many aesthetic alternatives as vinyl wrapping.
How long does vinyl kitchen wrap last?
As long as you choose a reputable company and pay for a professional installation, expect your kitchen door wrapping to last up to 10 years. Vinyl is highly durable and damage-resistant, which is why it's such a popular investment.
See the tradespeople we've checked and recommend for your job