As a cost-effective and versatile flooring material, laminate flooring is very popular with British homeowners. If you're considering it for your home, this laminate flooring fitting cost guide is for you. We look at the average laminate flooring installation costs in the UK to help you plan your budget.
The joy of laminate is that it can be laid on top of nearly any surface – providing it's dry, firm and level. It's not recommended for kitchens or bathrooms, as the damp in those rooms can cause the laminate to warp and become damaged over time.
| Item | Range - Low | Range - High | Average cost |
| --- | --- | --- | --- |
| Laminate flooring - materials only (per m2) | £5 | £30 | £20 |
| Fitting cost (per m2) | - | - | £10 |
| Fitting cost (per day) | £150 | £200 | £175 |
| Underlay (per m2) | - | - | £5 |
How much does laminate flooring fitting cost?
There are two main costs you need to consider when planning laminate flooring installation, the materials and the labour to fit the flooring. Laminate flooring materials usually cost between £5 and £30 per m2, depending on the style and quality that you choose.
Fitting laminate flooring can cause issues with noise for neighbours or rooms below. As part of your laminate flooring project you should ensure the subfloor and underlay are suitable to minimise noise. The average cost of underlay is about £5 per m2, depending on the type and thickness of material used.
There are a number of factors that will impact the cost of fitting laminate flooring. They include:
Size of the room / area being covered
Shape of the room
Type and quality of laminate
Thickness of laminate (the thicker the laminate, the more it costs)
Any prep work needed to ensure the floor is suitable
Where you live
| Laminate type (supply and installation) | Average cost (per m2 ) |
| --- | --- |
| Walnut | £18 |
| Oak | £21 |
| Maple | £22 |
| Elm | £31 |
Wood laminate flooring installation cost
Wood laminate is one of the most popular types of laminate flooring in the UK. The average prices for supply and installation of wood laminate flooring vary.
Walnut laminate is roughly £17 to £19 per m2, for materials and labour. Oak laminate costs around £20 to £22 per m2. The cost of installing maple laminate flooring is around £21 to £23 per m2. And one of the more expensive wood laminate flooring options is elm, which costs £30 to £32 per m2 for supply and installation.
Laminate flooring installation costs
The cost for fitting the laminate flooring will either be charged per square metre or as a day rate. You'll be looking at prices of around £10 per m2 or £175 per day. The rates will depend on the tradesperson you hire, so ask them to include details of how they charge as part of their quote.
Find a laminate flooring expert near me
What's involved in fitting laminate flooring?
With an idea of the costs involved in fitting laminate flooring, it's also useful to understand the process. This usually happens in four steps: taking measurements, preparing the subfloor, fitting underlay and installing the laminate.
Taking measurements
The first step is taking exact measurements of the room, which is straightforward for square and rectangular rooms. For rooms with an unusual layout or alcoves, taking measurements can be a little trickier.
Preparing the subfloor
Before you can start laying any materials, you need to make sure that the subfloor is smooth and in suitable condition. If it's not, you'll need to address that and potentially have new concrete laid and smoothed out. In some cases, tradespeople will remove skirting boards before fitting the flooring.
Fitting underlay
With your subfloor ready, underlay is then laid. There are a number of different types of underlay available and you local laminate flooring experts can advise you on the best options for your floor.
Install the laminate flooring
Now that you have a good subfloor with underlay on top, it's time to install the laminate flooring. At this stage, you'll need to decide which direction you want the floor to be laid and then the flooring can be laid.
Can I install laminate flooring myself?
Fitting laminate flooring is a relatively straightforward job, but it doesn require precision as well as being physically fit and mobile. If in doubt, we would always recommend hiring a professional laminate floor installer to do the job.
Due to the nature of laminate flooring materials, there are some tips and tricks that professionals know about to ensure the best finish for the flooring. They'll also have the tools and experience to cut boards to exact dimensions, and fit them faster than an amateur.
| Item | Average cost |
| --- | --- |
| Carpet removal (medium-sized room) | £50 |
| New skirting boards | £5 per metre |
| Trimming doors | £15 per door |
| Floor levelling (screed) | £20 per m2 |
Additional laminate flooring fitting costs
In addition to the cost of supplying and fitting the laminate flooring, there are some other costs that you might need to consider.
Carpet removal – Tradespeople will expect the floors to be bare when they install laminate flooring, so you'll need to have the carpet removed and disposed of. That costs around £50 for a medium-sized room.
Installing new skirting boards – This will cost about £5 per metre for labour only.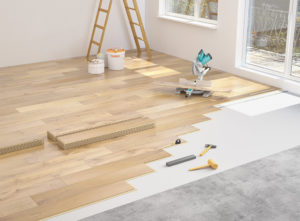 Trimming doors – New flooring can sometimes need a door to be trimmed, at a cost of around £15 per door.
Floor levelling – Using screed, the cost to level the floor is about £20 per m2.
Useful laminate flooring installation checklist
Take exact measurements of the entire room or space that you'll be laying laminate flooring in – including any alcoves or details of unusual floor layouts.
Laminate flooring can cause noise issues so include costs for underlay or subfloor enhancement in your budget.
Speak to local laminate flooring experts to discuss the laminate and underlay options.
When hiring a professional, shop around for fair and competitive prices.
Always hire a tradesperson with laminate flooring experience and ask to see examples of their work.
Find a laminate flooring expert near me
Tell us what you think
What others think of this cost guide: