Last updated on March 25th, 2023
Oven installation cost guide
Installing a new oven is an excellent way to improve the enjoyment of your kitchen and home, and increase the resale value of your property. You may be interested in oven installation costs because your current oven is old or broken, you're redesigning your existing kitchen, or you want to swap from electric to gas. Discover the average electric and gas oven installation costs.
Hiring Advice
Practical measures for preventing scams and choosing reputable trades
Installing a new oven is a great way to improve the enjoyment of your kitchen and in turn, could increase the resale value of your property. You may be interested in oven installation costs because your current oven is old or broken, you're redesigning your existing kitchen, or you want to swap from electric to gas.
In this guide, you'll learn about the main factors affecting cooker installation costs, including gas oven installations and electrical oven installations
The majority of kitchens will use gas or electric ovens – these are the two types covered in this guide.
| Oven installation costs | Standard Installation Cost |
| --- | --- |
| Like-for-like oven replacement | £150 |
| Built-in gas oven cost | £275 |
| Built-in electric oven cost | £140 |
| Fit a new kitchen unit, take a different sized oven and then fit a new oven | £300 |
| A correctly sized and installed insulated cabling back to unit/circuit breaker | £250 |
How much does an oven installation cost?
The typical cooker installation cost is £150 and will take between 1 – 2 hours to fit.
These figures are average costs and can be affected by the age of your property and its condition, access, and whether your tradesperson is disposing of an old appliance.
Our costs in this guide have been verified by Bob Branscombe (MRICS and MCIOB qualified), who has 34 years of experience in the industry with Branscombe Consulting.
Gas vs electric oven cost
The cost will also vary depending on the chosen oven and its specification. Factors affecting the price include:
If it's a single or double oven
If it's duel fuel (e.g. an electric oven with a gas hob)
Hob/no hob
Is it compact?
It is built-in or freestanding?
Supply prices for ovens range from £200 – £1,000 for gas ovens and £130 – £1,800 for electric ovens. If you're wondering whether a gas or electric cooker is cheaper to run, it tends to be gas ovens. However, it will depend entirely on how much you use your oven and the model that you have.
Gas oven installation costs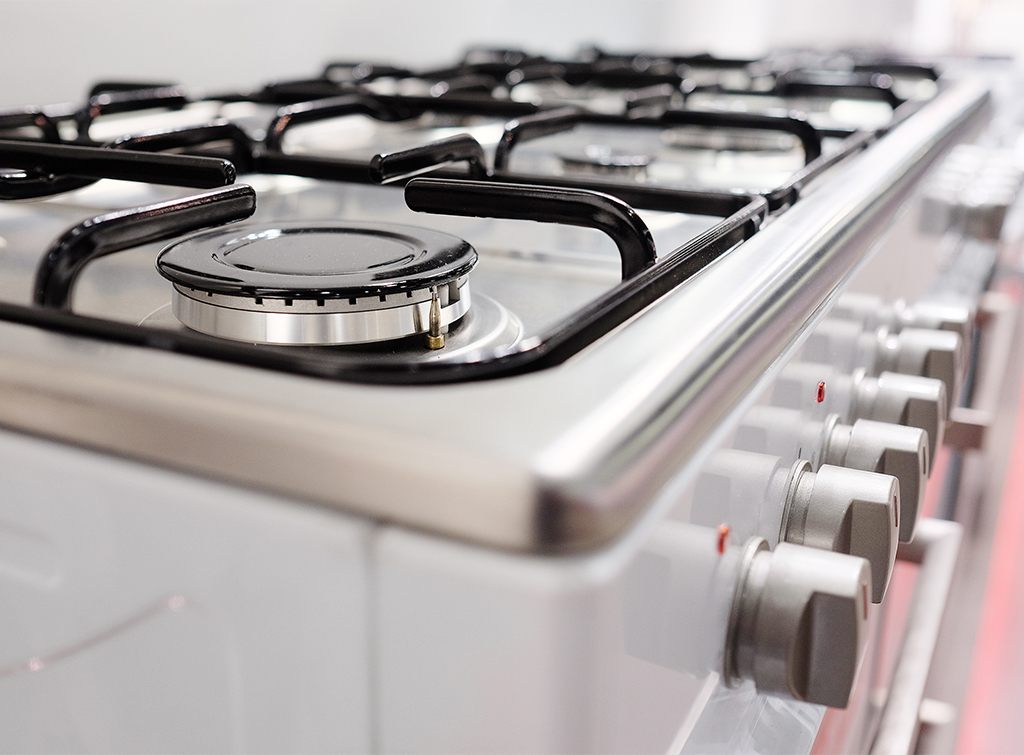 Gas ovens come in various shapes and sizes, from slimline single gas ovens to ranges with multiple ovens and several burner rings.
Many gas ovens are now fan assisted, with the in-built fan helping to distribute heat around the oven for fast and even cooking. And if it has a hob, when you turn the knob the heat is instant and evenly distributed around the base of a pan.
Gas ovens are typically hotter at the top than the bottom, which can make cooking on gas more of an art than a science. There are more parts in a gas oven, which can make them trickier to clean than electric stoves. While the gas flame may be instantaneous, it can take longer to heat up large pans or dishes.
Gas ovens must be installed by a registered Gas Safe engineer who is qualified to deal with this potentially lethal gas. Installing a gas oven without the right qualifications is illegal and is dangerous.
If you are replacing an existing oven with a like-for-like model, the average gas oven installation cost is around £150, with the job taking about two hours to complete, unless extra work is required.
If you are replacing a built-in unit, the average gas cooker installation cost increases to around £400, reflecting the complexity of the task. This may involve two people being on site. If you are moving your oven to a different position within the kitchen, additional work may be necessary.
See the tradespeople we've checked and recommend for your job
Electric oven installation costs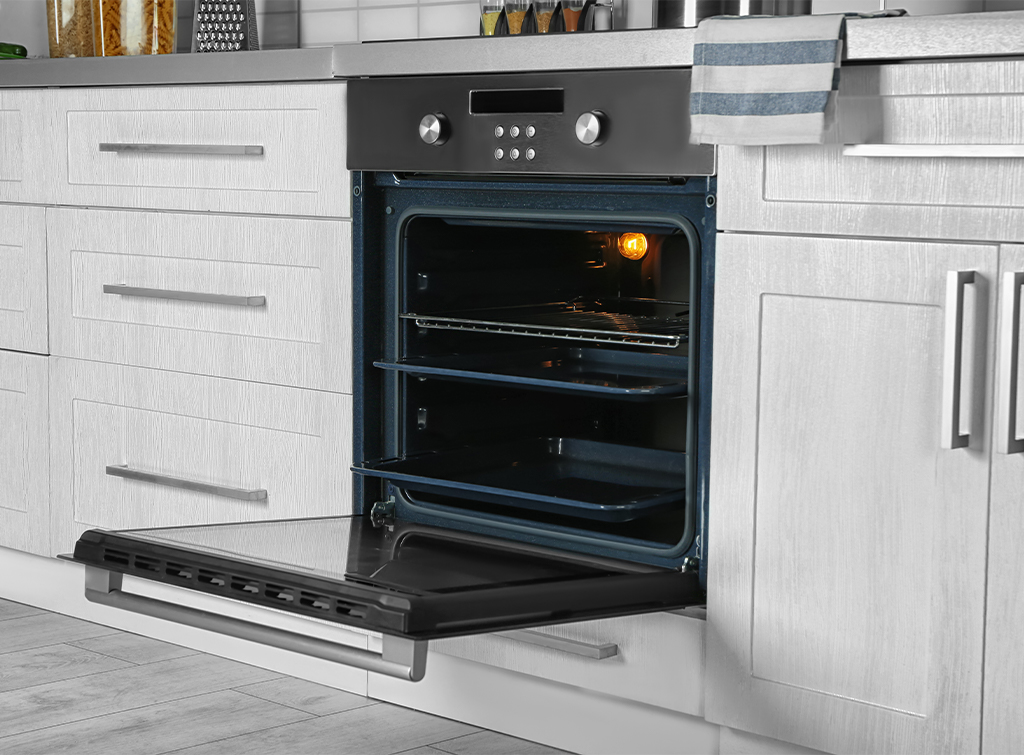 Electric ovens are favoured in rental properties because of gas safety issues and also properties that aren't connected to mains gas.
They're also popular among home cooks who value the greater control they have over oven temperature. Heat in electric ovens is distributed more evenly than in gas ovens, which can result in better bakes.
Modern electric ovens have various modes, many of which you can use at the same time, enabling you to grill and bake at the same time, for example.
Electric ovens are more expensive to run than gas ovens, which can mean higher utility bills. Electric ovens can take a little longer than gas ovens to heat up, but the heat remains for longer.
Replacing an electric oven with a similar model will take a trained tradesperson between 1-2 hours and cost £150. The cost to replace a built-in oven is roughly the same.
You don't need to be a qualified electrician to fit an electric cooker; however, it is a job that requires caution.
Electric ovens use mains power, delivered through a separate circuit, isolating it from your other appliances. Instead of using a plug socket, they are hardwired into the electrical circuit. This is to ensure that the high-power demands of ovens can be delivered safely. An electric cooker should not be spurred off any other circuit and must be controlled by its own fuse at the consumer unit.
In some cases, smaller electric ovens are delivered with a 13A plug. If you choose to convert from a gas oven to an electric oven, remember the gas must be capped off by a registered Gas Safe engineer.
If your new or replacement oven has higher power demands, an electrician may need to fit a heftier cable and switch. This can add around £250 to the average electrical cooker installation cost.
Gas ovens vs. electric ovens
Gas ovens are typically cheaper to run than electric ones, but electric ovens can provide greater control for the cook and a more even distribution of heat.
Oven installation costs for replacing your old appliance with the same (or similar) model will be around £150, but there are certain factors that can affect prices. If your new gas oven needs additional pipework, this can add to the cost. If your electric oven has more substantial power demands, you may need a new cable and switch, which can increase the price.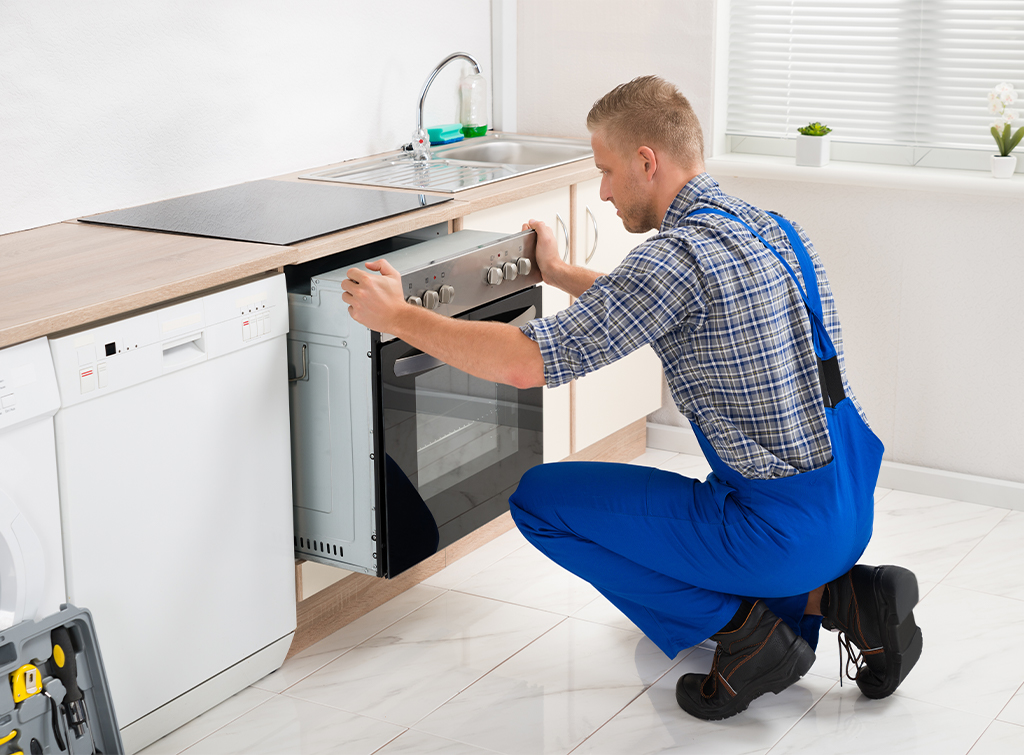 The choice of a replacement oven often depends on the current kitchen design, with most people choosing to stick with what's already there. Replacing a gas oven with an electric oven (or vice versa) will increase oven installation costs, as new utilities will need to be wired in place.
The cost to install a new kitchen unit to accommodate a wider or taller oven (whether gas or electric) is a more involved job that will take longer. Built-in oven installation costs can vary, but be prepared to spend around £300 for this work.
If you are designing your kitchen from scratch, oven installation costs will be higher.
The prices in this guide are only for installing the new oven, you should also factor in cooker hood installation costs (if required) and disposing of your old appliance if you have one.
Oven installation cost calculator
With oven installation, the cost will mainly depend on the type and size of oven you're installing and the cost of labour based on the complexity of the installation (location of the oven, any prep or follow-up work needed, removal of the old oven, etc).
Oven installation quote
We recommend obtaining at least three quotes from our trusted tradespeople. Our post a job feature is perfect for getting quotes – you post details about the job you want doing and we'll send it out to local tradespeople in your area. Try it out.
Oven installation hourly rates
The cost of oven installation is typically quoted on a job basis, rather than an hourly rate. The labour cost will be included within the price you're quoted, which can vary from £140 – £300 per installation.
Key takeaways
The average replacement oven installation cost is £150, and the average built-in oven installation cost is £400.
Before purchasing a replacement oven, check whether your existing model is gas, electric or dual fuel.
Check access to the property and decide where you want your new appliance to be situated.
Measure all dimensions (twice is best!).
If possible, check what gas or electrical connections you have in the kitchen and where they are.
Contact a qualified Gas Safe engineer to fit your new gas oven or an electrician to fit your new electric oven.
See the tradespeople we've checked and recommend for your job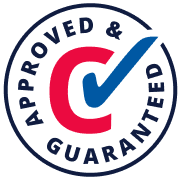 The Checkatrade guarantee
When you contact a trade through Checkatrade, our guarantee could cover you for up to 12 months. You can claim up to £1,000. Exclusions and T&Cs apply.