Last updated on March 25th, 2023
Patio cleaning cost guide
We've put together this patio cleaning cost guide to help you plan your budget for getting your patio in tip top condition, and keeping it that way.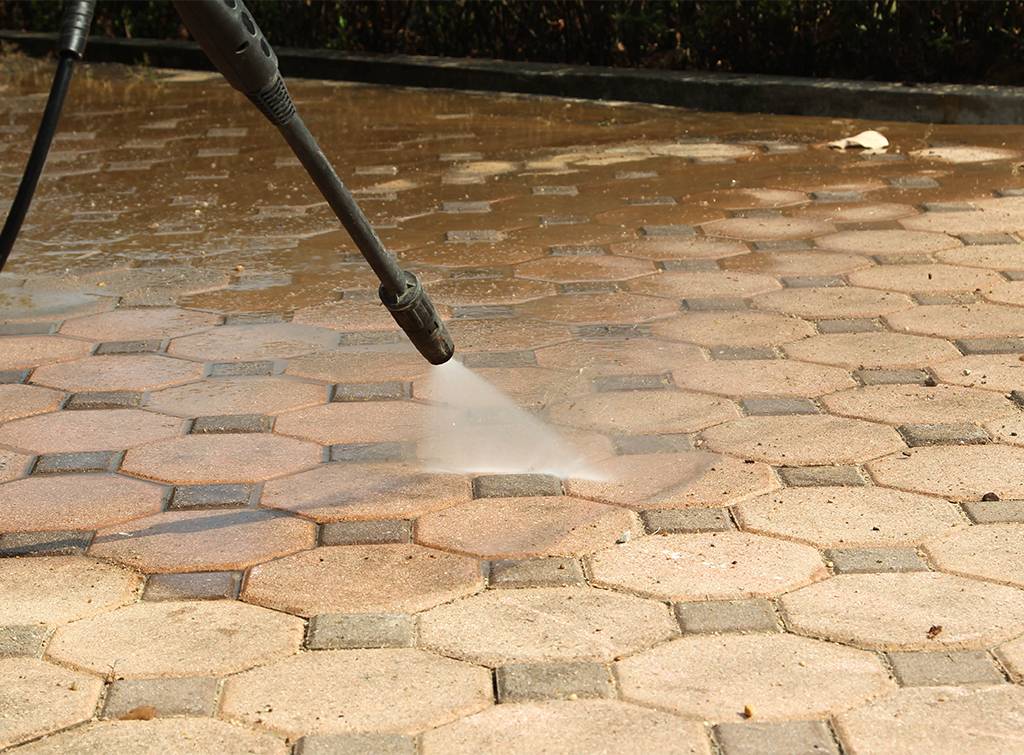 With glorious sunny days, you want to enjoy your home's outdoor space as much as possible. So, whether you're sprucing up your patio for the summer season, protecting it from the elements, or simply want it looking its best, check out this guide for the average patio cleaning prices in the UK.
How much does patio cleaning cost?
When we talk about patio cleaning, we're generally referring to jet washing with professional machinery. The cost of patio cleaning will vary depending on a number of factors:
Size and structure of the patio
Condition of the patio
Location
The great thing about patio cleaning is that there are no material costs, as a professional patio cleaner will bring all the tools and products they need and include it in the price of the patio cleaning.
| Patio cleaning costs | Range - Low | Range - High | Average |
| --- | --- | --- | --- |
| Jet wash – small patio | £150 | £200 | £175 |
| Jet wash – medium patio | £200 | £300 | £250 |
| Jet wash – large patio | £300 | £400 | £350 |
| Cleaning and sealing a driveway (per m2) | £8.50 | £12.50 | £10.50 |
| Clean and seal small driveway | - | - | £200 |
| Clean and seal medium driveway | - | - | £300 |
| Clean and seal large driveway | - | - | £400 |
| Deck cleaning (labour only) | - | - | £92 |
| Deck cleaning and stain per m2 (labour cost only) | - | - | £7 |
Average patio cleaning costs
On average you'll be looking at paying the following prices for your patio cleaning job:
Small patio – £175
Medium patio – £250
Large patio – £350
Benefits of keeping your patio clean
Your patio is constantly subject to a lot of elements that can leave it weathered, dirty and stained. Keeping your patio clean comes with a number of benefits:
Keep it looking fresh
A patio always looks its best when clean, so cleaning it regularly and taking care of your paving means you get to regularly enjoy it looking its finest.
Remove weeds
Weeds, moss and grass are the most common culprits for sprouting up in cracks or grooves in a patio. Not only do they ruin the look of your beautiful patio, but their roots can cause damage and grass can stain your paving. Regular cleaning will help you avoid these plants taking root.
Boost lifespan
Over time, acidic dirt and destructive weeds will erode your patio, if left untreated. Cleaning your patio regularly will help deal with those issues and give it a longer life in better condition.
Improve safety
Not only does a dirty patio look unsightly, but it can be unsafe. Algae, moss and grime can be slippery underfoot and cause a risk of slipping and falling for you, your family and visitors. Keeping your patio clean will avoid this unnecessary risk.
See the tradespeople we've checked and recommend for your job
What does cleaning a patio involve?
There are various ways of cleaning your patio, and they can vary between the DIY options and professional patio cleaning services.
If you're planning to do the job yourself, you can start as basic as using soap and water with a broom or hard brush. That method will get rid of some of the light dirt, but it won't deal with any tougher ingrained dirt, algae or oil stains.
To tackle those you'll need a pressure washer (or 'jet washer').
When you hire a professional patio cleaner, they will almost certainly use a pressure washer. If you plan to hire a pressure washer yourself, always follow the manufacturer's instructions, wear protective goggles and wash carefully. You can end up badly damaging brickwork and concrete if you use a pressure washer in the wrong way.
Deck cleaning prices
Just like patios, decking can suffer a lot of issues with built-up dirty, mould and grime. Even more so than on a patio, this can quickly become slippery and unsafe. It can also lead to discolouration of the decking itself, which can be permanent in some extreme cases.
The cost of cleaning your deck is an investment in keeping it safe to use and looking great.
Average deck cleaning cost: £7 per m2 + £92 labour (cleaning and staining)
Driveway cleaning and sealing costs
Driveways are cleaned in a very similar way to patios, and will very often be sealed at the same time. The average cost of cleaning and sealing a driveway is around £10.50 per m2.
On average you'll pay the following prices to clean and seal your driveway:
Small driveway cost: £200
Medium driveway cost: £300
Large driveway cost: £400
Patio cleaning cost calculator
To calculate the cost of cleaning your patio, you'll need to factor in the size and structure of the patio, the condition it's in and the type of cleaning that is required. In general, the bigger the patio and the dirtier it is, the more it's going to cost to clean.
Patio cleaning hourly rates
The average hourly rate for patio cleaning is in the region of £10 - £20 per hour – depending on the individual tradesperson, their experience and the nature of the cleaning work involved. To get accurate prices in your area, speak to local patio cleaning specialists and ask for a breakdown of their costs.
Patio cleaning quote
We always recommend obtaining at least three quotes from our trusted tradespeople. Our request a quote feature is perfect for getting quotes – you post details about the job you want doing and we'll send it out to local tradespeople in your area. Try it out!
Can I clean my patio myself?
Cleaning a patio is certainly one of the more accessible DIY jobs in your home, and some people find it really satisfying to clean the dirt themselves. That said, it can be a tiring and messy job.
When doing it yourself, you'll most likely need to hire a pressure washer to get rid of the tougher dirt and stains. And operating the pressure washer takes careful handling to avoid damaging the patio itself.
If that's not something you're comfortable with or don't have the time to do, hiring a professional patio cleaner is the perfect option. They'll come with all the right equipment and will deal with all the work and mess for you.
See the tradespeople we've checked and recommend for your job
Useful patio cleaning checklist
Decide whether you want to clean the patio yourself or hire an expert.
If doing it yourself, speak to a professional patio cleaner for advice when hiring a pressure washer.
Always take care when operating machinery, wear goggles and take your time.
If hiring a local patio cleaning expert, shop around for fair and competitive prices.
Take a photo of your patio before and after cleaning so you can see the difference and appreciate the effect of cleaning.