Last updated on May 30th, 2022
Picture hanging service cost
Moving home? Redecorating? Or even simply looking for a change? We've compiled all the information and costs you will need when deciding to hang pictures in your home.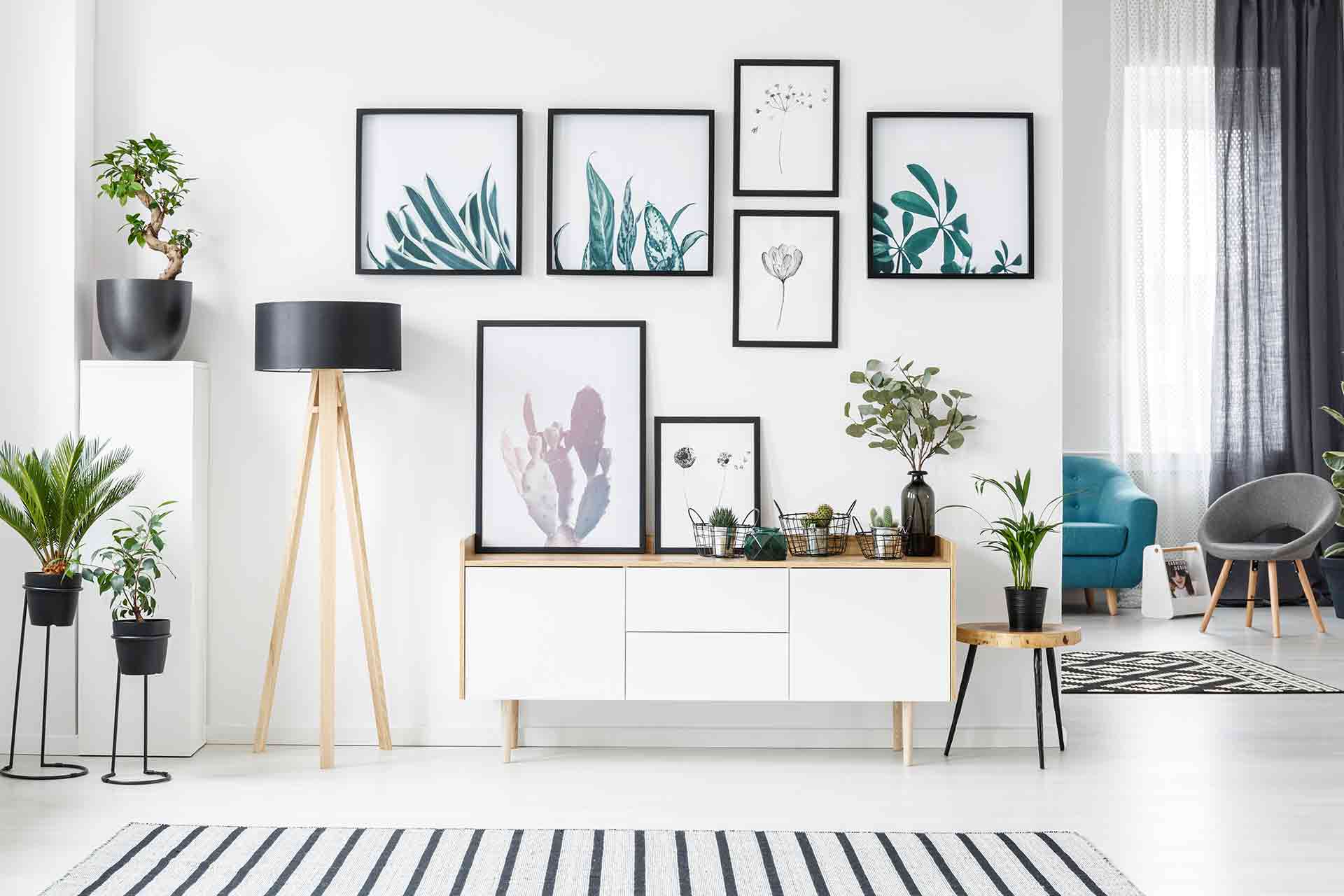 Why hang pictures in your home?
Carefully chosen and hung pictures can take a room from plain to stunning, can lift a dull colour scheme and can completely change your aesthetic.
How much do picture hanging services cost?
The cost of picture hanging hinges on several different factors such as size and location but generally will be somewhere in the region of £40 – £90.
Cost per item
Unit
Cost +VAT
(Range low-high)
Average cost
Picture hanging
Per picture
£40 - £90
£65
Factors affecting the cost of picture hanging
Size: Larger pictures are heavier and often need stronger fixtures so can take longer to hang than their smaller counterparts. As such, the bigger the art, the higher the cost of picture hanging.
Location: Hanging pictures in harder to reach locations can mean the professional needs more equipment to reach your chosen place. If a ladder isn't suitable it may be necessary to bring in scaffolding and as such will increase the overall cost.
Security: Depending on the size and location of your picture, more robust fasteners could be required. It is essential to protect your artwork from damage due to falling off the wall, especially on stairs and around children and pets.
Arrangement: If you are planning to hang multiple pieces or create a gallery wall, it is useful to plan out the layout you wish to use before the professionals arrive so as to save time.
Time: More complicated installations will increase the time taken and as such the hanging picture costs will increase.
See the tradespeople we've checked and recommend for your job
Benefits of professional picture hanging
When considering whether to hang your own pictures it is important to consider the benefits that come with hiring a professional. Below are a few of the numerous advantages:
Equipment: Larger, heavier pictures in harder to reach areas will require extra equipment (like scaffolding or heavy-duty fasteners) that can easily be provided by a professional.
Experience: Often professionals have a wide range of experience and practise with hanging pictures, and as such will know the correct processes to follow to ensure a high-quality job and finish.
Safety: The safety and security of your pictures is paramount especially for more costly and valuable pieces. A professional can guarantee the quality of the job meaning your art will be safe from damage and falling.
Cost of professional picture hanging
Taking into account time, location, size and security, all of which will greatly affect the overall price, the average picture hanging professional cost is around £65.
How long does picture hanging take?
The time taken will affect the overall cost of hanging your pictures and will vary depending on whether extra equipment is needed, the number of pictures to be hung, the arrangement required and the type of fixture you choose, however a rough guide to the time required ranges from 30 minutes to a full day.
Can I hang my pictures myself?
It is definitely possible to hang a picture yourself, especially small and light pieces, however in doing so you will not reap the many benefits that come with hiring a professional. Some of these benefits include:
Ensuring the security of your art.
Accessing difficult areas
A high-quality finish.
Experience and knowledge when dealing with complex installations.
To find a local, reputable, tradesperson in your area and get a personalised cost to hang a picture use our free search feature.
Key takeaways for calculating picture hanging service costs
Professionals can access hard to reach areas with the help of extra equipment and will achieve a high-quality finish.
It is essential to secure your picture, especially with large pieces and on the stairs.
The time taken depends on a number of factors but should fall between 30 minutes and one day.
Ensure you plan out the layout you wish to achieve before the professional arrives to save time and money.
A rough estimate for the cost of professional picture hanging is £40 – £90.
See the tradespeople we've checked and recommend for your job