Last updated on March 31st, 2022
Privacy glass cost guide
Privacy glass is the perfect solution if you want privacy and natural light at different times. Here's a breakdown of your privacy glass cost.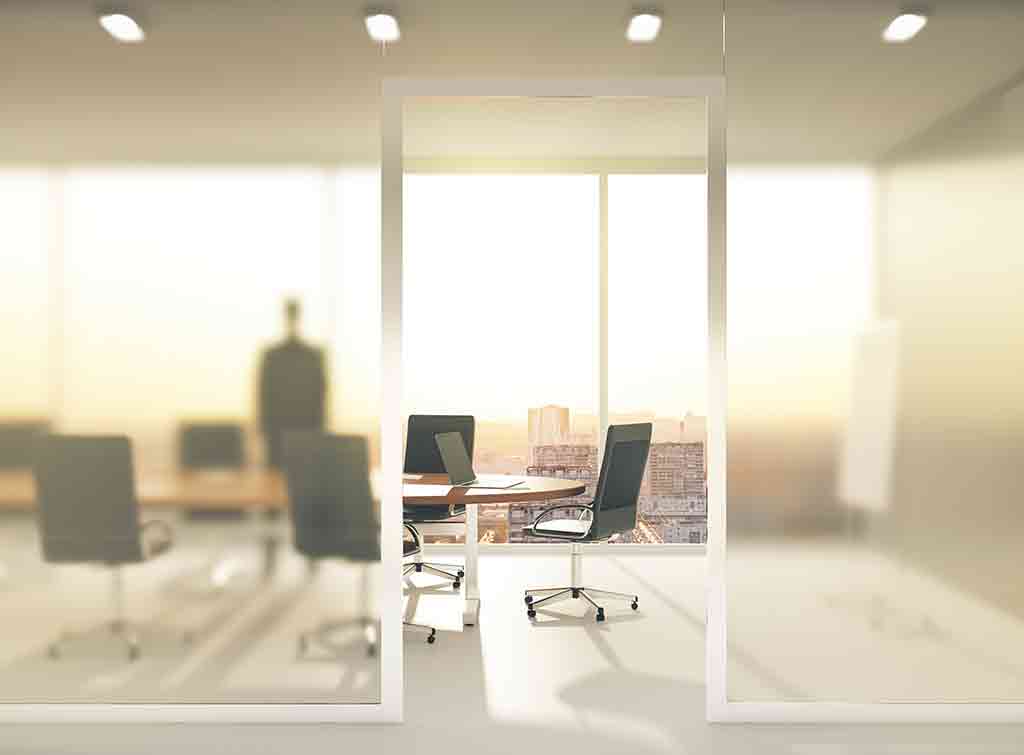 Privacy glass is a popular option in domestic and commercial settings. It offers a nice sleek look for your home; offering natural light in the day and privacy at night. Yet glass in an office environment looks smart. In the past, when you needed privacy, you've only had the option of textured glass or blinds. Now though there are more options, including electric privacy glass.
Also known as smart glass, electric privacy glass can help you switch between normal transparent glass to privacy glass with the flick of a switch – no need for blinds in the office anymore!
But, is the cost of privacy smart glass worth it?
What does electric privacy glass cost?
| Cost provided item | Unit | Range - Low | Range - High | Average cost |
| --- | --- | --- | --- | --- |
| 10mm thick toughened privacy glass | Per m2 | - | - | £650 + VAT |
| 12mm thick toughened electric privacy glass | Per m2 | - | - | £675 + VAT |
| Privacy glass film | Per m2 | £350 | £600 | £475 |
Electric privacy glass is made of two panes of glass with a very thin layer of polymer dispersed liquid crystals (PDLC) between them. PDLC has a unique quality that makes it opaque normally, but when a current is passed through it, the glass becomes clear.
If you have normal glass partition walls in an office and you want to turn it into privacy glass, then you can use privacy glass film. It would require you to stick an adhesive to your glass, avoiding bumps where you can when applying it. However, it's more of a permanent solution and certainly isn't smart like electric privacy glass!
Here's what privacy glass and privacy glass film would cost.
Privacy glass price
A 10mm thick toughened pane of electric privacy glass costs £650 (plus VAT) per square metre. The same size but with a thickness of 12mm would cost around £675 excluding VAT. This of course doesn't include the labour.
Totting up a cost for labour is more of a challenge and we recommend you reach out to at least three glass experts to get fitting privacy glass quotes.
Privacy glass film price
Quality privacy glass film costs between £350 – £600 per square metre.
This option is less expensive than privacy glass but is just as effective. You can use privacy glass film and stick it on regular glass. You get the same privacy without having to replace your glazing with pricier privacy glass. it however isn't as adaptable as electric privacy glass.
Sticking film onto glass is not easy though, and left in the hands of an amateur will likely result in an uneven and bumpy finish. The bumps appear when the adhesive film gathers and isn't stuck down flat onto the glass pane. It's easily done without a steady hand and the right tools.
Privacy glass additional costs
In addition to the electric privacy glass cost, you would also need a 110V – 240V power transformer and wall switches. You can also get a remote control to operate the smart glass, which will cost you extra.
Since electric privacy glass can only be installed by qualified professionals, you will also have to pay labour charges for the installation. You can request a quote here.
See the tradespeople we've checked and recommend for your job
Advantages of smart glass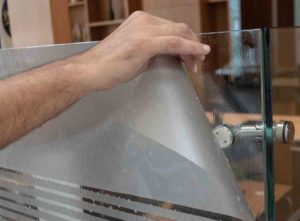 Electric privacy glass gives you control of the amount of light and privacy in your room.
Here are some of the benefits you'll enjoy from it.
Cleaner look: Since you won't need blinds or curtains with smart glass, you can achieve a minimalist look in your room.
More control over light: Do you want natural light during the day but privacy at night? Electric privacy glass can make it easy to control that.
Flexibility: A glass wall can be great for interactive and social workspaces, but what if you need privacy? Or a screen for your presentation? Smart glass can switch between clear and opaque as and when you need it!
Energy efficiency: Too much sunlight in a room can make more work for your air conditioning. This affects its efficiency and the amount of energy you need to pay for. Smart glasses can help you block out the sun during the hottest parts of the day.
See the tradespeople we've checked and recommend for your job
FAQs
Can I install electric privacy glass myself?
Since you need qualified glaziers to install electric privacy glass, it might not be ideal for you to do it yourself.
How does electric privacy glass work?
Electric privacy glass has a thin layer of liquid crystals sealed between two panes of glass. In their normal state, the crystals are scattered and block light. The glass becomes opaque because of that. However, when you pass an electric current through them, they align in a way that lets light pass through. This makes the glass clear.
Where can I use electric privacy glass?
There are as many uses of electric privacy glass as you can imagine. For starters, you can use it for internal and external doors and windows, partition walls, shower screens, tables and counters, and even conservatories. You can also use it in your office to create partitions, projector screens, and more.
See the tradespeople we've checked and recommend for your job