Last updated on May 11th, 2022
Retaining wall installation cost
A retaining wall can be a great landscaping feature for your garden. As well as serving a practical function, they can quickly transform the appearance of your outdoor area and create space.

But just how much does it cost to install a retaining wall?

Whether stabilising sloped land, preventing soil erosion, or building a raised garden bed, understanding retaining wall installation costs ahead of time will help you budget for the job.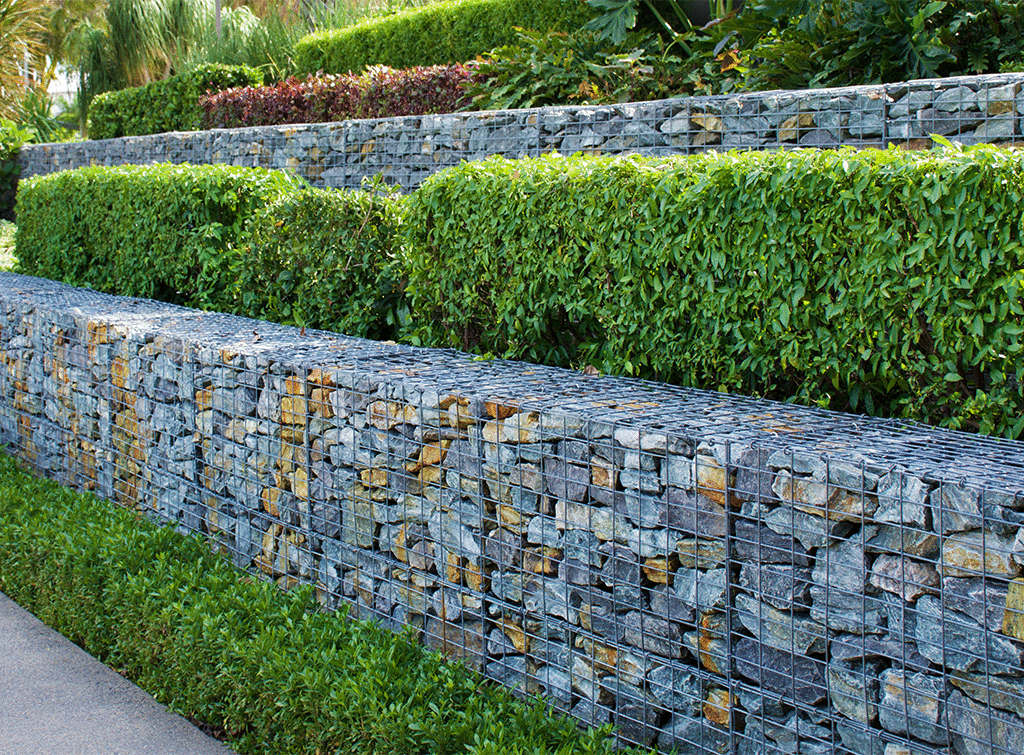 | Type of retaining wall | Unit | Average cost +VAT |
| --- | --- | --- |
| Stone retaining wall | per m² | £395+ |
| Concrete retaining wall | per m² | £285+ |
| Masonry retaining wall | per m² | £320+ |
| Reinforced block retaining wall | per m² | £320+ |
| Timber sleeper retaining wall | per m² | £245+ |
| Concrete criblock retaining wall | per m² | £260+ |
| Gabion retaining wall | per m² | £240+ |
| Additional costs to consider | | |
| DPM waterproof membrane | per m² | £35 |
| Drainage | per linear metre | £17.50 |
How much does a retaining wall installation cost?
Retaining walls add aesthetic appeal and solve a problem commonly associated with sloped lawns. They also come in a vast array of sizes and materials, making them an attractive feature for all types of outdoor space.
If properly installed, they can last for decades before needing replacement.
The cost of retaining walls vary depending on a range of factors we will explore in this guide.
While a small 3 ft wall may be constructed by a DIY enthusiast with some construction knowledge, most retaining walls require expert planning and professional engineering if they are to be built to last.
A poorly designed retaining wall can lean, separate and even collapse altogether. Unless you have substantial experience, we strongly recommend using a professional builder.
When instructing a professional, we recognise the importance of sticking to a budget. We spoke to the online estimators at My Build Estimate – a professional estimating company monitored by the Royal Institution of Chartered Surveyors (RICS) to get the estimated, average cost of retaining walls.
In this guide, we've outlined how preparation you can save money on retaining wall installation costs.
The factors that will affect the cost of a retaining wall
The primary influencers of cost are height, length, material and scope of work.
For example, a 6 ft high retaining wall will cost less than a 10 ft retaining wall that is to be placed on steep land.
For small retaining walls that are straightforward to build, a builder may charge at an hourly rate. As you might expect, the cost to install a retaining wall will skew higher if surrounding trees, bushes or buildings cause accessibility issues.
See the tradespeople we've checked and recommend for your job
Retaining wall installation cost calculator
The main factors that you'll need to consider when trying to calculate the cost of installing a retaining wall are the height and length of the wall, the type of material you're using, and the type of soil you're dealing with. These will all contribute to the complexity and cost of the project, in addition to the labour costs involved.
That said, in order to budget properly, we would always recommend asking for detailed quotes from local tradespeople to make sure you're dealing with real prices in your area.
Retaining wall installation quote
We recommend getting at least three quotes from our trusted tradespeople. Our post a job feature is perfect for getting quotes – you post details about the job you want doing and we'll send it out to local tradespeople in your area. Try it out.
Retaining wall installation hourly rates
When it comes to building a retaining wall, you'll most likely be quoted per metre – not per hour. The rate that you're quoted will depend on the type of retaining wall you're building.
What is included in the rates for retaining wall installation?
A typical quote for retaining wall installation costs will typically include:
The wall units (e.g. criblock blocks, gabion baskets or concrete blocks)
Delivery to the site of the unit
Concrete foundations for the wall
Full installation of retaining wall
If it is necessary for the builder to clear the land for accessibility ahead of installation, costs will be determined by the number of acres they clear. For each acre graded and cleared, the average additional cost will be £1,150. 
The taller the wall, the more likely the project is to require the skill of an engineer. This will typically come at an additional cost of roughly £269. 
Retaining walls will all come in different lengths, widths and heights depending on your requirements. To give you an idea of the average cost to install a retaining wall, we will take a 1m tall retaining wall (circa 300mm wide) as an example for the price guide.
What is a retaining wall?
A retaining wall is a vertical structure that holds or "retains" the soil behind it, preventing it from eroding or sliding away over time.  On average, they range between 3 – 10 feet high. A sturdy, long-standing retaining wall features a solid base, compacted base material and good drainage.
What is a retaining wall used for?
Designed to withstand and resist the pressure of the earth that it is holding back, a retaining wall is one of the most effective solutions to control soil erosion and reclaim your land.
Left unchecked, soil erosion can wreak havoc on sloped land, undermining the flat land above.  In time, a portion of your garden may be unusable as the earth erodes.
Functionality aside, retaining walls are also a popular landscape design feature. If installed correctly, they can be used to free up the landscape and create a flat area: a patio for outdoor dining, a space for children's activities or even a private driveway.
As you would expect, such solutions come with a price tag. The cost to install a retaining wall will vary – if installed properly to your specifications, it is undoubtedly a worthwhile investment.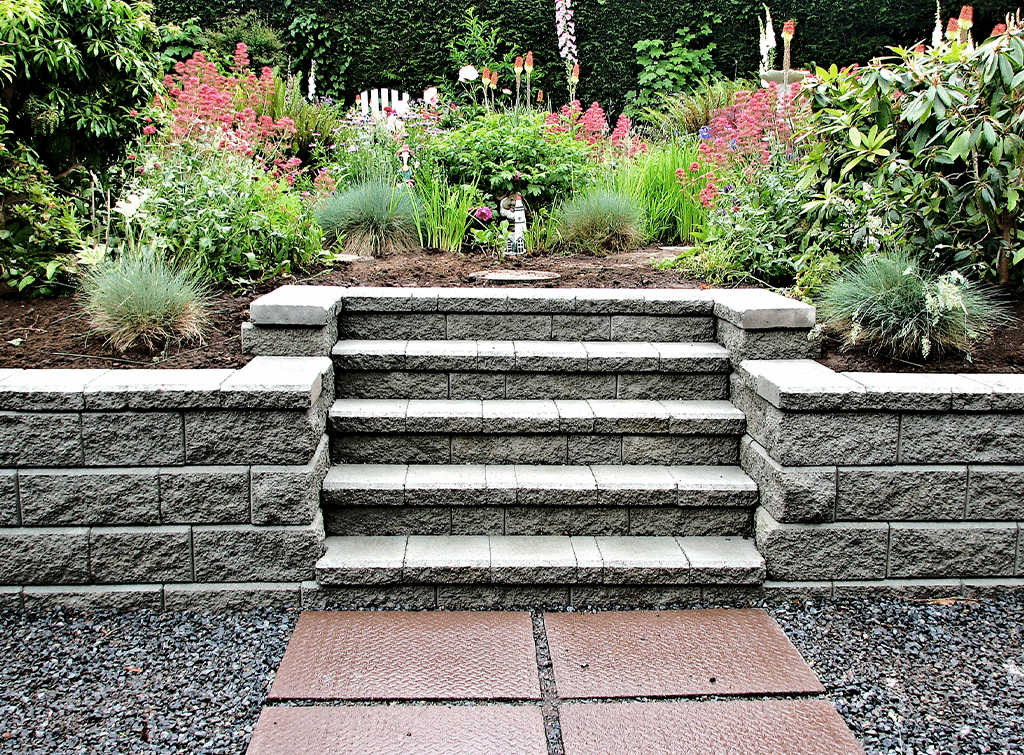 Types of retaining wall
Before you budget for retaining wall installation costs, it's important to consider the type of wall you will need. This will be determined by a range of factors:
Is the soil sand or clay?
Will the ground below be level or sloped?
What sits above the wall, and how will you use that space?
The required height of the wall.
What is the length of the wall required?
A professional builder will be able to assess the site and help you answer these questions. For the purpose of this exercise, we will take the example of a retaining wall 100m long and 3m high.
Types of retaining walls include:
Gravity retaining wall
A gravity retaining wall relies entirely on the weight of the wall itself to resist pressure. In order to do this successfully, they are typically made with heavy materials such as stone, large concrete blocks or cast-in-place concrete.
In most cases, gravity walls are used for walls of around 4 ft, but can be built up to 10 ft depending on the specifications. For a concrete block gravity wall 100m long and 3m high, the cost of retaining wall per metre squared is £260 per m².
Gravity inclined retaining wall
Inclined retaining walls are designed to aid in resisting the force of gravity and use slightly fewer blocks than standard gravity retaining walls.
Cantilever retaining wall
Composed of a stem and a base slab, cantilever retaining walls work by means of leverage. They typically come in an L shape and are filled with reinforced or cast-in-place concrete.
Cantilever retaining walls are designed for deep excavations with heights of up to 18ft.
Criblock retaining wall
Criblock retaining walls are a form of gravity retaining wall built from either concrete or timber frames. These frames lock into each other before being filled with stone. These are the average costs for a criblock retaining wall:
Concrete Criblock –£260 per m²
Timber Criblock – £245 per m² 
Retaining wall materials
Retaining walls will all come in different lengths, widths and heights depending on what you are trying to retain. For the purpose of this exercise, we will take a 1m tall, 3m long retaining wall as the example for average costs as follows.
There are many types of materials that are capable of holding soil that can be used to build retaining walls. These are:
Concrete retaining wall
The strength and versatility of concrete makes it an ideal material for a retaining wall, be it in the form of concrete blocks or cast-in-place concrete. On average, a concrete retaining wall costs £285 per m² +VAT.
Brickwork retaining wall
A retaining wall made entirely out of brick is known as a "cavity wall". In this design, two standard brick walls are placed inches apart on the same foundation. Between them is a gap that is filled with grout or concrete to create a solid structure. The average cost of a brickwork retaining wall is £320 per m² + VAT 
Blockwork retaining wall
For those seeking a strong retaining wall with a brickwork look for a lower cost, it's generally better to opt for a blockwork wall.
The structure is built from a concrete masonry unit block that can withstand pressure. Bricks are then laid onto the outside of the block to give the same effect but for a lower cost. The average cost of a blockwork retaining wall is £320 per m² + VAT. 
Timber sleeper retaining wall
Timber sleepers are a popular material as an alternative to brick or stone, adding a natural finish to your garden. As they are coated with preservatives, timber walls will also withstand wear and tear. The average cost of a timber sleeper retaining wall is £245 per m² + VAT.
Stone retaining wall
Retaining walls made from natural stone are often regarded as the most attractive. They do come at a higher cost and require more time and engineering expertise. A stone retaining wall typically comes at a cost of £395 per m² +VAT. 
Gabion retaining wall
Deriving from the Italian word 'gabbione' meaning "big cage", a gabion retaining wall is made up of steel baskets filled with stone. As they do not require concrete footing, they are much easier to install. The cost of a Gabion retaining wall is £240 per m² + VAT.
What is the cost to replace a retaining wall?
Whether poorly built or simply worn with time, damaged or crumbling retaining walls can be replaced fairly easily. On average, the cost to replace a retaining wall is £4,000, though this varies depending on the size of the wall and the scope of the work required to replace it.
Retaining wall cost breakdown
The average cost to install a retaining wall will vary depending on size, materials used and how labour-intensive the excavation and construction will be.
Costs may be driven up by the need for backfilling, excavation, part load changes and if access to the site is restricted.
Building a retaining wall requires careful placement and adequate drainage systems. It's best to use an experienced tradesperson than opt for a DIY approach.
Depending on where you are and the implications of the retaining wall on the local drainage systems, you may need to obtain a permit. Always check with the council in advance.
See the tradespeople we've checked and recommend for your job