Last updated on September 5th, 2022
Slide staircase cost guide
Who knew getting downstairs could be so much fun?! We take a look at the cost of installing a stair slide in your office or home.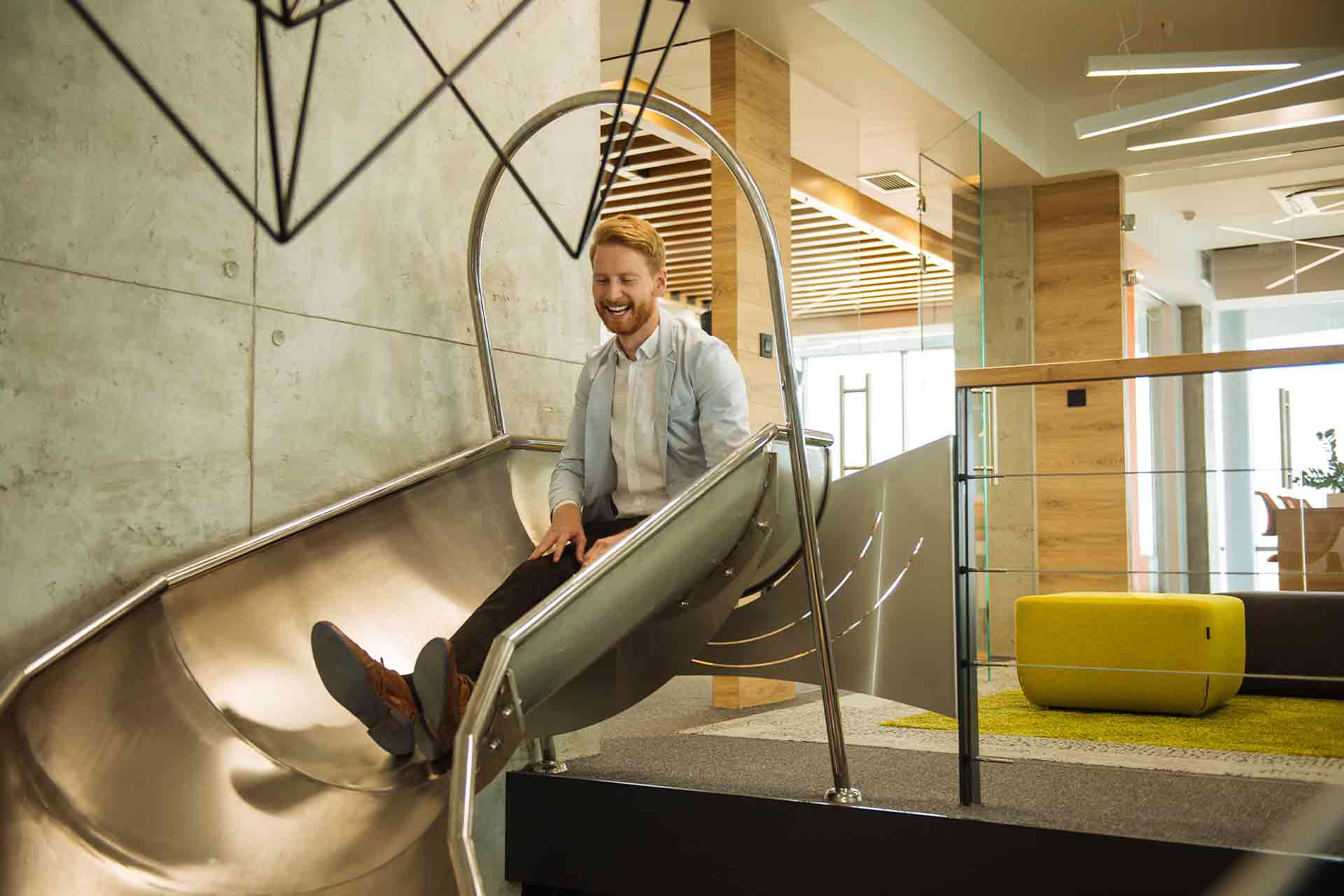 Imagine how fun it would be to wake up every morning and woosh downstairs on your very own indoor slide. Whether you have kids at home or whether you're just a big kid yourself, we can't think of anything cooler. Just think of how impressed your guests would be!
So, how much exactly would a slide staircase cost?
| Cost provided item | Unit | Cost+VAT (lower range) | Cost+VAT (higher range) | Average UK cost |
| --- | --- | --- | --- | --- |
| Carpenter | Per hour | £26.25 | £36.25 | £31.25 |
| Softwood | Per m2 | - | - | £54 |
| Wooden handrail | Per handrail | £125 | £175 | £150 |
| Gloss paint | Per m2 | £9 | £16 | £12.50 |
Slide staircase cost factors
If you want to go for a custom-made slide staircase, there are a number of factors that will affect the price:
Materials: Slides can be made from materials including plastic, metal, fibreglass or wood.
Type of slide: There are many different kinds of slide, from spiral slides to tube slides.
The design of your home: If you already have a wide staircase, you could just convert half of it into a slide. But in many homes, you'd have to change the layout of the house to be able to accommodate one.
The cost of labour: Labour costs will vary based on where you live and who's doing the work.
Can I build an indoor slide?
The internet is full of amazing indoor slides. But many have been designed by architects as part of million-pound property builds, which could make a slide staircase feel out of reach for many of us.
However, building an indoor slide is much more achievable than you might think – particularly if your existing staircase is fairly wide.
Take this DIY slide staircase as an example.
Even with the addition of a slide, the staircase is wide enough to allow room to walk up the side. Plus, there's no wall at the bottom, which allows plenty of space to insert a cushion for a soft landing area.
Perhaps the best option would be to install a slide that is removable. This would mean you can easily take it down in order to get furniture or other large items up and down the stairs. It's a win-win!
Indoor slide cost
To build an indoor slide like the one above, you'd need:
– Timber
– A handrail
– Metal plates and brackets
– Enamel paint
The materials could cost you £54 per m2 for the softwood and £12.50 per m2 for gloss paint. Getting a carpenter in to create the slide and fit it to your stairs is likely to cost you around £31.25 an hour.
Slide staircase cost takeaways
Slide staircase costs vary based on what materials you use and what style of slide you want.
If you have a wide staircase, adding a slide can be easy and cost-effective.
Consider whether you want to be able to remove the slide easily.
You could build a staircase slide for as little as £66.50 per m2 plus labour.
See the tradespeople we've checked and recommend for your job