Solar panels provide an environmentally-friendly and efficient supply of electricity to homes and businesses. To keep the juice flowing, you should have your solar panels regularly cleaned, and with solar panel cleaning costs so low, there's no excuse not to!
In this solar panel cleaning cost guide we look at what a professional cleaner will do and the average solar panel cleaning cost per panel in the UK.
Why should I get my solar panels cleaned?
Solar panel cleaning will improve the performance of your panels and increase their lifespan. If left uncleaned, dust and road grime, salt spray and bird or bat droppings can damage solar panels, making them less efficient.
How much does solar panel cleaning cost?
| Cost provided | Unit | Price range (low - high) | Average cost |
| --- | --- | --- | --- |
| Clean one panel | Per panel | £4 - £15 | £8.50 |
| Clean 40 panels on the ground floor | Per job | £60 - £100 | £80 |
| Clean 40 panels above 1 storey | Per job | £150 - £300 | £225 |
Solar panel cleaning costs between £4 – £15 per panel.
The total solar panel cleaning cost will be affected by several factors, listed below. The biggest influence on price is whether your solar panels are on the ground floor or on upper floors.
The higher the panels, the more expensive they will be to clean.
To clean a bank of 40 solar panels on the ground floor, the cost will start from £80.
To clean the same bank of solar panels (40) above one storey, the average cleaning solar panels cost increase to as much as £225.
Professional solar panel cleaners are trained to work at height. The difference in price covers both the equipment and training necessary to safely clean solar panels above the ground.
Before booking a solar panel cleaner, ask for their solar panel cleaning price list so you can compare quotes and understand exactly what you are being charged for.
Find a trusted solar panel cleaner near you
Factors affecting solar panel cleaning costs
The prices included in this solar cleaning cost guide are averages based on extensive research.
The solar panel cleaning cost you pay will be affected by specific factors, such as:
Location of panels
Number of panels to be cleaned
Property access
Property location
Condition of panels (the dirtier they are the more time it can take to clean them)
When obtaining quotes, ask your chosen suppliers for a solar panel cleaning cost per panel and their solar panel cleaning service price list.
They should be happy to provide this information to you and it will enable you to accurately compare quotes.
How often should have your solar panels professionally cleaned?
Experts recommend that you should clean your solar panels every 6 months.
It is particularly important to have your panels cleaned if you notice that average energy production levels are dropping.
Find a trusted solar panel cleaner near you
What's involved in cleaning solar panels?
The price of solar panel cleaning includes labour, materials and transport to your property.
Your solar panel cleaner will:
Inspect your bank of solar panels
Shut down the system before work begins
Safely access solar panels (this may include working at height if they are located on the roof of your house, for example)
Clean your solar panels using professional water-fed brushes and non-abrasive chemicals
Restart the system and ensure it's working
How long should solar panel cleaning take?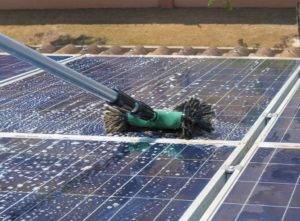 The total time it takes to clean your solar panels depends on the location of your solar panels and how many need to be cleaned.
Small, ground-floor set-ups can take around half an hour to clean.
Larger solar panel banks or those mounted above the ground floor (on roofs, for example) can take between 1-2 hours to clean.
Can solar panel cleaning affect my warranty?
Yes. You should have your solar panels professionally cleaned according to the manufacturer's instructions or you could invalidate your warranty.
To learn more about the correct cleaning procedure for your solar panels, check your solar panel instruction booklet or speak to a professional who is experienced in cleaning your brand of solar panels.
Can I clean my own solar panels?
Cleaning solar panels is a specialist job, particularly if your solar panels are in inaccessible locations, such as the roof of your house.
We recommend that you use a professional to clean your solar panels. They are trained to work at height and will have all the appropriate safety equipment to complete the job.
That said, if you're confident that you can safely access the roof (or other location of your solar panels) and are able to carry out the cleaning yourself, here are a few tips to consider:
Turn of the system before you start cleaning. If you're unsure how to shut down the solar panel system, refer to your instruction manual for guidance.
Stop if you notice any damaged cabling and report it immediately. The solar panel cabling on your roof will still be live and a potential high voltage risk so take extreme caution when working around the cabling.
Use specialist solar panel cleaning equipment. Investing in specially designed solar panel cleaning equipment can help prolong the life of your solar panels. A kit will typically include items such as biodegradable soap, a long-handled brush and a solar panel wiper.
If possible, clean your solar panels from the ground to avoid having to work up on the roof. It's always safer to avoiding working at heights, if it's practically possible. If you're not trained in working up at heights or you don't have the right safety equipment, do not attempt to clean your solar panels up on the roof.
Clean early in the morning or late in the evening during spring and summer. You want to avoid the times of the day when the panels are hot from the sun. Cleaning the panels when they're cool means you can avoid water marks that occur when water evaporates quickly on a hot surface.
Again, if you're at all unsure of how to clean your solar panel, speak to professional solar panel cleaners in your area.
Find a trusted solar panel cleaner near you
Key takeaways
It should cost between £4 – £15 to clean a single solar panel.
You may be given a solar panel cleaning cost per panel or a complete quote for the job.
The cost you will pay depends on factors, such as location, size of panel and access.
It should take between half an hour to two hours to clean your panels.
Working on ladders and up high is a job for a professional, not an amateur.
Cleaning your solar panels with the wrong tools or cleaning materials could invalidate your solar panel warranty.
Tell us what you think
What others think of this article:
Need More Information?
Related posts