Soundproof fence cost
In this article, we'll cover:
Soundproofing isn't just for interior spaces, you can also reduce the amount of noise in your garden by installing a soundproof fence. In this guide, we look at the average soundproof fence cost in the UK, as well as soundproof garden rooms and studios.
Whether it's noisy neighbours, a busy road, or other environmental noise you're trying to block out, soundproof fences will help reduce the amount of noise to give you a little more tranquillity at home and in the garden.
| Item | Unit | Range - Low | Range - High | Average cost |
| --- | --- | --- | --- | --- |
| Soundproof fence | Per 6' x 6' panel | £140 | £200 | £170 |
| Soundproof garden room | Per square metre | £1,900 | £3,300 | £2,600 |
| Soundproof garden studio | Per project | £12,000 | £25,000 | £18,000 |
How much does a soundproof fence cost?
The average cost for a soundproof fence is around £140 – £200 per 6' x 6' panel. The exact cost will depend on the size, quality and material of the soundproof fence you choose – the larger and more absorptive the fence, the higher the price will be.
On top of the material costs of your soundproof fence, you'll also need to factor in the labour cost for the installation of your fence panels.
Find recommendations from your neighbours
Types of soundproof fence
When you're researching the cost of a soundproof fence, you'll notice that there are a number of different types of fences available. Here is an overview of the most popular types of soundproof fence:
Wooden soundproof fence
By far the most popular material for garden fences in the UK, strong wooden fences tightly installed can provide an excellent barrier to noise in your garden. The thicker and more dense the wooden fence, the better soundproofing it will provide.
One of the downsides to using wood as your soundproof fence material is that it is prone to weathering when exposed to the elements. To help extend the lifespan of a wooden soundproof fence, you'll need to make sure it is treated with a weatherproof sealant – and a layer of insulation can also help.
Metal soundproof fence
If you're after a more industrial look to your soundproof fence, metal fences offer excellent soundproofing. To really amp up the level of soundproofing you can install a multi-layered metal fence. Just make sure you choose a water-safe and erosion-safe metal material so that you don't end up with a damaged, rusty fence in the future.
Concrete soundproof fence
Concrete or stone blocks tend to naturally work as a good soundproofing material due to their thickness – making them ideal for a soundproof fence. Often to improve their aesthetic, concrete fences are covered in wire mesh and then undergrowth and bushes planted in them.
Combining a concrete or stone fence with plants and branches means you add an extra layer of soundproofing as well as creating a more natural look for your garden.
Soundproof fence cost quotes
As with all home improvement projects, we always recommend obtaining at least three quotes from different soundproof fence specialists in your area. You'll want to shop around to make sure you're paying a fair and competitive price for the work. And, thankfully, we've got a tool that makes finding multiple quotes super easy.
Our request a quote feature is perfect for getting quotes: you post details about the work you need doing and we'll send it out to local tradespeople in your area. Try it out – it's quick and easy!
Soundproof garden studio price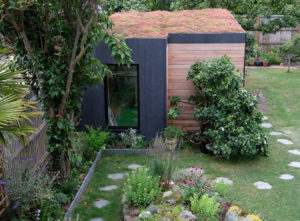 If you're looking to create a space in your garden to record music, play instruments or simply enjoy some peace and quiet, a soundproof garden studio is a popular option. The average soundproof garden studio cost in the UK is around £12,000 – £25,000+ – depending on the size, quality and complexity of the design.
If you're looking to soundproof a room in your home and are wondering how much it will cost, check out our guide to the cost of soundproofing a room.
Soundproof garden room cost
Garden rooms have become hugely popular with British homeowners, and making sure you have a soundproof garden room is important if you want to enjoy the space without disturbances.
The average soundproof garden room cost in the UK varies depending on the level of soundproofing you want to achieve. Here are some average prices you can expect to pay for your soundproof garden room:
30db reduction – £1,907 per m2
40db reduction – £2,253 per m2
45db reduction – £2,463 per m2
50db reduction – £2,674 per m2
60db reduction – £3,280 per m2
Key takeaways
Speak to a professional for advice on the best soundproofing for your home and garden.
The cost of a soundproof fence will depend on the type of fence panel you choose, whether it's wooden, concrete or metal.
Soundproof fence panels cost more the thicker and denser they are.
Get multiple quotes for your job to find the tradesperson right for you.
Find recommendations from your neighbours
Good jobs, guaranteed
Get covered when you book with Checkatrade.