Spray paint kitchen cabinets cost guide
Respraying kitchen cabinets is a great way to refresh perfectly decent cabinetry that would otherwise end up in a landfill.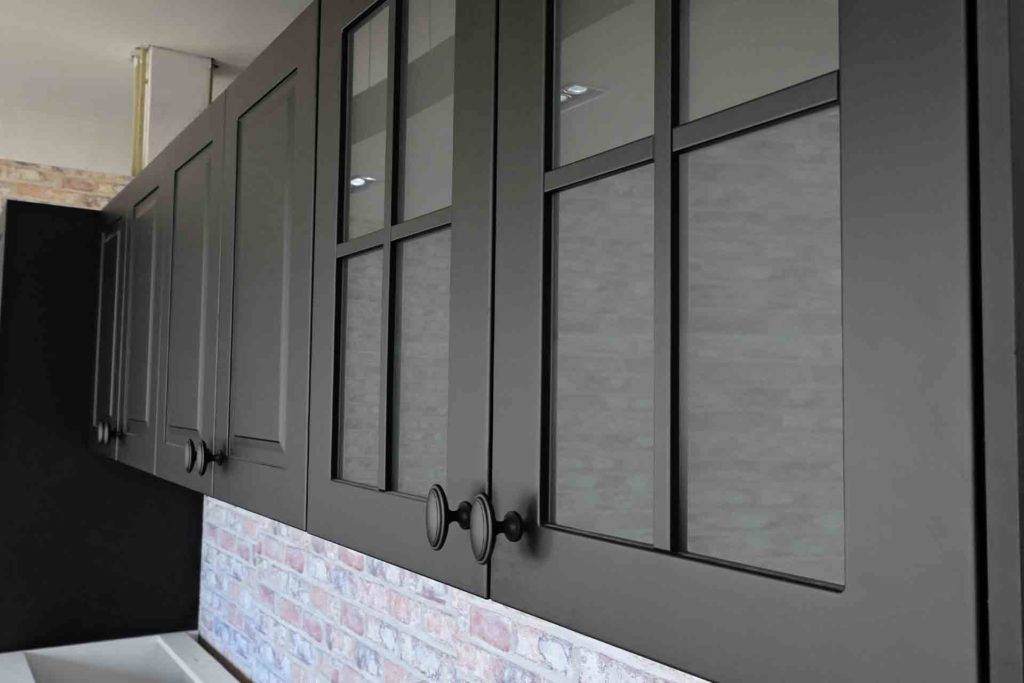 If your kitchen cabinets are looking a little tired or shabby, spray painting them can bring them back to life and transform your kitchen for a fraction of the cost of a new set of cabinets. To help you understand exactly what to expect, we've put together this spray paint kitchen cabinets cost guide.
For accurate quotes for your project, we recommend contacting spray paint experts near you.
Item
Ballpark cost
Average kitchen respray
£800-£1000
Wooden cabinets
Standard cabinet facing
£80+
Larder cabinet facing
£100+
Integrated appliance facing
£80+
Acrylic cabinets
Standard cabinet facing
£80+
Larder cabinet facing
£100+
Integrated appliance facing
£80+
How much does it cost to spray paint kitchen cabinets?
To work out how much you can expect to pay for the work, here are some ballpark kitchen respray costs.
For wooden kitchen cabinets, the cost to respray is from around £80+ per cabinet. For larder and pantry cabinets, the cost to respray is around £100+ per cabinet, as they are larger than standard kitchen cabinets. For any integrated kitchen appliances, the respray cost is about £80 per facing.
If you have acrylic kitchen cabinets, rather than wood, the costs will be slightly higher as they'll need a special primer to prepare the surface for painting. For acrylic cabinets, you'll be looking at a kitchen respray cost of around £80+ per cabinet or appliance facing, and £100+ per larder facing.
On average, the total to spray paint all of your kitchen cabinets will be in the region of £800-£1000.
Some spray painters may require removing your cupboards and taking them away to their site. With this service, there may be additional costs.
Factors affecting your kitchen respray cost
There are a number of factors that will affect the cost to respray your kitchen cabinets, as each project will differ in one way or another. The most important things to consider are:
Number of cabinets
Size of cabinets
Cabinet material
The complexity of cabinetry designs
Access to kitchen units
Quality of spray paint materials used
The number of colours you choose
Any prep work needed
Where you live
Find a kitchen cabinet painter recommended by your neighbours
Why respray kitchen cabinets?
For those of you wondering whether you should fork out for a set of new kitchen cabinets, here are some great reasons to opt for respraying them instead.
Save 70% by respraying vs buying replacement cabinets
On average, spray painting your kitchen cabinets can cost up to 70% less than buying new cabinets. Brand new cabinetry for your whole kitchen can be pricey, so it's worth considering a respray job as a cost-effective alternative.
A brand new look
If you hire an experienced spray paint expert, the end result will have your old kitchen cabinets looking like you just bought new ones. They can paint them any colour you choose, and even fix any damage or fill in existing holes if you're planning to use different fixtures.
Responsible recycling
Far too often homeowners throw out perfectly good furniture and then buy brand new pieces. This is expensive but also means we're consuming a lot more than we need to. By recycling your existing kitchen cabinets with a new coat of paint, you're extending their life and minimising your consumption of new furniture.
Should I replace or respray my kitchen cabinets?
The answer depends on the state of your current cabinets and what you're hoping to achieve. Many homeowners want a fresh look for their kitchen, a new colour, or to get rid of peeling paint. All of those issues can be fixed by spray painting the cabinets.
However, if you're planning a brand new layout or extending your kitchen then you might need new cabinetry – unless you can source identical cabinetry to your old ones so they can match in your new kitchen.
Also, if your old cabinets are heavily damaged or suffer from woodworm, it might be a good idea to get rid of them and buy new cabinetry. But, where possible, we would encourage you to make use of what you already have and consider a respray.
Hiring a kitchen spray paint expert
When looking at the cost to spray paint kitchen cabinets, it's important to work with tradespeople who offer a high-quality service and have excellent customer reviews. Some will offer up to a 10-year guarantee that the paint won't flake, crack or peel, so it's worth finding out.
Useful kitchen cabinet respray checklist
Decide whether you can reuse your existing cabinetry for your new look kitchen.
Kitchen cabinet spray paint specialists can often repair damage and fill in holes so that facings are as good as new.
For professional advice speak to your local kitchen cabinet spray paint experts.
Shop around for fair and competitive kitchen respray costs.
Always hire a tradesperson with relevant experience and ask to see examples of their previous work.
Choose a tradesperson with excellent reviews who will guarantee the quality of their work.
Find a kitchen cabinet painter recommended by your neighbours
Good jobs, guaranteed
Get covered when you book with Checkatrade.