Stairlifts are fantastic pieces of equipment that help people ascend and descend stairs with ease. Installed to fit a person's lifestyle or mobility issues, they are easily adaptable, which helps avoid people having to move home.
This stairlift installation cost guide will delve into all the costs associated with having a stairlift installed and serviced. Feel free to use it to help you ask the right questions and make the right decision when it comes to your needs and budget.
For this guide, we spoke to Bob Branscombe (MRICS and MCIOB qualified), who has 34 years in the industry with Branscombe Consulting. Together we have come up with the average UK prices for this stairlift installation cost guide.
What is a stairlift?
Stairlifts are electrical-mechanical devices that lift people up and down stairs. A person sits on a chair or platform that moves along a rail mounted to the treads of stairs.
Different types of stairlift 
There are three types of stairlift available on the market. These include the following:
Straight stairlifts
Straight stairlifts are basic designs for simple stairs without curves or bends. They're quick and simple to install and can be placed on any floor for help with your mobility around the house.
Curved stairlifts
These stairlifts are for more complex homes, including those with curved staircases and those that bend half-way up. They often need a custom rail design, which can take longer to install.
Outdoor stairlifts
Found on patios, decks and porches, outdoor stairlifts make it easier to navigate uneven terrain. They come in both basic and custom designs depending on your needs.
All stairlifts can be customised to suit your home and requirements. Features that are interchangeable include:
Remote controls
Folding seats or footrests
Swivel or adjustable seats
Seat belts and safety sensors
What does installing a stairlift involve?
Now you've identified the type of stairlift you need and what modifications you'd like, the next step is to shortlist a tradesperson (or two) and request some quotes. A stairlift installation is an important mobility feature that you want to get right the first time.
Your chosen tradespeople will offer a consultation prior to purchase (most of which are free) and visit your home to measure your space and ensure your walls are sound. They will outline the costs involved before you commit to having works carried out and talk through your various options.
How much does a stairlift installation cost?
| Cost provided item | Unit | Average cost |
| --- | --- | --- |
| Straight stairlift | | £3,000 |
| Straight stairlift with one turn | | £3,500 |
| Straight stairlift with two turns | Turn at the base and the top | £4,500 |
| Outdoor stairlift (excl enclosure) | | £2,250 |
We discussed the various types of stairlifts above, including their customisation options, but how much do they cost to install?
Straight stairlifts
As straight stairlifts are quick, simple and rarely require customisation, the cost of fitting a stair lift on straight stairs is at the lower end.
Average straight stair chair lift installation cost: £3,000
Curved stairlifts
Due to the trickier installation requirements, curved stairlifts naturally cost more. If you factor in the price of customisation, the costs can vary considerably.
 Average curved stair chair lift installation cost (one turn): £3,500
Average curved stair chair lift installation cost (two turns): £4,500
Outdoor stairlifts
These stairlifts are often found on patios, decks and porches. They tend to be straight and require less installation time or customisation. They do need weather-proofing, but even with this, their average installation costs remain low.
Average outdoor stair chair lift installation cost: £2,250
Additional costs to consider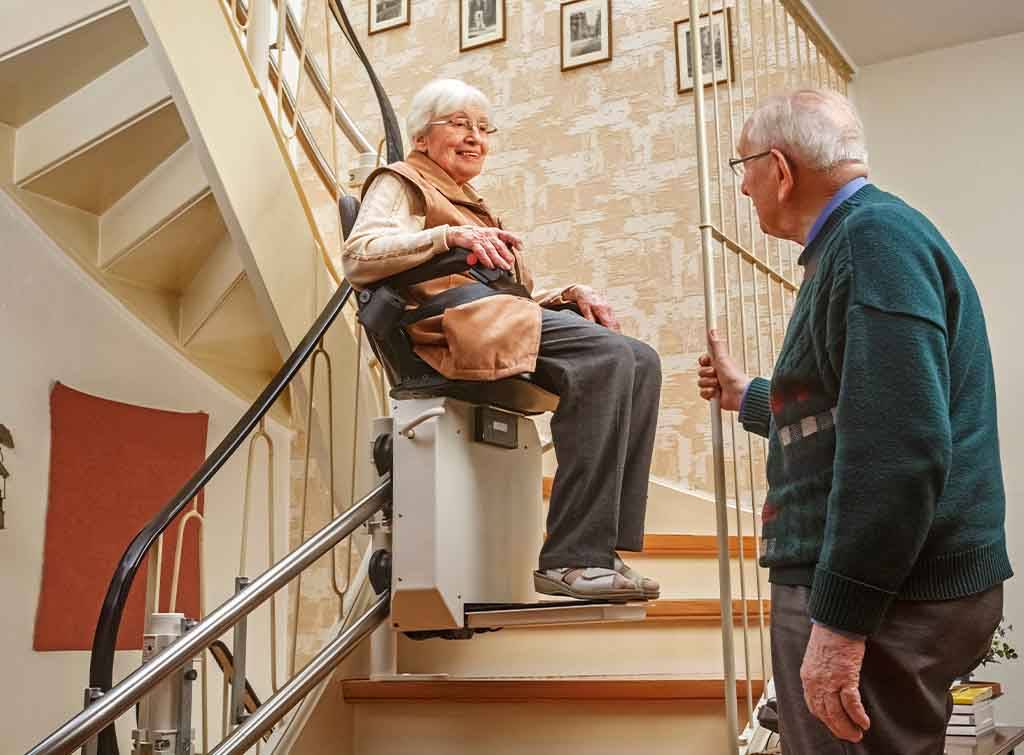 Along with the installation and customisation options of your stairlift, it's worth factoring in stairlift service costs too. The smooth running of your installation is an additional cost that can affect the year on year price of the investment. The same goes for stairlift maintenance too.  Not all of them come with a guarantee, and this needs to be considered when choosing your make and model.
Other than stairlift service costs, one other major consideration is the structural condition of your existing walls. Your tradesperson will need to check whether they can bear the load or whether repair/reinforcement work is needed in advance.
Funding for stairlifts
In the UK, there is government funding called the Disabled Facilities Grant that can help towards your stairlift installation costs. Whether you're a landlord, tenant or homeowner, you can apply for a grant and get help towards the costs and fit of a stairlift.
How long does it take to install a stairlift?
Depending on the type of stairlift you're having installed and the customisation options you've chosen, the actual installation time shouldn't take longer than a day. If your walls are sound and weight-bearing, it's just a matter of your chosen tradesperson coming in, marking where the track will sit, and installing it safely and securely.
The average time it takes to install a straight stairlift: Around 3.5 hours
The overall time it takes to install a curved stairlift: Around 8 hours
The average time it takes to install an outdoor stairlift: Around 3.5 hours
Can I install a stairlift myself?
Although straight and outdoor stairlifts are less complex than curved stairlifts, they are all important safety features that you want to get right the first time. Most professionals know exactly what they're doing and will talk you through the entire process to ensure your installation goes off without a hitch.
Remember, a bad installation can cost you more in the long run – not to mention the risk of serious injury – so we advise you check out our trusted tradespeople to find a professional in your area.
Key insights
Stairlifts come in 3 different styles and various customisations to suit every home
Ensure your walls are structurally sound via a professional before you commit to installing a stairlift
The average time it takes to install most stairlifts is 4 hours
The average cost of stairlift installations are £3,500
Be sure to apply for funding through the Disabled Facilities Grant before committing to a stairlift installation
Find a stair lift installation technician near you
Tell us what you think
What others think of this cost guide:
Need More Information?
Related posts