Last updated on July 19th, 2022
Subsidence repair costs
Hearing that your home is sinking can be worrying. To help you take positive action, we've put together this guide on subsidence and subsidence repair costs.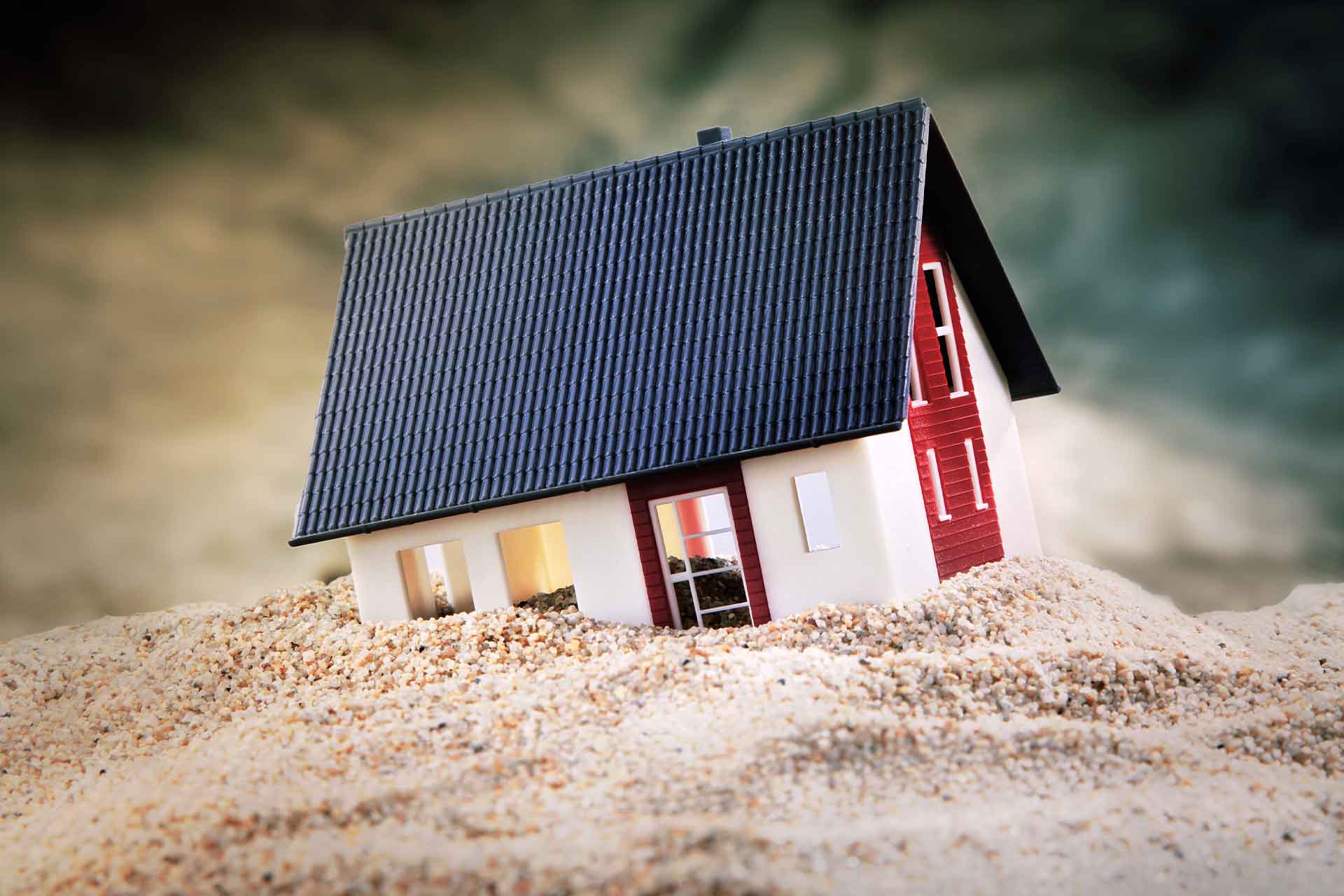 When the earth beneath your home starts to sink, this is what's known as 'subsidence'. The worse subsidence is, the more this will affect the structural integrity of the building. There are a number of possible causes for subsidence, ranging from shallow foundations to large trees, so it is important to identify the cause before you take action.
Why repair subsidence?
You may wish to repair subsidence to stop your house from sinking or to better support your foundations and ensure your home is safe and secure. If your neighbours are having issues with subsidence, you may even choose to take a proactive stance and increase the support structure of your house before a problem occurs.
Another reason to tackle subsidence head-on is if you are adding an extension, another floor, or a basement to your home. In this case, you may wish to add extra support to your home foundations. If you are considering adding an extension, please see our home extension cost guide to assist in your decision.
How much are subsidence repair costs?
Subsidence repair costs
Cost + VAT
(Range low - high)
Average cost
Underpinning
£10,000 - £15,000
£12,500
Underpinning cost per m (up to 1m)
£1,000 - £1,400
£1,200
Mass concrete
method (per m)
£300 - £500
£400
Piling (per pile)
£750 - £1,250
£1,000
Injection method (per m2)
£400 - £700
£550
Beam and base method (per m2)
£500 - £900
£700
Structural engineer hourly rate
£80 - £120
£100
Survey
£625 - £1,725
£1,175
Party Wall Agreement
£1,500 - £2,100
£1,800
For a breakdown of each cost, we spoke to the online estimators at My Build Estimate – a professional estimating company monitored by the Royal Institution of Chartered Surveyors (RICS). This guide features the estimated subsidence repair costs they provided.
When putting together this guide and estimating costs we have considered the following:
These works are very complex and require a site survey.
No allowance for improving internal areas e.g. decorating or skimming.
No allowance for improving external areas e.g. paving etc.
With these allowances in mind, the price of subsidence repair can be costly due to the extensive works that need to be completed. To add extra support to a home, this is usually done through the technique of underpinning. Through this approach, the average cost to fix subsidence is £12,500.
What is subsidence?
We have lightly touched on the reasons to repair subsidence; however, the term subsidence may not be familiar to you. In essence, subsidence refers to the ground beneath your home and your foundations sinking or collapsing.
Subsidence can be caused by seasonal changes to soil, clay and trees, with older homes more at risk due to shallower foundations. Another cause of subsidence is leaking water mains and drains saturating the soil, making it soft and compromising the support of your house.
See the tradespeople we've checked and recommend for your job
What is underpinning?
The usual method of treating subsidence, underpinning is the process of adding extra support to the foundations of your home and preventing it from sinking. There are four main types of underpinning which we will look further into next.
Underpinning can be used to repair subsidence or to pro-actively increase the structural integrity of a building. This is particularly useful if you are adding an extension or if your neighbours are having issues with subsidence.

Types of underpinning
Piling method: Requiring a specialist type of equipment, piling allows foundations to go much deeper. It is generally the most expensive option but is great when the ground has varied conditions.
Mass concrete method: Probably the most commonly used method of underpinning, the mass concrete method involves pouring concrete into carefully positioned holes surrounding the home. It is highly cost-effective and eliminates the need to remove the current foundations. Despite its benefits, this method can be time-consuming.
Resin injector method: Using a combination of hardener and glue, the substance is injected into small incisions above the foundations of the building. A reaction then occurs causing the fluid to expand, fill cracks and compact the earth. This method offers quick results.
Beam and base method: This method involves supporting and strengthening the building with concrete beams. It can be more effective than the mass concrete method, but has a high subsidence repair cost.
To help you find the right subsidence solution, we spoke with Aleister Willis of Geobear, a team of ground engineering contractors.
"Resin injection is now the go-to solution for subsidence of any size – it's an effective and permanent method to stabilise buildings affected by structural movement. Resin injection takes a day to implement and homeowners don't need to move out, rather than weeks or months of underpinning and piling."
How long does underpinning take?
It is difficult to accurately calculate the time underpinning will take due to the wide number of variables. The timescale is impacted by the age of the property, the type of underpinning used and whether extra tradespeople are required, e.g. structural engineers.
On average underpinning will take between 3 – 6 weeks.
Factors affecting house subsidence repair cost
As with the timescale, subsidence repair costs are affected by a long list of factors. Below are the most important ones to consider:
Underpinning method: Each method has a different cost to fix subsidence, as specialist equipment may be required and the different materials used have varying costs.
Severity of subsidence: If subsidence is just taking root, it will be quicker and easier to repair than more severe subsidence. The more complex the subsidence repair is, the greater the total cost.
Size of house: Larger houses cover more ground so underpinning will require more materials and more effective solutions, affecting the subsidence repair costs.
Number of floors in home: Homes with multiple floors are at greater risk of subsidence than bungalows due to the need for more support. The more floors in a building, the more support needed and the greater the cost of underpinning.
Party wall agreements: If subsidence is affecting your neighbour, who you share a wall with, it is necessary to comply with a party wall agreement in order to tackle subsidence together. A party wall agreement can cost on average £1,800.
Number of professionals needed: Underpinning is by no means a simple and quick fix. During the process, you may need the assistance of a number of professionals such as structural engineers, plumbers, plasterers, decorators or tree surgeons in addition to your contractor.
House subsidence repair costs
If you are budgeting to repair subsidence, be sure to consider the above factors and four methods available. The average subsidence repair costs from most affordable to most expensive are:
Mass concrete method – £400 per m2.
Resin injector method – £550 per m2.
Beam and base method – £700 per m2.
Piling – £1,000 per pile.
See the tradespeople we've checked and recommend for your job
FAQs

What are the signs of subsidence?
Spotting the signs of subsidence and tackling it quickly can mean huge savings on the cost to fix subsidence. Warning signs of subsidence are cracks internally or externally, wallpaper wrinkling, neighbours having a subsidence issue, doors and windows not closing properly, uneven floors and warped walls.
How do Party Wall Agreements affect underpinning?
Before undertaking subsidence repairs on homes that share walls, you must serve notice and gain consent of your neighbour with a written agreement. This can cost on average £1,800.
Will home insurance cover the cost to fix subsidence?
Whether or not your home insurance will cover subsidence repair costs depends on the type of cover you have and the current extent of subsidence in your home.
It is essential that you talk to your insurance provider before underpinning begins so they can approve the method you are using. You will usually have to pay an excess when you make an insurance claim and you should ensure you submit evidence such as photographs.
Do I need planning permission when underpinning my home?
You should always check with a professional whether or not you need planning permission to make structural changes to your home. It is likely you will need to obtain this before underpinning is carried out.
Can I prevent subsidence?
Unfortunately, in many circumstances, it is not possible to prevent subsidence. Removing trees that are close to your house, checking with neighbours about any issues they have, and pro-actively reinforcing old properties can help to reduce the risk.
Can I repair subsidence myself?
Repairing subsidence is not a quick and easy job. In short, you should not attempt to repair subsidence yourself unless you are properly qualified. Underpinning is challenging and if done incorrectly the structural integrity of your home and the safety of the inhabitants is at risk.
There are also strict building regulations and legal requirements surrounding underpinning and it is wise to hire a structural engineer to monitor the process. The average hourly rate of a structural engineer is £100.
To find a local, reputable, tradesperson in your area and get a personalised subsidence repair quote use our free search feature.
Useful subsidence repair checklist
Discovering your house has subsidence can be scary, however, there are many options to repair this.
Underpinning is the main way of tackling subsidence and there are four different methods.
You may need planning permission and a party wall agreement in place before dealing with subsidence.
We recommend you hire a professional to repair subsidence as this is a complex and difficult job.
See the tradespeople we've checked and recommend for your job