Tree removal is not a pleasant task and one that can easily be put off for another day. However, in some cases, delay can lead to larger problems in the long-term.  Though professional tree felling does come at a cost, it doesn't compare to the sum that you could incur should the tree cause damage to your property or that of your neighbours.
Whether you have spotted signs of decay, are worried about subsidence from the roots, or are getting complaints of it causing obstruction, it's best to take action early. It may only need trimming or pruning at this stage, but an experienced tree surgeon will be able to do what's necessary in protecting your property.
Before you hire a tree surgeon, you'll want to know the costs of cutting down a tree to get an idea of the budget you should earmark for the task. Our guide below maps out the average prices associated with tree removal and other tasks such as trimming, pruning, disposal and stump removal.
The average cost to remove a tree
The costs in the table below are to be used as a basic guide. They represent costs for average tree removal which will increase the larger the tree and the more complex the task.
| Tree removal costs - Job type | Range - Low | Range - High |
| --- | --- | --- |
| Tree felling | £75 | £3000 |
| Large oak at height with team | £3000 | £5000 |
| Medium birch tree with medium team | £500 | £800 |
| Day rate 2 teams | £250 | £400 |
| Day rate for large team | £700 | £950 |
| Tree debris disposal | £50 | £100 |
| Labour tree surgeon | £50 | £400 |
| Tree trimming | £100 | £500 |
The average price of removing a tree is £400.
However, while most home and garden renovation tasks are easy to price up, the cost of tree felling will depend on a number of factors – size, type, condition and placement being the primary variables.
Due to the nature of the job, tree surgeons work in teams to ensure the removal is completed safely.
Simply put – the more time, skill or specialist equipment they require to fell the tree, the higher the cost.
For example, while removing a relatively small and narrow tree from the middle of your garden will likely take a small team several hours at a day rate of £300.
An awkwardly placed, deep-rooted oak tree could take one or two teams of experts several days to cut down the tree and dispose of the timber. For large-scale work of this nature, the price range starts closer to £3000.
It goes without saying that tree removal is a dangerous task and should be left to the professionals. If not dealt with correctly, it can easily result in more damage. If you're planning a large garden project, check out our garden landscaping cost guide first.
Generally, tree removal work will be charged at an hourly or daily rate, though smaller tasks can be priced under this rate if the job is simple and takes minimal time.
Find a tree surgeon near you
Tree trimming costs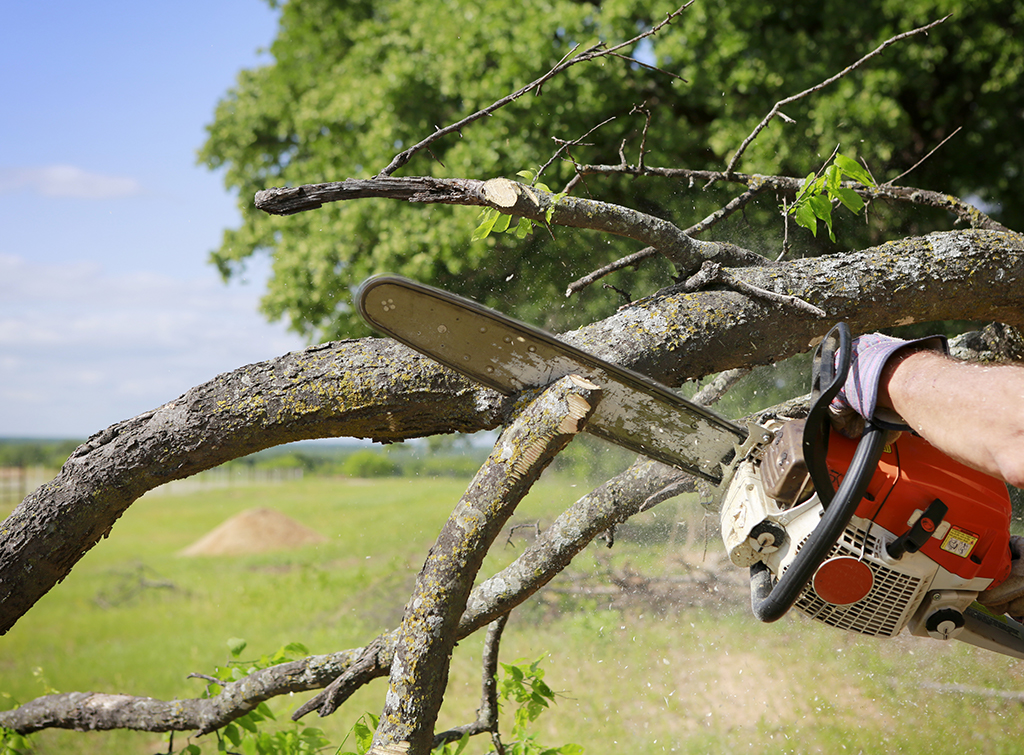 Keeping good care of your tree by pruning it when overgrown will prevent it from causing damage to your property. Trimming, pruning and reshaping it can also help to make your outdoor space safer and more visually pleasing. But just how much will a tree surgeon cost for this type of job?
As seen in the table below, tree trimming and pruning costs start at around £100 for a standard job on a small to medium sized tree. However, bigger jobs will naturally cost more – the trimming of larger trees typically costing £500.
In some cases, a tree surgeon may even recommend reducing its height or removing the tree entirely.
Tree stump removal costs
Costs for tree stump removal are typically calculated at £3 per inch of the diameter.
On the surface, the tree stump may not look like it takes much fuss to remove. However, there's usually a lot more going on underground that can't be seen.
While trees such as conifers have shallow root systems that don't stretch too far, others such as oak trees can have roots as deep as 3-4 metres. Left unchecked, a tree stump could develop fungal diseases which can quickly spread to any nearby trees.
From burning it with chemicals to severing the roots with a chainsaw, there are plenty of myths about DIY tree stump removal that are ineffective and often dangerous.
Although it is possible to hire stump grinders for £100 and opt for the DIY approach, we would only recommend this option to those with experience. The wheel of a stump grinder may be less powerful than the equipment used by a tradesperson, but it will slice through anything and can be dangerous. It may also be wise to consider hiring a skip for large garden products that result in a lot of waste, we've written a helpful guide on how much skip hire costs.
If you want to completely get rid of a tree stump in your garden without risking harm, it's best to hire a professional.
The good news is that tree stump removal costs are relatively cheap. Of course, this will once more depend on the size, type and placement.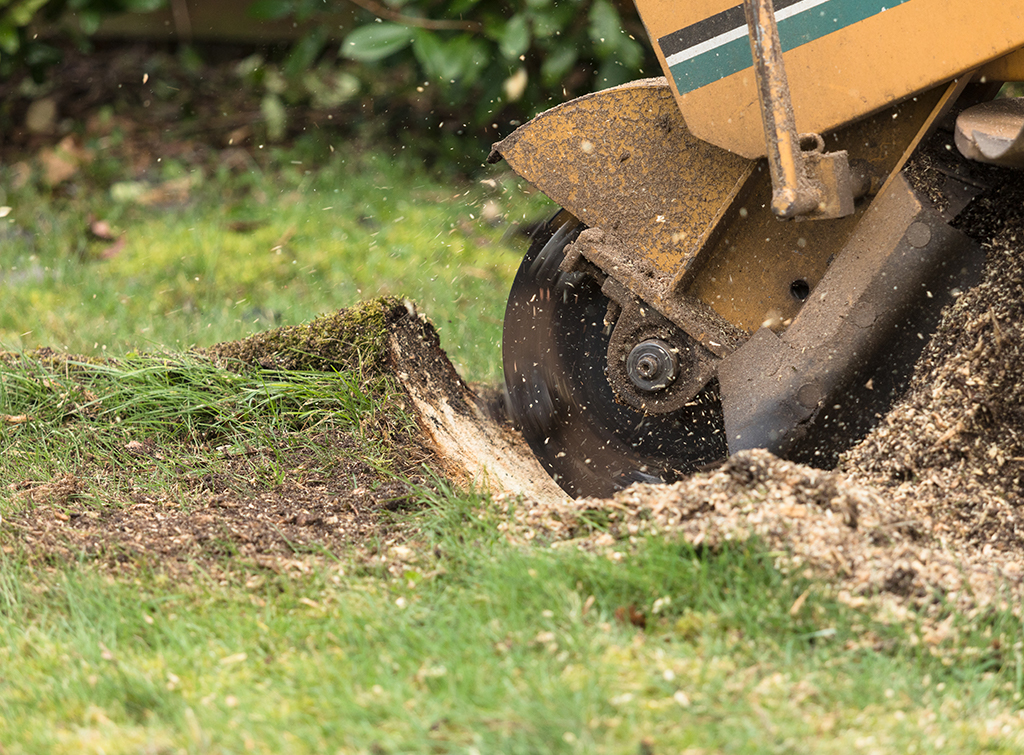 Stump grinding costs
If the stump is on the small side with a shallow root system, a tree surgeon will use a chainsaw to shave the stump down to the right height before using a motorised machine to grind it away. The immediate side roots will be removed and any additional roots will usually rot away in time.
Stump grinding can be an effective method for tree stumps that require less work, and will cost as little as £70 (+VAT) for a trunk with a diameter less than 1ft.
Find a tree surgeon near you
Root removal costs
Trees with larger root systems can create a lot more work when it comes to stump removal. Cherry trees, for example, are notorious for having problematic permanent roots that take several hours to be removed. This will be reflected in the cost.
Tree surgeons are trained to assess them case by case in order to decide the best course of action. This will also depend on your budget and the condition of the tree.
Key tree removal takeaways
Diseased or damaged trees are highly susceptible to breaking and falling. If you are concerned about the condition of a tree on your property, we recommend hiring a tree surgeon to assess and potentially cut down the tree.
A perfectly healthy tree that grows too close to your property can lead to subsidence and structural damage from root growth underground. Removal may be necessary in preventing this.
The cost of tree felling will depend on the size, condition and placement of the tree, with typical price for a tree surgeon ranging between £400 and £3000.
If caught early, your tree may only need trimming or pruning. Costs for tree trimming range between £100-£500 depending on size and placement.
Tree stump removal costs are relatively low, starting at £70. Hiring a tradesperson is both the safest and most cost-effective way of getting rid of a tree stump in your garden.
Tell us what you think
What others think of this cost guide:
Need More Information?
Related posts