Last updated on July 5th, 2022
Tumble dryer repair cost guide
Is your tumble dryer in need of a repair? Find out how much it could cost to repair your tumble dryer.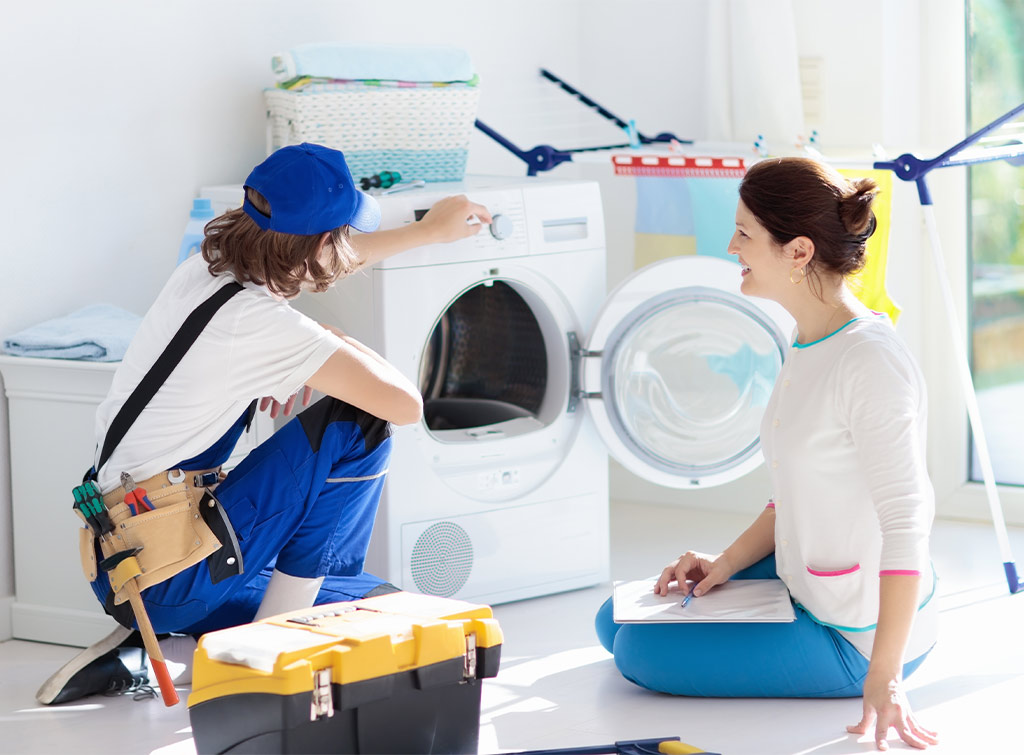 Why repair a tumble dryer?
Tumble dryers serve an important role in the home, particularly during colder months. Without a tumble dryer your rooms will end up covered in wet clothes which is not only messy but damp patches are not good for furniture or walls.
You may have decided to repair your tumble dryer through choice, for example, if you wish to improve its performance or as a precaution in the run-up to winter.
On the other hand, you may have no other choice if your dryer suddenly breaks. For instance, when your dryer is not heating up, not spinning or not turning on in the first place.
No matter your reason, don't despair, this guide was created with every case in mind with useful information and tumble dryer repair costs.
How much does tumble dryer repair cost?
There are several common issues surrounding tumble dryer repair which we've compiled below. With these in mind, tumble dryer repair costs can range from £79.85 - £343.36.
For example, one of the most common issues – to supply and fit a new heating element – costs around £92 - £114.
Tumble dryer repair costs
Cost + VAT
(Range low - high)
Tumble dryer repair cost (Within 1 year warranty)
Usually free
Tumble dryer repair cost
£79.85 - £343.36
Supply and fit new heating element
£92 - £114
Tumble dryer replacement cost
£179 - £1,996
Dryer repair service cost (e.g. Currys)
£119
Hotpoint tumble dryer repair cost
£119
Call out fee
£60 - £150
Common issues with tumble dryers
Tumble dryers have a variety of working parts, any of which can break, often without warning. Below are the most common issues with tumble dryers:
Over or underheating: It is highly irritating to find your clothes still wet after a dryer cycle when the machine underheats. On the other hand, overheating can mean your tumble dryer won't start at all.
Not starting: Sometimes your dryer simply will not start, this can be caused by a number of things including blown fuses and overheating.
Drum not turning: Often a problem with the belt, a tumble dryer that cannot turn means your clothes will not dry properly.
Excess noise: When your tumble dryer is making a considerable amount of noise this is an indicator something is wrong. It could be loose items left in your pockets, an issue with the bearings or even that your dryer is not sitting on a level surface.
Broken timer: This can be very inconvenient as your dryer will not notify you when the cycle is finished.
Electrical issues: A potential hazard, this can mean in addition to your dryer not working, the electrics in your home keep tripping.
Leaking: Leaks can damage flooring, waste water and may even cause mould to grow.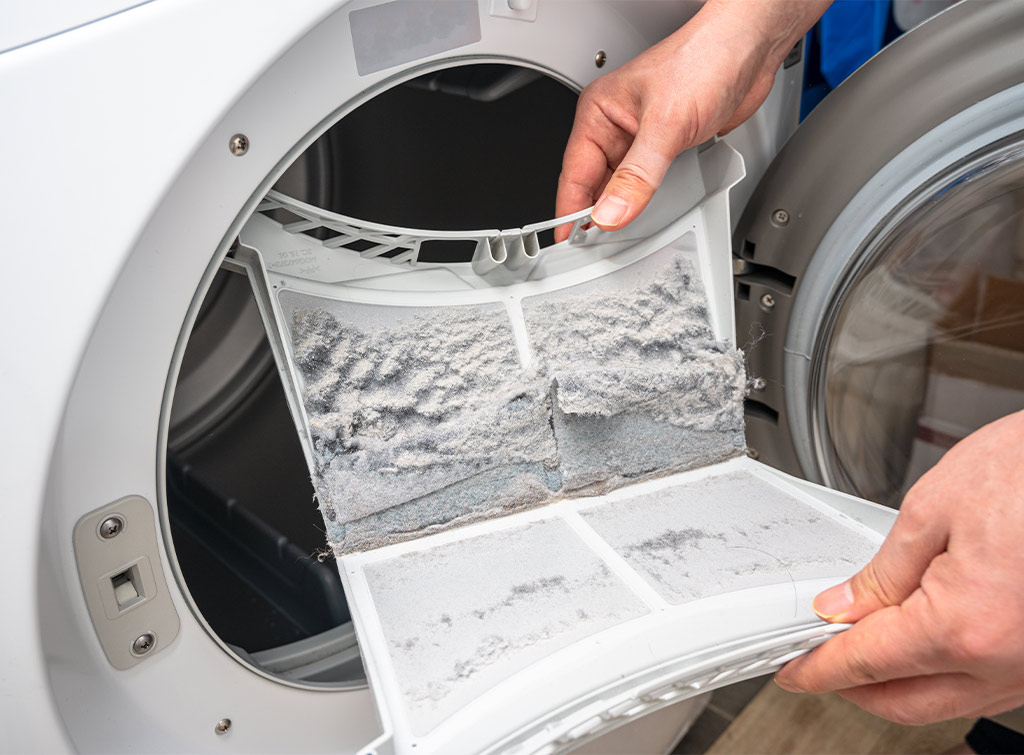 See the tradespeople we've checked and recommend for your job
Should I repair or replace my dryer?
When your tumble dryer breaks it is usually worth getting it checked by a professional to identify the fault. Once you know the dryer repair cost, take into account the age of your machine and whether a larger or more powerful dryer would better serve your needs.
It may be the case that replacing your tumble dryer is a better choice than a repair that may only be a short term fix. The cost of a replacement tumble dryer varies from £179 - £1,996 depending on size, brand and quality.
Am I covered under warranty?
It is worth noting that if your current dryer is less than a year old it may still be under warranty and the repair may be free. In order to utilise the free warranty, check with your tumble dryer manufacturer.
Factors affecting the price of tumble dryer repairs
Age and condition: Older and well-used tumble dryers may be more expensive to repair as parts may be harder to source.
Fault: Depending on which part of your dryer is at fault will affect the cost of repair.
Time: More complex, time-consuming repairs will incur extra costs due to increased labour prices.
Make and model: Every brand of tumble dryer will have its own parts needed for repairs and some makes may be more expensive than others to mend.
Location: Certain areas of the country like London will have higher tumble dryer repair costs.
Dryer repair service cost
Many companies now offer dryer repair services where you pay a monthly or yearly premium to cover any repairs your dryer may need. Please note there may be an additional call out fee.
The average dryer repair service cost is £119 per year.
Average Hotpoint tumble dryer repair cost
There has been a recent recall of specific Hotpoint tumble dryers due to safety issues. For further information please visit their official website.
If you are not covered under this scheme, then the average Hotpoint tumble dryer repair cost is £119.
Can I repair a tumble dryer myself?
Most common issues with tumble dryers require professional attention due to complexity and a need for specific parts. Repairing a dryer yourself comes with the risk of injury from working with electrics and if not done correctly may lead to fires and further leaks causing damage to your home.
To find a local, reputable, tradesperson in your area and get a personalised tumble dryer repair cost use our free search feature.
Key takeaways for tumble dryer repair costs
Tumble dryer repairs can be precautionary or necessary.
There are many potential issues with tumble dryers such as leaks, excess noise and underheating.
When estimating the cost of tumble dryer repairs it is important to consider factors including the age of the machine, the make of the machine and the type of fault.
It may be wise to replace an old broken dyer instead of paying for expensive repairs.
When dryers are less than 1 year old, they may still be within a warranty.
See the tradespeople we've checked and recommend for your job