Last updated on May 1st, 2022
TV aerial installation cost guide
Enhance your TV experience with our TV aerial installation cost guide. With handy information and costs to help you access more channels & clearer pictures.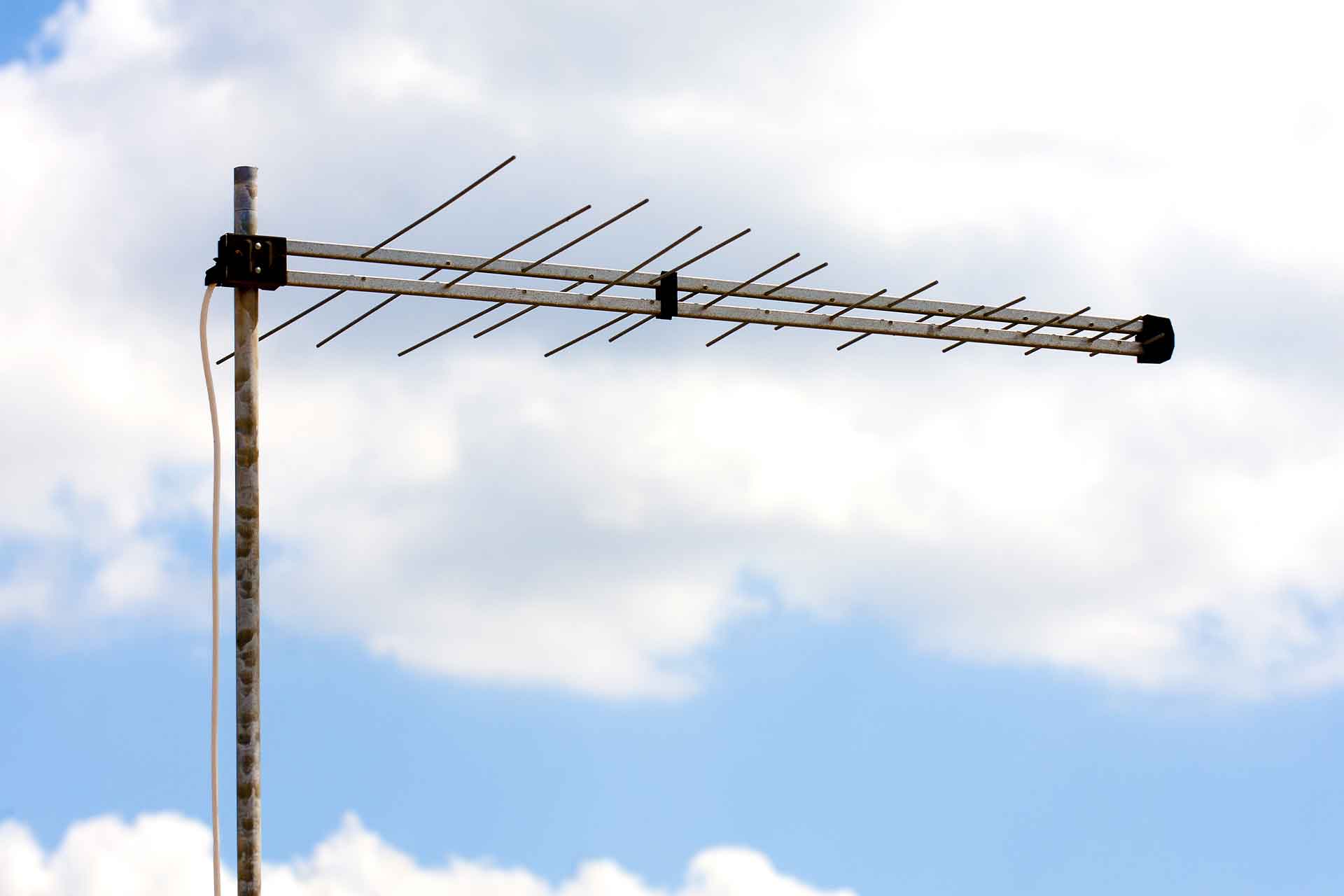 Why install a TV aerial?
We have access to more TV channels than ever before. With so many options at the touch of a button, it's not surprising you may wish to improve the quality of the picture you are watching.
TV aerials not only enhance quality but allow you to connect to even more channels or services. Investing in a high-quality TV aerial can also help prevent blackouts when watching TV.
The following guide has all the information you will need when choosing and installing an aerial, with TV aerial installation costs, considerations and useful tips. We'll also look at the average freesat installation cost in the UK, as an alternative to a tv aerial.
How much does TV aerial installation cost?
Key areas
Cost + VAT
(Range low - high)
Average cost
TV aerial, pole and bracket
£150
Labour
£50 - £150
£100
Outdoor aerial system
£150 - £200
£175
Indoor aerial system
£90 -£150
£120
Self-fit indoor digital aerial system (budget)
£150
Additional TV socket
£70 - £150
£110
Replacing existing aerial
£50 (material),
£50 (labour)
£100
Satellite dish installation - before VAT
£120 - £159
£139.50
Humax Freesat box to receive satellite signal
£100
The cost of installing a TV aerial may be lower than you think. And, with all of the benefits that come with aerials, it is no wonder why so many people choose to upgrade their TV watching experience.
TV aerial installation cost is £150 (materials) + £100 (labour) = £250.
Loft aerial installation cost
The average cost of a professional loft aerial installation is around £90 – £150, making is a noticeably cheaper option that an exterior aerial installation.
Common types of TV aerial
You may not know where to start when it comes to choosing a TV aerial that perfectly fits your needs. To help you decide, below are the most common types of aerial:
Yagi: Probably the most common outdoor aerial, Yagi aerials are used widely and are comprised of conductive elements that access radio waves.
Indoor: These aerials can be less effective than outdoor aerials due to their location. Usually connected to your TV, indoor aerials are available in amplified options to boost signal strength. They are perfect if you don't have permission to use the roof of your home.
Loft aerial installation: If you don't like the appearance of standard outdoor aerials, or there is no suitable outside place to locate an aerial, loft aerials can be a great choice. Unfortunately, their signals are not usually as good as outside aerials due to the interference of the roof or walls.
High gain: Positioned on the roof, high gain aerials are very effective and mean better TV signals and picture quality.
See the tradespeople we've checked and recommend for your job
Factors affecting TV aerial installation costs
Cables: If your current cables are not in good quality, or are not suitable for use with your new aerial, you will need to pay for new cables.
Length of pole: Each aerial will need a different type of pole so you may need to buy a new one.
Type of aerial: As every aerial is designed for a specific purpose, the price of each will vary.
Strength of signal in your area: You may be required to choose a higher quality or more expensive aerial if the signal in your area is poor.
TV provider: It may be necessary to choose a specific type of aerial depending on your TV provider, which may increase the cost.
Number of TV points: The number of TV points you have may increase the cost of your aerial and adding new TV points will incur extra costs.
Accessibility: Harder to reach areas like the roof mean longer job times and increased labour costs.
Quality of aerial: The higher the quality of aerial you need, the higher the overall price.
Replacing existing aerial vs installing a new aerial
In certain situations, you may be replacing an existing aerial rather than installing a completely new one. If you have a previous aerial that is not performing properly or you need a completely new type of aerial, a replacement will be more affordable than installing a new aerial from scratch.
The average labour cost of installing a new aerial compared to replacing an existing aerial is £100 instead of £50.
Time to install a TV aerial
Above, we looked at the factors that affect TV aerial installation cost and the time required for aerial installation is also affected by these factors. In general, the average time to install a TV aerial ranges from 1 to 6 hours.
New TV aerial installation cost
As we previously discovered, it is less expensive to replace an existing aerial due to a decrease in labour times. Taking materials and labour into account, the average total new TV aerial installation cost is £200 compared to the average replacement TV aerial installation cost of £100.
Outdoor TV aerial installation cost
Depending on your preference, you can choose from outdoor and indoor aerials. Each type has their own costs and benefits (as discussed above) and the prices will vary. As indoor aerials are generally less effective than their outdoor counterparts, they are less expensive. The average outdoor TV aerial installation cost is £200, compared to just £40 for indoor aerials(budget self-fit materials only).
TV aerial socket installation cost
If you are planning to add extra TV sockets in your home to have access to a TV in other rooms, this will incur additional costs. The average TV aerial socket installation cost is £110.
Digital TV aerial installation cost
When it comes to accessing freeview, standard aerials work perfectly, so long as you have a built-in Freeview tuner. Other digital channels can be accessed via set top boxes, Smart TVs and on demand devices.
As such, the average digital TV aerial installation cost is the same as the cost of a standard TV aerial.
Self-fit digital aerial (materials only) approximately £150 (inside or outside the house).
Professional digital aerial installation to supply & fit:
Inside: £90 – £150
Outside: £150 – £200
Freeview aerial installation cost
The total freeview tv aerial installation cost will depend on where you live and how complex the job is, but you can expect to pay around the same as a standard digital tv aerial installation – around £250.
Satellite installation cost
If you're hoping to access Sky TV, Freesat, Soarsat, or foreign TV systems, you might want to invest in a satellite dish instead or as well as a TV aerial.
Freesat installation cost
The average freesat dish installation cost is around £120 to £159, which is a little less expensive than the cost of installing a TV aerial. However, you'll also need a satellite receiver to decode the satellite signals. This is because nearly all TVs sold in the UK have an aerial connection but not a satellite dish connection. For a Humax Freesat box, you can expect to pay around £100  – which you'll need to factor in to the total freesat aerial installation cost.
When you combine the satellite dish installation price with the cost of a satellite receiver, you'll end up with a total cost of somewhere between £220 and £259. So, ultimately the satellite dish installation fee is pretty comparable to that of installing a TV aerial, or it could even come in a little higher.
Can I install a TV aerial myself?
In general, it is recommended you hire a professional to install your TV aerial. It is much more feasible to install some types of TV aerial yourself than others. Indoor aerials for example will negate the need to climb onto the roof of your home which would be impossible for the less able-bodied and carries the risk of falling.
Before attempting a TV aerial installation, you should consider the following:
You will need certain equipment.
It is essential that you choose the correct aerial for your location and your needs.
There is a high risk of falling and injury.
It may be difficult to set up your TV aerial correctly. It must be secure and correctly positioned, and if not properly fitted the signal may be less clear and the aerial may fall off the roof injuring anyone in the vicinity or damaging property.
We would recommend hiring a professional, to find a local, reputable, tradesperson in your area. To get a personalised TV aerial installation quote use our free search feature.
Useful TV aerial installation checklist
There are many different types of TV aerial, each with its own costs and benefits.
When working out the cost of TV aerial installation you should consider many factors such as the type of aerial and your preferred TV provider.
It is more expensive to install a new TV aerial than to replace an existing one.
For safety and guaranteed results, it is recommended you hire a professional to install your TV aerial.
Consider investing in the TV setup service at home cost as well, so that everything is ready to go.