If you're like most people, no matter how big your house is, there's never enough storage. Utilising the dead space under your stairs can be a great solution.
To help you budget, we've laid out the typical under stairs storage cost.
How much does under stairs storage cost?
| Item | Unit | Cost - low | Cost - high | Average cost |
| --- | --- | --- | --- | --- |
| Fit a 3-door under stair cupboard with no drawers | Per project | £1,000 | £2,500 | £1,750 |
| Carpenter hourly rate | Per hour | £20 | £30 | £25 |
| Prepare under stairs prior to storage fitting | Per project | £150 | £200 | £175 |
| Electrician to isolate or remove electrics | Per hour | £35 | £45 | £40 |
| Skip for rubbish removal | 1 m3 skip | £250 | £350 | £300 |
The total cost of under stairs storage will depend on a number of factors. Perhaps the biggest is whether you decide to get a bespoke solution made, or whether you employ a tradesperson to fit an off-the-shelf solution. If we assume you're opting for a bespoke system, the price will vary depending on:
What materials it's made from (usually HDF, MDF or wood).
Whether you opt for lamination or surface coating on the inside.
The condition of your under stairs area (including whether there's currently a plasterboard wall in place).
Whether you want it painted.
Whether you want drawers (which are more expensive than shelves) and how many.
Cost of under stairs storage
Typically, the cost of a three-cupboard under stairs storage system made of HDF would cost between £1,000 and £2,500, including a clothes rail in one of the cupboards and shelves but no drawers.
At the lower end of the scale, you'd be looking at painting the cupboard doors yourself and you could expect an unlaminated MDF interior. To have your under stairs storage system painted by a carpenter, the minimum cost will be more like £1,300.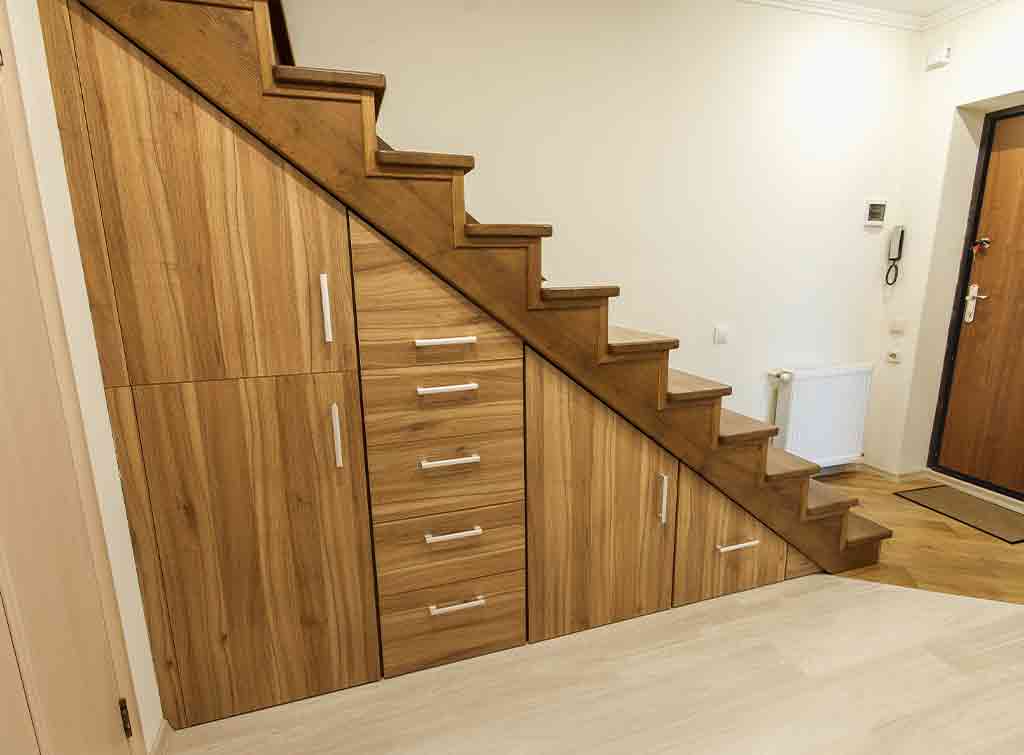 That said, depending on the current state of your under stairs area, there may be other costs too.
If there's currently a plasterboard wall in place, you'll need to get this removed. Or, if there are lights, switches or plug sockets under the stairs, you'll need to get an electrician to isolate or remove them.
Smart storage under stairs cost
If you're looking for a smart storage solution and you have a standard-shaped staircase, you might be able to save money by buying ready-made individual units from a company like Clever Closets. A carpenter will then be able to install them for you, as they would with kitchen units, and make them look bespoke.
This is because things like drawers can take a long time for an independent carpenter to make. Simply adding three drawers to a bespoke under stairs storage system could easily cost you an extra £400.
That said, buying off-the-shelf units in this way could end up costing you valuable space – especially if the size or shape of your staircase differs from the norm. It's worth comparing the options, but you may well find that a bespoke system is more cost-effective as it will allow you to utilise every inch of space you have.
Find a carpenter to get the job done
How long does it take to fit under stairs storage?
It will normally only take around two to three days to fit a bespoke under stairs storage system. That said, it will take a lot longer to make it!
Usually, your carpenter will visit to take some detailed measurements of your under stairs storage system and to talk through what your needs are at the beginning of the process. Then, they'll go away to construct the system off-site, before returning a few weeks later to fit it.
Under stairs storage costs key takeaways
A bespoke system will ensure that all your space can be utilised.
Getting drawers installed will cost around £400 extra.
Consider painting your under stairs storage yourself to save money.
Don't forget to budget for the preparation of your under stairs area.
Find a carpenter to get the job done
Tell us what you think
What others think of this cost guide: