Last updated on September 6th, 2022
Vaulted ceiling cost guide
A vaulted ceiling can provide your home with a unique, luxurious appearance whilst increasing the light and illusion of space. Read on to find out the average prices for a professional installation.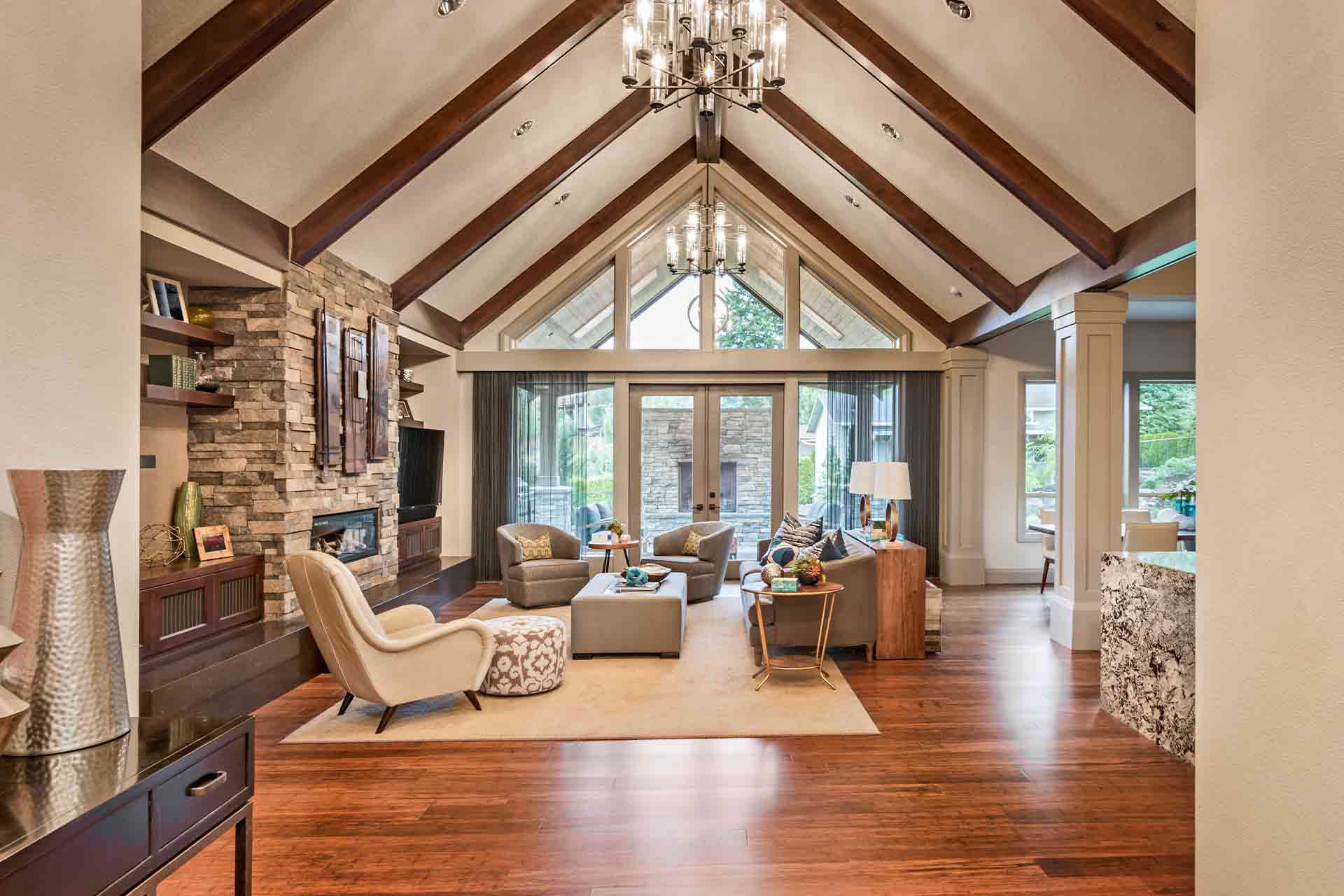 A vaulted ceiling, also known as a fifth wall, extends upwards into the room or loft cavity above. But just how much does a vaulted ceiling cost?
Vaulted ceiling cost
| Cost provided item | Unit | Price range - Low | Price range - High | Average UK cost |
| --- | --- | --- | --- | --- |
| Structural engineer | Per hour | £80 | £120 | £100 |
| Builder | Per day | £200 | £300 | £250 |
| Insulation | Per m2 | £44 | £60 | £52 |
| Plastering | Per m2 | £21 | £35 | £28 |
| Decorating | Per m2 | £10 | £14 | £12 |
There are different factors that can affect the cost to vault your ceiling. First of all, you will need to hire a structural engineer to assess whether your home is suitable.
On average, a structural engineer will cost £100 per hour. They will be able to advise you on whether it's possible to install a vaulted ceiling and will be able to guide you on design features to bring out the best in your property.
Because of the nature of installing a vaulted ceiling, you may have to redesign the structure of your roof to ensure that the structure is fully supported once the existing joists are removed.
Additional building work may also be required to prevent the chimney stack from toppling over and you will need to ensure insulation is installed to reduce heat escaping. Insulation will cost on average £52 per m2. So, the overall cost will depend on the size of your vaulted ceiling.
You will also need to factor in the cost of a builder to take on the work. The average rate of a builder is £250 per day. A vaulted ceiling can often be installed in a month, so bear that in mind when thinking about your overall costs.
Other costs to consider include an electrician to reroute cables, a plumber to reposition pipes, plastering at £28 per m2, and the cost to redecorate at £12 per m2.
Styles of vaulted ceilings

Rib or fan vaulted ceilings were popular in the Mediaeval era, but the main styles of today tend to be:
Barrel vaulted: This is a sturdy design that's similar to an elongated semi-circle. It's often used in tunnels.
Groin vaulted: This design is more complex and is based on two tunnels being mitred together where they happen to meet.
Dome vault: As the oldest and sturdiest design of the vaulted ceiling, the dome's usually the most popular.
Pros and cons of a vaulted ceiling
Pros:
Creates the illusion of space, making the entire room appear larger.
Adds originality and character to the most ordinary home.
Increases the amount of available daylight particularly with large windows.
Makes use of a neglected loft cavity.
Cons
It's difficult to convert an existing roof cavity. Removing the supportive joists requires extensive work installing new vertical pillars and beams to hold the roof up.
A vaulted roof often needs specialised trusses to be manufactured elsewhere before installation while standard rafters will require additional cross beams.
Energy bills can increase as heat rises into the higher ceiling.
There could be an increase in maintenance as a vaulted ceiling requires extra attention and the additional height can present difficulties when cleaning and decorating
Tray ceiling
A tray or recessed ceiling could be a cheaper and simpler alternative to a vaulted ceiling. It features a central panel that's elevated several inches above the rest of the ceiling, creating an illusion of space.
Key takeaways
A vaulted ceiling can add character and value to your home.
You will need to check if you need planning permission.
There are different styles of vaulted ceiling to suit your home and style. A professional tradesperson will be able to guide you.
See the tradespeople we've checked and recommend for your job