Last updated on March 31st, 2022
Window shutter installation cost guide
Infuse style and function into your home with our guide to window shutter installation costs. Add insulation, durability and security with incredible aesthetics.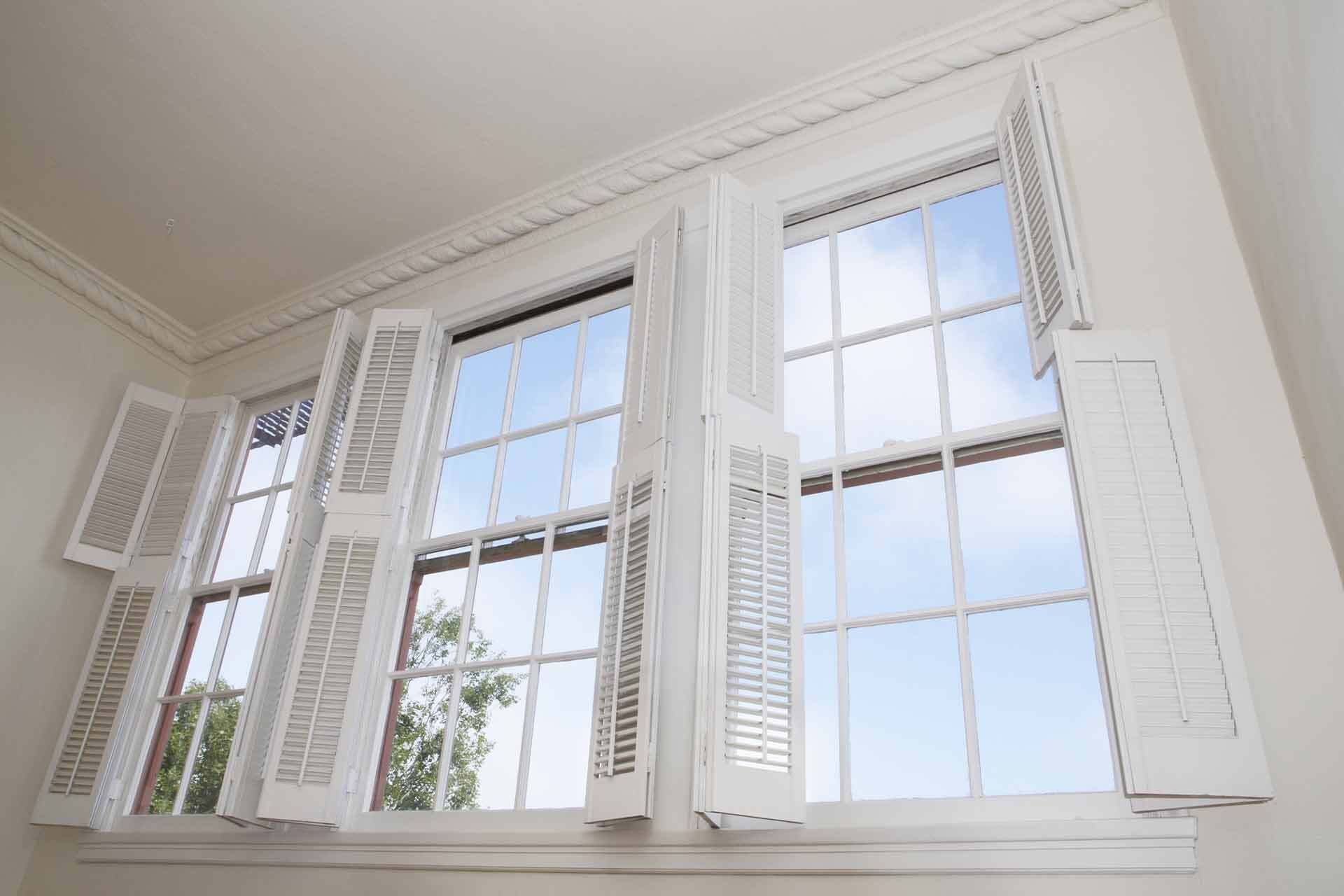 Why should I get window shutters?
An easy way to instantly inject style and improve your home aesthetics is to install window shutters. Although curtains may be a cheaper option, shutters bring a wealth of benefits both internally and externally.
Highly functional, these window screens offer improved privacy without compromising on light flow. Plus, thanks to advances in materials and mechanisms, window shutter installation costs are not as high as they once were.
How much does window shutter installation cost?
Type of shutter
Cost + VAT
(Range low - high)
Average cost
Interior (plantation) shutter installation cost
£180 - £300 per m2
£240 per m2
Exterior shutter installation cost
£160 - £360 per m2
£260
Wood shutter installation cost
£50 per m2 (pine) - £300 per m2 (mahogany)
£175 per m2
Roller shutter installation cost
£588 - £3,920
£2,254
Bay window shutter costs
£359 (2m2) –£718 (4m2)
£538.50
Shutters only
£150 - £200 per m2
£175
There is a common misconception that shutters are only affordable for wealthy homeowners. In this day and age that is simply not true. While shutters are generally more expensive than curtains, they are extremely durable and offer many benefits over cheaper options.
The average shutter installation cost is £250 per m2. This will vary from product to product and with the complexity of the installation.
Advantages of window shutters
Whilst other window coverings such as curtains and blinds have their own benefits, window shutters are the clear winner when it comes to aesthetics and functionality. The following list illustrates some of these benefits:
Improved security
A stunning visual feature
Excellent light flow
Sturdy and long lasting
Improved soundproofing and insulation
Easy to clean – they only need to be wiped down weekly
Increased house value
Improved privacy
Extra protection for windows
Reduction of dust and pollen from curtains
Ease of use
See the tradespeople we've checked and recommend for your job
Types of window shutters
With a huge variety of styles, materials, colours and shapes, it is easy to find your perfect window shutters, no matter your needs and requirements. Some of the most common options to choose from when installing window shutters are:
Interior (plantation) shutters: Offering increased privacy without compromising on light flow.
Exterior shutters: Perfect to protect your home and windows from extreme weather, to save on heating bills and for added home security.
Wood: Including pearl wood, basswood and craftwood. These shutters are stylish and striking but will need regular varnishing or painting to prevent rot.
Metal: Perfect for commercial use in shops, warehouses and garages.
UPVC: Designed to look like any other material whilst being cheap, lightweight, low maintenance and durable.
Composite: Long lasting and strong with great security, although they can be expensive.
MDF: Affordable, durable and sturdy, they will need to be regularly varnished for protection.
Unique shapes: Window shutters can be custom made into shapes such as circles, hexagons, sunbursts, triangles or eyebrows.
Different styles: Including café style, solid, full height and tier-on-tier.
Other variants include:

Fixed or adjustable shutters.
Motorised (mainly external) or standard operation.
Different colours and heights.
Wood shutter installation cost
It is important to consider the size, style and shape of your chosen shutters when estimating window shutter installation costs. One example is wood shutters, which can make a stylish and unique feature in any home and can last a long time if properly cared for.
The average wood shutter installation cost starts from £175 per m2.
Roller shutter installation cost
Unlike other types of shutters, roller shutters are not typically used in residential properties. Thanks to their high level of security, they are perfect for commercial settings such as warehouses, factories and other businesses. In some cases, roller shutters are used on domestic windows for additional security, or to match a roller shutter garage door.
The average roller shutter installation cost is £2,254.
Bay window shutter installation cost
Bay windows are a fantastic house feature no matter how the windows are dressed. If you are lucky enough to own a home with a bay window it is worth investing in beautiful shutters as the perfect finishing touch.
The average bay window shutter installation cost is £538.50.
See the tradespeople we've checked and recommend for your job
Can I install window shutters myself?
The answer to this question depends on the type of shutters, the size of the shutters and your DIY skill level.
Most companies that sell shutters online have an option to input the measurements of your window which will then give you an accurate quotation for the cost of your window shutters.
If you feel confident that you can correctly measure this space it is possible to order the shutters without the need for a specialist to come out to your home.
Installing shutters, however, is a more complex job. There is always a risk when tackling any DIY job that you will damage the materials (shutters) or surroundings (windows, walls or carpets), you will injure yourself or the end result will not look professional.
If you are looking for a flawless finish, are installing heavy and large shutters or just want peace of mind it is better to hire an expert to complete your window shutter installation.
To find a local, reputable, tradesperson in your area and get a personalised window shutter installation cost use our free search feature.
Key takeaways for window shutter installation costs
Window shutters offer many more benefits than other window dressings.
There is a huge variety of window shutter materials, styles, shapes, sizes and colours available.
Wooden shutters must be carefully maintained to prevent rot or damp.
You may be able to install window shutters yourself however the finish and durability of the shutters may be compromised.
See the tradespeople we've checked and recommend for your job