Last updated on July 3rd, 2022
Wing mirror replacement cost guide
Wing mirrors are a vital part of a car that we don't fully appreciate until they break. Thankfully, when they do break they're usually pretty easy to repair or replace – depending on the extent of the damage.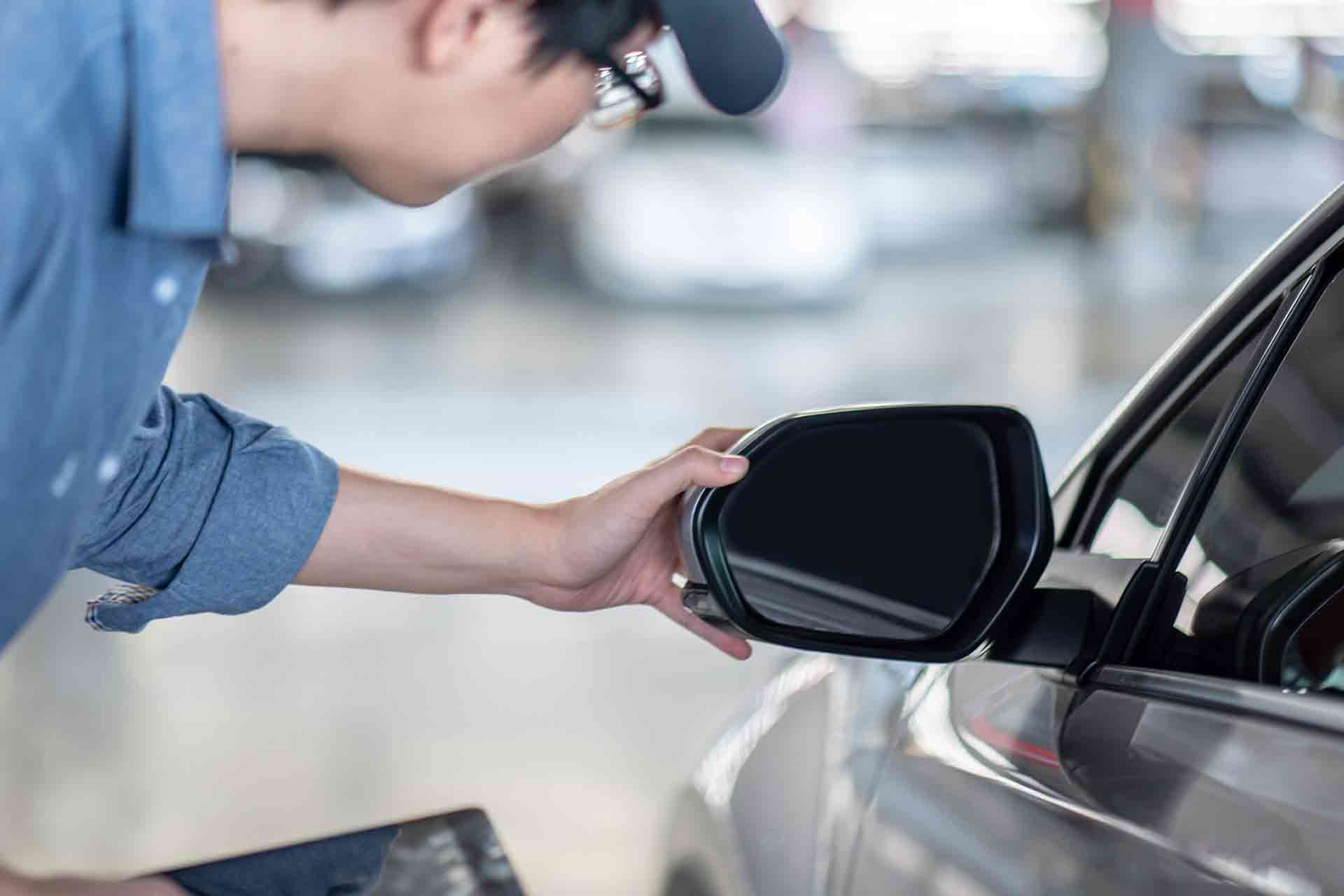 In this guide, we take a look at the average wing mirror replacement cost for cars in the UK. All prices quoted are meant as a guide and we recommend contacting your local car repair specialists for accurate wing mirror replacement costs for the work in your area.
| Cost provided item | Unit | Cost - low | Cost - high | Average cost |
| --- | --- | --- | --- | --- |
| Wing mirror replacement | Per wing mirror | £130 | £315 | £222.50 |
Wing mirror replacement cost
The average cost of wing mirror replacement is around £130 to £315 for a complete replacement of the whole wing mirror unit. That includes the removal of the damaged wing mirror and fitting of the replacement unit.
As with any repair work, the cost can vary quite considerably. The cost of wing mirror replacement generally depends on the make and model of the car. As a rule of thumb, the more expensive the car, the higher the price you'll pay to replace the wing mirror.
Other factors to consider include electrics involved (electric wing mirrors will cost more to replace than manual types), the type of paint that you'll have to match, and where you live – prices tend to be higher in big cities, like London.
See the tradespeople we've checked and recommend for your job

Wing mirror glass replacement cost
If it's just the glass of the mirror that's broken, that's usually a much cheaper job. If you're a confident car DIY enthusiast you can pick up replacement wing mirror glass from about £12 per mirror at your local car part retailer. However, if you're not experienced in changing car parts we would recommend leaving it to the professionals to change the glass, particularly if electrics are involved.
Electric wing mirror replacement cost
As mentioned, if a wing mirror has electrics involved then it will cost you most to replace. You'll need the wiring and electric elements to be disconnected and reconnected in order to replace the mirror. Make sure you get various quotes before deciding on a repair expert to hire, but it's good to understand that electric wing mirror replacement does cost more.
See the tradespeople we've checked and recommend for your job
FAQs
Is it a legal requirement to have a wing mirror fitted?
Yes. In the UK it's a legal requirement to have two fully-functional mirrors on a car. One of those must be the offside wing mirror (on the driver's side). Your car will fail its MOT without a working offside wing mirror. And if you're driving around with a car that has a damaged offside wing mirror you could face a fine of up to £2,500 and get three penalty points on your licence.
My electric wing mirror has stopped working, what's wrong?
If your electric wing mirror has stopped adjusting or heating up, it's probably due to an issue with the wiring or a fuse has blown. You can locate the fuse box by checking your car's owner's handbook, though if in doubt speak to your local car repair shop – they'll often replace a fuse for a small fee.
See the tradespeople we've checked and recommend for your job