Last updated on March 25th, 2023
Wireless fire alarm system prices
Wireless fire alarms are an effective and convenient way to protect your property and the people in it. Explore our wireless fire alarm system prices guide, containing costs, handy tips, benefits and considerations.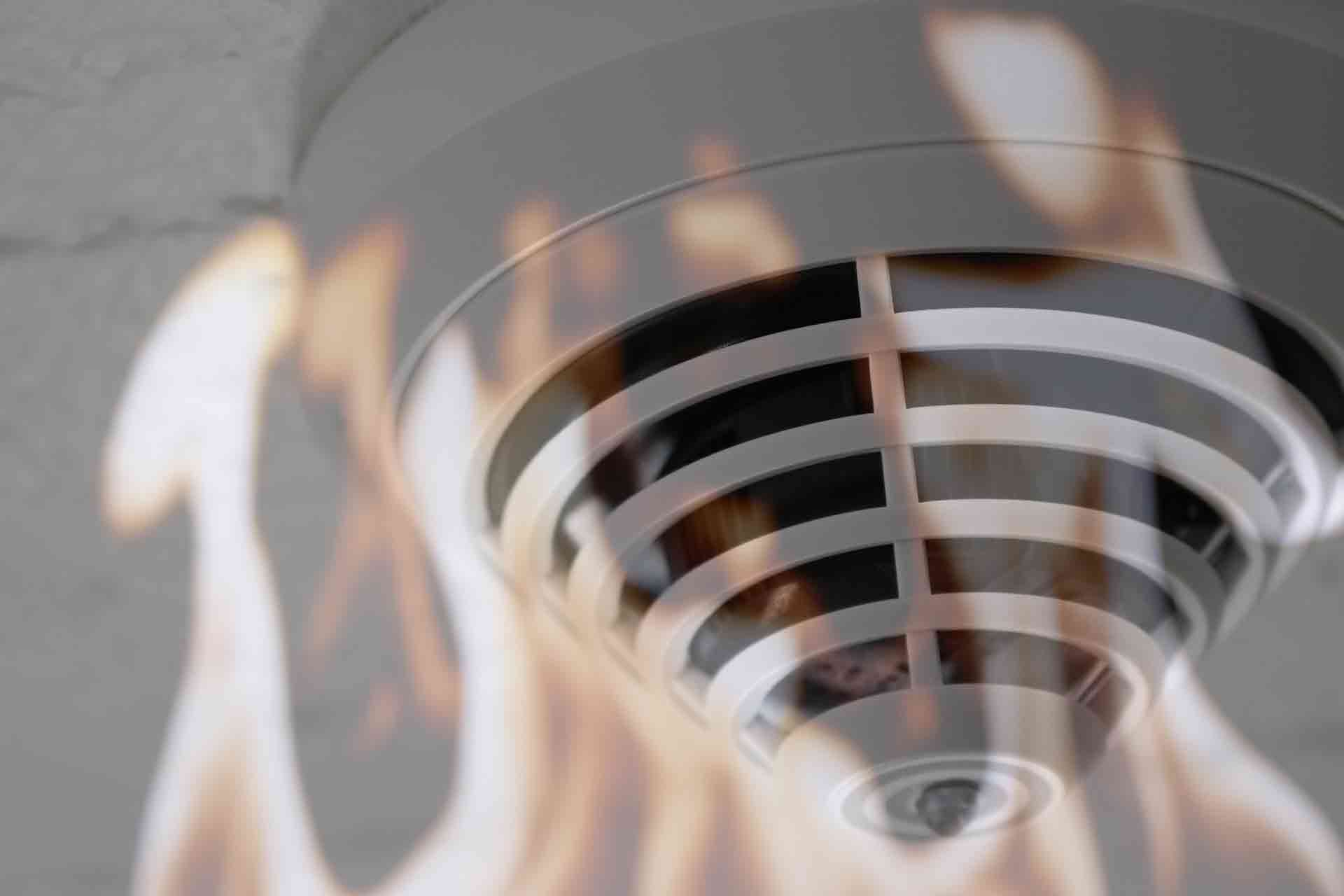 Why install a wireless fire alarm system?
Wireless fire alarms do not need to be wired into your home by an electrician. This can save you time, energy and money during installation. Even better, if you move home, a wireless fire alarm is completely portable and can be installed anywhere, eliminating the need to buy a new alarm.
There have been many advances in technology in recent years. This means longer battery life in wireless fire alarms and optional extras including text alerts and remote fire alarm controls. Nowadays, wireless fire alarms can even be cheaper to run than their wired alternatives.
Fire, smoke and carbon monoxide are deadly, so replacing an outdated alarm system is essential to stay safe and well. In fact, an early warning system can even allow you to get on top of any fires, which may give you much needed time to salvage your home and possessions.
Wireless fire alarm system prices
| Cost provided item | Average cost + VAT |
| --- | --- |
| Wireless fire alarm system (materials and labour) | £2,900 |
| Detectors | £196 |
| Combined detector, sounder and beacon | £419 |
| Combined heat detector and sounder | £350 |
| Heat detector | £190 |
| Control panel | £800 |
| Call point | £195 |
| Wired fire alarm system cost (materials and labour) | £500 |
When it comes to choosing a new fire alarm system, it's always worth investing in an extensive set up to best protect your family. There are options for all budgets, but it's wise to at least pick a system including detectors and an alarm.
The average wireless fire alarm system cost is £2,900, including materials and labour.
What are the components of a wireless fire alarm system?
A wireless fire alarm system is more complex than the basic smoke detectors many people have in their homes. Thanks to a wealth of components, choosing a whole system will increase the safety of your family and give you better control in the event of a fire.
Below are the main components of an alarm system:
Detectors: Designed to pick up traces of smoke, heat and carbon monoxide, detectors are integral to any home or business. For indoor use only, detectors send a danger message to the rest of the system. Expect to pay on average around £196.
Call points: These components are usually found in non-residential settings, such as businesses or offices. Call points are attached to a wall and allow people to pull a trigger or push a button to manually raise the alarm. Call points cost on average £195.
Beacons, sounders or strobes: These three options are different ways of alerting people that a fire has been detected. They emit sound or light, ensuring even those with hearing or visual difficulties are made aware of the fire. A combined beacon, detector and sounder will cost around £419.
Control panel: These panels act as the "brain" for your fire alarm system. The receive and send out signals, connecting the other components in the system and ensuring they do their jobs. Being the most expensive part, control panels cost on average £800.
Text master: A modern invention, a text master has the capability to send text alerts to any phone. Ideal if you have a fire and aren't home, so you can still contact the fire service.
See the tradespeople we've checked and recommend for your job
Benefits of wireless fire alarm systems
Wireless fire alarm systems are fantastic at what they do. From accurate detection to undisputable alerts, it's easy to forget just how useful these setups are. The following are a few of the key benefits of installing a wireless fire alarm system:
Easy to install: No need to hire an electrician to wire in the system.
Can be less expensive than wired: Depending on how extensive your wireless fire alarm system is, it can be cheaper to run than a wired system.
Very reliable and powercut proof: With contingencies in place, you can depend on the efficiency and reliability of your alarm system.
Can be installed in any size building: Perfect for homes, businesses and industrial applications, wireless fire alarm systems can be customised to any setting.
Give peace of mind: You can feel safe and secure knowing your family are protected in case of fire.
No damage from wired installation: Wired fire alarm systems need to be installed by drilling and feeding wires into walls and ceilings. This can leave damage that would not occur with wireless options.
Can be moved: With no wires, these alarm systems are portable and can easily be relocated if you move home.
No unsightly wires: Wireless fire alarm systems are much neater and aesthetically pleasing.
Factors affecting wireless fire alarm system costs
With options ranging from basic detectors to entire alarm setups, it can be hard to know what's right for your home. That is why it's important to take the following into account when planning your new system:
Number of components: Including detectors, beacons and control panels, the number of components that make up your alarm system will impact the price you pay.
Size of your home or business: Larger settings will need more components to ensure all areas are covered by the alarm system. This means the cost of your wireless fire alarm system will rise.
Accessibility: Difficult to access areas will mean higher labour costs.
Finish: Following the removal of an old fire alarm system, you may need to pay for re-plastering, painting and other finishing touches.
Removing old wiring from the previous system: If you already have a wired alarm system, you will need to budget for removal costs before you can proceed with your installation.

Can I install a wireless fire alarm system myself?
As with many things, it's possible to install a wireless fire alarm system as a DIY job. There are however a number of issues that will impact installation, making it a smart decision to hire a tradesperson. Before deciding whether to attempt this yourself, please consider the following:
It can be hard to fit fire alarms in awkward spaces without professional help.
It's not wise to work with electrics without hiring an electrician.
You will need to use a ladder which is a fall risk, particularly for those who are less able-bodied.
If the installation is not done correctly you will not be alerted to fires, affecting your safety.
Hiring a professional brings a wealth of expertise to assist you in setting up the perfect system for your home or business
For peace of mind and safety, we would recommend hiring a professional. To contact a local, reputable, tradesperson in your area for their full list of wireless fire alarm system prices use our free search feature.
FAQs
What optional extras can I choose?
Thanks to modern technology, fire alarm systems have a number of optional extras that can increase the effectiveness of your setup. These include:
Text alerts
Smart device control
Remote-controlled fire doors
Carbon monoxide alerts
How much does a wired fire alarm system cost?
The amount you will pay for a wired fire alarm system is affected by similar factors to a wireless system. For a basic wired fire alarm system, the average cost is £500 including materials and labour. For more information, please see our fire alarm installation cost guide.
Useful wireless fire alarm checklist
An efficient, fully functioning alarm system is integral to the safety of yourself and your family, as well as the security of your home.
There is a wide range of wireless fire alarm system prices to fit most budgets.
The benefits of wireless alarm systems include no messy wires, ease of installation and power cut proofing.
The number of components and the size of your building will affect the average wireless fire alarm system cost.
It's possible to install a wireless alarm system yourself, but this may alter the effectiveness of the system and put you in danger.
See the tradespeople we've checked and recommend for your job