Last updated on March 31st, 2022
How much does woodworm cost to treat?
Woodworm is a common problem in the UK, and British homeowners are often left to deal with the destruction they cause to furniture and timber. If you've found woodworm in your home, this woodworm treatment cost guide will talk you through the options and average UK prices.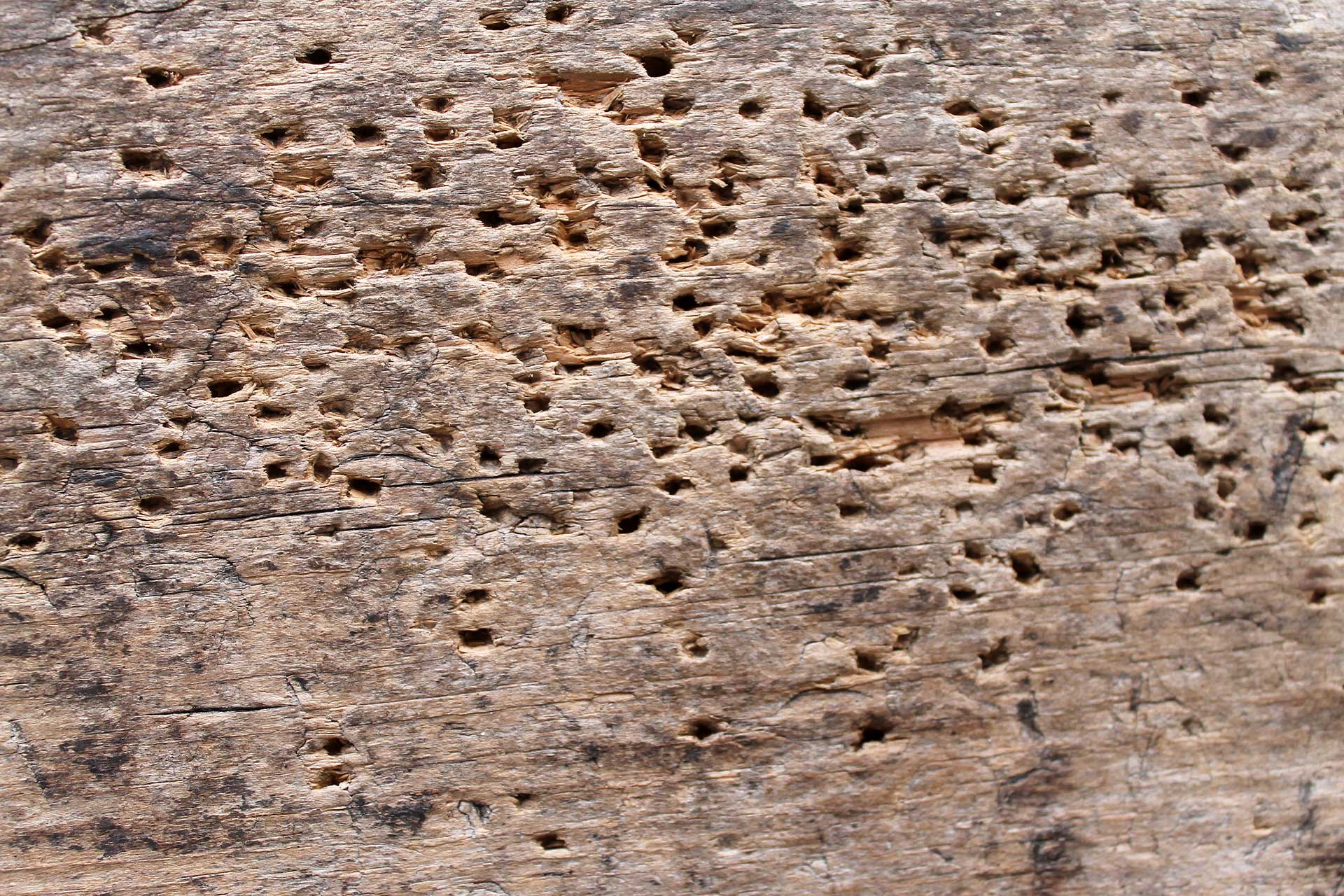 Woodworm is a common problem in the UK, and British homeowners are often left to deal with the destruction they cause to furniture and timber. If you've found woodworm in your home, this woodworm treatment cost guide will talk you through the options and average UK prices.
Interestingly, woodworm is the collective term for the larvae of a number of beetles that feed on wood. Whichever pest you have in your home, the damage is often similar. They'll eat away at wooden furniture, floorboards, wooden beams and any other wood fixtures you may have.
The cost of replacing damaged wood is nearly always far higher than the price of treating the woodworm. Once you've identified a woodworm problem, you can rid your home of woodworm in a few days with the right treatment.
| Item | Average cost | Timescale |
| --- | --- | --- |
| Professional woodworm survey | £80-£250 | 1-4 hours |
| Boron treatment (per 25m2) | £30 | 1 hr - 2 days |
| Fogging treatment | £500-£1,000 | 1-2 days |
| Fumigation treatment | £500-£1,000 | 1-3 days |
| Loft treatment (3-bed house) | £400-£900 | 1-2 days |
How much does woodworm treatment cost?
The average service for professional woodworm treatment costs between £500 – £1,000, for both fogging and fumigation treatments. If you opt for a Boron agent for treating woodworm, the average cost is around £30 per 25m2.
It's worth checking to see if your Home Insurance policy includes Home Emergency Cover. Some policies cover for the treatment of pest control including woodworm.
Pest control hourly rate
Pest control experts can cost between £30-£70 per hour. The hourly rate may differ depending on your local area and if you live in London or the South East you can expect to pay a higher hourly rate.
Woodworm treatment cost calculator
If you're getting a professional woodworm treatment, your costs would depend on your specific case. On the whole, your professional woodworm treatment cost would depend on the following:
Size of property
Age of property
Whether the property is occupied or not
The extent of the woodworm infestation
Type of treatment you want
Damp, as Boron treatment would cost more in case of damp
Experience of the pest control specialist
Where you live
Keep these factors in mind when trying to work out the total professional woodworm infestation treatment cost.
Woodworm treatment quotes
If you need to get a quote for woodworm treatment, then as mentioned above it is important to have a woodworm survey carried out first to understand the extent of the problem.
Once this survey has been done you can begin the process of obtaining a quote from a pest control expert. You can create your own shortlist by using our free search feature by entering your postcode and reviewing the list of recommended tradespeople. We always recommend getting at least 3 quotes.
You can also use our request a quote feature to post your job and get 3 quotes from local tradespeople for you to review.
How much does a woodworm survey cost?
The first step of dealing with woodworm is to have a professional woodworm survey done. The survey will tell you the extent of the damage and woodworm infestation you're dealing with. A woodworm survey will cost between £80 – £250, depending on the size of your property.
The survey will generally include:
A woodworm survey and produce a report
Diagnosis of the specific insect
Inspection of the roof void, under floorboards and all flooring timber for signs of beetle infestation
Once you've had a survey done, you can decide which type of woodworm treatment would be best and find out how much the woodworm treatment costs.
How much does it cost to treat woodworm in the loft?
The cost of woodworm treatment in the loft of an average 3-bed house is around £400 – £900. The prices will vary depending on the structure and size of your loft space. It's important to have a proper inspection done to get an accurate cost of woodworm treatment in your loft.
See the tradespeople we've checked and recommend for your job
How much is the cost of woodworm treatment in a roof?
Similar to the issue with a loft, the cost of woodworm treatment in a roof is around £400 – £900 – based on an average 3-bed house. The exact cost for your property will depend on the extent of the problems and the level of woodworm treatment needed for your roof.
To get accurate prices for woodworm treatment in your roof, speak to your local pest control experts and ask for a breakdown of the costs.
What is woodworm?
Woodworm is actually the common name for the larvae of a number of different wood-boring beetles. These beetles tend to be seasonal, usually being found in homes between April and October.
Due to the larvae being extremely small, it's easy to not notice them when they first arrive in your home. If you have wooden furniture and wood structures in your home, it's likely that you'll be affected by woodworm at some point – the average UK home is made up of 70% timber.
Types of woodworm
Here are the four most common beetles that cause woodworm problems in the UK:
Common Furniture Beetle
The most common cause of woodworm is the Common Furniture Beetle. You'll most often notice them once the infestation once it starts spreading, or from the flight holes of the adult beetles.
The best way of dealing with the Common Furniture Beetle is to use a Boron woodworm treatment. This is an odourless, water-based agent that can be sprayed or brushed onto the infested wood.
House Longhorn Beetle
The House Longhorn Beetle is one of the tougher woodworm pests to remove. To get rid of them you'll need to hire a professional to carry out the woodworm treatment.
Deathwatch Beetle
This beetle can cause major issues as it tends to bury deep into the wood and consequently poses a structural threat. You'll need a woodworm survey to tell you how bad the infestation is, and getting rid of the pests will involve injecting the treatment agent into the wood.
Wood Boring Weevil
One of the less common beetles, the Wood Boring Weevils attack damp and decaying timbers. You'll often find them in places with damp conditions, such as cellars and basements. As they only live in damp conditions, the best way to get rid of them is to remove the damp, dry out the timber and replace the wood.
How do I know if I have woodworm?
There are a few signs that will indicate that you have a potential woodworm infestation, they include:
Exit holes
Holes are one of the most obvious signs of woodworm. They are usually 1-2mm in diameter. Though it's good to remember that wood that has been previously treated will still have holes – so you need to see fresh holes, if you can.
Fresh wood dust
During their active season, woodworm beetles burrowing out will cause wood dust. If you noticed fresh dust on or under the wood in your home, it's likely you have woodworm.
Crumbling timber
A sign of a major woodworm infestation is crumbling, weak timber. Larvae will have munched through the timber causing it to weaken – particularly noticeable with joists, floorboards and window sills.
Beetles (live or dead)
You're most likely to see beetles coming out of the timber between May and September. Given they're noticeably bigger than their larvae, they're much easier to spot. Dead beetles may fall from timber so will be found on the floor or surfaces underneath the wood.
Can I treat the woodworm myself?
For mild cases of some types of woodworm, you may be able to use a DIY treatment. However, given it's very difficult to know the extent of the infestation, hiring a professional is often the most effective solution – especially as woodworm treatments often involves fumigation.
Useful woodworm treatment checklist
If you suspect you have a woodworm infestation, organise a woodworm treatment survey as the first step.
Once you have the survey results, discuss the treatment options with the surveyor.
If the woodworm requires professional treatment, speak to local experts to get accurate prices.
Shop around different woodworm treatment services for fair and competitive costs.
Always hire a tradesperson with relevant experience and valid insurance to carry out the work.
See the tradespeople we've checked and recommend for your job