8 ways to help your garden survive a drought
A drought can cause many issues, especially in your garden. With potential hosepipe bans and restrictions on water usage, you need to make sure you know what you're doing in your garden to ensure it stays alive. Follow these top tips to help your garden survive a dry season.
Please note: A hosepipe ban has been placed in Hampshire and the Isle of Wight by Southern Water. Other water suppliers are set to follow suit. Make sure to check your local water supplier.
Add shade
If you have plants in pots, try and move them out of the heat of the afternoon sun. For plants that can't be moved, suspend some shade cloth over the plants to help keep them cool. You can easily remove this when it cools down.
Apply a mulch
Mulch will help to retain moisture and keep soil cooler in the sun. Aim for a 2 – 4 inch layer of mulch.
Step away from the fertilizers
Fertilizers encourage growth, and with more growth, more moisture is needed. Added to this, if fertilizer salt builds up because it's not draining away properly, this can burn the plant roots.
Remove weeds
Weeds can steal valuable water, nutrients and space from other plants that need it, so make sure you get rid.
If you're struggling to identify what are weeds and what are plants, we recommend hiring a gardener to come and take a look.
Break up the soil
Take the time to carefully break up the soil to make it easier for water to absorb. That way, the roots will get the water you're giving them.
Lawn care
A lawn needs a considerable amount of water to stay green in the summer, which means when a hosepipe ban comes into place, this is the first thing to suffer. We recommend allowing your lawn to go dormant. It should recover when rainfall returns, but if it doesn't, you can reseed.
Another good tip is to raise the blades on your lawnmower so that it only takes the top off. You can then sprinkle the cuttings on the lawn to act as a mulch to keep any moisture in.
Install water butts
If it does rain, you want to utilise this as much as possible. As well as the rain watering the garden, it's a good idea to install water butts to capture as much water as possible to use after the rain has fallen. And then of course, make sure you water wisely with the water you do collect.
Contact a handyperson or a gardener to install yours.
Water wisely
There are a few things we mean by this. Firstly, identify and prioritise the plants that really need watering. Generally, you should prioritise the shrubs and trees planted in the last couple of years as their roots are not fully established, and they will be most sensitive to a drought.
Secondly, make sure you water from the bottom of the plant and not the top.
Thirdly, make sure you water the garden first thing in the morning when it's cool.
Note: During a hosepipe ban, you can use a watering can to water the plants that need it. Do try and limit your water usage.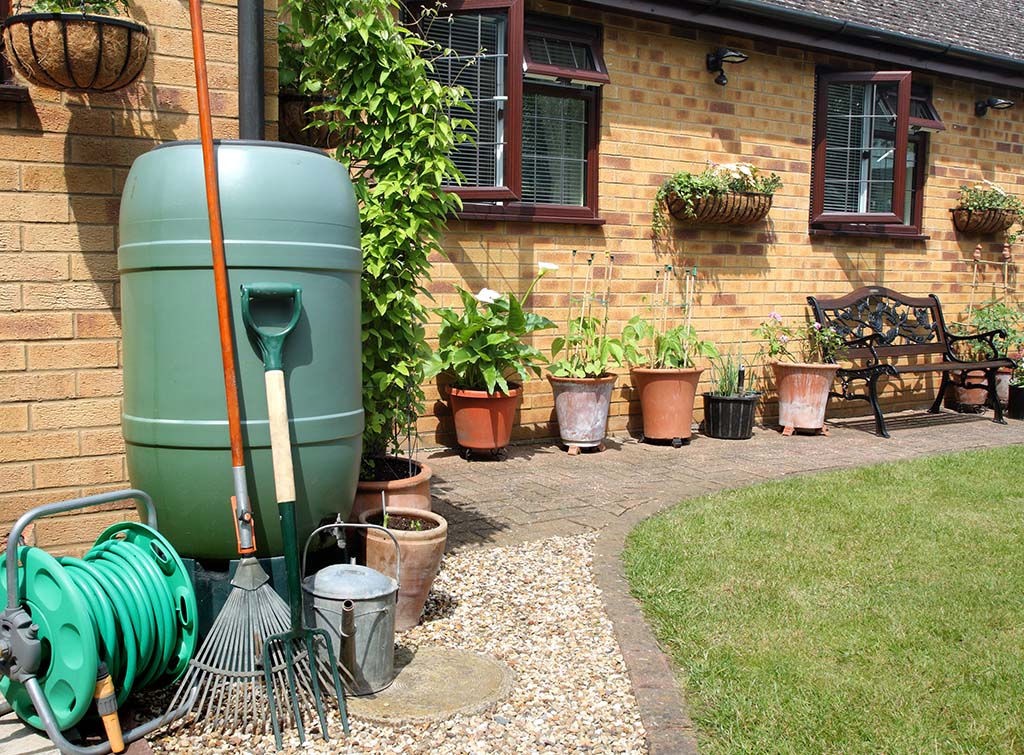 If you're struggling to look after your garden in this dry season, we would recommend hiring a professional gardener to help keep your garden in shape.
See the tradespeople we've checked and recommend for your job